Press Information Bureau (PIB) IAS UPSC – 26th to 31st  October, 2020
GS-1
Newly identified tectonically active zone in Himalayas could alter earthquake study & predictions
(Topic: )
The suture zone of the Himalayas or the Indus Suture Zone (ISZ) in the Ladakh region where Indian and Asian Plates are joined has been found to be tectonically active, as against current understanding that it is a locked zone. This could have major implications in terms of earthquake study, prediction, understanding the seismic structure of the mountain chains well as its evolution.
A group of Scientists have found through observations and detailed mapping of geological features that the suture zone of Himalaya that was conventionally thought to be locked is tectonically active. They carried out the mapping of the remote regions of Ladakh that forms the most hinterland part of the Himalaya. The study was published recently in the journal 'Technophysics'.
The geologists observed that sedimentary beds are tilted and thrust broken, the rivers are associated with uplifted terraces, and the bedrock shows brittle deformation that occurred at much shallower depths. These deformed geological features were then dated in the laboratory at Dehradun using a technique called Optically Stimulated Luminescence (OSL) (method for carrying Luminescence dating of geological sediments) and data of seismicity and denudation rate reviewed. The combination of field and lab data suggested the region of the Indus Suture Zone (ISZ) has been neo-tectonically active since the last 78000 — 58000 years and a recent earthquake in 2010 of low magnitude 4.0 near the village of Upshi that occurred due to a thrust rupture.
Himalaya were known to be made up of north dipping thrusts like the Main Central Thrust (MCT), the Main Boundary Thrust (MBT), and the Main Frontal Thrust (MFT). As per the established models, all of these thrusts except MFT are locked, and overall deformation in Himalaya is being accommodated only along with the MFT. The new findings, which suggest a more remote fault at the suture zone being neo-tectonically active, could call for a serious relook into the existing evolutionary models using new techniques and a larger geological database.
---
GS-2
Basic Exchange And Cooperation Agreement (BECA) signed between India and USA
(Topic: International Relations)
In news
India and the United States signed the Basic Exchange and Cooperation Agreement (BECA) recently.
Key takeaways
BECA, the Logistics Exchange Memorandum of Agreement (LEMOA) and the Communications Compatibility and Security Agreement (COMCASA) which were signed earlier form foundational pacts for deep military cooperation between the two countries.

BECA will help India get real-time access to American geospatial intelligence. 

The access will enhance the accuracy of automated systems and weapons like missiles and armed drones.

The sharing of information on maps and satellite images will help India access topographical and aeronautical data, and advanced products that will aid in navigation and targeting.

This could also be key to Air Force-to-Air Force cooperation between India and the US.
---
Eighteen more individuals declared as terrorists under the Unlawful Activities (Prevention) Act, 1967
(Topic: Government schemes; Security and related issues)
Reinforcing the commitment of strengthening national security and its policy of zero tolerance to terrorism, the Government has declared the following eighteen more individuals as designated terrorists, under the provisions of the UAPA Act 1967 (as amended in 2019) and included their names in the Fourth Schedule of the said Act.
These individuals are involved in various acts of terrorism from across the border and have been relentless in their nefarious efforts of destabilizing the country.
About Unlawful Activities (Prevention) Act
The UAPA, an upgrade on the Terrorist and Disruptive Activities (Prevention) Act TADA (lapsed in 1995) and the Prevention of Terrorism Act – POTA (repealed in 2004) was passed in the year 1967

It aims at effective prevention of unlawful activities associations in India.

Till 2004, "unlawful" activities referred to actions related to secession and cession of territory.

The 

2004 

amendment, added "terrorist act" to the list of offences.

Under the act, the investigating agency can file a charge sheet in maximum 180 days after the arrests and the duration can be extended further after intimating the court.

Powers to Union Government:

 If Centre deems an activity as unlawful then it may, by way of an Official Gazette, declare it so.

It has death penalty and life imprisonment as highest punishments.
2019 Amendment of UAPA
The act was 

amended

 to 

designate individuals as terrorists 

on certain grounds provided in the Act.

Earlier only organisations could be declared as such

Not designating individuals as terrorists, would give them an 

opportunity to circumvent the law

 and regroup under different name

It empowers the Director General of NIA to grant approval of 

seizure or attachment of property

 when the case is investigated by NIA

Earlier it required the consent of State Police which delayed the process

It empowers the officers of the NIA, of the 

rank of Inspector or above

, to investigate cases of terrorism

This will help solve the human resource crunch in the NIA.
---
India hosts meeting of SCO Ministers handling economy and foreign trade
(Topic: International Relations)
The current crisis due to Covid-19 is a clarion call to the SCO countries to leverage the economic strength and explore partnerships that enhance trade and investment in the region.  Cooperation should be continued to enhance intra-SCO trade and investment which would be critical in ensuring the speedy recovery from the aftermath of the pandemic. Every nation's world view is shaped by its civilization and philosophical tradition.  India's ancient wisdom sees the world as one family –  Vasudeva Kutumbakam.
In the meeting four documents were adopted.  These were:-
Statement on the response to Covid-19:  It reinforces the need for greater cooperation for access to medicines and facilitation of trade.
Statement on the Multilateral Trading System of Ministers of SCO Countries who are WTO Members: Highlights the importance of the rules based multilateral negotiations.
Statement on SCO Cooperation on Intellectual Property Rights (IPR): It relates to cooperation of intellectual property and include sharing information/experience on legislation and enforcement, cooperation in international organisations and other areas.
Action Plan for Implementation of MOU to stimulate cooperation within the framework of SCO in the field of MSMEs: It looks at  number of areas of cooperation among MSMEs, including exchange of information, organisation of events and collaboration on research and capacity building.
---
10th Round of Ministerial UK-India Economic and Financial Dialogue
(Topic: International Relations)
India and the United Kingdom enjoy close bilateral relations in diverse areas. India-UK economic ties are important as together they are two of the world's top seven economies with a combined GDP of over $5 trillion. India-UK trade has more than doubled since the first EFD in 2007, with bilateral investment supporting over half a million jobs across both countries
The Dialogue, inter alia, covered sharing of experiences on corona virus response, to enable both countries to be enriched through experiences of the other and collaboration in the G20 on finance track matters, including through G20 Framework Working Group and Debt Service Suspension Initiative (DSSI). 

Issues related to international tax agenda including development of inclusive consensus based solution on the taxation of digital economy was discussed. 

Deliberations on furthering of Financial Services Collaboration with special emphasis on Fin-Tech and GIFT City, establishment of an annual India-UK Financial Market Dialogue and measures underway to reform financial markets were also discussed. 

Infrastructure development and promotion of Sustainable Finance were also discussed with a focus on green finance. 

It was also decided to establish bilateral India- UK Sustainable Finance Forum. 

Private sector initiatives under India-UK Financial Partnership (IUKFP) and India-UK Sustainable Finance Working Group were welcomed. 
The Dialogue concluded with the formal signing of the Joint Statement by Finance Minister of India Smt. Nirmala Sitharaman and Chancellor of Exchequer of United Kingdom Mr Rishi Sunak.
---
GS-3
'Electricity Access in India and Benchmarking Distribution Utilities' report
(Topic: Energy)
By: NITI Aayog, Ministry of Power, Rockefeller Foundation, and Smart Power India
Based on a primary survey conducted across 10 states––representing about 65% of the total rural population of India and with a sample size of more than 25,000, including households, commercial enterprises and institutions––the report assesses 25 distribution utilities.
Aimed at capturing insights from both the demand (electricity customers) as well as supply side (electricity distribution utilities), the report seeks to:
Evaluate the status of electricity access in India across these states and distribution utilities along all dimensions that constitute meaningful access

Benchmark utilities' capacity to provide electricity access and identify the drivers of sustainable access

Develop recommendations for enhancing sustainable electricity access
Key findings of the report:
As much as 92% of customers reported the overall availability of electricity infrastructure within 50 metres of their premises; however, not all have connections, the primary reason being the distance of households from the nearest pole.

Overall, 87% of the surveyed customers have access to grid-based electricity. The remaining 13% either use non-grid sources or don't use any electricity at all.

The hours of supply have improved significantly across the customer categories to nearly 17 hours per day.

Nearly 85% of customers reported to have a metered electricity connection.

Access to electricity is observed in 83% of household customers.

A satisfaction index was created to assess the overall satisfaction level of customers with utility services. The study suggested that a total of 66% of those surveyed were satisfied––74% of customers in urban areas and 60% in rural areas. 
Three key areas to focus on:
Learnings from DBT schemes in Punjab

Tariff simplification and rationalization

Best practices from high-performing Indian discoms
Recommendations:
Prioritizing the release of new connections for non-household customers

Transfer of subsidies or other benefits directly into a customer's account

Enhanced technology-driven customer service

Ensuring 100% metering of customers

Segregation of feeder lines––the concerned ministry to expedite these to maximize the benefits.
---
Need for long term solutions for management of biomedical waste
(Topic: Waste Management)
Biomedical waste is a threat to global public and environmental health. Worldwide, it is estimated that at least 5.2 million people, including 4 million children, die each year because of diseases related to unmanaged medical waste.
Objective
To have a holistic understanding on various facets of waste management in context of COVID-19 along with socio-environmental impacts

Managing bio-medical waste to ensure near-zero infections spread among waste management workers
There is a need for a  multi-faceted approach which included strict segregation and containment of waste supported by instructional videos, professional training, development and roll-out of Covid-19 specific biomedical waste rules, identification and promotion of suppliers of waste management related goods and services.
Considering the Covid-19 pandemic, the surge in infectious waste from healthcare facilities as well as residential and other sectors has become a new major threat to public health and the environment.
Improper handling of biomedical wastes from hospitals adds to the spread of Covid-19, and hence safe handling and final disposal of this waste is therefore a vital element in an effective emergency response to the pandemic.

Unsafe disposal of healthcare waste not only pollutes the environment but also poses a risk of infectious diseases such as hepatitis, cholera, typhoid, and respiratory complications, which are mainly caused by the reusing of the disposal of medical equipment or by scavenging the medical waste, as reported in different countries.
Effective biomedical waste management is critical as it can adversely affect the health of humans. 
Proper segregation, safe storage, and disposal of waste are key to the effective management of biomedical waste. 

Segregation of waste plays a serious role in improved biomedical waste management. 

It is important to scale back the quantity of infectious waste otherwise the quantum of waste will surpass the control of management. 

Proper use of medical waste disinfectant equipment by hospitals and medical centres is the need of the hour to contain a future epidemic.
Background
The sudden onset of the COVID-19 pandemic in early 2020 has imposed massive health and economic burdens on communities around the world and affected every sector of society, including the waste-water sector. Among all the categories of biomedical waste, liquid wastes pose a serious threat to human health and the environment because of their ability to enter watersheds, pollute groundwater and drinking water when improperly handled and disposed.
75% of the water goes to Agriculture, and there is also a nexus between water and health, especially in the times of COVID 19. Even when the COVID 19 would disappear from the world, water problems would still be there. Science & Technology is not the limiting factor to prevent the use and abuse of water. There are a whole lot of factors like economics of situation, public behaviour, and awareness in the society which need to be focused to prevent the abuse of water
Prelims oriented News
Infantry Day: 27th October, 2020
Rashtriya Ekta Diwas: 31st October; Observed on the Birth Anniversary of Sardar Vallabhbhai Patel, across the country today
Recent terrorist attack: Inside a church in Nice, France
World's first scientoon book "Bye Bye Corona"on Coronavirus released: Written by 'scientoonist' Dr Pradeep Srivastava, former Senior Principal Scientist at CSIR-Central Drug Research Institute (CDRI), Lucknow
The 220 pages book contains comprehensive information on novel coronavirus pandemic, its symptoms and its prevention through precautions. 'Bye Bye Corona' also has a very interesting chapter on the 'Art of Living with Coronavirus' highlighting the methods to deal with the virus in day to day life if it is here to stay for a longer time. The Book offers a perspective insight into the intricacies of the deadly pandemic without scaring the reader.

A 'scientoon' is a cartoon communication based on science. Scientoons are meant to inform and sensitize people to science and scientific concepts in an intelligible and interesting way
Army launches Secure Application for Internet (SAI): In the quest for 'Atmanirbhar Bharat', Indian Army has developed a simple and secure messaging application named the "Secure Application for Internet (SAI)".  The application supports end to end secure voice, text and video calling services for Android platform over internet.  The model is similar to commercially available messaging applications like Whatsapp, Telegram, SAMVAD and GIMS and utilises end to end encryption messaging protocol.  SAI scores over on security features with local in-house servers and coding which can be tweaked as per requirements.
2020 Nobel Prize in Physics: For their contribution in understanding Black Holes: 
Roger Penrose (for the discovery that black hole formation is a robust prediction of the general theory of relativity)

Andrea Ghez and Reinhard Genzel (for the discovery of a supermassive black hole at the centre of our galaxy).
A black hole
A black hole has two basic parts: the singularity and the event horizon. The singularity is at the centre and is where the mass resides.

Black holes are of three types, classified on the basis of their mass – Stellar mass black holes, Mid- size black holes and Super Massive black holes.

Laser Interferometer Gravitational Wave Observatory – India and the role of India in the findings and research of black holes. India is part of the biggest research in the world that is working in the field of black holes. The construction of the LIGO is coming up in Hingoli district, Maharashtra.

Laser Interferometer Gravitational Wave Observatory –

India is a planned advanced gravitational-wave observatory to be located in India as part of the worldwide network. The LIGO-India project will be built by the Department of Atomic Energy and the Department of Science and Technology, Government of India, with a Memorandum of Understanding with the National Science Foundation (NSF), USA, along with several national and international research and academic institutions. The three institutes leading the project in India are Inter-University Centre for Astronomy and Astrophysics in Pune, Raja Ramanna Centre for Advanced Technology in Indore and the Institute of Plasma Research in Ahmedabad.
Cabinet approves Memorandum of Cooperation between India and Japan on cooperation in the field of Information and Communication Technologies
Will contribute in strengthening bilateral cooperation and mutual understanding in the field of communications and will serve as a strategic initiative for India as Japan is an important partner with "Special Strategic and Global Partnership" status.

Will help in cooperation between two countries in various fields like 5G network, telecom security, Submarine cable, standard certification of communication equipment, utilization of latest Wireless Technologies and ICTs, ICTs capacity building, Public Protection and Disaster Relief, Artificial Intelligence (AI) / Block Chain, Spectrum Chain, Spectrum Management, Cooperation on Multilateral platforms etc.

Further enhance opportunities for India to get into global standardization process. Cooperation in ICTs technologies will help in strengthening ICTs infrastructure in the country. Cooperation in the development of future submarine cable networks and technologies will help in boosting connectivity of mainland India to remote areas.  

The MoC aims to promote human capacity building in field of ICTs and further development of startup ecosystem which will contribute in realizing the objectives of Atmanirbhar Bharat.
Cabinet approves the Memorandum of Understanding between India and Cambodia on cooperation in the field of Health and Medicine
The bilateral MoU will encourage cooperation between the two countries through joint initiatives and technology development n the health sector.  It will strengthen bilateral ties between India and Cambodia.  The MoU shall become effective on the date of its signature and shall remain in force for a period of five years. The main areas of cooperation between the two Governments include:
Mother and child health;

Family Planning;

HIV/AIDS and TB;

Drugs and Pharmaceuticals;

Technology Transfer;

Public Health and Epidemiology;

Disease Control (Communicable and Non-Communicable);

Medical Research and Development, subject to the approval of the National Ethic Committee of Cambodia and to the clearance by concerned Department/Ministry in India;

Medical Education;

Health manpower development in the field of public health;

Training in clinical, para-clinical and management skills
India Post and United States Postal Service (USPS) signs Agreement for Electronic Exchange of Customs Data related to postal shipments exchanged between the two countries:
The agreement will make it possible to transmit and receive electronic data of international postal items prior to their physical arrival at the destination and would enable customs clearance of postal items in advance in line with the evolving global postal framework. 

This will also improve the performance of postal services in terms of reliability, visibility and security.

USA is the top export destination for India (~17%) which is also reflected in exchange of goods through postal channel. In 2019, around 20% of outbound EMS and 30% of Letters & Small Packets transmitted by India Post were destined to USA whereas 60% of the Parcels received by India Post were originated from USA. Exchange of Electronic Advance Data (EAD) as per the Agreement will be a key driver towards promoting mutual trade with emphasis on the exports from different parts of India to USA through postal channel considering that USA is a major destination of MSME products, Gems &Jewelry, Pharmaceuticals and other local products from India. This will fulfill a major demand of export industry to expedite customs clearances of export items.
Indian Army launches Software for Infrastructure Management
Infrastructure development has gained significant importance in many of the Army stations where major works are planned to replace vintage accommodation of pre independence era.  Land has also become a very scarce resource since all cantonments and military stations have now come closer to major population centres. 
Presently all functions towards infrastructure development and management to include ascertaining availability of land, planning and monitoring of works, environment conservation and responsive quartering policies are carried out manually, which is not only time consuming but is also in-efficient.
Realising that automation is the key to empowering all stake holders to transform and become efficient, transparent and enhance accountability, Indian Army has introduced a software named the "Infrastructure Management System (IMS)' software which was inagurated by the COAS on the sidelines of the Army Commanders Conference on 28 October 2020. The scope of the software package developed includes the following – 
To automate works initiation, preparation of list and its approval by the MoD.

To accord administrative approval and monitoring of execution by the CFA.

To automate availability of CAO pool accommodation, plan vacation, re-allocation and undertake maintenance.

To automate approval of accommodation allocation/extention for children education ground, special children and Battle/Physical casualty.

Manage cantonment roads including emergency closure.

Make land, works and quartering policies available on line

Monitor land encroachment, Old Grant Bungalows, VIP references and transfer/exchange of land.
Launch of DST initiative SERB – POWER (Promoting Opportunities for Women in Exploratory Research)
It is a scheme to mitigate gender disparity in science and engineering research funding in various S&T programs in Indian academic institutions and R&D laboratories. Integration of the gender dimension in research design has gained considerable attention in the global scenario.
Salient features of the SERB-POWER Fellowship:-
Target: Women researchers in 35-55 years of age. Up-to 25 Fellowships per year and not more than 75 at any point in time.

Components of support: Fellowship of Rs. 15,000/- per month in addition to regular income; Research grant of Rs. 10 lakh per annum; and Overhead of Rs. 90,000/- per annum.

Duration: Three years, without the possibility of extension. Once in a career.
Salient features of the SERB – POWER Research Grants:
POWER Grants will empower women researchers by funding them under following two categories:
Level I (Applicants from IITs, IISERs, IISc, NITs, Central Universities, and National Labs of Central Government Institutions): The scale of funding is up to 60 lakhs for three years.

Level II (Applicants from State Universities / Colleges and Private Academic Institutions): The scale of funding is up to 30 lakhs for three years.
POWER Grant will be regulated through terms of reference conforming to SERB-CRG(Science and Engineering Research Board-Core Research Grant) guidelines.While a Search-cum-Selection Committee constituted for the purpose will help in identifying the POWER Fellowship, the existing Programme Advisory Committee (PAC) mechanism will be used to select the POWER Research Grants.
Bundi: Architectural Heritage of a Forgotten Rajput Capital
Bundi erstwhile capital of Hada Rajput province known as Hadauti located in south-eastern Rajasthan, is one such place. Bundi is also known as City of stepwalls, blue city and also as Chotti Kashi. 
In ancient times, the area around Bundi was apparently inhabited by various local tribes, of which the Parihar Tribes, Meena was prominent. 

Later the region was governed by Rao Deva, who took over Bundi from Jaita Meena in 1242, renaming the surrounding area as Haravati or Haroti. 

For the next two centuries, the Hadas of Bundi were the vassals of the Sisodias of Mewar and ruled by the title of Rao until 1569, when Emperor Akbar conferred the title of Rao Raja upon Rao Surjan Singh after the surrender of Ranthambore Fort and his submission. 

In 1632, Rao Raja Chattar Sal became the ruler, he was one of the most valiant, principled and just kings of Bundi. He built the temple of Keshavarao at Keshoraipatan and Chathra Mahal at Bundi. He became king of Bundi after his grandfather Rao Ratan Singh, as his father Gopinath died while Ratan Singh was still ruling. Rao Chattar Sal died fighting valiantly as the head of his Hada Rajput troopsin the Battle of Samugarh in 1658 along with his youngest son Bharat Singh Rao Bhao Singh, the eldest son of Chhattar Sal succeeded his father to the throne of Bundi.
Sardar Vallabhbhai Patel
India's first deputy prime minister and the minister of home affairs, went on to truly become—in the words of Shashi Tharoor—"the man who saved India". By integrating more than 560 princely states, Patel and his secretary of the ministry of states V.P. Menon imparted geographic coherence to India and prevented its Balkanization, a fate which many predicted would befall the newborn state.
Sardar Vallabhai Patel along with C Rajagopalachari can be considered as true Gandhians, who followed the footsteps of Gandhi and former's contributions in the Independence struggle is no less a feat.
Patel's contribution in Independence struggle:
Led from front in Kheda and Bardoli satyagraha.

Mobilization of masses.

Salt Satyagraha and subsequent arrest.

Role in Civil Disobedience.

Role in defending fundamental rights and civil liberties during his congress presidency.

Social work: Untouchability, Women empowerment, Caste discrimination, alcohol ban etc. in Gujarat.
Unification: After independence, Sardar Patel become India's first deputy prime minister and first home minister and placed a very significant role in unification of country.
Accession of princely states into Indian Union.

Operation Polo.

Referendum in case of Junagarh.

Effort to settle refugees fleeing Pakistan.

Safeguarding and strengthen Civil services.
Unifying the nation- A task unmatchable
Sardar Patel had the tough task of unifying the 500+ princely states into one homogenous country. The princely states covered almost 48% of the area. Legally, they were not part of British India but subordinate to the British crown. The British gave an option to the princely states to join India or Pakistan. The task of Sardar Patel was very tough from 1947 to 1950. Things were done in a context where lot of fast moving developments were taking place and the task given to him as one of the founders of republic is true.
The question of borders was the crucial new question that India had to face because suddenly it had two different borders, one on west which had been drawn up in very haphazard and hasty manner and other in the east, with the creation of east Pakistan, which created a problem with regard to the north east states that were now tenuously linked to rest of India and needed attention.
The whole effort of Sardar Patel was to make sure that an already complicated situation on the ground did not get further complicated. It had his commitment to a strong state and a strong union that motivated him to push him where rulers were hesitant, where the population and rulers belonged to different persuasion. There was a certain hesitation as which would be more advantageous option. He made it very clear that those within the borders had only one option and that was India.
Thus, if Gandhiji was the father of nation and Nehru was father of Indian state, Sardar Patel could legitimately claim to be father of Indian Union in the sense that it was his tireless efforts over period of 3 years from 1946-1949 that united India through persuasion, through diplomacy, sometimes through coercion and threat of military use. This process was a master stroke in lasting achievement to the building of Indian republic.
If no unification?
British colonial rule created a haphazard mix of territories and the boundaries that arose from the hazards and the opportunities given by military conquest or treatise with local rulers.
However, it made no sense on the ground. One of the planks of INC and national movement was that they would put this in order. They would recognise the socio cultural entities and boundaries and would redraw the map of India. Sardar Patel's contribution was to create the space for this reorganisation of state because if there were pockets and enclaves and territories which could not be integrated, it would not have made a unified India very difficult, if not impossible. Manipur was an important princely state. So was Tripura. They were active in the national movement but when it came to integration, Sardar Patel was very clear that accession first and then rest would be seen. Thus, his contribution is immense in creating the unified country. However, many of the grievances cropped up later because these initial promises had been betrayed.
Contribution in saving J&K for India
Those were troubled times when the infiltrators from the other side of the border had begun moving in. One must also remember the delicate international context of the cold war and the various treaties in place. It is against that backdrop and also the enormous journey of the refugee movement and migration from either side of the border.
Sardar Patel as the Home Minister was resolutely looking after the protection of the population crossing the borders. His contribution in the Kashmir crisis remains as the taking of bold decision of airlifting of the troops and halting the advance of the infiltrators who had crossed over and occupied a certain portion of Kashmir.
Hyderabad crisis
Sardar came to know about the local militia, backed by the Nizam of Hyderabad, ransacking villages and holding people to ransom. Thus he ordered the military action against the Nizam of Hyderabad. There was a clear police action taken because of Sardar's quick decision making power. Had this not been done, Hyderabad would have been become hot bed of instability in the middle of the Deccan and splashing its negative effects in neighbouring areas.
Sardar was similarly firm in case of Goa but it was overruled as throwing the Portuguese by the use of armed force somehow did not appeal to the government of that time. But later, as known, there was no option and it had to be done.
Offer from Pakistan
Muhammad Ali Jinnah, the founder of Pakistan, offered the several of the bordering Rajas of princely states that they would retain their existence if they came to Pakistan. Sardar Patel countered that, especially the Rajputana princes and Patiala and some parts of Gujarat. Despite Jinnah's offer which looked lucrative then, Sardar managed to get these princes into India with his skilful combination of diplomatic persuasion of pointing to the larger long term interests of their population and also a certain amount of arm twisting and threats which made it clear that there would be a price to pay if they did not accept the conditions that Indian government was putting to them.
In those troubled circumstances where rulers hesitated balancing their own self-interests, their own loyalties, their own identities with the general well-being of their people, this firm intervention helped in making up their minds.
Sardar's persona
His strong will and decisiveness makes him stand apart from the crowd. That is why he is called the iron man. That aspect of his personality that he did not shirk at taking unpleasant and tough decisions and at the same time, he was very humane with undivided loyalty to Gandhiji, made him the initial choice as India's first PM.
Sardar Patel asked the princes to join him and gave them a privy purse for one time payout or annual pay out or grant for giving lands and revenues to the union of India. Some sort of compensation was in order because they were going to lose what they lived on and thus their maintenance was to be made. Also, it was needed as the union was being made and hence it was important to get cooperation. The privy purses at that time was seen as a diplomatic move.
An administrator by instinct, Patel sought to protect the privileges of the Indian Civil Service officers who were deemed to be compromised on account of their previous services to the British Raj. Sardar Patel was a hard-nosed realist and his clarity of thinking was matched only by Subhas Chandra Bose and B.R. Ambedkar among contemporaries.
Sardar's contribution was recognised at the time and despite the differences that he may have with his colleagues, what is needed to remember that he was a loyal and steadfast soldier of the Indian struggle for independence. He was committed to Gandhiji and so whenever there were differences, he bowed to Gandhiji and his opinion. This has sustained the partnership and helped India find its feet.
He died in 1950 and thus in that short period of Indian independence, he made an enormous contribution. In 1991, he was given Bharat Ratna.
Related Important events from 1946-1951 (Till Sardar Patel's death)
From 1946 to 1951, there was formation of constitution of India, independence of India and formation of states. Internal consolidation was focused upon. Equally important was the positioning of India on world map. The rise of iron curtain, the beginning of cold war and also the fact that new powers were rising, Afro Asian solidarity was coming into being and India not taking up the offer of UNSC seat and instead of it going to china, this has to be seen in wider context as Nehru was clear at that time that belonged to China. These events marked the final years of Sardar Patel's life.
Patel was among the few to see the dangers from China's imminent takeover of Tibet. One of the foremost chroniclers of Sino-India relations, John W. Garver records: "Patel advocated a series of practical measures designed to strengthen India's position: accelerated road building in the frontier areas, strengthening of India's military capabilities, moves to better integrate the northeastern territories into India.".
Note:
Iron Curtain- the Iron Curtain was the name for the boundary dividing Europe into two separate areas from the end of World War II in 1945 until the end of the Cold War in 1991. The term symbolized efforts by the Soviet Union to block itself and its satellite states from open contact with the West and non-Soviet-controlled areas.
Physically, the Iron Curtain took the form of border defenses between the countries of Europe in the middle of the continent. The most notable border was marked by the Berlin Wall and its Checkpoint Charlie, which served as a symbol of the Curtain as a whole.
The events that demolished the Iron Curtain started in discontent in Poland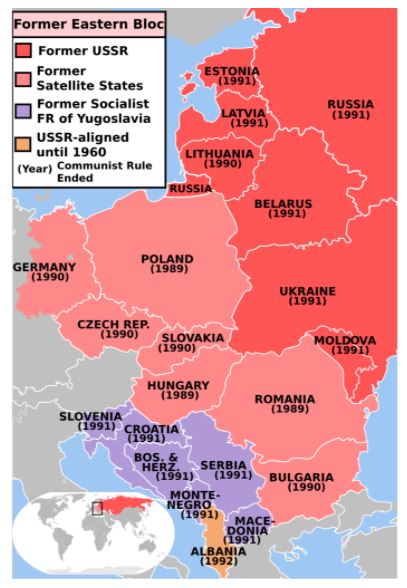 Picture Credit: https://upload.wikimedia.org/wikipedia/en/thumb/1/1e/EasternBloc_PostDissolution2008.svg/693px-EasternBloc_PostDissolution2008.svg.png
Sarder Vallabhai Patel was a great son of country whose contribution towards Independence struggle and preventing Balkanization of country is worth mentioning for ages to come. Majority of the credit goes to this tall man, if India is able to maintain its Unity and Integrity till today. For his feat he was fondly known as "Iron Man of India".
For a dedicated peer group, Motivation & Quick updates, Join our official telegram channel – https://t.me/IASbabaOfficialAccount
Subscribe to our YouTube Channel HERE to watch Explainer Videos, Strategy Sessions, Toppers Talks & many more…