Hello Friends,
We hope that you are all safe and fine in this new bizarre reality of pandemic. The time has been tough for the common public but even harder for civil services aspirants. So we would genuinely like to ask you these few questions?
How exactly are you?

How is your preparation going?

Is time management bothering you?

Are you worried or anxious about your Prelims preparation?

Do you think you are ready to appear for the Prelims exam?

Do you wonder, how come some senior aspirants always clear prelims?

Should you be focussing on core subjects or Current Affairs right now?

What and how should you be studying for prelims?

What should be your plan for the coming 6 months for prelims?
As you are pondering over the answer for these questions and spending sleepless nights, we would like to tell you that working in the right direction is much better than worrying.
View the VIDEO, to Know More about IASbaba's PEP 2021 - Mohan Sir (Founder IASbaba)
00:00 – 04:20 – Changing Trend of UPSC Prelims & Lesson's Learnt from Prelims 2020
04:21 – onwards- Important Features – Prelims Exclusive Programme (PEP)
As you all are aware that the first step of Civil Services Examination (CSE), the Prelims exam, has become the most difficult and unpredictable ladder to climb. Students despite hard work are not able to hit the right cord. This is causing a lot of distress and anxiety amongst the students.
After the Prelims 2020 Exam, there was a lot of panic among aspirants owing to the randomness of the questions asked.
Where exactly do we fall short?
Nearly five lakh people appear but less than 12000 get through it. That means less than 2.5% is the success rate.If you fail, you have to wait for one whole year to appear for the next prelims. This phase of waiting is most challenging. As it is the first stage of qualification, failing can be very demotivational. 
When it comes to prelims, it is often said that you have to read XYZ books and XYZ Current Affairs materials. You did that, crammed the facts and still were not able to sail through the examination. Reason being, your conceptual clarity is not spot on.
Let's consider this with a couple of examples from Prelims 2020.
There was a question on 'Visible Light Communication', but you failed to tackle this question.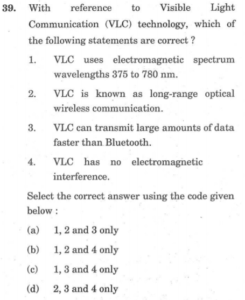 You might have read about 'Li-Fi' in your current affairs booklets/notes but failed to understand the working of it.

"LiFi is a term used to describe high-speed networks that make use of visible light to transmit data. LiFi, which means light fidelity, makes use of LEDs to emit light signals to transmit data."

Visible Light Communication (VLC) Technology is the short range optical wireless communication technology using LEDs for communication and illumination.
Also, There was already a question on 'Li-Fi' in UPSC CSE Prelims 2016.
Let's consider a question on Siachen Glacier.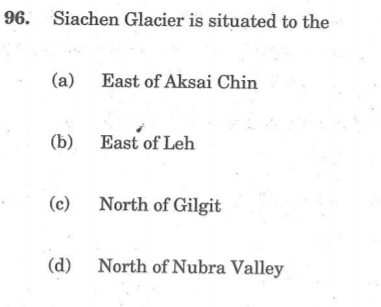 'Siachen Glacier' was very much in the news. Did you open google maps and happen to look at it? If yes, you would have got the question right. If not, you'll make a 'FOMO' (Fear of Missing Out) attempt and get negative marks for it.
Clearing Prelims depends on many factors like the number of revisions, ability to recall facts, sources that one has followed, number of tests one has solved and ability to prepare according to the demand of UPSC.  Problem here is not lack of talent, but lack of confidence, strategy, and use of common sense. Off late especially after 2017, UPSC prelims exam has been about logical elimination and common sense approach where even if you do not know the exact answer, you can still make it right and can clear prelims.
Considering these aspects, last year we started an exclusive program targeting Prelims preparation. This was named PRELIMS EXCLUSIVE PROGRAMME (PEP).
PEP is a ONE STOP DESTINATION FOR PRELIMS PREPARATION ….!!!
PEP helped in changing the ball game for many aspirants. The question paper which was found too difficult to crack by many, our students qualified with flying colours. And they have shown their gratitude in the following words.
TESTIMONIALS OF STUDENTS:





This year again we are coming up with this amazing program. And you know what, this year it is going to be bigger.
YES, considering the COVID situation this year, we have decided that PEP program will be launched in multiple cities in offline mode (Subjected to Government guidelines) as well as in Online mode. 
PEP Features in a nut-shell:
1.     Mentorship
2.     Topper's Enrichment Sessions- About their Prelims Strategy & Experience
3.     Prelims Strategy Classes (1-Week Program) on how to Prepare, How to apply Tricks/Techniques- Live (from well researched set of questions), How to read specific content (Economic Survey, Budget, Atlas (Maps), Current affairs, Government Schemes/Policies), How to Solve a Test, Time management – 6 Classes
4.     Subject-wise (Polity, Geography, Economics, History, Art & Culture, Science & Tech and Environment) Daily Class – 70 Classes and subject wise Exclusive tests.
5.     Hand-outs for specific Prelims topics for every subject for quick revision
6.     Subject wise current affairs will be taken by subject teachers.
7.     Prelims oriented Current Affairs Tests & Handouts– 17 Tests
8.    3 Exclusive Tests on Map-based, Government Schemes/Policies, Economic Survey, Budget.
9.    6 Revision Tests – Polity, Geography, Economics, History, Art & Culture, Science & Tech and Environment.
10.  5 Mock Tests
11.  10 CSAT Tests + 12 Discussion Classes on strategies and short-cuts
90 Classes and more than 100 tests are included in the program.  
Please Note that:
PEP will start on 18th January 2021.

The program will be available BOTH 

OFFLINE

 

(in DELHI, BANGALORE) depending on Government guidelines)

 and 

ONLINE

Also, you can avail the Programme on 

À la carte basis – 

ONLY – Prelims Strategy Classes (or) Subject-wise Daily Class and Tests (or) Tests (Current Affairs, Exclusive, Revision, Full Mocks). 

À la carte basis is available only in Online mode
Kindly look below the Payment Section for more Details about the pricing of the Programme.
SPECIAL FEATURE:
SUPER 100 – Scholarship Test!
Like other initiatives of IASbaba, a scholarship test to select Super 100 will be conducted.
Rank 1 to 30

 – 100% Discount

Rank 31 to 65

 – 50% Discount

Rank 66 to 100

 – 25% Discount
Details of Super 100 Test:
All the students will be eligible for the test. No pre-conditions. FREE Registration !! (Please find the registration link below)
The Scholarship Test will have two parts –
Objective Static & Current Affairs Test – 50 MCQs

Objective CSAT Test – 50 MCQs
Please Note: The test will be held on 10th January 2021. The test will be conducted in OFFLINE MODE (ONLY) at our Delhi and Bengaluru Centres. After you are selected in the scholarship test, you can avail the PEP programme either in Offline Mode or Online Mode.
Interested aspirants, kindly fill the below form. The names of the Selected candidates will be published on the website and at the offline centres (Bengaluru & Delhi).
Selection will be based only on Merit and discretion lies with IASBaba on admission to this program.
TO REGISTER FOR 'SUPER 1

00

' -> 

CLICK HERE

Last Date to Register 9th January 2021 (by 6 PM)

Note: After making the payment if you clear the scholarship test, the fees will be refunded.
Complete Details about the Programme:
"The programme teaches you how to hunt, rather than feeding you the hunt." 
PEP is a ONE STOP DESTINATION FOR PRELIMS PREPARATION ….!!!
---
IMPORTANT NOTE:
The Programme will start from 

18th January 2021 (Monday).

PEP is available 

BOTH OFFLINE (DELHI, BENGALURU) and ONLINE.
NOTE: Offline classes will be subjected to Government guidelines. 
---
EXCLUSIVE FOR ONLINE MODE:
A 

platform

 has been designed for this initiative. 

Discussion Classes, Hand-outs and Tests

 will be uploaded on this Platform on Daily-basis with a 

1 day lag

 with reference to the offline schedule.

Mentorship

 will be available over phone call.
Though the 

Tests are flexible

, we would advise you to stick to the schedule to ensure discipline in your preparation.
Once the payment is done, an acknowledgment will be sent immediately. You will receive the 

login credentials by 17th January, 2021

.
With this result-oriented effort, many students were able to gain a lot of confidence and qualify prelims last year. You can also become a part of this knowledge carnival to make your dream a reality.
MODE OF ADMISSION / ENROLLMENT:
The entire PEP Programme will cost you Rs. 18,880/- (inclusive of Tax). This is available in both Offline and Online mode
Price: Rs.16,000 + 18% GST = Rs.18,880/-
You can avail the Programme on À la carte basis as well. Find the payment links below:
50% Discount – ILP 2021 and TLP 2021 Students (Offline & Online)
15% Discount – For Previous batches of ILP/TLP/AIPTS Students (Offline & Online)
Procedure to Avail Discount-
While making the Payment through the above mentioned payment link, Use Instamojo ID and Previous Registered Email.
Email to ilp@iasbaba.com for assistance in case you are not able to find your details.
Discount is applicable only for Complete PEP Programme
Your payment confirms your admission!
Once the payment is done, you can take the print copy of online payment and come to centre along with 2 passport-sized photographs, Aadhar card or 10th standard marks card and fill the application form.
(OR)
Direct Walk-in: You can visit any of the following centres for admissions or related enquiries: And get enrolled. 
BENGALURU CENTRE:
IASbaba Admission Centre:

 No.38, 3rd Cross, 1st Phase, 2nd Stage, 60 Feet Mains Road, Chandralayout, Bengaluru-560040. 

Landmark

: Opposite to BBMP Office/ CULT Fitness
5B, PUSA Road, Opposite to Metro Pillar 110, Karol Bagh, New Delhi -110005 (Landmark: CROMA Store)
For any Queries:
You can also reach us on
Email id: pep@iasbaba.com
Contact No.: 9169191888 (10 Am – 6 Pm) Please do not make calls before or after the given timing.
---
For IASbaba's Offline & Online COURSES (for UPSC 2021)

-> CLICK HERE
---
Thank You
IASbaba