---
(PRELIMS + MAINS FOCUS)
---
Part of: GS Prelims and GS – III – Climate change 
In news
The

National Green Tribunal

(NGT) has constituted an eight-member National Task Force (NTF) to combat air pollution and monitor remedial steps to improve air quality.
Key takeaways 
Composition:

Senior officials from the Ministry of Environment, Forests and Climate Change, Ministries of Housing and Urban Affairs, Petroleum, Transport, Power, Agriculture, Health and the Central Pollution Control Board.

The NTF may also monitor enforcement of laid down air aquality standards beyond non-attainment cities in other identified air polluted areas where air quality is poor and above. 
The Chief Secretaries of all States and Union Territories may continue to monitor progress in execution of action plans at the State-level with the assistance of monitoring cells in their offices and the Air Quality Monitoring Committee.

 
Important value additions 
The National Green Tribunal (NGT)
It is a specialized body. 
It was formed under the NGT Act, 2010. 
Objective: (1)

Effective and expeditious disposal of cases related to the protection and conservation of the environment;

(2)

To give relief and compensations for any damages caused;

(3)

To handle various environmental disputes that involve multi-disciplinary issues.
India is the third country in the world after Australia and New Zealand, for setting up a specialized environmental Tribunal. 
Places of sittings

: Bhopal, Pune, New Delhi (Principal place), Kolkata, and Chennai.
Composition:

Chairperson, Judicial Member and Expert Members.
There should be a minimum of 10 and a maximum of 20 fulltime Judicial as well as Expert members in the NGT.
Term:

5 years and are not eligible for reappointment.
The Chairperson is appointed by the Central Government in accordance with the Chief Justice of India.
A Selection Committee is formed by the central government of India for the appointment of Judicial Members and Expert Members.
Civil cases are handled under the following seven laws:
Water Act (Prevention and Control of Pollution), 1974

Water Cess Act (Prevention and Control of Pollution), 1977

Forest Act (Conservation), 1980

Air Act (Prevention and Control of Polluti

on), 1981

Environment (Protection) Act, 1986

Public Liability Insurance Act, 1991

Biological Diversity Act, 2002
---
Part of: GS Prelims and GS-III – Economy; Start up
In news
Important value additions 
National Startup Advisory Council
Constituted by

: Department for Promotion of Industry and Internal Trade (DPIIT) 

Objective

: To advise the Government on measures needed to build a strong ecosystem for nurturing innovation and startups in the country to drive sustainable economic growth and generate large scale employment opportunities.

The council has representations from various stakeholders such as founders of successful startups, veterans who have grown and scaled companies in India, persons capable of representing interest of investors into startups, and representatives from industry associations.
---
Part of: GS Prelims and GS – III – Infrastructure 
In news
Rs. 110 crore ROPAX Jetty Project shall be constructed on river Dhamra in Odisha.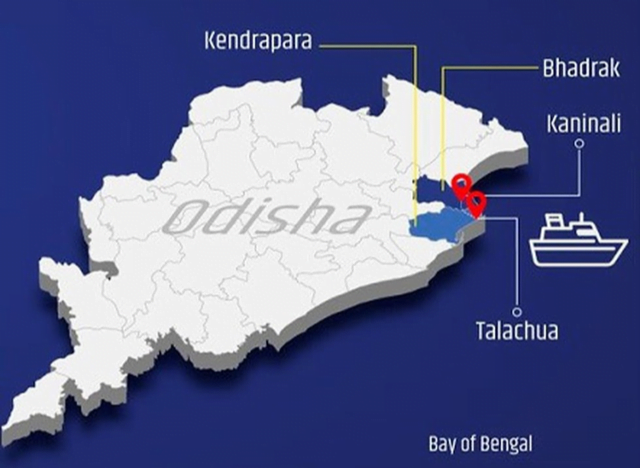 Key takeaways 
Ministry of Ports, Shipping & Waterways (MoPSW) has accorded administrative approval for developing all-weather ROPAX (Roll-on/Roll-off Passenger) Jetty and allied Infrastructure. 

It shall connect Kaninali in Bhadrak district & Talachua in Kendrapara district, Odisha under the

Sagarmala initiative

.

This project will reduce travel time for passengers from 6 hours by road to 1 hour by waterway.

Kaninali in Bhadrak district and Talachua in Kendrapada district, are located on the northern and southern banks of River Dhamra respectively.
---
Part of: GS Prelims and GS – II – International Relations 
In news
The Union Home Ministry has restored the electronic visa (e-visa) facility for foreigners from 156 countries who intend to visit India for business, conferences and medical reasons, including for medical attendants. E-visa for tourists is yet to be restored
Important value additions 
An e-visa is provided in five categories — tourist, business, conference, medical, and medical attendant. 

Under the arrangement, a foreigner can apply online four days prior to travel.

After the details are verified, an electronic travel authorisation (ETA) is generated, which has to be presented at the immigration checkpost on arrival

Entry through e-visas is allowed only at 28 designated international airports and five major seaports in India.

Though available to people of 171 countries before restrictions were announced in 2020, the facility has been restored only for 156. 

China, the U.K., Canada, Hong Kong, Indonesia, Iran, Malaysia and Saudi Arabia are notable exclusions. 

The relaxation comes in the wake of a deadly

second wave of the COVID-19 pandemic

.
---
Miscellaneous
Diatom test 
Diatoms are photosynthesizing algae which are found in almost every aquatic environment including fresh and marine waters, soils, in fact, almost anywhere moist.

Diagnosis of death by drowning is deemed as a difficult task in forensic pathology.

The test entails findings if there are diatoms in the body being tested.
A body recovered from a water body does not necessarily imply that the death was due to drowning.

If the person is alive when he enters the water, the diatoms will enter the lungs when the person inhales water while drowning. 

These diatoms then get carried to various parts of the body, including the brain, kidneys, lungs and bone marrow by blood circulation.

If a person is dead when he is thrown in the water, then there is no circulation and there is no transport of diatom cells to various organs.
---
(Mains Focus)
---
INTERNATIONAL/ SECURITY
Topic:

GS-2: Bilateral, regional and global groupings and agreements involving India and/or affecting India's interests.
New Cold War
US vs China:

U.S. continues to view China as its principal adversary on the world stage and that it will use the

Quad

to challenge China in the Indo-Pacific, possibly as part of a "new Cold War".

Realignment of geopolitical theatre

: The new Cold War is now being reflected in a new geopolitical binary — the Indo-Pacific versus Eurasia.

Growing Russia-China Axis

: U.S. animosity has encouraged China and Russia to solidify their relations. Besides significantly expanding their bilateral ties, the two countries have agreed to harmonise their visions under the Eurasian Economic Union sponsored by Russia and China's Belt and Road Initiative (BRI). 

Challenge to QUAD:

Russia-China axis

has now been subsumed under the 'Greater Eurasian Partnership' to which both are committed. Both have condemned the Quad for "undermining global strategic stability".
Middle Powers
The final shape of this divide will be determined by four nations,

namely Japan, Iran, Turkey and India

, which, as "middle powers", have the capacity to project power regionally, build alliances, and support (or disrupt) the strategies of international powers pursuing their interests in the region.

Japan and India are deeply entrenched in the Quad and have substantial security ties with the U.S.

Iran has for long been an outcaste in western eyes and has found strategic comfort with the Sino-Russian alliance.

Turkey, a NATO member, has found its interests better-served by Russia and China rather than the U.S. and its European allies.

The four middle powers, whose choice of alignment will impart a political and military binary to world order, are reluctant to make this a reality.

These nations could find salvation in "strategic autonomy" — defined by flexible partnerships, with freedom to shape alliances to suit specific interests at different times.

These four middle powers will thus make multipolarity, rather than a new Cold War, the defining characteristic of the emerging global order.
Connecting the dots:
---
GOVERNANCE/ SECURITY
Topic:

GS-3: Public Distribution System- objectives, functioning, limitations.
GS-2: Government policies and interventions for development in various sectors and issues arising out of their design and implementation
Context: The Supreme Court recently asked the Centre to respond to allegations made in a PIL by a Dalit woman from Jharkhand that 3 crore ration cards have been cancelled in the country because of the insistence on Aadhaar linkage and biometric authentication.
Ever since Aadhaar-based biometric authentication was introduced in PDS, there have been numerous reports about 
People's fingerprints not getting confirmed by the e-PoS device at the ration shop, 

Iris scanners not being there as backup

Poor Internet connection forcing people to spend on another trip to the shop leading to loss of one day's earnings
What has been the implication of such racancellation?
Beneficiaries are denied foodgrains due to non-possession/production of an Aadhaar ID or because their Aadhaar biometric details didn't match or on account of technical or server issues.

As a result, the inaccessibility to food has caused starvation deaths

These administrative weaknesses has affected the food & nutritional security of our nation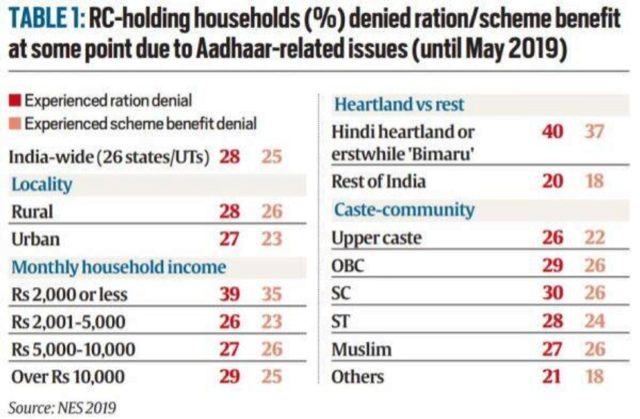 Survey findings
28% of those from ration-card-holding households, or over one in four households had indeed experienced a situation where they were denied foodgrains due to non-possession/production of Aadhar

While in percentage terms this may not seem all that high a figure to some, in absolute terms (extrapolating to the general household population) it would be huge.

Rural & Urban:

Contrary to the notion that seeding and authentication problems are occurring mostly in remote areas, our data indicates that they are nearly of the same magnitude in villages and towns/cities

Disproportionate impact on poor:

In both rural and urban areas, the poorest were worst affected – 39% of households with a monthly income below Rs 2,000 said they were at some point denied PDS ration due to Aadhaar problems.

Hindi States most impacted:

In the Hindi belt — Bihar, Jharkhand, MP, Chhattisgarh, Rajasthan, UP and Uttarakhand -40% of RC-holding households reported a denial of ration due to Aadhaar issues compared to 20% households in the rest of the countr

Data also suggests that the problem may be less due to non-possession of Aadhaar and more due to biometric authentication and server issues, as respondents from 95% of RC-holding households in the 'Hindi' belt did report having Aadhaar.
---
(TEST YOUR KNOWLEDGE)
---
Model questions: (You can now post your answers in comment section)
Note:
Correct answers of today's questions will be provided in next day's DNA section. Kindly refer to it and update your answers.

Comments Up-voted by IASbaba are also the "correct answers".
Q.1 In which of the following categories is e visa provided? 
Tourist 

Business 

Conference 
Select the correct code: 
1 and 2 only 

2 and 3 only 

1 2 and 3 

1 only
---
Q.2 Consider the following statements regarding National Startup Advisory Council: 
The chairman of the Council is a joint secretary, Department for Promotion of industry and Internal Trade.

The term of the non official members is for a period of 2 years 
Which of the above is/are correct? 
1 only 

2 only 

Both 1 and 2 

Neither 1 nor 2 
---
Q.3 Consider the following statements regarding National Green tribunal:
It is an autonomous body.

It comprises of chairperson, Judicial Member and Expert Members
Which of the above is/are correct?
1 only 

2 only 

Both 1 and 2 

Neither 1 nor 2 
---
ANSWERS FOR 16th April 2021 TEST YOUR KNOWLEDGE (TYK)
---
Must Read
On oxygen crisis in India:
On US troop pull-out from Afghanistan:
On Vaccine Diplomacy:
For a dedicated peer group, Motivation & Quick updates, Join our official telegram channel – https://t.me/IASbabaOfficialAccount
Subscribe to our YouTube Channel HERE to watch Explainer Videos, Strategy Sessions, Toppers Talks & many more…