---
(PRELIMS + MAINS FOCUS)
---
National Mission on Use of Biomass in Thermal Power Plants 
Part of: GS Prelims and GS -III – Energy Resources
In news
Ministry of Power has decided to set up a National Mission on use of Biomass in coal based thermal power plants.
Objectives of the Mission:
To increase the level of co-firing from present 5% to higher levels to have a larger share of carbon neutral power generation from the thermal power plants.
To take up R&D activity in boiler design to handle the higher amount of silica, alkalis in the biomass pellets.
To facilitate overcoming the constraints in supply chain of bio mass pellets and agro- residue and its transport upto to the power plants.
To consider regulatory issues in biomass co-firing.
Features:
The Mission would have a Steering Committee headed by Secretary (Power).
The Committee comprises stakeholders including representatives from Ministry of Petroleum & Natural Gas (MoPNG), Ministry of New & Renewable Energy (MNRE) etc.
The Executive Committee would be headed by Member (Thermal), CEA.
Duration of the Mission: minimum 5 years.
Significance of the Proposed Mission
It would address the issue of air pollution due to farm stubble-burning and to reduce the carbon footprints of thermal power generation.
This would further support the energy transition and targets of moving towards cleaner energy sources.
It will also contribute to the National Clean Air Programme (NCAP).
Related articles 
Phytoplankton Biomass in Bay of Bengal 
---
India – Israel Cooperation in Agriculture 
Part of: GS Prelims and GS -II – International Relations
In news
India and Israel have signed a three-year work program (2021-23) for cooperation in Agriculture.
Key takeaways 
India and Israel are implementing the "INDO-ISRAEL Agricultural Project Centres of Excellence" and "INDO-ISRAEL Villages of Excellence".
This is the 5th Indo-Israel Agriculture Action Plan (IIAP).
Aim: To grow existing Centres of Excellence, establish new centers, increase CoE's value chain, bring the Centres of Excellence into the self-sufficient mode, and encourage private sector companies and collaboration.
"INDO-ISRAEL Villages of Excellence" is a new concept
Aim: Creating a model ecosystem in agriculture across eight states, alongside 13 Centers of Excellence within 75 villages.
Focus: (1) Modern Agriculture infrastructure, (2) Capacity Building, (3) Market linkage.
---
Panel constituted to suggest reforms to IPC
Part of: GS Prelims and GS-II – Policies and interventions
In news
A panel has been constituted by the Union Home Ministry to suggest reforms to Indian Penal Code (IPC)
It is likely to propose a separate Section on "offences relating to speech and expression."
Key takeaways 
As there is no clear definition of what constitutes a "hate speech" in the IPC, the Committee for Reforms in Criminal Laws is attempting for the first time to define such speech.
Do you know? 
The Bureau of Police Research and Development recently published a manual for investigating agencies on cyber harassment cases that defined hate speech as a "language that denigrates, insults, threatens or targets an individual based on their identity and other traits (such as sexual orientation or disability or religion etc.)."
T.K. Viswanathan committee was formed in the wake of Section 66A of the Information Technology Act, 2000, that provided punishment for sending offensive messages through communication services being scrapped by the Supreme Court in 2015.
---
Country in news: Belarus
Part of: GS Prelims and GS -II – International Relations
In news
The President of Belarus, Alexander Lukashenko sparked international outrage after his regime forced a commercial airline flying from Greece to Lithuania to land in its territory allegedly on the pretext of a bomb scare, so it could arrest a dissident journalist on board.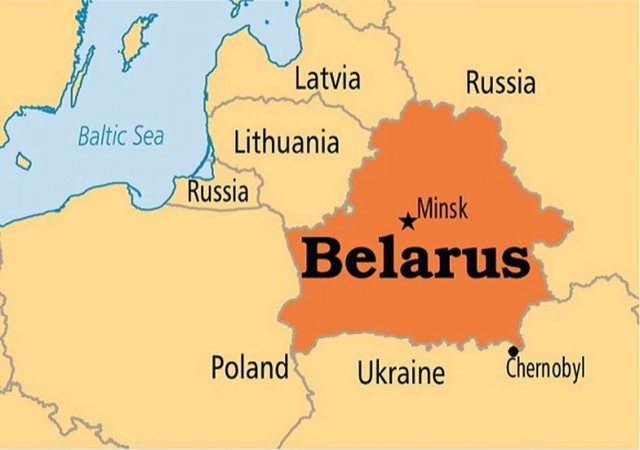 Key takeaways
The journalist, Roman Protasevich, is a prominent opponent of Lukashenko.
He had been living in exile in neighbouring Lithuania since 2019.
He is also the co-founder of the NEXTA media outlet on social media platform Telegram.
The regime has also put his name on a list of terrorists, and if convicted, he could face the death penalty.
Western leaders have denounced the incident.
Important value additions 
Belarus is a landlocked country in Eastern Europe.
It is bordered by Russia, Ukraine, Poland, and Lithuania, and Latvia (See the map)
Capital: Minsk
During the dissolution of the Soviet Union, Belarus declared independence in 1991.
---
Miscellaneous
Vesak 
Vesak is the most sacred day for Buddhists around the world.
It is also known as Buddha Purnima and Buddha Day.
Significance: The day commemorates birth, enlightenment and Death (or Parinirvana) of Lord Buddha, the founder of Buddhism, all of which is said to have taken place on the same day.
Vesak, falls on the full moon day (Purnima) of the month Vaishakha (May)
Recognition by United Nations (UN): The General Assembly, by its resolution in 1999, recognized internationally the Day of Vesak.
It was done to acknowledge the contribution that Buddhism made to humanity.
---
(Mains Focus)
---
ECONOMY/ GOVERNANCE
Topic:
GS-3: Indian Economy and issues relating to planning, mobilization, of resources, growth, development and employment. 
Indian Prisons
Context: The prison, it is famously said, holds a mirror to society.
Issues with the Indian Prison System
Overcrowded jails- on an average at least 118 per cent higher than the limit
Poor hygiene conditions
Little or no statutory monitoring of the state of affairs. This absence of accountability and monitoring seriously endanger prisoners' right to health and therefore, a right to a life with dignity, under Article 21.
The apathy of the vast Indian middle class on the issue has amplified colonial and post-colonial constructs of the prisoner.
Increased vulnerabilities to spread of COVID-19 infections due to overcrowding
Pleas for interim medical bail are often deferred by courts
Increasing costs to the exchequer to maintain overcrowded jails.
Alternative of House Arrest
SC urges courts to actively use the option of house arrest in cases where "age, health conditions and antecedents of the accused" are a criterion.
In Independent India, house arrest has been used as a means of restricting movement and ensuring surveillance when an individual or groups of individuals are subject to preventive detention
Concerns with House Arrest
Even with house arrest, there will be some who will believe that the confinement is too lenient while others who see it as too humiliating.
House arrest has been used to repress political dissent before trial.
In more recent times in the West, some societies use it post-trial and conviction as confinement with surveillance.
A related issue in India is that few governments have evolved any legal understanding around the issue of political prisoners.
Conclusion
Democratic societies constantly evolve. This evolution includes shifts in public attitudes and definitions towards crimes: Sometimes they harden, at other times, expand.
Connecting the dots:
---
ECONOMY/ GOVERNANCE
Topic:
GS-3: Indian Economy and issues relating to planning, mobilization, of resources, growth, development and employment. 
Rebuilding Public Health Infrastructure
A third wave, if it happens, is likely to be worse. Some of the worries would be about
Fast ascending infections in rural areas dominated by poor medical infrastructure
The shortage of vaccines and the expected year-long timeframe to vaccinate all eligible individuals
Vaccine hesitancy
Constraints on sourcing of ingredients needed to make vaccines
Deadlier variants of the virus,
Ominous possibility of the virus impacting children
Inadequate healthcare infrastructure for dealing with such a situation
India's bureaucracy needs to swiftly create healthcare structures, accessible in any grave eventuality as well as normal times.
Focus should be on PHCs
Strengthening, and refurbishing the local public health centres (PHCs), through public-private partnerships can be a win-win situation.
These should be equipped and manned to deal with all emergency medical care, except for rare occurrences.
The objective should be that no patient has to travel beyond 10 to 15 km in urban areas, and 20 to 25 km in rural regions for healthcare.
District Managing Group 
A managing group can be created, comprising representatives from various related departments and organisations at the district level.
It can bring into its fold experts and vital stakeholders like community members, social activists, and NGOs.
The managing group should be headed by the district magistrate or his senior nominee.
It can be formally notified, and bestowed with special administrative and financial powers to deliver prompt and uninterrupted services as may be defined by the state government.
Some of the powers and mandate of District Managing Group are mentioned below for illustration purposes.

First, to notify and commandeer all or listed medical care centres within the district territory, public or private, to provide notified medical services during the public health emergency.
Second, to make all logistics arrangements well in advance by engaging public and private assets.
Third, develop medical centres with required specialisation services and the capacity in anticipation of the demand.
Fourth, to maintain and upgrade existing (PHCs), ensuring, particularly in rural areas, replacements for missing medical officers, engaging additional medical and technical staff through innovative sources.
Fifth, to declare containment zones, and to also ensure that citizens meticulously abide by the precautionary advisories and instructions.
Sixth, to tackle cases of leakage, black-marketing of essential medical supplies.
Seventh, to fix priorities and place special focus on rural areas in terms of speedy testing, tracing and vaccinating.
Eighth, to keep the general populace informed daily of the medical and other facilities available. And to meet daily to ensure clearing of bottlenecks and to course-correct if needed.
At the State level
Each state/UT should develop an action plan, in view of its challenges, and in consonance with the public health programme laid down by the Centre.
The state/ UT should constitute an exclusive public health emergency cell, comprising senior officials from all related departments, to be the focal point of decision making.
State governments should also share information and progress through dashboards and other technology tools, and invite suggestions.
Each state should see that such a capable implementing machine is driven by passionate team leaders. No bureaucratic rules should be allowed to obstruct the missionary spirit required here.
Conclusion
A bottom-up approach will not only help blunt any possible surge in the Covid wave but will also build the much-needed health infrastructure. India should not miss this opportunity to strengthen its healthcare system.
---
(TEST YOUR KNOWLEDGE)
---
Model questions: (You can now post your answers in comment section)
Note:
Correct answers of today's questions will be provided in next day's DNA section. Kindly refer to it and update your answers.
Comments Up-voted by IASbaba are also the "correct answers".
Q.1 Which of the following country is not a landlocked country?
Lithuania
Belarus
Nepal
Azerbaijan
---
Q.2 Consider the following statements regarding "INDO-ISRAEL Villages of Excellence:
It is a new concept in India-Israel's bilateral relationship.
It shall focus on Modern Agriculture infrastructure only
Which of the above is or are correct?
1 only
2 only
Both 1 and 2
Neither 1 nor 2
---
Q.3 Vesak is the most sacred day for which of the following communities:
Hinduism
Buddhism
Jainism
Christianity
---
ANSWERS FOR 25th May 2021 TEST YOUR KNOWLEDGE (TYK)
---
Must Read
On localised lockdowns:
On Social Media Curbs:
About India's Act East Policy:
For a dedicated peer group, Motivation & Quick updates, Join our official telegram channel – https://t.me/IASbabaOfficialAccount
Subscribe to our YouTube Channel HERE to watch Explainer Videos, Strategy Sessions, Toppers Talks & many more…