AGRICULTURE/ GOVERNANCE
Topic:

GS-3: Issues related to direct and indirect farm subsidies and minimum support prices and food security
Are 'remunerative' MSPs boosting rural demand?
Context: On June 9, the union cabinet approved Minimum Support Prices (MSP) for the 2021-22 kharif marketing season. 
MSP

for paddy will be ₹1940 per quintal, compared to ₹1868 last year. 

Cabinet Committee on Economic Affairs (CCEA) says that the latest MSP offers a 50% mark-up over the projected cost of cultivation in 2021-22.
The cost measures used in calculating MSP
A2

All the types of cash expenditure to generate the crop like seeds, manure, chemicals, labour costs, fuel costs and irrigation costs.

A2+FL

(Used by government)

 It includes A2 plus an imputed value of unpaid family labour.

C2

(demanded by farmers)

This includes A2+FK and the imputed rental value of owned land and interest on value of owned fixed capital, thereby including the opportunity cost of practising agriculture.
Issues
Nominal growth in MSPs has been low in recent years
Although the government claims that latest MSP announcements fulfil the 50% mark-up over A2+FL criteria, the increase in nominal terms is not much. 

Paddy and wheat MSPs for the 2021-22 kharif and rabi marketing seasons have increased by 3.9% and 2.6% respectively.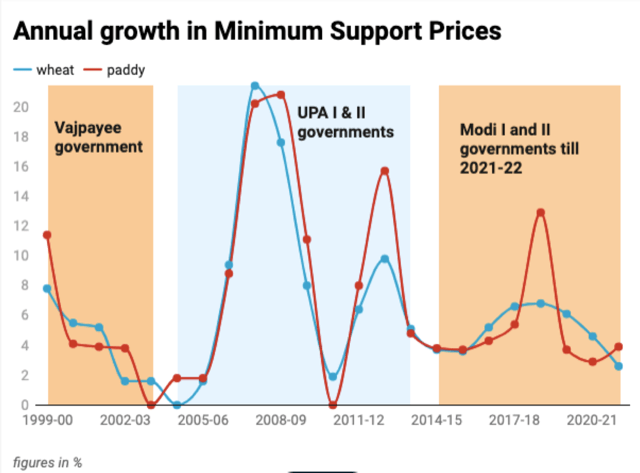 Nominal MSPs are not enough to access the demand impact
MSPs, directly or indirectly (in terms of creating a price floor), affect the prices received by farmers, and hence their nominal incomes. 

Demand

, on the other hand, is a function of purchasing power, which is

determined by relative prices.
Terms of trade index

captures the ratio of index of prices received by farmers and prices paid by farmers for purchase of goods (consumption, intermediate and capital goods). A value less than 100 signifies a worsening of terms of trade

The statistics show that terms of trade were improving for farmers from 2004-05 to 2010-11, stagnated at unfavourable levels till 2016-17, and started declining after that.

Deteriorating Terms of trade for farmers have been leading to a

squeeze on their purchasing power

. Of course, the situation would be worse if MSPs did not exist.

Wages account for more than 60% and almost one-third of A2+FL cost of cultivation for paddy and wheat.

Rural wages

, which were rising at a fast pace until 2014-15, have stagnated in the recent past

If agricultural labour and farmers experience a squeeze on income (rural wages and imputed value of wages), this will put a pressure on purchasing power and therefore rural component of aggregate demand, including that for farmers.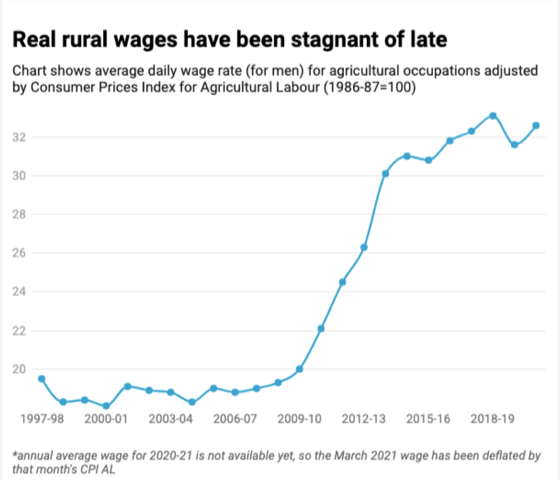 Headwinds in future
Two factors might further worsen the terms of trade for farmers going forward. 

The profit-led nature of recovery and

poor labour market conditions

in the post-pandemic phase will further squeeze mass incomes and hence demand for food items, putting downward pressure on prices. 

A rise in the cost of items

such as diesel and some fertilisers (the government has announced a hike in subsidies for urea) could lead to the actual cost of cultivation being higher than the projected costs used for calculating the latest MSPs.

Farm sector is the shock absorber in terms of the labour market and the longer it takes for the non-farm labour market to recover, the more difficult the farm sector will find to cushion incomes
What should government do going forward? 
It is unrealistic to think that the farm economy will keep delivering even though the non-farm part is in crisis

This is why it is important that the government provides a fiscal stimulus to both the labour-intensive component of both farm and non-farm sectors.
Connecting the dots:
For a dedicated peer group, Motivation & Quick updates, Join our official telegram channel – https://t.me/IASbabaOfficialAccount
Subscribe to our YouTube Channel HERE to watch Explainer Videos, Strategy Sessions, Toppers Talks & many more…