---
(PRELIMS + MAINS FOCUS)
---
Part of: GS- Prelims and Main GS-III: Climate Change and Conservation
Context: Three years after the Department of Telecom permitted WiFi services on commercial flights, it is yet to become a reality for domestic air travellers as airlines grapple with the huge installation costs and the impact of COVID-19 on passenger demand. 
Key Takeaways
Domestic carriers have been slow in offering the service because retrofitting aircraft with the required antenna is an expensive affair that takes nearly 12 hours. 

Airlines find it difficult to pass on the costs to the passengers in an extremely competitive market for the cheapest ticket.

However, international airlines such as Lufthansa, Air France and Emirates have started offering the service, though earlier they were switching it off on entering India skies.
The equipment costs ₹3 crore to ₹4 crore for one aircraft, which is the

entry barrier because it is difficult to recover the cost from passengers.
Those airlines that have started to offer the service are rolling it out only on new aircraft that come equipped with the antenna. Full-service carrier Vistara is the only Indian airline to offer it since September 2020. 
To understand the Science behind In-flight Wifi, Click here
---
Part of: GS- Prelims and Main GS-III: Economy 
Context: As per the recommendations of  International Labour Organization (ILO), National Statistical Commission (NSC), Government has recently released the new series of Wage Rate Index (WRI) with base year 2016=100, being compiled and maintained by Labour Bureau, an attached office of Ministry of Labour & Employment.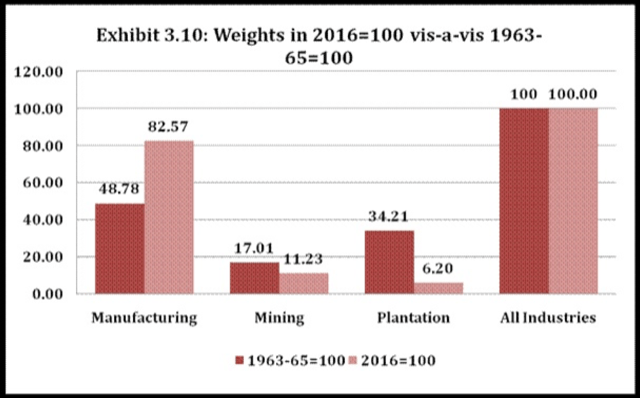 Key Highlights
New series that replaces the old series (1963-65=100) which is almost six decades old, has increased the scope and coverage in terms of number of industries, sample size, occupations under selected industries, weightage of industries etc. 

A total of 37 industries have been covered in the new WRI basket (2016=100) as against 21 industries in the 1963-65=100 series. 

The selected 37 industries in the new series are categorized as 30 industries from Manufacturing sector, 4 industries from Mining Sector and 3 industries from Plantation Sector as compared to 14 industries from Manufacturing sector, 4 industries from Mining Sector and 3 industries from Plantation Sector in the old series. 

In the new WRI basket, the current wage data has been collected from 2881 units under 37 selected industries as against to 1256 units under 21 industries  in the old series of WRI. 

About 700 occupations have been covered under 37 selected industries in new series of WRI (2016=100).

Sixteen new Manufacturing Industries have been added in the new series of WRI basket, viz. Synthetic Textiles, Textile Garments, Printing and Publishing, Footwear, Petroleum, Chemical & Gases, fertilizers, Drugs & Medicines, Iron & Steel, Electrical Apparatus, Motor Vehicles, Motor Cycles, Tea Processing, Tyres & Tubes, Milk Products and Plastic Articles.

The new series will play a very critical role in coming out with the

Minimum Wages & National Floor Wages

along with other parameters which will be decided in due course of time by the Expert Group.  

 This will serve as a useful reference book for researchers, academicians, scholars and all other stakeholders of WRI.
---
Part of: GS- Prelims and Main GS-II: International Relations
Context: India congratulated Bangladesh on the country's transition from a less-developed country to a developing nation status.
The two countries will be celebrating December 6 as Maitri Divas, to mark 50 years of Bangladesh's independence and its bilateral ties with India, which was the first country to recognise its independence.
Key Highlights
The India-Bangladesh CEO Forum will meet soon for the first time, even as the two countries work towards finalising a Comprehensive Economic Partnership Agreement (CEPA) to deepen trade and economic ties as partners rather than competitors. 

India highlighted that improving connectivity is "imperative" for expanding and realising the potential for bilateral trade and investments. 

Bangladesh is India's biggest trade partner in South Asia with a volume of over $10 billion. 

India had sent over one crore COVID-19 vaccine doses to the country and has extended concessional credit lines of about $8 billion, the highest for any single country.

A bilateral textile industry forum has also been constituted to facilitate cooperation in the textile sector.

India is also developing two Indian economic zones at Mirsarai and Mongla.

India has identified five focus areas that could strengthen bilateral economic ties: 

Technology

Connectivity

Entrepreneurship

Health 

Tourism.
---
Part of: GS- Prelims and Main GS-III: Climate Change and Conservation
Context: Ministry of Skill Development & Entrepreneurship launched two projects— 
Revival of

Namda craft of Kashmir

as a special pilot project under Pradhan Mantri Kaushal Vikas Yojana (PMKVY) 3.0

Upskilling of artisans and weavers of Kashmir under Recognition of Prior Learning (RPL), component of PMKVY.
About Namda Craft
Namda craft of Kashmir is a

rug made of sheep wool

through felting technique instead of normal weaving process. 

Due to low availability of raw material, lack of skilled manpower and marketing techniques, the export of this craft has declined almost 100 percent between 1998 and 2008. 

Therefore, through this special project under PMKVY, the Ministry of Skill Development and Entrepreneurship (MSDE) has designed short-term training curriculum to preserve this endangered craft.

The objective of these projects is to boost and preserve the traditional Namda craft of Kashmir and upskill the local weavers and artisans to enhance their productivity through RPL assessment and certification. 

The Namda project will benefit 2,250 people of 30 Namda Clusters and RPL initiative targets to upskill 10,900 artisans and weavers of Jammu and Kashmir.

This will also improve the access of existing artisans of Namda crafts cluster in Kashmir and will improve their prospects of employability.
News Source: PIB
---
Part of: Prelims 
In News: The National MPI Project is aimed at deconstructing the Global MPI and creating a globally aligned and yet customised India MPI for drawing up comprehensive Reform Action Plans with the larger goal of improving India's position in the Global MPI rankings.
Under the Cabinet Secretary's Global Indices for Reforms and Growth (GIRG) initiative, the country's performance is being monitored across 29 global indices including Human Development Index (HDI), Global Hunger Index (GHI), Global Competitiveness Index (GCI), Human Capital Index (HCI), Global Innovation Index (GII), among others. 

This exercise is aimed at leveraging the monitoring mechanism of important social, economic, and other internationally recognised indices, enabling the utilisation of these indices as tools for bringing about reforms to improve outcomes and correspondingly reflect them in India's performance in these indices globally.

NITI Aayog is the nodal Ministry for the Multidimensional Poverty Index (MPI). According to Global MPI 2021, India's rank is 66 out of 109 countries. 
Preliminary observations from the summary data factsheets of NFHS 5 (2019-20) are encouraging. 
They suggest improvement in access to clean cooking fuel, sanitation, and electricity which translates to reduction in deprivation. 

Additionally, the State reports released for 22 States and UTs suggest reduction in deprivation in school attendance, drinking water, bank accounts and housing. 

These improvements indicate an overall direction of significant reduction in the incidence of multidimensional poverty in the forthcoming index based on NFHS 5 (2019-20) household micro data.
 News Source: PIB
---
Part of: Prelims
In News: A first-of-its-kind programme to promote women in the field of research and development through lateral entry has been launched yesterday – Women's Involvement in Science and Engineering Research (WISER) program by Indo-German Science & Technology Centre (IGSTC) for encouraging women researchers in joint R&D projects.
Will support women scientists holding regular/long term research positions in academia or research institutes/industry. 

The involvement in the program will be possible through lateral entry. 

There is neither requirement of break-in-career nor any age limit, and it will enable easy participation.

IGSTC is going to support the awardees with a maximum amounting to Rs. 39 L from the Indian side & € 48000 from the German side. WISER program offers 20 awards per year.
News Source: PIB
---
Part of: Prelims
In News: DBT-National Brain Research Centre (DBT-NBRC) have recently developed project SWADESH – World's First Multimodal Brain Imaging Data and Analytics.
A unique brain initiative focusing on certified neuroimaging, neurochemical, neuropsychological data and analytics that are made accessible to researchers for managing brain disorders. 

SWADESH is the first large-scale multimodal neuroimaging database designed specifically for Indian population with big-data architecture and analytics for various disease categories under one platform.

To strengthen Alzheimer's disease (AD) research and help scientific community come up with promising treatments. SWADESH proposes a big-data architecture that manages and analyzes six modules, namely neurodegenerative [AD, mild cognitive impairment (MCI), and Parkinson's disease (PD)], neuropsychiatric (schizophrenia and bipolar disorder), neurodevelopmental (autism and epilepsy), COVID-19-related disorders, other disorders, and healthy subjects.
News Source: PIB
---
(Mains Focus)
---
AGRICULTURE/ GOVERNANCE
GS-3: Issues related to direct and indirect farm subsidies and minimum support prices
GS-2: Government policies and interventions for development in various sectors and issues arising out of their design and implementation.
Context: After repealing of farm laws by government, protesting farmers are pushing for their other major demand for providing a legal guarantee that all farmers will receive remunerative prices for all their crops.
How many crops does the minimum support price cover?
The Central Government sets a minimum support price (MSP) for

23 crops

every year, based on a formula of

one-and-a-half times production costs.

 

This takes into account both

paid-out costs (A2)

such as seeds, fertilizers, pesticides, fuel, irrigation, hired workers and leased-in land, as well as the

imputed value of unpaid family labour (FL). 

Farm unions are demanding that a

comprehensive cost calculation (C2)

must also include capital assets and the rentals and interest forgone on owned land as recommended by the National Commission for Farmers.

There is currently

no statutory backing for these prices

, nor any law mandating their enforcement. 

The government

only procures about a third of wheat and rice

crops at MSP rates (of which half is bought in Punjab and Haryana alone), and 10%-20% of select pulses and oilseeds. 

According to the Shanta Kumar Committee's 2015 report, only 6% of the farm households sell wheat and rice to the government at MSP rates. 

However, such

procurement has been growing

in the last few years, which can also help

boost the floor price for private transactions

.
Why do farmers want a law on MSP and what are the challenges with it?
Protesting farm unions under the banner of the Samyukt Kisan Morcha (SKM) said MSP based on a C2+50% formula should be made a

legal entitlement for all agricultural produce,

so that every farmer of the country can be guaranteed at least the MSP announced by the government for their entire crop. 

Within the SKM, there are different ideas of how this demand would play out. 

The All India Kisan Sabha says most of the cost should be

borne by private traders

, noting that both middlemen and corporate giants are buying commodities at low rates from farmers and slapping on a huge mark-up before selling to end consumers. 

The Left-affiliated farm union has suggested a law which simply stipulates that no one — neither

the Government nor private players

— will be allowed to buy produce from the farmer at a rate lower than MSP.

Other unions, however, have said that if private buyers fail to purchase their crops, the

Government must be prepared to buy out the entire surplus

at MSP rates, involving a much larger burden on the exchequer, although no one has yet laid out the specific

fiscal implications.

 
There are complaints that the current MSP regime largely benefits only two States. In this background, there is a demand for a law to guarantee remunerative prices for all farmers to be calculated according to the

varied input rates in 15 different agro-climatic zones. 

All farmers groups seeking a legal backing for MSP also want it

extended to fruit and vegetable farmers

who have been excluded from benefits so far.
What is the Government's position?
While announcing the decision to repeal the farm laws, the Prime Minister announced the

formation of a committee

to make MSP more transparent, as well as to change crop patterns — often determined by MSP and procurement — and to promote zero budget agriculture which would reduce the cost of production but may also hit yields. 

The panel will have representatives from farm groups as well as from the State and Central Governments, along with agricultural scientists and economists.

Both the Prime Minister and the Agriculture Minister have previously assured Parliament that the MSP regime is here to stay, even while

dismissing any need for statutory backing.

 

A policy paper by NITI Aayog's agricultural economist Ramesh Chand, which is often quoted by Agriculture Ministry officials, argues, "Economic theory as well as experience indicates that the price level that is not supported by demand and supply cannot be sustained through legal means."

It suggests that the States are free to guarantee MSP rates if they wish, but also offers

two failed examples of such a policy.

One is in the

sugar sector,

where private mills are mandated to buy cane from farmers at prices set by the Government. Faced with low sugar prices, high surplus stock and low liquidity, mills failed to make full payments to farmers, resulting in an accumulation of thousands of crores worth of dues pending for years. 

The other example is a 2018 amendment to the

Maharashtra law

penalising traders with hefty fines and jail terms if they bought crops at rates lower than MSP. As open market prices were lower than the (legalised) MSP levels declared by the State, the

buyers withdrew from the market

and farmers had to suffer and the move was soon abandoned.
Connecting the dots:
---
POLITY/ GOVERNANCE
GS-2: Polity
GS-2: International 
In News: Between 2016 and 2020 the number of countries that have moved towards authoritarianism has been steadily increasing and outnumbering the number of countries that have seen democratic gains.
Key Concern
Since the onset of the COVID-19 pandemic in 2020, democratic backsliding (state actions that erode the quality of democratic institutions, processes) has accelerated. India has been no exception to this global pattern 

In March 2021 Sweden's V-Dem Institute categorised India as an "electoral autocracy" while Freedom House listed India as "partly free". 

Swedish think-tank, the International Institute for Democracy and Electoral Assistance (International IDEA), has categorised India as a backsliding democracy and a "major decliner" in its Global State of Democracy 2021 (GSoD) report.
What is the Global State of Democracy Report, 2021? 
The GSoD report is a document compiled and released by International IDEA, a Stockholm based intergovernmental think-tank that works to boost democracy globally. 

India is one of the founding members of this organisation. 

The GSoD 2021 report assesses 165 countries on 116 indicators spread across five identified core attributes of democracy – 

Representative government, 

Fundamental rights

Checks on Government

Impartial administration 

Participatory engagement
What are the findings of the report? 
The GSoD 2021 report states that the number of countries that have slid towards authoritarianism is three times as high as those that are moving in a democratic direction.

The COVID-19 pandemic has exacerbated this trend. 

In 2020, the GSoD report can categorise

only 59 per cent of the countries

on its index as democratic. 

The report also notes,

70 per cent of the global population now live either in non-democratic regimes

or in democratically backsliding countries. 

The report counts Brazil, India and the United States as the biggest backsliders. 

It also identifies illiberal and populist parties, social and political polarisation, economic crises and disinformation as factors that have influenced the decline of democracy. 

India is described as the "backsliding democracy with the most democratic violations during the pandemic". 

The GSoD report further notes that along with the rise in authoritarian tendencies , there has also been an

explosion of civic activism.

135 countries (82 per cent) saw protests during the pandemic. 

The report states that the procedural aspect of democracy, elections, have shown "remarkable resilience" even though some countries saw a decline in clean elections. 
What is India's overall assessment?
The GSoD

does not use its data to

design a final aggregated score that can be interpreted as a rank. 

It favours a

comparison of indicators

of a country with itself over time so that attributes of democracy for that country can be studied individually. 

The core attribute scores for India date back to 1975 and can be accessed from the public GSoD database. 

Interestingly, across almost all attributes, India does well between 1996 and 2014. Starting in 2015 the scores give a clear indication of democratic gains being lost. 

For instance, between 1975 and 1995

India's representative government score

moved from .59 to .69. In 2015 it was .72. However, in 2020 it stood at .61, i.e, closer to the score India had in 1975 when it underwent the Emergency. 

Similarly, the clean

elections score

was .85 in 2015. In 2020 it stood at .65. India's fundamental rights score in in 2010 was considered low at .58. By 2020 it had fallen to .54. 

Between 2010 and 2020

India's civil liberties score

fell from .65 to .53, while the checks on government score fell from .71 to .58 during the same period. 

The report also shows that between 2015 and 2020, the

media integrity score

fell by 7.9 per cent, judicial independence fell by 2.5 per cent and

effectiveness of parliament

fell by 9.6 per cent. 
Conclusion
Thus, the GSoD report does find India to be in trouble as a democracy, viewing it now as a "mid-range performing democracy". 

India is also listed alongside Sri Lanka and Indonesia for the lowest score on the religious freedom indicator since 1975. 

The report also notes that "executive aggrandizement" has taken place in India through "multiple and small scale systemic assaults" which has led to a dilution of checks on the executive.
Connecting the dots:
Chinese State Capitalism Model

Procedural Democracy Vs Substantive Democracy

Socialist Democracy
---
(Sansad TV: Perspective)
---
Nov 26:  Constitution Day – https://youtu.be/18zQqJKdr6k 
TOPIC:

GS-2: Indian Constitution
Context: Constitution Day also known as 'Samvidhan Divas' is celebrated every year on 26th November to commemorate the adoption of Constitution of India on the same day in 1949. It came into effect two months later on 26th January, 1950. 
By: The Ministry of Social Justice and Empowerment 
What is the objective of celebrating Samvidhan Divas?
The aim is to publicize the glorious and rich composite culture and diversity of our nation. 

Further, it aims to create awareness of Fundamental Duties as enshrined in the Indian Constitution. As per Gandhian thought 'The true source of rights is duty. If we all discharge our duties, rights will not be far to seek' 

It aims to reinforce that commonality of Indian Identity. Sardar Patel stated 'Every Indian should forget that he is a Rajput, a Sikh, or a Jaat. He must remember that he is an Indian and he has every right in his country but with certain duties'.
Timeline:
On December 6, 1949 the Constitution Assembly was formed and its first meeting was held on December 9. Rajendra Prasad was appointed its President and H C Mukherjee its vice-chairman. 

On August 29, 1947, the drafting committee appointed Ambedkar as its chairman and six other members — Munshi N Gopalaswami Ayyangar, Khaitan, Mitter, Muhammed Sadulla, Alladi Krishnaswamy Iyer. 

The members of the Constituent Assembly signed two hand-written copies of the document (one each in Hindi and English) on January 24, 1950. 

On November 26, 1949, the Constitution of India was adopted by the Assembly. 

On January 26, 1950, the Constitution was enforced.

The words 'secular' and 'socialist' were added to the preamble post the emergency in 1976.

When the Constitution was adopted in the year 1949, there were no provisions regarding Fundamental Duties to the Citizens though there was a Part III for Fundamental Rights. 

The Fundamental Duties of citizens were added to the Constitution by the 42nd Amendment in 1976, upon the recommendations of the 

Swaran Singh Committee

 that was constituted by the Government. 

The Committee suggested that steps needed to be taken to ensure that the individual did not overlook his duties while in exercise of his Fundamental Rights.
India's constitution is the longest written constitution in the world containing 395 Articles, 22 Parts and 12 Schedules. It took around 2 years, 11 months and 17 days to complete the Constitution.
At the beginning of each part of the Constitution, 

Nandalal Bose

 has depicted a phase or scene from India's national experience and history.

After the Constitution was passed, the historic session of the Constituent Assembly ended with the singing of the National Anthem "Jana-gana-mana adhinayaka Jai Hey, Bharat Bhagya Vidhata," by Purnima Banerjee, a veteran freedom fighter and sister of the late freedom fighter, Aruna Asaf Ali.
Who does Constitution belong to?
People of India are the

ultimate custodians

of the Constitution. It is in them that sovereignty vests and it is in their name that the Constitution was adopted.

The Constitution empowers the citizen, but the citizen too empowers the Constitution – by following it, by adhering to it, by protecting it, and by persevering to make it more meaningful with words and deeds. 

The Constitution is nobody's preserve – and it is everybody's preserve.
Some of the shaping factors of the Constitution:
British colonial rule and the Freedom struggle:

 The oppression leading to the enhanced importance of the rights of citizens like civil liberties (freedom of speech), etc., and through the freedom struggle has shaped the vision of the constitution.

INC session of Karachi's resolution 

on Fundamental rights and National economic programme and other similar events.

British governance Acts for India:

 Starting from the Regulating Act of 1773 till the Indian Independence Act of 1947, especially 

Government of India Act of 1935
International events:

 

French revolution

 (Republic, ideals of liberty, equality and fraternity), 

Russian revolution

 (ideals of justice), etc., has led to the increased importance and expansion of rights.

Indian philosophy and thinkers:

 Like 

Gandhi's philosophy

 leading to the self-government institutions i.e, PRI (article 40 under DPSP), etc. Nehru report of 1928, the first attempt in drafting the Constitutional scheme indigenously had most of the present document's ideals like fundamental rights, responsible government at the centre and in states, etc.
Thus, the Constitution is a gradually evolved document over a period of time and was carefully articulated by the constituent assembly.
NOTE: On the occasion, an Online Course on Indian Constitution has been launched by Union Law Minister. 
The launch of this Online Course took place in collaboration with National Academy of Legal Studies & Research, NALSAR, University of Law. 

Those who want to apply for this course, can do so free of cost by going to the official website –

www.legalaffairs.nalsar.ac.in

.  
Can you answer the following questions?
The Constitution of India is a creative blending of the nationalist voice and the colonial system of governance. Elucidate.    

A constitution by itself is just an inanimate object which comes to life once it is complemented by constitutional morality. Comment.
---
(TEST YOUR KNOWLEDGE)
---
Model questions: (You can now post your answers in comment section)
Note:
Correct answers of today's questions will be provided in next day's DNA section. Kindly refer to it and update your answers.
Q.1) Consider the following statements about Women's Involvement in Science and Engineering Research (WISER) program
It is a program by India-Japan German Science & Technology Centre (IGSTC) 

It will support women scientists holding regular/long term research positions in academia or research institutes/industry and there is neither requirement of break-in-career nor any age limit.
Which of the above statement(s) is/are correct?
1 Only

2 Only

Both 1 and 2

Neither 1 nor 2
---
Q.2) Consider the following statement about Constitution
The Constitution of India was adopted by the Assembly on November 26, 1949 but enforced on January 26, 1950.

The words 'secular' and 'socialist' were added to the preamble post the emergency in 1976.

When the Constitution was adopted in the year 1949, there were no provisions regarding Fundamental Duties to the Citizens though there was a Part III for Fundamental Rights. 
Which of the above statement(s) is/are correct?
1 and 2 only

2 and 3 only

1 and 3 only

1,2 and 3
---
Q.3) Namda Craft is associated with which region of India?
Kanpur, Uttar Pradesh

Gujarat

Kashmir

Nagaland
---
ANSWERS FOR 27th Nov 2021 TEST YOUR KNOWLEDGE (TYK)
---
Must Read
On EWS quota income limit:
On importance of local language:
On Parliamentary functioning:
For a dedicated peer group, Motivation & Quick updates, Join our official telegram channel – https://t.me/IASbabaOfficialAccount
Subscribe to our YouTube Channel HERE to watch Explainer Videos, Strategy Sessions, Toppers Talks & many more…