---
(PRELIMS + MAINS FOCUS)
---
Part of: Prelims and GS-II International Relations
Context: The Council of Europe has suspended Russia from the Europe's human rights organization because of its invasion of Ukraine.
It also said Russia remained a member and continued to be bound by relevant human rights conventions.

On the other hand, in Ukraine, thousands crossed into neighbouring countries to the west in search of safety.

Authorities in Poland, Slovakia, Hungary, Romania and Moldova mobilised to receive them, providing shelter, food and legal help.
The Council of Europe
It is an international organization founded in the wake of World War II to uphold human rights, democracy and the rule of law in Europe.

It was founded in 1949 and has 46 member states (including all 27 EU members).

No country has ever joined the EU without first belonging to the Council of Europe.

The Council of Europe is an official United Nations Observer

It cannot make binding laws, but it does have the power to enforce select international agreements

The

headquarters

are in Strasbourg, France.
News Source: TH
---
Part of: Prelims and GS-II International Relations and GS-III Man-made Disaster
Context: Ukrainian authorities have said that radiation levels had increased in the Chernobyl exclusion zone and warned the seizure of the nuclear plant by invading Russian troops could have terrible consequences.
Key takeaways 
Ukrainian authorities also said that they had informed the International Atomic Energy Agency that they had lost control of highly radioactive fuel rods from the power plant.

Ukrainian Environment Ministry also pointed out that this significant amount of plutonium-239 can become a nuclear bomb that will turn thousands of hectares into a dead, lifeless desert.
About Chernobyl 
After a brief but fierce battle, Russian troops were able to capture the Chernobyl nuclear plant in northern Ukraine, the site of one of the worst nuclear disasters in human history.

Located around 16 km away from the city of Chernobyl and a little over 100 km away from Ukraine's capital city of Kyiv, the power plant witnessed the world's worst nuclear disaster in 1986.

The disaster occurred between April 25-26, when a group of technicians in what was then Soviet-controlled Ukraine carried out a botched safety test that led to a series of explosions at Chernobyl's reactor No. 4 and a partial meltdown of its core. 

The explosions exposed the core and released clouds of radioactive material into the atmosphere.

It is said to have released 400 times more radiation than the atomic bomb that was dropped on Hiroshima in Japan.

In fact, the catastrophe is considered one of the key factors that led to the collapse of the Soviet Union a few years later.
Why did Russia capture Chernobyl? 
Seizing Chernobyl was a strategic decision that gave Russian troops quick and easy access to Kyiv from Belarus, which is an ally of Moscow. 

By capturing Chernobyl, Russia has secured a route into Ukraine for its ground forces.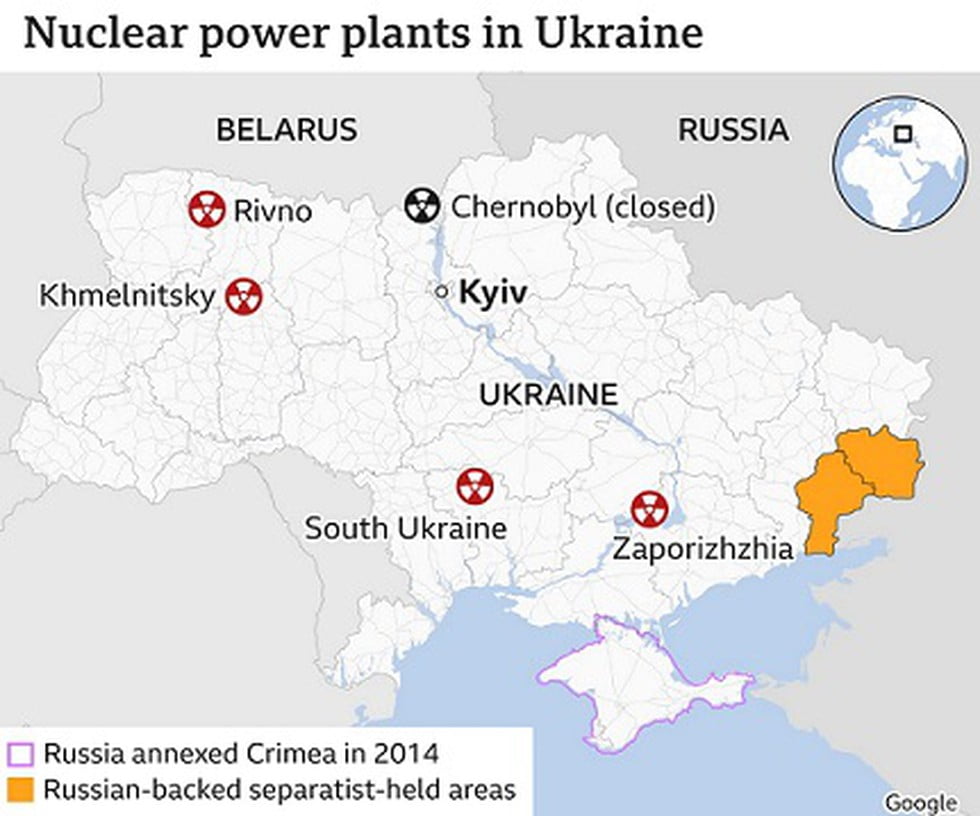 News Source: TH
---
Part of: Prelims 
Context: The iconic island Char Chinar in the middle of the Dal lake in Srinagar has been brought to life again.
About the Island
Char Chinar, also sometimes called Char Chinari, is an island in Dal Lake, Srinagar, Jammu and Kashmir.

It is located on the Lakut Dal (small Dal) known as Ropa Lank (Silver Island).

The second Chinar Island, known as Sone Lank (Gold Island), is located on the Bod Dal (Big Dal).

The island became popular in the 1970s when the famous Bollywood song 'Achha To hum Chalte Hai', starring Rajesh Khanna and Asha Parekh, was shot there for the movie 'Aan Milo Sajna'. 
Chinar trees
These trees characteristically grow in Eastern Himalayas. 

They have been an important part of Kashmiri tradition.

These trees have survived for ages, because Chinar is basically a long-living tree. 

The tree has several

properties

– leaves and bark are used as medicine, the wood, known as lace wood, has been used for delicate furniture and the twigs and roots are used for making dyes.
News Source: TH
---
Part of: Prelims 
Context: USA President Joe Biden has nominated Ketanji Brown Jackson to be the first Black woman in U.S. history to serve on the nation's highest court.
News Source: TH
---
(News from PIB)
---
Part of: Prelims and Mains GS-3: Economy
In News: 49 projects approved for 33 critical APIs with an investment of ₹ 3,685 crore under PLI scheme of Bulk Drugs
Objective: To attain self-reliance in the sector of identified critical drugs
The scheme has been launched by the Department of Pharmaceuticals for promotion of domestic manufacturing of KSMs/APIs.

This will be achieved by setting up greenfield plants with minimum domestic value addition 
Do you know? 
The Indian pharmaceutical industry is the 3rd largest in the world by volume.

However, India is significantly dependent on the import of basic raw materials, viz., Bulk Drugs that are used to produce medicines. 

In some specific bulk drugs, the import dependence is 80 to 100%.
News Source: PIB
---
MISCELLANEOUS
Ex Dharma Guardian-2022:

Between India and Japan
Crucial and significant in terms of security challenges faced by both nations in the backdrop of current global situation. 

The scope of this exercise covers platoon level joint training on operations in jungle and semi urban/urban terrain.

Will enhance the level of defence co-operation between Indian Army and Japanese Ground Self Defence Forces, which in turn will further foster the bilateral relations between the two nations.
---
Ministry of Education launches Bhasha Certifiate Selfie campaign
Aims to promote Bhasha Sangam mobile app, developed by Ministry of Education and MyGov India. 

Using the app, people can learn 100+ sentences of daily use in as many as 22 scheduled Indian languages. 

The initiative, under the aegis of Ek Bharat Shreshtha Bharat will aim to ensure that people acquire basic conversational skills in Indian languages. 

To achieve this, a target of 75 lakh people acquiring basic conversational skills has been set.
---
Immigration Visa Foreigners Registration Tracking (IVFRT) Scheme

:
Continuation of the scheme has been approved
Obj:

Modernization and up-gradation of Immigration and Visa services

Aim:

To provide a secure and integrated service delivery framework that facilitates legitimate travelers while strengthening national security, through this scheme.

After the commencement of IVFRT, the number of Visa and OCI cards issued increased from 44.43 lakh in 2014 to 64.59 lakh in 2019 at a Compounded Annual Growth Rate (CAGR) of 7.7 per cent.

International traffic to and from  India grew from 3.71 crore to 7.5 crore during last 10 years at a CAGR of 7.2 per cent.
---
(Mains Focus)
---
GOVERNANCE/ ECONOMY
GS-2: Government policies and interventions for development in various sectors and issues arising out of their design and implementation. 
GS-3: Indian Economy & its Challenges
Context: The stock market regulator, SEBI is trying to improve the disclosures made by new age technology companies approaching the primary market for listing.
Issues with the new age technology companies
The digital companies tend to give precedence to growth over profitability and, therefore, are mostly loss-making when they approach primary markets.

Traditional accounting ratios mandated to be disclosed by the SEBI's such as earnings per share, price to earning ratio and return on net worth of the company are not applicable to these loss-making companies and do not help investors in their decision-making process.

The new age digital companies use different metrics such as app downloads, website registrations and traffic, subscribers, and so on, to project growth while valuing their shares. 

It would be difficult for SEBI to list all these metrics for disclosure.

Investors who picked up the Zomato, Nykaa and Paytm (One97 Communications) IPOs suffered heavy losses during the stock market correction.

Investors blame irrational valuations

for these losses and SEBI seeks to tighten IPO-pricing rules for new-age technology companies.
What are the suggestions to improve the listing of New age companies?
An option would be to ask these companies to share in the offer document the

key performance indicators

shared with investors in the

pre-IPO funding rounds. 

Mandating that these metrics be certified by an

independent chartered accountant

will lend more credibility to the numbers. 

A

three year look-back period for these disclosures

appears enough since many of the companies are likely to be start-ups with limited history. 

It is imperative that the key performance indicators of the issuer are

compared with global peers listed overseas

since domestic listed companies in the digital technologies segment are few. 

The weighted average cost of acquisition of shares issued or allotted in the pre-IPO period can be disclosed in the prospectus as it will alert investors regarding allotment to related parties or companies prior to the issue.
Connecting the dots:
---
INTERNATIONAL/ ECONOMY
GS-2: Effect of policies and politics of developed and developing countries on India's interests.
Context: The combative advent of the Russian military into Ukraine has predictably spooked markets across all asset classes the world over. 
Oil prices surged to an eight-year high of around $105 a barrel

Indian Stock markets crashing nearly 5% 

Indian rupee dipped close to the 76 to a dollar mark.
Impact on the trade
India's imports of petroleum products from Russia are only a fraction of its total oil import bill and thus, replaceable. But getting alternative sources for fertilizers and sunflower oil may not be as easy. 

Exports to Russia account for less than 1% of India's total exports; pharmaceuticals and tea could face some challenges, as will shipments to CIS countries. 

Freight rate hikes

(due to increased risk in global trade) could make overall exports less competitive too, but it is the indirect impact on the trade account that is more worrying.

The surge in crude oil prices will increase

India's inelastic oil import bill

, and gold imports could increase and keep the rupee under pressure. As a result, trade and current account deficits may be jeopardised, although forex reserves are healthy.

India imports more than 80% of its oil requirement, but the share of oil imports in its total imports is around 25%
Impact on domestic Inflation
Brent crude shot past the $100 per barrel mark for the first time in eight years on concerns over supply. Russia is the world's second largest oil producer.

Rising oil prices could

speed up already rising inflation

. Oil-related products have a share of over 9% in the WPI basket. It is estimated that a 10% increase in crude would lead to an increase of around 0.9% in WPI inflation. 

Also, sanctions on Russia by the West could impact its trade with the world — and result in a rise in the prices of other commodities and products, including wheat, edible oil, and metals. This in turn is going to add to the domestic inflation.

The RBI's assertion that retail inflation had peaked at 6.01% in January, as well as its growth-accommodative stance may need a rethink with oil prices 11% higher since its February 10 monetary policy review.
Impact on Economic Recovery
A larger oil import bill will impact India's external position and its overall macro-economic stability.

Rising Oil Prices it is also likely to increase subsidies on LPG and kerosene, pushing up the

overall subsidy bill.

Foreign portfolio investors have been selling their holdings in Indian equities over the last four months after the US Federal Reserve announced an increase in the pace of withdrawal of stimulus.

Investors started pulling out funds from emerging economies to park them in US treasuries and benefit from the expected rise in bond yields.

Out of the total FPI pullout of Rs 82,745 crore beginning November 2021, Rs 57,774 crore was withdrawn between January and February 2022. This outflow is likely to continue over the coming days. 
Good Outlook
Even as FPIs pulled out money, domestic institutions emerged as net investors.

With the fundamentals strong and concerns restricted mostly to external factors, experts say the markets will likely bounce back once the situation eases. 

On the fiscal side, the Government, which has been conservative in its revenue assumptions in the Budget, has the room to pre-emptively cut domestic fuel taxes to nip inflationary expectations, stoke faltering consumption levels and sustain India's fragile post-COVID-19 recovery through this global churn.
Connecting the dots:
---
(Down to Earth: Wildlife & Biodiversity)
---
Feb 25: Better late than never: Experts on Tamil Nadu's decision to go ahead with dugong reserve in Palk Bay- https://www.downtoearth.org.in/news/wildlife-biodiversity/better-late-than-never-experts-on-tamil-nadu-s-decision-to-go-ahead-with-dugong-reserve-in-palk-bay-81712 
TOPIC:
Context: Tamil Nadu government has recently taken a decision to go ahead with the establishment of a conservation reserve for the elusive dugong (Dugong dugon), a sirenian species native to parts of the Indian littoral.
The Tamil Nadu government had announced September 3, 2021 that a dugong conservation reserve would be established in the Gulf of Mannar, Palk Bay between India and Sri Lanka, for the conservation of the animals.

The TN government also accorded administrative approval for a sum of Rs 25 lakh for the preparation of a detailed project report and carrying out baseline field studies.
About Dugong
Dugongs are a Schedule I animal under the Wildlife (Protection) Act, 1972. Legally, it was given the highest protection.

The dugong , also called the

sea cow

, is a herbivorous mammal. 

It is the only living representative of the once-diverse family Dugongidae.

The dugong is strictly a marine mammal.

They graze on seagrass and come to the surface to breathe.

They are found in over 30 countries and in India are seen in the Gulf of Mannar, Gulf of Kutch, Palk Bay, and the Andaman and Nicobar Islands.

According to Wildlife Institute of India (WII) estimates, only 200-250 Dugongs are left in the wild, of which 150 are found in the Palk Bay and Gulf of Mannar in Tamil Nadu.
The loss of seagrass habitats
Degradation of the coastal ecosystem due to developmental activities
Accidental entanglement in fishing nets 

Extraction of corals and sands by cement industries

Increased turbidity of water

Pollution by oil refineries, chemical industries

Mechanized fishing boats and collision with boats, trawlers.
CITES: Appendix I

Wild (Life) Protection Act, 1972

: Schedule I

The Government of India is also a signatory to the

Conservation of Migratory Species (CMS)

since 1983 where it has signed non-legally binding Memorandums of Understanding on the conservation and management of Siberian Cranes (1998), Marine Turtles (2007), Dugongs (2008) and Raptors (2016). 
Why is there a need for a Dugong Reserve today?
Because dugongs are on the verge of extinction. 
In the Andaman and Nicobar Islands, their population is less than 100. 

There are very few left in the Gulf of Mannar. 

In the Gulf of Kutch, there are very few sporadic records. 

They were present in Lakshadweep but now are locally extinct. 
About the Conservation Reserve
The Conservation Reserve will cover an area of 500kms.

The proposed conservation area has the highest concentration of dugongs in the country.

The reserve will span the northern part of the Palk Bay from Adirampattinam to Amapattinam.

AS part of the CAMPA-Dugong Recovery Project, various surveys were conducted in the Palk Bay and Gulf of Mannar, from November 2016 to March 2019.

Gulf of Mannar is a shallow bay area between the south eastern end of Tamil Nadu and western Sri Lanka.
The Way Forward
Implementation is key:

In case of marine reserves, the sea is a type of commons. And coastal communities are highly dependent on it. By designating a protected marine area, you are literally denying the resources to such people. That is why there are community and conservation reserves. This will be a conservation reserve and it will be co-managed. But it still takes time for a management plan to be put in place. 

Massive awareness

is needed about the dugong as very few people knew about them even in the Andamans where they are the state animal. The main cause of mortality for dugongs is accidental entanglement. They are marine mammals and have to surface every four minutes to breathe. Fishermen use gilnets and dugongs get trapped and killed in them unintentionally. This must be stopped.

This could be done through incentive programmes. For instance, if a dugong gets captured and is released by fishermen, they get Rs 5,000 if they provide photo documentation of the act. If the government ensures that every dugong release is celebrated it can work wonders.

Fishing communities should also decide to shift to other sources of food rather than hunt dugongs for meat if they want their future generations to see dugongs. 

Strengthen enforcement of law:

Dugongs are protected under Schedule I of the Wildlife (Protection) Act, 1972 which means they have the highest level of legal protection under Indian law. But very few people have been arrested, imprisoned or prosecuted for poaching dugongs. The enforcement of the law needs to be strengthened if we want to conserve the species.

Preservation of the threatened seagrass ecosystem:

Ultimately, if there is no seagrass, dugongs will perish.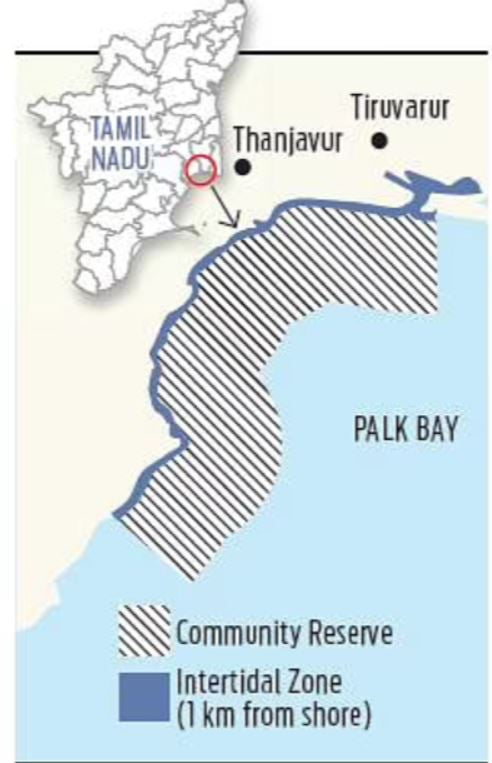 ---
(TEST YOUR KNOWLEDGE)
---
Model questions: (You can now post your answers in comment section)
Q.1 Consider the following statements regarding the Council of Europe:
No country has ever joined the EU without first belonging to the Council of Europe.

It cannot make binding laws, but it does have the power to enforce select international agreements
Which of the above is or are correct? 
1 only 

2 only 

Both 1 and 2 

Neither 1 nor 2 
---
Q.2 Where did Chernobyl Nuclear disaster take place?
Russia

Belarus

Ukraine

Moldova
---
Q.3 Char Chinar Island is located in which of the following state/UT?
Kerala

Puducherry

Jammu and Kashmir

Gujarat
---
ANSWERS FOR 26th Feb 2022 TEST YOUR KNOWLEDGE (TYK)
---
Must Read
On Education and Hijab issue:
On India-Sri Lanka Fishing conflict:
For a dedicated peer group, Motivation & Quick updates, Join our official telegram channel – https://t.me/IASbabaOfficialAccount
Subscribe to our YouTube Channel HERE to watch Explainer Videos, Strategy Sessions, Toppers Talks & many more…