---
(PRELIMS + MAINS FOCUS)
---
Part of: Prelims and GS-II Policies and interventions
Context: Nine hundred and eighteen habitations, spread over five districts, are going to have combined water supply schemes at a cost of about Rs. 1,473 crore under the Jal Jeevan Mission.
The work on all the schemes is expected to be completed in two years.

The Central government's share of the cost will be about Rs. 581.5 crore; the State government's Rs. 884.3 crore; and the community contribution Rs. 7.4 crore.
What is Jal Jeevan Mission?
It is

envisioned

to provide safe and adequate drinking water through individual household tap connections by 2024 to all households in rural India.

It

envisages

supply of 55 litres of water per person per day to every rural household through Functional Household Tap Connections (FHTC) by 2024.

It also includes functional tap connection to Schools, Anganwadi centres, GP buildings, Health centres, wellness centres and community buildings

The programme will also implement

source sustainability measures

as mandatory elements, such as recharge and reuse through grey water management, water conservation, rain water harvesting. 

JJM focuses on integrated

demand and supply-side management

of water at the local level.

The

Mission

is based on a community approach to water.

It looks to create a jan andolan for water, thereby making it everyone's priority.

It promotes and ensures voluntary ownership among local communities by way of contribution in cash, kind and/ or labour and voluntary labour.

Parent Ministry:

Department of Drinking Water & Sanitation, Ministry of Jal Shakti

Funding Pattern

: The fund sharing pattern between the Centre and states is 90:10 for Himalayan and North-Eastern States, 50:50 for other states, and 100% for Union Territories.

Four-tier implementation

& monitoring of the scheme at National, State, District & village level.
News Source: TH
---
Part of: Prelims and GS-II International Relations 
Context: Russian forces have seized the Zaporizhzhia nuclear power plant in Ukraine, the largest in Europe, after intense fighting with Ukrainian defenders.
U.S. Energy Secretary said there was no indication of elevated radiation levels at the plant, which provides more than a fifth of total electricity generated in Ukraine.
Key updates
Only one Ukrainian city, the southern port of

Kherson

, has fallen to Russian forces since the invasion was launched on February 24, but Russian forces continue to surround and attack other cities.

Mariupol

, the main port on the Sea of Azov, was surrounded and under heavy bombardment.

The northeastern city of

Kharkiv

has been under attack since the start of the invasion.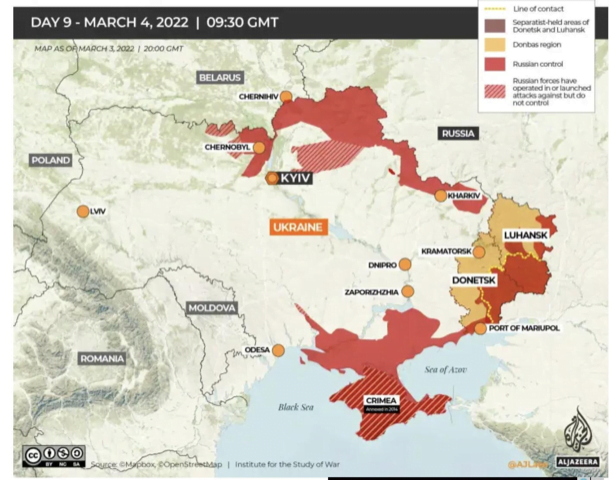 News Source: TH
---
Part of: Prelims and GS-III Economy
Context: Moody's Analytics has warned that the Russia-Ukraine war could hit global supply chains that are already constrained due to the pandemic.
Key takeaways 
The worst impact would be on the ongoing

chip

shortage because the warring nations control significant supplies of key raw materials used in semiconductors.

Russia controls about 44% of global palladium supplies and Ukraine produces 70% of the neon supply — two key raw materials that go into making chips.

Semiconductors chips are necessary in the likes of automobiles, mobile phones and consumer electronics.
Do You Know?
It is estimated that the semiconductor industry is growing fast and can reach $1 trillion dollar in this decade. 

India can grow fast and reach $64 billion by 2026 from $27 billion today. 

Mobiles, wearables, IT and industrial components are the leading segments in the Indian semiconductor industry contributing around 80% of the revenues in 2021. 

The mobile and wearables segment is valued at $13.8 billion and is expected to reach $31.5 billion in 2026
News Source: TH
---
(News from PIB)
---
Part of: GS-Prelims and GS-II: Government schemes and policies
In News: The Government has approved the scheme – Modernisation Plan-IV for Central Armed Police Forces (CAPFs) in continuation of the scheme "Modernisation Plan-III for CAPFs.
Implementation by:

Ministry of Home Affairs 

Upgraded IT solutions will also be provided to CAPFs.

Will improve the overall operational efficiency/preparedness which will positively impact the internal security scenario in the country.  

Bolster the Government's ability to address the challenges being faced on the International Border/LoC/LAC as well as in the different theatres, such as areas affected by Left Wing Extremism, Union Territories of Jammu and Kashmir, Ladakh and insurgency affected North Eastern States.
News Source: PIB
---
(Mains Focus)
---
GOVERNANCE/ ECONOMY
GS-2: Government policies and interventions for development in various sectors and issues arising out of their design and implementation.
Context: In a significant development, the Andhra Pradesh High Court has directed the State government to construct and develop Amaravati capital city and capital region within six months as agreed in the terms and conditions under the provisions of APCRDA Act of 2014.
Brief background of the case
In 2014, the Amaravati region was chosen as the site of the capital of Andhra Pradesh, the residuary State left after the creation of Telangana.

However, with the change of regime in 2019, the work was stopped where the new government proposed decentralised development by having three capitals.

AP legislature passed AP Decentralisation and Inclusive Development of All Regions Act 2020 and Andhra Pradesh Capital Region Development (Repeal) Act 2020 which proposed to establish three capitals in the state – Amaravati, Visakhapatnam, and Kurnool as the legislative, executive, and judicial capitals respectively. 

Essentially, around 33,000 families of Amravati had given up their land in 2014-15 for capital region development program. 

However, with the legislation for the construction of three capital cities in 2020, the families were left with no sustainable means of livelihood. Therefore, they challenged these new legislation (proposal of three capitals) in AP High Court.

Petitioners argued that the abrupt halting of development in the capital region (Amrawati) had led to the crashing of the value of plots and this could mean that these families would incur a loss of over Rs 30,000 crore if the value of returnable plots is estimated at the lowest prices.

But in November 2021, the State had repealed/withdrew these laws.
Key Features of the High Court Verdict
State's High Court has ruled that it cannot abandon the project to develop Amaravati as the capital city after over 33,000 acres had been given up by farmers and ₹15,000 crore sunk in it over development expenditure. 

The Court has held that the action of the state to come up with a proposal for three capitals was arbitrary and violative of Articles 21 and 300-A of the Constitution of India.

State Legislature lacks competence to make any legislation for shifting, bifurcating or trifurcating the capital and Heads of Departments of the three wings of the Government including the High Court 

The High Court has also categorically held that the state had failed to keep up their promise to the petitioners who had surrendered their lands expecting developed, reconstituted plots as the State failed to complete the process of construction of Amrawati City by 2018.

The State is directed to construct and develop Amaravati capital city and capital region within six months time.
Implications of the verdict
The verdict, if undisturbed by the Supreme Court, may put an end to attempts to shift the capital city out of Amaravati. 

A welcome feature of the verdict is that it has invoked the doctrines of constitutional trust and

promissory estoppel

to prevent a regime from going back on its promises to citizens. 

Promissory estoppel

is a doctrine in contract law that stops a person from going back on a promise even if a legal contract does not exist.

It sends out a message that governance should not be buffeted by winds of political change or be held hostage to the passing whimsy of a particular regime.
Connecting the dots:
Reorganisation of States

Separation of Power
---
(ORF: Raisina Debates)
---
March 1: Australia–India scripting a 'new chapter' in bilateral relations-https://www.orfonline.org/expert-speak/australia-india-scripting-a-new-chapter-in-bilateral-relations/  
TOPIC:

GS-2: India and Australia
Context: The engagement on both sides has amplified across multiple platforms and sectors, clearly focused on building tangible commitments and actions, to embrace a win-win partnership. If 2020 was the year of elevation of Australia–India bilateral ties to a Comprehensive Strategic Partnership (CSP), 2021 was about bringing pace, energy, and solidifying the bilateral economic engagement, 2022 is surely about a focused head start to script a new and committed engagement narrative, and the month of February had been a busy and promising month for bilateral ties.
The Global Geostrategic and Geoeconomic Landscape
The Quad

(this time at Australia) agreed to "accelerate the delivery of COVID-19 vaccines across the region, address regional challenges including humanitarian assistance and disaster response (HADR), maritime security, counterterrorism, countering disinformation and cyber security." 

Australia has also proposed to host an

Indo-Pacific Clean Energy Supply Chain Forum

in mid-2022.

Indo-Pacific economic integration:

Australia will provide AUD$36.5 million over five years, including AUD $11.4 million to improve regional cooperation on maritime shipping, disaster resilience, and information sharing. It will invest AUD$10.2 million to increase engagement on regional economic challenges and explore new opportunities in the digital sector in Bangladesh. 

In addition, the Australian government will invest AUD$5.8 million to promote infrastructure investment opportunities in the region to Australian business, invest AUD$4.8 million to improve Australian resources and mining equipment, technology and services (METS), and understanding of South Asian markets. 

A further AUD$4.3 million will support relationships across the LNG supply chain between Australia, India, and Bangladesh. 
Together, these measures will support opportunities for trade, investment, and connectivity in the Northeast Indian Ocean. The evolving narrative on the Indo-Pacific region reflects the emerging structural shift in geostrategic and geoeconomic imagination and environment.
India and Australia
A. With the advent of industry 4.0, cyber security, innovation, digital economy, and cyber & critical technology cooperation have become a key part of Australia's relationship with India, enabling an ecosystem of collaboration between industry, academia, and subject matter experts through the New Centre of Excellence for Critical and Emerging Technology Policy to build security standards, best practices, and ethical framework. 
B. The inaugural Australia–India Foreign minister's Cyber Dialogue focused on further promoting stronger investment opportunities and cutting-edge innovation in cyber, critical, and emerging technologies.
C. Comprehensive Economic Cooperation Agreement (CECA): There is a likely possibility of a full-fledged CECA becoming a reality sooner than later, considering the Australian federal elections are just around the corner. The economic context within which the CECA is being negotiated has changed, it is a completely different world to two years ago, and the ways in which crisis of supply, people and resourcing has manifested itself in business needs to be examined thoroughly. The CECA is likely to 
Lower tariffs

Provide greater access to Australian and Indian exporters in areas such as textiles, pharmaceuticals, footwear, dairy products, milk, premium wines and many more, focused on post-COVID economic recovery, along with the importance of an early resolution of ongoing issue of taxation of offshore income of Indian firms in Australia. 
D. MoU on Tourism Cooperation: Promote travel between the two markets and advance cooperation on tourism policy, data sharing, training, and industry engagement. Pre-pandemic, India was Australia's fastest-growing source of international visitors. A large Australian Indian diaspora population and international student cohort with accessible connectivity will continue to open up international travel to a larger proportion of India's population, also a strong enabler in building 'Brand Australia' in India. 
E. Australia–India Infrastructure Forum: Will serve as a hub to promote two-way investment in infrastructure and support broader trade and investment bilateral objectives. Opportunities in urban infrastructure, transport, and water remain key focus sub-sectors for Australia in India. With large sovereign funds, pension funds, private equity investing in India, and with infrastructure spend slated to be US$ 1.4 trillion by 2025 as part of the Govt. of India national infrastructure pipeline, opportunities are tremendous within the infrastructure sector to align mutual capabilities.
F. To foster the Australia-India community cooperation, creativity, understanding and exchange, Australia has also launched three Maitri (friendship) initiatives with a total investment worth AUD$20.8 million.
The AUD$11.2 million Maitri Scholarships Programme aims to attract and support high achieving Indian students to study in Australian universities particularly in science, technology, engineering, mathematics, and health. 

The AUD$3.5 million Maitri Grants and Fellowships Programme will build links between future leaders, supporting mid-career Australian and Indian professionals to collaborate on strategic research and shared priorities. 

The AUD$6.1 million Australia-India Maitri Cultural Partnership will boost the role of creative industries in economic and people-to-people ties to promote artistic talent and cultural exchanges in visual and performing arts, literature, film, television, and music industries.
G. 4th India – Australia Energy Dialogue: Both countries have decided to drive down the costs of technologies that will help reduce global emissions, with focus on tangible actions and projects including the manufacture and deployment of ultra-low-cost solar and green hydrogen. 
Pave the way for working towards reducing the cost of new and renewable energy technologies

Scaling up deployment in order to accelerate global emissions reduction. 

Focus of this LoI: Scaling up manufacture and deployment of ultra-low-cost solar and clean hydrogen

Other areas of cooperation:

There is an urgent need to focus on advancing technology and clean energy transition. Energy efficiency technologies
Grid management

R&D collaboration on flue gas desulphurisation, biomass or hydrogen co-firing

Water cycle optimization

Renewables integration

Batteries

Electric mobility

Apart from the power sector, there are many desirable areas of cooperation agreed under 

Reducing costs of Green Hydrogen

Cooperation in sphere of coal-based energy security and resource deployment

Investment opportunities in the minerals sector

Exploring potential for an LNG Partnership
Conclusion
The partnership between Australia and India is no longer one-dimensional or single layered, what we are witnessing today is a truly comprehensive bilateral growth story that is driven by consistency, commitment, and action. The key is to keep the Australia story thriving in India, and India story thriving in Australia on a consistent basis in public memory; this involves a holistic multi-stakeholder strategy and approach which deepens understanding and appreciation of each other.
Can you answer the following question?
Collaboration between India and Australia can limit the dangers of the growing geopolitical imbalance in the Indo-Pacific. Comment.
---
 (TEST YOUR KNOWLEDGE)
---
Model questions: (You can now post your answers in comment section)
Q.1 Consider the following statements regarding Jal Jeevan Mission:
It is envisioned to provide safe and adequate drinking water through individual household tap connections by 2024 to all households in rural India.

It comes under the Ministry of Rural Development.
Which of the above is or are correct? 
1 only 

2 only 

Both 1 and 2 

Neither 1 nor 2 
---
Q.2 Semiconductors are useful in which of the following? 
Automobiles

Mobile phones 

Consumer electronics.

All of the above
---
Q.3 Where is the largest nuclear plant of Europe located?
Russia

France

Ukraine

Poland
---
ANSWERS FOR 5th March 2022 TEST YOUR KNOWLEDGE (TYK)
---
Must Read
On significance of Gandhian non-violent approach:
On need for policy for waste pickers:
For a dedicated peer group, Motivation & Quick updates, Join our official telegram channel – https://t.me/IASbabaOfficialAccount
Subscribe to our YouTube Channel HERE to watch Explainer Videos, Strategy Sessions, Toppers Talks & many more…