---
(Prelims Focus)
---
Part of: GS II – India's relation with neighboring countries
Context: Linked by universal values such as freedom, democracy, human rights, and the rule of law, which have been shared through a long history of exchange, Japan and India are special strategic and global partners, sharing strategic interests. In this milestone year i.e., 2022 (28 April 1952), it marks the 70th anniversary of the establishment of diplomatic relations between Japan and India
Background
Formal relations between Japan and India began in 1952.
After the Second World War, instead of signing the multilateral San Francisco Peace Treaty, India opted for concluding a bilateral peace treaty with Japan, considering that honour and equality should be ensured for Japan to rejoin the international community. This is the cornerstone of our long-standing friendship.
But even before the establishment of diplomatic relations, the goodwill between the people of the two countries was deeply rooted through business, academic and cultural exchanges.
In 1951, when India hosted the first Asian Games in New Delhi, it invited Japanese athletes. This was one of the first occasions where the Japanese flag was hoisted after WWII. This experience soothed the minds of Japanese people who were struggling to rebuild their country.
After 70 years of multi-layered exchanges, the relationship between our two countries grew into a "Special Strategic and Global Partnership".
Relations between the two countries
Strategic Components
Convergence on free, open, and inclusive Indo-Pacific,
Progress in defense and security and in the regional context.
India and Japan signed a Reciprocal Provision of Supplies and Services Agreement (RPSS).
The inaugural 2+2 ministerial meeting was held in November 2019.
Act East Forum: A decision was taken in the 2017 Summit to establish the India-Japan Act East Forum. The objective is to coordinate developmental projects in North-East India in areas of connectivity, forest management, disaster risk reduction and capacity building.
Several projects including upgradation of highways in Meghalaya, Tripura and Mizoram are underway. The PM had last year laid the foundation stone of a 20 km-long bridge over the Brahmaputra River between Assam and Meghalaya.
Supply Chain Resilience Initiative (SCRI) – The Trade and Economy Ministers of India, Japan and Australia launched the (SCRI) on 27 April 2021. The initiative seeks to enhance the resilience of supply chains in the Indo-Pacific Region and to develop dependable sources of supply and to attract investment. As initial projects (i) sharing of best practices on supply chain resilience; and (ii) holding of a matching event have been completed.
Economic Components
The two countries have achieved the target of 3.5 trillion Japanese Yen in public and private investments in India.
Today, there are 1,455 Japanese companies in India. Eleven Japan Industrial Townships (JIT) have been established, with Neemrana in Rajasthan and Sri City in Andhra Pradesh having the maximum number of companies.
Japan is the 5th largest source of FDI; largest supplier of ODA (development partner of India)
Several infrastructure projects are underway through Japanese assistance including Mumbai-Ahmedabad High Speed Rail, Dedicated Freight Corridor, metro projects, DMIC etc
Last year, PM Modi inaugurated the Varanasi Convention Centre (Rudraksha), while the then PM Yoshihide Suga sent a video message.
The two sides had signed a Digital Partnership in October 2018. Collaboration in startups has emerged as a vibrant aspect under this Partnership. Till date Indian startups have raised more than USD 10 billion from Japanese VCs. India and Japan have also launched a private sector driven fund-of-funds to invest in technology startups in India which has raised USD 100 million so far.
Both countries also have cooperation in the field of ICT, in areas such as 5G, under-sea cables, telecom, and network security. A workshop on 5G was also held.
Progress has also been made in the area of skill development. The total number of Japan-India Institutes of Manufacturing (JIM) now stands at 19 (it was 8 in 2018). These institutes are established by Japanese companies based in India for training skilled workers. Japanese companies have also set up 7 Japanese Endowed Courses (JEC) at various colleges.
220 Indian youth are placed in Japan as interns under Technical Intern Training Programme (TITP). India had also signed a Specified Skilled Workers Agreement. The Japanese side has started examinations for nursing care under this programme.
The enormous possibilities that exists
Plethora of fields to cooperate in, security issues including cyber security, outer space and economic security.
Our economic relations can be further augmented: For long, Japan has been the largest ODA (Official Development Assistance) donor to India. One of the most recent and ongoing examples of our collaboration is the Mumbai-Ahmedabad High-Speed Rail project. Japan is also one of the largest investors in India. Both countries have also promoted economic cooperation in other countries to enhance social infrastructure and connectivity. Our economic partnership can further strengthen the economy of the Indo-Pacific, as well as the world economy.
Cultural exchanges including literature, movies, music, sports and academics are essential for our relations, enabling a better understanding.
---
Part of: Prelims and GS-III: Economy
Context: The MSME Sustainable Certification scheme has been launched..
This Scheme is an extensive drive to enable and facilitate MSMEs to adopt Zero Defect Zero Effect (ZED) practices and motivate and incentivize them for ZED Certification while also encouraging them to become MSME Champions.
Through the journey of ZED Certification, MSMEs can reduce wastages substantially, increase productivity, enhance environmental consciousness, save energy, optimally use natural resources, expand their markets, etc.
ZED aims to provide a roadmap to global competitiveness for the MSMEs of India.
ZED will not only attempt to improve productivity & performance, it has the capability to change the mind-set of manufacturers and make them more environmentally conscious.
Significance
The sector faces finance-related problems due to three main factors 
Absence of viable credit providers
Absence of credit products and schemes such as micro-insurance that help enterprises tide over business downturns
Delayed payments leading to a persistent crunch in working capital. The average number of days it takes for enterprises to receive cash for the credit sale are 176, 112 and 81 days for micro, small and medium enterprises, respectively.
Delayed payments entail four kinds of costs for firms — 
Costs in retrieving payments in the form of personnel, time and effort;
Interest forgone beyond the prescribed period;
Business forgone due to working capital crunch;
Losses due to non-reconciliation.
About ZED
ZED is based on the principle of:
Zero Defect – Production mechanisms wherein products have no defects
Zero Effect –Production processes that have no adverse environmental and ecological effects.
Significance for MSME Sector
Export Competitiveness – Through better quality products, and also due to manufacturing space created by China owing to huge increase in its factory wages.
Domestic consumer base –Better quality products will attract more customers.
Improved profits –Through technological up-gradation, use of Intellectual Property Rights, reduced wastage and increased productivity.
Reduced costs –Energy efficiency, waste recycling, and better production processes.
Increased investments –With a more environmentally aware world, it's easy to access credit for green initiatives.
Awards and Recognition –Help build a brand image for the MSMEs through the "ZED Mark" and showcase them globally.
Environmental responsibility –Make them 'Responsible Manufacturers' and in long run make them sustainable businesses.
Boost to Startup Culture –Governmental handholding, innovative solutions, and newer technology.
---
(Mains Focus)
---
FEDERALISM/ GOVERNANCE
GS-2: Functions and responsibilities of the Union and the States, issues, and challenges pertaining to the federal structure, devolution of powers and finances up to local levels, and challenges therein
Context:  Earlier this month, the Tamil Nadu government issued a policy note which stated that the State government should claim compensation from the Centre in case of privatization of an airport or transfer of its assets to a third party.
Coming out in support of Tamil Nadu, Chhattisgarh and Jharkhand followed suit and claimed a stake in revenue share from the privatisation of airports.
 How many airports have been privatized?
Privatization of airports in India first began in 2003 after the government approved a proposal to upgrade Mumbai and Delhi in a public-private partnership (PPP) model.

The United Progressive Alliance (UPA) government also proposed the privatisation of a few airports, but couldn't implement it.

The proposal was then taken up by Prime Minister Narendra Modi. In 2019, Lucknow, Ahmedabad, Jaipur, Mangaluru, Thiruvananthapuram, and Guwahati airports were leased through the PPP model.
In 2021, the Centre unveiled its plan to further monetize 25 airports managed by the Airports Authority of India (AAI) over five years under the National Monetisation Pipeline (NMP).
 What is Tamil Nadu proposing?
Under NMP, the Centre has earmarked four airports – Chennai, Coimbatore, Madurai, Tiruchirappalli (Trichy)- for privatisation in Tamil Nadu.
Tamil Nadu government said as per the decision taken in 2007, to construct new airports/ expansion of airports, it is acquiring lands and handing over the same free of cost, without any burden to AAI.
Meanwhile, AAI has now requested the State to acquire 64.57 acres of land for Chennai airport, which has led to the present policy stance by Tamil Nadu. In the present projects, the land cost forms the major share of the overall project cost.
Tamil Nadu government states that AAI is actively pursuing the policy of privatisation of airports. In the event the state government acquires and transfers the lands to the AAI free of cost and the AAI or the Union Government transfer the assets to a third party, the value realised/revenue accrued thereby, must be proportionately shared with the State government
The value of land, at an appropriate stage, should be converted into equity of the State government in the airport's special purpose vehicle or an appropriate revenue sharing arrangement should be arrived at before the airport is transferred to a private party.
The Tamil Nadu government said the policy decision was taken considering the State's investment in land assets before the transfer to AAI.
 Why are Chhattisgarh and Jharkhand backing Tamil Nadu?
The non-BJP ruled States of Chhattisgarh and Jharkhand have also demanded a share of the revenue from privatised airports.
Chhattisgarh has said when the Centre and State come together for an earning project, the government's capital is present as a shareholder in terms of the land.
So long as it is in the government sector, Union government would be making some revenue and there would be something spilling over to the State government and there would be a benefit to the public, so that is fine.
However, when Union government is selling it to a third entity which is a private party, then it is selling the assets of the company, which include the land also. So, the State government should be given the value of the land.
Jharkhand also backed the proposal. "Land belongs to the State. When it is under the central government, states have no issues and give land, water and other resources. But if the Centre is handing it over to private parties, revenue should be shared with the State government.
 Conclusion
The Ministry of Civil Aviation is yet to officially comment on the matter. Delaying the policy announcement will lead to further strains in Centre-State relations.
A policy should be framed in this regard for all the States, as it is considered as a challenge to the fiscal federalism of the country.
Connecting the dots:
---
INTERNATIONAL/ ECONOMY
GS-2: Effect of policies and politics of developed and developing countries
Context:  Russian energy company Gazprom has stopped gas supplies to Bulgaria and Poland citing their failure to pay in roubles.
Poland and Bulgaria have accused Russia of breach of contract, according to which payments were to be made in euros and dollars only.
Towards the end of March, Russian President Vladimir Putin had signed a decree that from April 1, "unfriendly foreign buyers" would have to pay for gas supplies in roubles. He had also added that defaults would result in suspension of contracts.
 How will the stoppage of gas supplies affect Poland and Bulgaria?
The gas cuts do not immediately put the two countries in any dire trouble.
Russian gas deliveries to both Poland and Bulgaria were anyway expected to end later this year.
Poland, which gets 40% of its natural gas from Russia, has been working on alternatives for many years.
In the immediate scenario, however, it will lose out on the five billion cubic metres of gas it was set to get from Gazprom(Russia). It will likely make up for it with supplies from Germany.
Bulgaria, which gets 77% of its natural gas from Russia, has a bigger problem. While it is said that the country has enough reserves for another month, it needs to urgently look for alternatives, with additional supplies via pipelines from Greece being a distinct possibility.
 Why has Russia targeted Poland and Bulgaria with this move?
Poland has been a major gateway for supply of military hardware to Ukraine. It also confirmed recently that it will be sending tanks to Ukraine.
Just hours before Gazprom's action, it had announced a fresh set of sanctions against the company and other Russian businesses and oligarchs.
As for Bulgaria, after a new liberal government took office last year, it has cut many of its old ties to Russia. Not only has it supported the West's sanctions against Russia, it has also hosted Western fighter jets at a new NATO outpost on its Black Sea coast.

Bulgaria is also a major producer of non-NATO weapons that it's considering sending to Ukraine.
 Will other countries be hit with similar stoppages?
Russia supplies gas via pipelines to 23 countries in Europe.
Among EU members, so far, only Hungary has officially agreed to make rouble payments, with the rest rejecting the demand.
However, even if no other country agrees to Russia's rouble payment mechanism, there won't be any further cuts in supplies at least until the second half of May, which is when the next tranche of payments are due.
Meanwhile, four European buyers have already started making gas payments in roubles, while 10 European companies have opened accounts with Gazprombank to make rouble payments.
 How have the EU, Poland, and Bulgaria reacted to the gas supply suspension?
The 27-member European Union has described Russia's decision as "blackmail" and accused Moscow of trying to divide the West over its support for Ukraine.
 What could happen if Russia shuts gas supplies to more countries?
Europe's natural gas comes from only three sources:
Until the Ukraine invasion, Russia accounted for almost 40% of Europe's gas imports.
While the dependence on Russian gas varies from country to country — ranging from 94% for Finland to 11% for the Netherlands — there is little doubt that disruption in supplies would fuel inflation and damage economic activity, with strong possibilities of energy rationing and even a major recession in the continent's industrial powerhouse, Germany.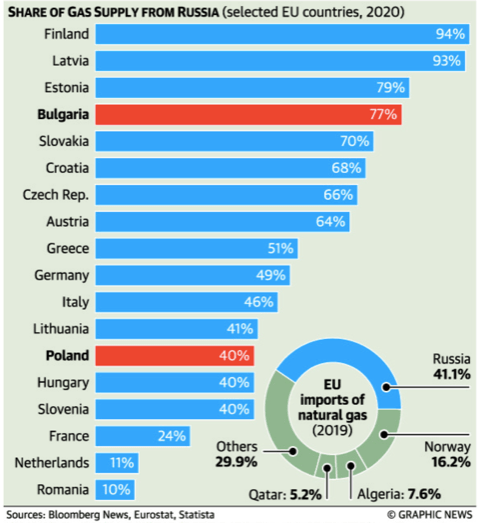 What has been the EU's strategy to reduce dependence on Russian gas?
Europe's energy mix comprises of oil (43%), natural gas (24%), nuclear energy (14%), and hydroelectric (4%), with renewables such as wind and solar making up the rest.
With climate change a major political issue in Europe, coal — of which there are abundant reserves on the continent — is off the table, and given public hostility to nuclear energy, EU is left with natural gas as the cleanest source of energy.
So, for the short-term, the EU is preparing for the heating requirements of the coming winter by tanking up on its gas storage facilities at 80-90% capacity and substituting Russian supplies, as much as possible, with piped gas from Norway and North Africa.
But these won't be adequate to reduce Russian dependence to zero.
So, the longer-term strategy is centred on importing liquefied natural gas (LNG) from the U.S. and the Middle East.
Will it be feasible for Europe to transition from Russian natural gas to LNG?
It will be tough challenge, primarily because it is easier and cheaper to transport natural gas via pipeline.
LNG requires massive facilities and container ships that require huge capital investments. And yet, over the past decade, the EU has beefed up its LNG infrastructure, building several large terminals.
Nonetheless, LNG transported from the U.S. by container ships would be much more expensive than Russian gas received via pipeline.
Achieving strategic autonomy, as it were, by replacing Russian gas with American LNG would mean higher prices for the average European consumer, who is currently the primary beneficiary of cheap Russian gas.
How will the gas suspension impact Russia?
Western analysts believe that Russia has taken a gamble by cutting off supplies to Poland and Bulgaria.
The Russian economy is heavily dependent on gas exports, deriving 40% of its revenue coming from it.
If the move forces more EU countries to pay for gas in roubles, it will help shore up its currency and offer some relief for its sanction-hit economy.
But at the same time, it could also backfire, if it ends up accelerating the decoupling of the energy 'partnership' between Europe and Russia.
Since it is difficult to reroute piped natural gas to different markets, Russia, which doesn't have elaborate storage infrastructure, may well find itself desperate for buyers.
Connecting the dots:
---
(TEST YOUR KNOWLEDGE)
---
Model questions: (You can now post your answers in the comment section)
Q.1) 'Supply Chain Resilience Initiative (SCRI)' is associated with
India
Japan
USA
Select the correct code:
1 and 2

2 and 3

1 and 2

All of the above
---
Q.2) Consider the following statements
Petroleum taxes with states are shared out of basic excise duty.
The Centre also levies additional excise duty and cesses on petroleum products.
Select the correct code:
1 Only

2 Only

Both 1 and 2

Neither 1 nor 2
---
Q.3) 'Reciprocal Provision of Supplies and Services Agreement (RPSS)' is associated with
Japan

Russia

USA

France
---
ANSWERS FOR 29th APRIL 2022 – TEST YOUR KNOWLEDGE (TYK)
---
Must Read
On revisiting death penalty jurisprudence:
On freebies impact on economic growth:
On how to improve India's Solar Sector:
---
For a dedicated peer group, Motivation & Quick updates, Join our official telegram channel – https://t.me/IASbabaOfficialAccount
Subscribe to our YouTube Channel HERE to watch Explainer Videos, Strategy Sessions, Toppers Talks & many more…