---
(PRELIMS + MAINS FOCUS)
---
Part of: Prelims and GS II – Policies and interventions 
Context: The Union government has extended the scheme to provide Rs. 40 crore grants-in-aid to the Dalai Lama's Central Tibetan Relief Committee (CTRC) for another five years, up to fiscal year 2025-26.
The scheme provides for an annual grant of Rs. 8 crore to CTRC to meet the administrative expenses of Settlement Offices and social welfare expenses for Tibetan refugees staying in

Tibetan settlements

spread across 12 States/UTs in the country.
Dalai Lama's Central Tibetan Relief Committee (CTRC) 
It was formed and registered as Charitable Society under Indian Societies Registration Act XXI of 1860.

It effectively acts as the Relief and Development Wing of Home Department, Central Tibetan Administration.

The main objective of the committee is to coordinate Individual, Voluntary Agencies and Indian Government's efforts to rehabilitate and settle Tibetan Refugees. 

It also assists and promotes the upliftment of the poor, needy, backward, underprivileged individuals and making the Tibetan settlement viable and sustainable.
News Source: TH
---
Part of: Prelims and GS II – Health
Context: World Health Day is celebrated on April 7th every year to draw attention to a specific health topic of concern to all people across the world. 
On this day, WHO was established in 1948. 

This year, WHO will focus on urgent actions needed to keep humans and the planet healthy globally and also foster a movement to create a society focused on well-being.

According to the WHO, more than 13 million deaths occur every year across the world due to avoidable environmental causes.

This consists of the climate crisis, which is the single biggest threat to health facing humanity. Therefore, the climate crisis is also a health crisis

The theme of World Health Day 2022 is "Our Planet, Our Health". 
News Source: Newsonair
---
Part of: Prelims and GS II – Policies and interventions 
Context: Lok Sabha recently passed the weapons of Mass destruction and their delivery systems (prohibition of unlawful activities) amendment Bill, 2022 with a voice vote.
Weapons of mass destruction are biological, chemical, or nuclear weapons. 
Key takeaways 
The Bill amends the Weapons of Mass Destruction and their Delivery Systems (Prohibition of Unlawful Activities) Act, 2005.  

The 2005 Act prohibits unlawful activities (such as manufacturing, transport, or transfer) related to weapons of mass destruction, and their means of delivery. 

The present Bill bars persons from financing any prohibited activity related to weapons of mass destruction and their delivery systems. 

To prevent persons from financing such activities, the central government may freeze, seize or attach their funds, financial assets, or economic resources (whether owned, held, or controlled directly or indirectly). 

It may also prohibit persons from making finances or related services available for the benefit of other persons in relation to any activity which is prohibited.
News Source: Newsonair
---
(News from PIB)
---
Part of: GS-Prelims and GS-III: Environment, Conservation
Context: Several Indian institutes/universities/organizations monitor Himalayan glaciers for various scientific studies including glacier melting and have reported accelerated heterogeneous mass loss in Himalayan glaciers. Majority of Himalayan glaciers are observed melting/ retreating at varying rates in different regions.
Melting glaciers have significant impact on water resources of Himalayan rivers due to change in glacier basin hydrology, downstream water budget, impact on hydropower plants due to variation in discharge, flash flood and sedimentation. 

They also increase in risk related to glacier hazards due to enhanced number and volume of glacier lakes, accelerated flash flood and

Glacial Lake Outburst Floods (GLOFs)

, impact on agro practices in high Himalayan region etc.
The melting of glaciers is a natural process and cannot be controlled. However, melting of glaciers does increase the risks related to glacier hazards. 
Glacier melting in HKH region is caused by:
larger anthropogenic modifications of the atmosphere 

disruption in weather patterns and precipitation due to global warming 

changes in Glacier volume 

Unplanned urbanization
Impact 
Threatens climate as well as monsoon patterns 

It impacts 10 major river systems which help in agricultural activities, provide drinking water and hydro electricity production in the region 

socio-economic disruption and human displacement
VALUE ADDITION
A. Pattern of losses of ice bodies in different parts of the world:
Antarctica: Retreating of glaciers
Antarctica encompasses land, island and oceans south of 60° latitude. This region stores about 70% of the world's fresh water in the form of snow and ice.

The World Meteorological Organisation (WMO) has confirmed that the region is one of the fastest warming regions of the planet. Over the past 50 years, it has warmed over 3°C.

The annual ice loss in the Antarctic region has increased at least six folds between 1979 and 2017.

87% of glaciers along the West Coast of the Antarctic Peninsula have retreated in the last 50 years with most of these showing accelerated retreats in the past 12 years.
Arctic and Antarctic region: Glaciers Melting from the Bottom
Glaciers in Greenland and Antarctica are losing ice at alarming rates, and warmer air isn't the only cause.

Scientists increasingly agree that warm ocean water is seeping beneath the ice and melting it from the bottom up.

Breaking of Larsen C ice shelf in Antarctica and several smaller ice shelves in the Arctic are a result of global warming.
Ice mass loss in the Russian Arctic:
Ice mass loss in the Russian Arctic has nearly doubled over the last decade according to Cornell University research published in the journal Remote Sensing of Environment.

Glaciers there are shrinking by area and by height. We are seeing an increase in the recent speed of ice loss, when compared to the long-term ice-loss rate.
South America:
The 18,000-year-old Chacaltaya glacier in the Bolivian Andes disappeared. 

In Ecuador, an avalanche at the base of the Cayambe glacier occured. Also, an avalanche caused serious damage in the area of Pampa Linda.

These isolated avalanches confirm the trend towards the collapse of the Andean glaciers.
B. Following necessary steps can be taken to contain the ice bodies' loss: 
In order to stop the temperature from rising, the only solution is to cool the planet as advised by the scientists. For this, the world not only needs to slow down greenhouse gas emissions but also reverse them.

There are around 1,98,000 glaciers in the world and India alone has about 9,000 of them. However, all of these glaciers are mostly unexplored. More detailed research is required to fully understand the state of glaciers and the risk their loss poses.

Reduce black carbon emissions from – (1) cookstoves; (2) Diesel engines; (3) Open burning. It could significantly reduce radiative forcing

Steps to be Taken by Regional Governments:

Review the policies on water management

Careful planning and use of hydropower to reflect changes in water flows and availability.

Increasing the efficiency of brick kilns through proven technologies.

Greater knowledge sharing in the region.
C. HKH extends over 8 countries – Afghanistan, Bhutan, Bangladesh, China, India Myanmar, Nepal and Pakistan 
It contains the world's third largest storage of frozen water after Antarctica and Arctica 

It is also referred as the third pole of the world.
News Source: PIB
---
MISCELLANEOUS
India's Agriculture Exports
Touch a historic high of USD 50 billion

Highest ever exports achieved for staples like rice, wheat, sugar, other cereals and meat

Wheat exports jumped nearly four-fold from $568 million in 2020-21 to touch $2.12 billion in 2021-22

COVID-19 resulted in increased demand for staples, providing an opportunity for increasing agriculture exports

Even during the current crisis due to Russia–Ukraine war, the world is looking at India for supplies of wheat and other food grains.
---
(Mains Focus)
---
ECONOMY/ GOVERNANCE
GS-3: Economy & its challenges; Banking system
GS-2: Government policies and interventions for development in various sectors and issues arising out of their design and implementation.
Context: Mortgage lender (housing finance) HDFC Ltd. and India's largest private sector bank HDFC Bank has announced a mega merger. 
The amalgamation will create a financial behemoth that is expected to better tap the rising demand for credit. 
What are the terms of the merger?
The two companies have announced that their respective boards have approved the amalgamation. 

Subsequently, the merger has to go through a series of regulatory approvals. 

It also has to get approval from shareholders of both companies. 

It is an all-share deal, so there's no cash transaction involved.

The terms of the share swap are such that shareholders of HDFC Ltd. will receive 42 shares of HDFC Bank for every 25 shares they hold in HDFC Ltd. 

Post-merger HDFC Ltd. will no longer be a separate mortgage lender, it will get folded into the bank. 

The bank, which is the offspring of HDFC Ltd. and the older legacy entity, is the one which is acquiring the mortgage lender. 

With bank's acquisition of the mortgage lender, it also acquires all its subsidiaries, which includes a general insurance company, a life insurance company, and an asset management company.

As both HDFC Ltd. and HDFC Bank have similar conservative lending culture & are customer-friendly, culturally, there wouldn't be a big challenge with integration.

The integration part of it would only be a matter of ensuring that everything is seamless and smooth, getting the books mapped on to each other, the IT systems merging with each other and so on. 
What happens to existing customers and employees?
As far as customers are concerned, HDFC Ltd.'s customers will become the bank's customers as well. 

As for employees, HDFC Bank is planning to absorb and retain all the employees. 

Neither of the entities are very heavy on employee numbers and have been fairly conservative in their employee sizes. 
What is the rationale for it?
In recent years, the evolution of the regulatory framework for the NBFC (non-banking financial company) industry has been gradually moving closer, to harmonise with the banking sector's regulatory framework. 

Earlier, NBFCs had a fairly different and a far more loose sort of framework for lending and deposits. This led to issues with some NBFCs struggling and going under or being taken over by others. 

The Reserve Bank of India has over the years been tightening the regulatory structures for the NBFC industry. 

Therefore, a large NBFC like HDFC Ltd. Merging with a bank makes sense because the banks are much more tightly regulated and have far more oversight of the RBI. 

As Basel III norms for capital adequacy are in place, the NPA (non-performing asset) book is very closely monitored. Even from a regulatory perspective, the RBI might to see this merger going through because it wants NBFCs to be tightly regulated. 
What is in it for HDFC Ltd. and HDFC Bank?
Post-merger, the mortgage lender, HDFC Ltd., gets access to HDFC Bank's CASA (current and savings accounts) deposits, which are lower cost funds. 

For the mortgage lending business, the capital cost will come down. As the capital cost comes down, automatically it will have the ability to lend at a finer rate in a highly competitive mortgage market.

For HDFC Bank, every home loan customer can be tapped to become a bank customer.

For HDFC Bank, it's about getting access to a large base of customers for cross-selling purposes. For HDFC Ltd., or the mortgage lending business, it's primarily about the lower cost of capital.
Does a larger balance sheet help in terms of the NPA situation?
As far as HDFC Bank is concerned, bad loans are not a major pressure point because it has been a conservative lender compared to competitors. They have always shied away from big ticket lending to corporates. Most of their lending is to retail borrowers. 

As for HDFC Ltd., there might have been some pressure on home loans during the pandemic but based on what they have disclosed so far, it is not a major pressure point either. Also, the merger with the bank sort of helps alleviate any upcoming pressure.
Will the lending pattern change?
Infrastructure lending has been a serious problem in India. 

With the government making it clear that there is need for funding the infrastructure segment, we will have to wait and see whether the merged entity has the expertise to lend to infrastructure projects, which is a risky proposition. 

They do have a large volume of funds, and if they see specific opportunities with good entrepreneurs and good government projects, they may go for it.
What will be the impact of this deal?
It's possible that we might see more NBFCs seeking to merge with banks. There is already talk of the number of banks coming down. 

So in some ways, HDFC Bank's merger with HDFC Ltd. may be a precursor to what is going to happen in the state-run banking space, where the government has said it is going to reduce the number of public sector banks.
Connecting the dots:
---
ELECTIONS/ GOVERNANCE
GS-2: Structure, organization and functioning of the Legislature; Issues and challenges pertaining to elections
GS-2: Government policies and interventions for development in various sectors and issues arising out of their design and implementation.
Context: Chief Justice of India N V Ramana has assured petitioners that the Supreme Court will take up for hearing a pending plea challenging the Electoral Bond Scheme, 2018. 
Two NGOs — Common Cause and Association for Democratic Reforms (ADR) — have challenged the scheme, alleging that it is "distorting democracy". 
What are electoral bonds?
Simply put, electoral bonds are an instrument through which anyone can donate money to political parties. 

Such bonds are sold in multiples of Rs 1,000, Rs 10,000, Rs 1 lakh, Rs 10 lakh, and Rs 1 crore.

They can be bought from authorised branches of the State Bank of India. 

As such, a donor is required to pay the amount via a cheque or a digital mechanism (cash is not allowed) to the authorised SBI branch. 

The donor can then give this bond to the party or parties of their choice. 

The political parties can choose to encash such bonds within 15 days of receiving them and fund their electoral expenses. 

Any party that is registered and has secured

at least one per cent of the votes polled

in the most recent General elections or Assembly elections is eligible to receive electoral bonds

The electoral bonds

will not bear the name of the donor

. Thus, the political party might not be aware of the donor's identity.
When were they introduced and why?
The central idea behind the electoral bonds scheme was to bring about transparency in electoral funding in India. 

In the Union Budget speech on February 1, 2017, then Finance Minister Arun Jaitley proposed two main changes. 

One, he reduced the amount of money that a political party could accept in cash from anonymous sources — from Rs 20,000 to Rs 2,000. 

Two, he announced the introduction of electoral bonds as a way to make such funding more transparent.

Formally, these bonds were introduced in 2018.
How many have been sold?
Electoral bonds can be bought only

during specific windows of time.

 

The 20th such window — between April 1 and April 10 — is currently open. 

According to a written reply in Rajya Sabha last month, Minister of State for Finance provided the break-up of the yearly sale of electoral bonds: 

Rs 1056.73 crore in 2018; 

Rs 5071.99 crore in 2019; 

Rs 363.96 crore in 2020; 

Rs 1502.29 crore in 2021; 

Rs 1213.26 crore in 2022.

In other words, in 19 tranches since 2018 when they were effectively available, bonds worth Rs 9208.23 crore have been sold. 

Of these, bonds worth Rs 9187.55 crore have been encashed by political parties.

Government also underscored that

no bonds were sold to foreign entities

because the scheme does not allow it.
Why have they attracted criticism?
The central criticism of the electoral bonds scheme is that it does the exact opposite of what it was meant to do: bring transparency to election funding.

For example, critics argue that the anonymity of electoral bonds is only for the broader public and opposition parties. 

The fact that such bonds are

sold via a government-owned bank (SBI)

leaves the door open for the government to know exactly who is funding its opponents. 

This, in turn, allows the possibility for the government of the day to either extort money, especially from the big companies, or victimise them for not funding the ruling party.

Therefore, the scheme provides an unfair advantage to the party in power. 

Critics have noted that more than 75 per cent of all electoral bonds have gone to the BJP, which is in power at the Centre.

Further, one of the arguments for introducing electoral bonds was to allow common people to easily fund political parties of their choice but more than

90% of the bonds have been of the highest denomination

(Rs 1 crore).

Moreover, before the electoral bonds scheme was announced, there was a cap on how much a company could donate to a political party: 7.5 per cent of the average net profits of a company in the preceding three years. 

However, the government amended the Companies Act to remove this limit,

opening the doors to unlimited funding

by corporate India.
Conclusion 
Voters can also help bring in substantial changes by demanding awareness campaigns. If voters reject candidates and parties that overspend or bribe them, democracy would move a step higher. 

Electoral bonds have raised questions on the electoral legitimacy of the government and thus the whole electoral process has become questionable. In this context, the courts should act as an umpire and enforce the ground rules of democracy.
Connecting the dots:
---
(ORF: Expert Speak)
---
April 6th: Millet: The super food for combating food and water security – https://www.orfonline.org/expert-speak/millet/ 
TOPIC:
Context: The United Nations (UN) has declared 2023 as 'the international year of millets' and has called  all stakeholders to provide support to draw policy attention to the nutritional and health benefits of millet consumption, and their suitability for cultivation under adverse and changing climatic conditions. Millets have the potential to help achieve the sustainable development goals (SDGs)—mainly 
SDG 2 (Zero Hunger)

SDG3 (Good Health and Well-being)

SDG 12 (Sustainable Consumption and Production)

SDG 13 (Climate Action). 
According to The International Crop Research Institute for the Semi-Arid Tropics (ICRISAT), more than 90 million people in Africa and Asia depend on millets in their diet. Although the global millet consumption has declined at a rate of 9 percent, the Millet Market forecast for 2022-27 shows promising trends. India dominates the global production at 41 percent, whereas the consumption has been receding over the years. On the other hand, Africa has become the largest consumer of millets at 40 percent.
Growing millet has many advantages: 
Being a rain-fed crop with minimal use of fertilisers

No pesticide as they are less vulnerable to insect attack

Seeds of millet can be stored for years making it advantageous in drought-prone areas.
Millets are multipurpose: 
They consume 70 percent less water than rice; grow in half the time of wheat; and require 40 percent less energy in processing. 

They are one-stop solution in the wake of climate change, water scarcity, and drought conditions along with high nutritive value to provide sustainable food security. 

Millets are an excellent source of antioxidants and help enhance capability of probiotics with potential health benefits. 

They play a role in body immune system, a solution to tackle childhood undernutrition and iron deficiency anaemia. Evidence indicates higher nutritive value of millets as compared to other cereal crops.

There is ample evidence on nutritive value of millets being a good source of energy, carbohydrates, fats, proteins, soluble and insoluble fiber, antioxidants, iron, zinc, and vitamins and can help eliminate micronutrient deficiency for India and other developing nations. 

It helps lower cholestrol, as it is rich in polyunsaturated fatty acids and omega-3 fatty acids.

Sustainable diets are protective of bio diversity and ecosystems with low environment impact, which contributes to food and nutrition security. Diversifying crop production by including more coarse cereals like millets can build foodsupply, reduce Green House Gas (GHG) emissions, and enhance climate resilience without compromising on nutritive value.
Millets are environmentally a better option to grow
Millets can thrive at relatively high temperatures (thermophilic)  and reproduce in limited water supply (xerophilic). 

A review indicates the positive effect of millet cultivation in the reduction of stress on environmental resources, especially in regions affected by climate change. 

Looking at the water security, millets require almost six times less water for growth (20 com) as compared to rice that requires average rainfall of 120-140 cm. 

The maturation time for certain millets is 45-70 days, half to that of rice (120-140 days). 

Millets convert more carbon dioxide to oxygen, contributing in mitigating climate change.

Millets can endure extremely high temperatures to drought to salinity making it a climate resilient crop.
Restoration of ecosystems and sustainability: 
Land degradation has been a major problem in India, causing massive economic losses year after year. Drought-tolerant crops, like millets, with low dependence on chemical inputs would put far less pressure on ecosystems.

The inter-cropping of millets with other crops is especially beneficial because the fibrous roots of millet plants help in improving soil quality, keep water run-off in check and aid soil conservation in erosion-prone areas, thereby restoring natural ecosystems.
Biofuel and Ethanol Blending
A study conducted among farmers in Madhya Pradesh showed that bio-ethanol can be created using sorghum (jowar) and pearl millet (bajra), and that this fuel could bring down carbon emissions by about half.

Estimates also suggest that millets can deliver greater returns than maize, while using 40% less energy in processing. Millets also offer a significant cost advantage over maize as a feedstock for bio-ethanol production.
A cultural connection: 
The cultivation of millets is deep-rooted in Indian culture. 

Organizations like Deccan Development Society have formed women's collectives in Telangana and are promoting millets through a culture-centric approach. 

Such crop sensitization has filtered into urban settings too. In 2018, the #LetsMilletCampaign in Bengaluru saw the use of millets in dishes such as risotto and pizza by restaurateurs.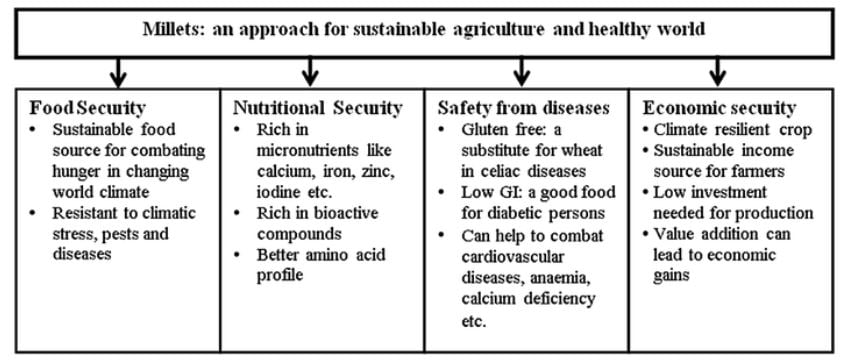 Some concerns and way ahead
A large majority of the consumers in India and other countries prefer consuming paddy because of the ease of cooking and also because of their habits. However, it is to be noted that millets have a short shelf life depending on humidity, temperature, and small market size. This calls for

more awareness creation drives on the nutritive values and setting up better storage facilities

for the crop for increasing its longevity.

Even though millets have been traditionally consumed in past decades, showing improved micronutrient intake and reduced anemia prevalence in women, of late, barriers of cost, taste, perception, and availability have led to decline in consumption of millet.

There is an urgent need for strengthening the entire value chain by addressing the gaps and calls for replicating scalable models across states for millet promotion in the country.

Incentivizing the adoption of inter-cropping with millets (two or more crops planted side by side) and providing crop insurance and support for storage facilities will foster income and food security. 
Brimming with potential, millets can act as a vital cog in the country's sustainable development wheel if backed by policies that promote their production, incentivize farmers and strengthen market linkages. It is time to unleash the potential of millets by creating awareness of the nutritional values to encourage a shift in consumer choices.
Can you answer the following questions?
What are millets? What are their nutritional benefits? Discuss. 

Can millet cultivation be a viable solution to agrarian and nutritional challenges? Examine.
---
(TEST YOUR KNOWLEDGE)
---
Model questions: (You can now post your answers in comment section)
Q.1 When is World Health Day celebrated?
April 7th

April 17th

March 7th

June 7th 
---
Q.2 Which of the following states in India is not one of the top 3 millet producing states?
Maharashtra

Karnataka 

Rajasthan

Punjab
---
Q.3 Consider the following statements regarding Dalai Lama's Central Tibetan Relief Committee (CTRC) 
It was formed and registered as Charitable Society under Indian Societies Registration Act XXI of 1860.

The main objective of the committee is to coordinate Individual, Voluntary Agencies and Indian Government's efforts to rehabilitate and settle Tibetan Refugees. 
Which of the above is or are correct?
1 only

2 only

Both 1 and 2

Neither 1 nor 2
---
ANSWERS FOR 7th April 2022 TEST YOUR KNOWLEDGE (TYK)
---
Must Read
On CBI & need to have strong ethical leaders at top:
On India-Nepal relationship:
On unequal impact of oil price shock:
For a dedicated peer group, Motivation & Quick updates, Join our official telegram channel – https://t.me/IASbabaOfficialAccount
Subscribe to our YouTube Channel HERE to watch Explainer Videos, Strategy Sessions, Toppers Talks & many more…