In News: India's agricultural exports crossed $50 billion during the fiscal year ended March 31, 2022.
While exports valued at $50.3 billion, no less interesting is imports, too, scaling an all-time-high of $32.4 billion.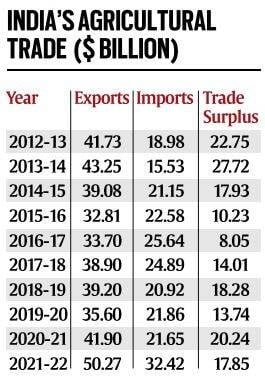 High international prices are favorable for exports of farm produce.
The tables below shows India's top agricultural export and import items
Leading the exports list is marine products, whose value has steadily risen, from just over $5 billion in 2013-14 $7.8 billion in 2021-22.
The real increase has come from rice (specifically non-basmati), sugar and wheat, with their exports breaking all earlier records.
On the other hand, many of the items that contributed to the previous export boom have displayed stagnation, even posting declines, in the recent period.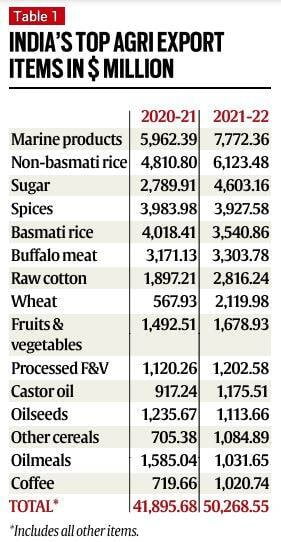 These include basmati rice, buffalo meat, oil meals, guar gum and raw cotton
As far as imports go, the spike in 2021-22 has been largely courtesy of vegetable oils.
Vegetable oil imports were worth $7.2 billion in 2013-14to $19 billion in the fiscal just ended.
Other big-ticket import items were fresh fruits (mainly almonds and apples), cashew (basically raw nuts for re-export after processing), spices and natural rubber.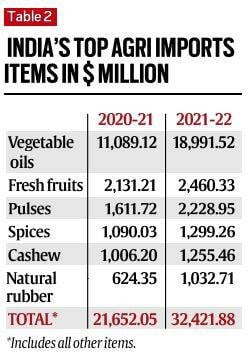 In spices, India happens to be both a large importer ($1.3 billion in 2021-22) and exporter ($3.9 billion).
Exports mostly comprise chili, mint products and cumin. On the other hand, there has been a rising trend in imports of pepper, cardamom and other traditional plantation spices from countries such as Vietnam, Sri Lanka and Indonesia.
Previous Year Questions (PYQs)
Q.1) With reference to the international trade of India at present, which of the following statements is/are correct?
India's merchandise exports are less than its merchandise imports.
India's imports of iron and steel, chemicals, fertilizers, and machinery have decreased in recent years.
India's exports of services are more than its imports of services.
India suffers from an overall trade/current account deficit.
Select the correct answer using the code given below:
1 and 2 only
2 and 4 only
3 only
1, 3 and 4 only
Q.2) Consider the following statements
The quantity of imported edible oils is more than the domestic production of edible oils in the last five years.
The Government does not impose any customs duty on all the imported edible oils a special case.
Which of the two statements given above is/are correct?
1 only
2 only
Both 1 and 2
Neither 1 nor 2
Q.3) With reference to pulse production in India, consider the following sentences:
Black gram (Urad) can be cultivated as both Kharif and rabi crop.
Green gram (Moong) alone accounts for nearly half of pulse production.
In the last three decades, while the production of kharif pulses has increased, the production of rabi pulses has decreased
Which of the statements given above is/are correct?
1 only
2 and 3 only
2 only
1, 2 and 3
Source: Indian Express
For a dedicated peer group, Motivation & Quick updates, Join our official telegram channel – https://t.me/IASbabaOfficialAccount
Subscribe to our YouTube Channel HERE to watch Explainer Videos, Strategy Sessions, Toppers Talks & many more…