---
(PRELIMS & MAINS Focus)
---
Surrogacy Regulation Act, 2021
Syllabus
Prelims – Polity; Social Issues
Mains – GS 1 (Social Issues)
Context: Petitioners in the Delhi High Court questioned why marital status, age, or gender were the criteria for being allowed to commission or not commission surrogacy in India.
What is the Surrogacy Act, 2021?
The Act sought to regulate the surrogacy in India
The Act defines 'surrogacy' as a practice where a woman undertakes to give birth to a child for another couple and agrees to hand over the child to them after birth
Why is there a need for a Surrogacy Act in India?
India has emerged as a hub for infertility treatment, attracting people from the world – due to prevailing socio-economic inequities, underprivileged women found an option to 'rent their wombs' and thereby make money to take care of their expenses
By 2012, India had become the 'surrogacy capital' of the world with surrogacy tourism valued at approximately $500 million annually.
Thus, it has become more than imperative to regulate surrogacy in the country.
To curb unethical practices: Lack of specific legislation had led to unregulated growth of Commercial Surrogacy services. Hence, to curb unethical practices related to issues of sex selection and exploitation of the surrogate, specific legislation was required.
To curb the exploitation of women: Due to the absence of legal regulations and lack of implementation, surrogate mothers faced multiple challenges – there had been many cases of death related to surrogacy which neither commissioning parents nor the doctors were ready to take responsibility of.
Legal Issues: Sometimes, Indian adoption laws or citizenship laws of some other countries also create problems. For example, Germany gives citizenship by mother; this creates issues in determining the nationality of child.
In 2008, a Japanese couple began the process with a surrogate mother in Gujarat, but before the child was born they split and there were no takers for the child.
In 2012, an Australian couple commissioned a surrogate mother, and arbitrarily chose one of the twins that were born.
Ethical Issues: Surrogacy leads to commoditization of the child. Renting of the womb breaks the bond between a mother and the child, interferes with nature
Key Provisions of the Act
The Act prohibits commercial surrogacy, but allows altruistic surrogacy.
Eligibility criteria for intending couple: Any couple that has 'proven infertility' are candidates. The 'intending couple' as the Act calls them, will be eligible if they have a 'certificate of essentiality' and a 'certificate of eligibility' issued by the appropriate authority.
Eligibility criteria for surrogate mother: Only a close relative of the couple can be a surrogate mother, one who is able to provide a medical fitness certificate. She should have been married, with a child of her own, and must be between 25 and 35 years, but can be a surrogate mother only once.
Appropriate authority: The central and state governments shall appoint one or more appropriate authorities. The functions of the appropriate authority include;
granting, suspending or cancelling registration of surrogacy clinics;
enforcing standards for surrogacy clinics;
National and State Surrogacy Boards: The central and the state governments shall constitute the National Surrogacy Board (NSB) and the State Surrogacy Boards (SSB), respectively.
Parentage and abortion of surrogate child: An abortion of the surrogate child requires the written consent of the surrogate mother and the authorisation of the appropriate authority. This authorisation must be compliant with the Medical Termination of Pregnancy Act, 1971.
The surrogate mother will have an option to withdraw from surrogacy before the embryo is implanted in her womb.
What are the controversies behind the Act?
Exclusion: The eligibility criteria for legally availing surrogacy excludes a chunk of society like unmarried females, LGBTQ+ persons, live-in couples, and single parents who wish to have surrogate child.
Paternalistic: The altruistic model expects a woman to go through the physical and emotional tolls of surrogacy free of cost and only out of compassion.
Autonomy of Woman: The banning of commercial surrogacy moves from the rights-based approach to a needs-based approach, thus removing the women's autonomy to make their own reproductive decisions and right to parenthood.
Limitations of Altruistic Surrogacy: Having a relative as a surrogate mother may lead to emotional complications. Altruistic surrogacy also limits the option of the intending couple in choosing a surrogate mother as very limited relatives
Children with Disability: The Act considers having children with physical and special needs as childless. It further encourages considering surrogacy if the couple has a child with a life-threatening disorder. This clause directly violates the right of the children with the disability, thus denying them treatment with dignity.
As India is one of the major hubs of these practices, the Act is certainly a step in the right direction. More reforms are still needed recognize the rights of all stakeholders involved. The law needs to keep up with rapidly evolving demands of morality and societal changes.
Source: The Hindu
---
BIMSTEC
Syllabus
Prelims – International Relations
Mains – GS 2 (International Relations)
In News: June 6 marked the completion of 25 years since the 1997 Bangkok Declaration launched a grouping BIMSTEC
What is BIMSTEC?
The Bay of Bengal Initiative for Multi-Sectoral Technical and Economic Cooperation (BIMSTEC) is a regional organisation comprising seven Member States: five deriving from South Asia, including Bangladesh, Bhutan, India, Nepal, Sri Lanka and two from Southeast Asia, including Myanmar and Thailand.
This sub-regional organisation came into being on 6 June 1997 through the Bangkok Declaration. Nepal, Bhutan and Myanmar joined the grouping later
The BIMSTEC Secretariat is in Dhaka.
Institutional Mechanisms:
BIMSTEC Summit
Ministerial Meeting
Senior Officials' Meeting
BIMSTEC Working Group
Business Forum & Economic Forum
Key achievements
It has crafted a new Charter for itself, spelling out the grouping's vision, functions and has secured a legal personality.
It has prioritized the sectors of cooperation with each member-state serving as the lead country for the assigned sector
Survival through the turns and twists of internal tensions: influx of over a million Rohingya refugees, Military coup in Myanmar and political and economic crisis afflicting Sri Lanka
Unlike SAARC and IORA, BIMSTEC has continued to hold its summits and meetings of Foreign Ministers and it has now resolved to hold regular summits once in two years
The grouping has also registered progress in combating terrorism, forging security cooperation, and creating mechanisms and practices for the better management of humanitarian assistance and disaster relief.
Institutions such as an Energy Centre and the Centre on Weather and Climate are in place to push sectoral cooperation forward.
The faultlines
A major failure relates to the continuing inability to produce a comprehensive Free Trade Agreement (FTA) 18 years after the signing of the Framework Agreement.
Connectivity: Only limited progress has been achieved so far, despite the adoption of the Master Plan for Connectivity supported by the Asian Development Bank (ADB).
Access to financial resources: For greater regional connectivity, more financial resources are needed. The movement towards establishing the BIMSTEC Development Fund is minimal.
The grouping has talked about the Blue Economy but is yet to begin any work on it.
Way Ahead
In this Indo-Pacific century, BIMSTEC has the potential to play a pivotal role, deepening linkages between South Asia and Southeast Asia. It should accelerate the region's economic development by collaborating with the newly minted Indo-Pacific Economic Framework for Prosperity (IPEF). New synergy should be created between BIMSTEC and the IPEF.
Previous Year Questions
Q.1) In the Mekong-Ganga Cooperation, an initiative of six countries, which of the following is/are not a participant/ participants? (2015)
Bangladesh
Cambodia
China
Myanmar
Thailand
Which of the statements given above is/are correct?
1 only
2, 3 and 4
1 and 3
1, 2 and 5
Source: The Hindu
---
Gulf region
Syllabus
Prelims – International Relations; Geography (map)
Mains – GS 2 (International Relations)
In News: Recently, the ruling party of India suspended its national spokesperson and expelled its Delhi spokesperson, following comments they had made about Islam and the Prophet
The move came after three countries in the Gulf region had summoned the Indian ambassadors to their nations to register their protest
The ruling party's action underlines the significance of the Gulf region for India
Barring the Jewish state of Israel, the 10 other countries of the Gulf region — Saudi Arabia, Qatar, Iran, Iraq, Bahrain, Kuwait, United Arab Emirates, Oman, Jordan and Yemen — together account for one-fifth of the world's Muslim population, and are among the strongest voices of the Muslim world.
Why is the region important for India?
The two most important reasons for the relationship are oil and gas, and trade.
Two additional reasons are the huge number of Indians who work in the Gulf countries, and the remittance they send back home.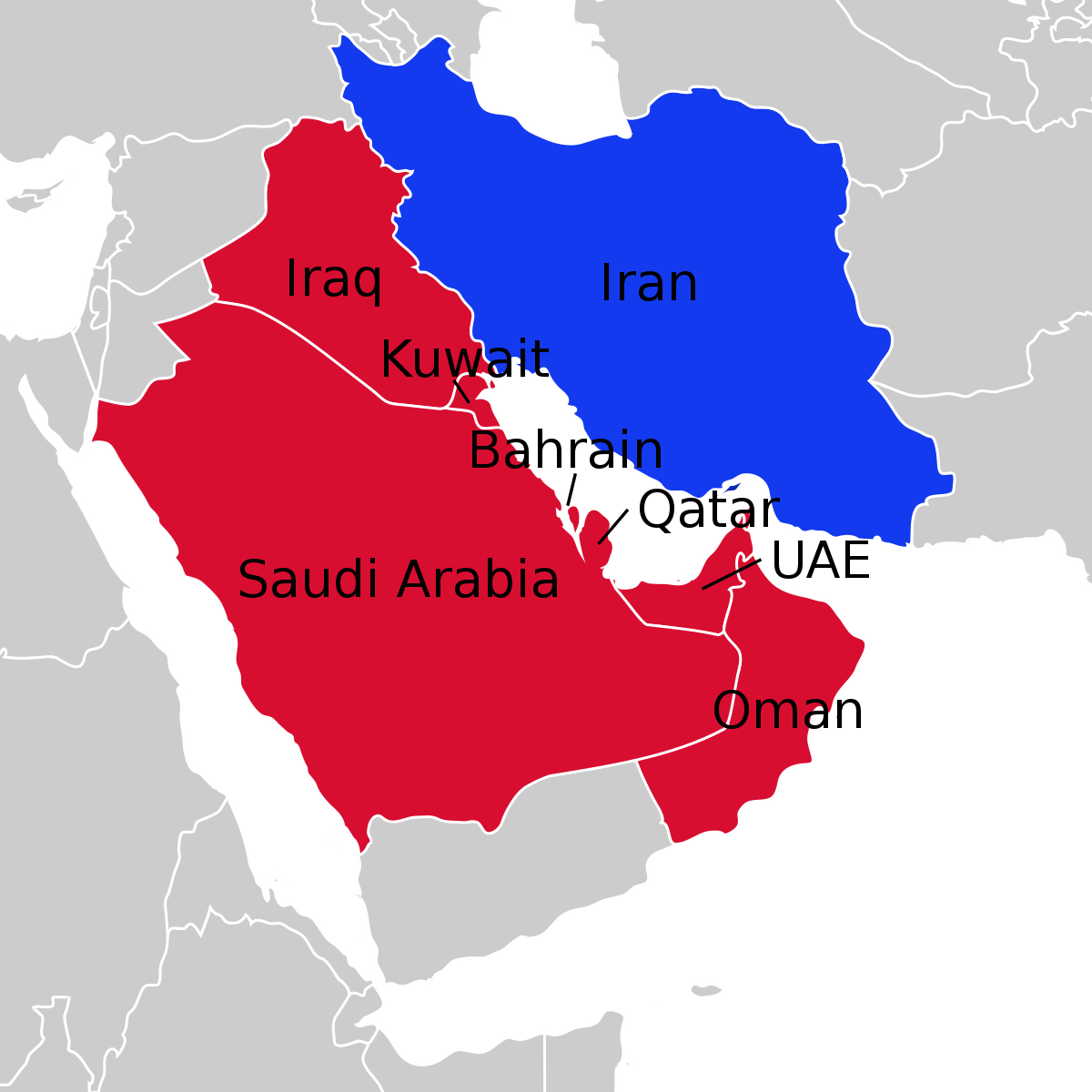 Trade
UAE: The UAE was India's third-largest trading partner in 2021-2022, and second-largest for both exports ($28 billion) and imports ($45 billion)
The UAE accounted for 6% of India's total exports and 7.3% of imports in the last financial year
Saudi Arabia: At a total volume of $42.9 billion in 2021-22, Saudi Arabia was India's fourth-largest trading partner.
Iraq: It was India's fifth-largest trading partner in 2021-22 at $34.3 billion.
Qatar: The total trade was $15 billion, accounting for just 1.4% of India's total trade, but the country is India's most important supplier of natural gas.
Qatar accounts for 41% of India's total natural gas imports. The UAE accounts for another 11%.
Oil
The share of Persian Gulf countries in India's crude imports has remained at around 60% over the last 15 years.
In 2021-2022, the largest exporter of oil to India was Iraq, whose share has gone up from 9% in 2009-2010 to 22%.
Indian Diaspora in Gulf Countries
The Gulf has the largest Indian Diaspora working there.
The UAE, Saudi Arabia and Kuwait together account for over half of all NRIs.
In terms of remittances from abroad, India was the largest recipient in 2020 at $83.15 billion. The largest contributor is the huge Indian diaspora in the Gulf.
India has underlined the importance of Gulf countries by frequent visit by Indian delegations to the region and the Gulf countries have reciprocated the same. It is highly important that India maintain a cordial relationship with these countries given their importance in India growth and development.
Previous Year Questions
Q.1) Consider the following statements (2022)
Armenia
Azerbaijan
Croatia
Romania
Uzbekistan
Which of the above are the members of the Organization of Turkic states?
1, 2 and 4
1 and 3
2 and 5
3, 4 and 5
Source: Indian Express
---
Agni-4 Missile
Syllabus
Prelims – Science and Technology
Mains – GS 3 (Science and Technology)
In News: India successfully tested the Intermediate-Range Ballistic Missile (IRBM) Agni-4, which met all parameters
The successful test was part of routine user training launches carried out under the aegis of the Strategic Forces Command
The successful test reaffirms India's policy of having a 'Credible Minimum Deterrence'
Agni-IV    
Agni-IV is the fourth in the Agni series of missiles which was earlier known as Agni II prime. Agni-IV bridges the gap between Agni II and Agni III.
CLASS: Intermediate-range ballistic missile (IRBM)
It is surface to surface missile
WARHEAD: Nuclear or conventional
RANGE: 3,000 – 4,000 km
PROPULSION: Two-stage solid propellant
PAYLOAD: 1,000 kg
Previous Year Questions
Q.1) With reference to the Agni-IV Missile, which of the following statement(s) is/are correct? (2014)
It is a surface-to-surface missile.
It is fuelled by liquid propellant only.
It can deliver a one-tonne nuclear warhead about 7500 km away.
Select the correct answer using the codes given below.
1 only
2 and 3 only
1 and 3 only
1, 2 and 3
---
Zaporizhzhia and Sievierodonetsk
Syllabus
Prelims – Geography (Map)
Zaporizhzhia
In News: Russian troops intend to capture Zaporizhzhia, a large city in the country's (Ukraine) southeast, which would allow the Russian military to advance closer to the centre of the country.
In the south of Ukraine, Russia has already seized the large Ukrainian cities of Kherson and Mariupol.
The Zaporizhzhia region, with the population of 1.6 million, is one of the biggest industrial hubs of Ukraine's southeast.
The city itself has 722,000 people.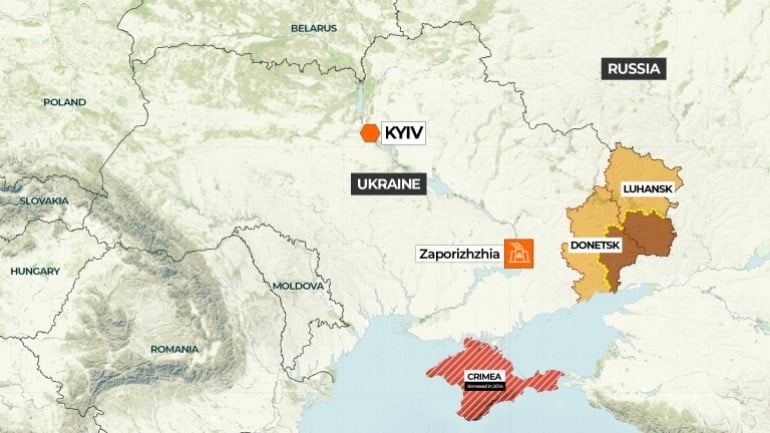 Sievierodonetsk
In News: More than 100 days after Russia began its invasion of Ukraine, it is the strategic eastern city of Sievierodonetsk that remains in the focus
Located nearly 140 km south of the Russian border, Sievierodonetsk is one of the largest cities of the Donbas region.
It is located near the left bank of the Siverskyi Donets River, and has a population of over a lakh.
It is a big industrial hub known for chemical works and machine-building factories.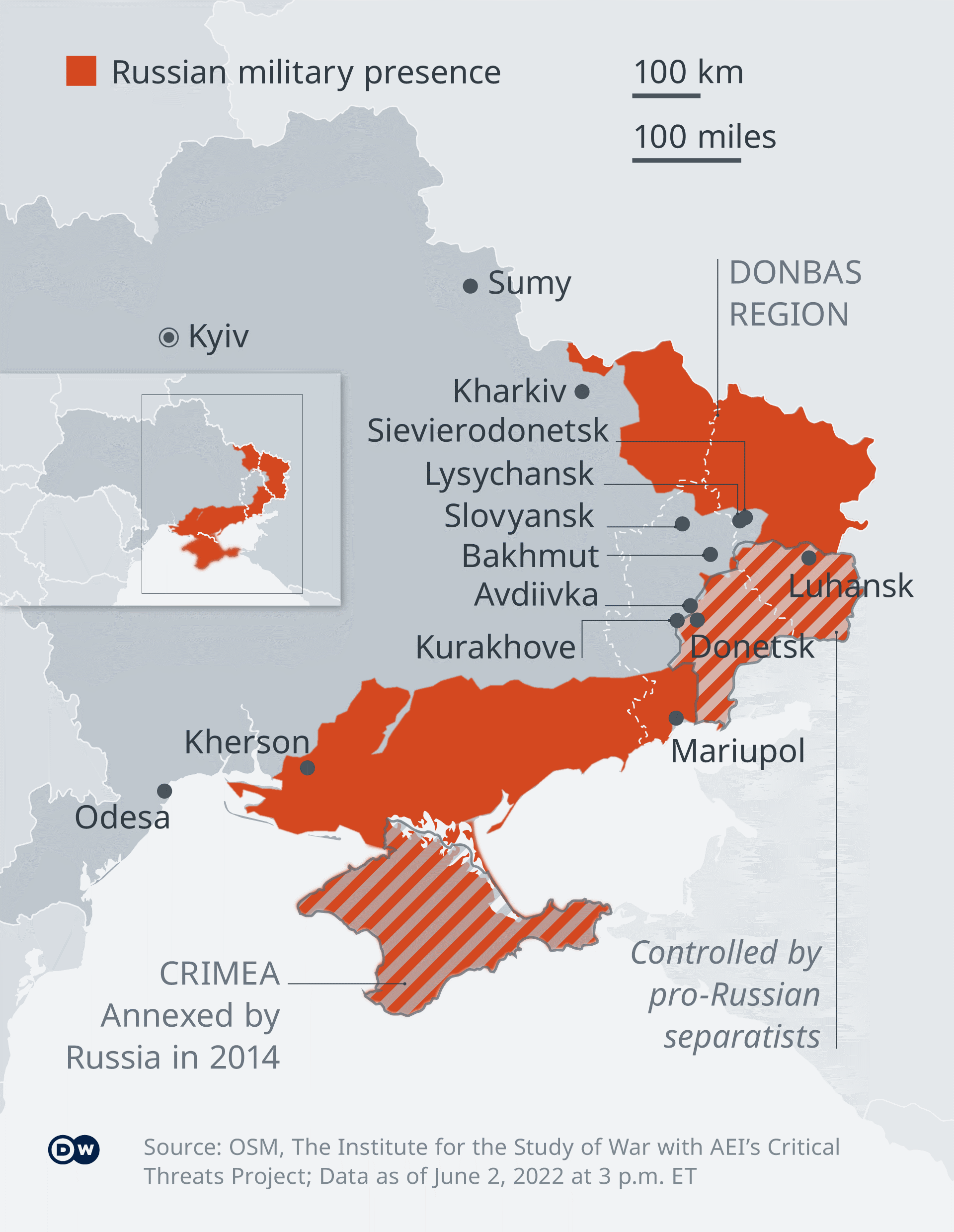 Strategic importance
Russia aims for complete liberation of Donbas. When Russia talks about 'liberating' Donbas, it broadly refers to controlling Ukraine's eastern regions of Donetsk and Luhansk.
If the city of Sievierodonetsk falls, then it will allow Russia to control the entire Luhansk region.
Previous Year Questions
Q.1) Consider the following pairs: (2022)
Regions in News                                           Country
Anatolia                        –                       Turkey
Amhara                         –                       Ethiopia
Cabo Delgado              –                       Spain
Catalonia                      –                       Italy
How many pairs given above are correctly matched?
Only one pair
Only two pairs
Only three pairs
All four pairs
---
Sant Kabir
Syllabus
Prelims – Medieval History of India
Mains – GS 1 (History, Art & Culture)
In News: President of India inaugurated the Sant Kabir Academy and Research Centre Swadesh Darshan Yojana and paid tribute to the Bhakti saint, Kabir at Maghar (Uttar Pradesh)
According to legends, Kabir is said to have departed from the mortal world in Maghar.
Sant Kabir Das
Sant Kabir Das was born in the city of Varanasi, Uttar Pradesh. He was a 15th century mystic poet, saint and social reformer and a proponent of the Bhakti Movement.
Teacher: His early life was in a Muslim family, but he was strongly influenced by his teacher, the Hindu bhakti leader Ramananda.
He belonged to Nirguni tradition, in this tradition, God was understood to be a universal and formless being.
Kabir's compositions can be classified into three literary forms – dohas (short two liners), ramanas (rhymed 4 liners), sung compositions of varying length, known as padas (verses) and sabdas (words).
Kabir Das' writings had a great influence on the Bhakti movement and includes titles like Kabir Granthawali, Anurag Sagar, Bijak, and Sakhi Granth.
His verses are found in Sikhism's scripture Guru Granth Sahib.
The major part of his work was collected by the fifth Sikh guru, Guru Arjan Dev.
He was best known for his two-line couplets, known as 'Kabir Ke Dohe'.
Language: Kabir's works were written in the Hindi language which was easy to comprehend. He used to write in couplets to enlighten people.
Kabir's critique of religion and caste:
Kabir synthesized Islam and Hinduism
While he did borrow elements from different traditions, he proclaimed his independence from them
He did not only target the rituals and practices of both Hinduism and Islam, but also dismissed the sacred authority of their religious books
Instead of God being an external entity that resided in temples or mosques, Kabir argued that God existed inside everyone.
Kabir's revolt against the caste system also sought to do away with the complex rituals and ceremonies performed by the Brahmins.
He argued that it was only through bhakti, intense love or devotion to God could one attain salvation.
He sought to eradicate caste distinctions and attempted to create an egalitarian society, by stressing the notion that a Bhakt (devotee) was neither a Brahmin nor an 'untouchable' but just a Bhakt.
Kabir's legacy
Kabir's legacy is still going on through a sect known as Panth of Kabir, a religious community that considers him as the founder.
A sect in northern and central India, many of their members are from the Dalit community
Today, the sect exists as a large and distinct community, with various sects under different spiritual leaders.
However, all regard Kabir as their guru and treat the Bijak as their holy scripture. The Bijak contains works attributed to Kabir
Previous Year Questions
Q.1) With reference to the cultural history of India, consider the following statements: (2018)
Most of the Tyagaraja Kritis are devotional songs in praise of Lord Krishna.
Tyagaraja created several new ragas.
Annamacharya and Tyagaraja are contemporaries.
Annamacharya kirtans are devotional songs in praise of Lord Venkateshwara.
Which of the statement is given above is/are correct?
1 and 3 only
2 and 4 only
1, 2 and 3
2, 3 and 4
Source: Indian Express
---
Daily Practice MCQs
Daily Practice MCQs
Q.1) Consider the following statements about Surrogacy Regulation Act, 2021
The act allows both commercial surrogacy and altruistic surrogacy
Only a close relative of the intending couple can be a surrogate mother
The act excludes unmarried females and single parents to have surrogate child
Choose the correct statements:
1 and 2
1 and 3
1, 2 and 3
2 and 3
Q.2) Which of the following countries borders the Persian Gulf?
Oman
UAE
Kuwait
Saudi Arabia
Iraq
Yemen
Choose the correct code:
1, 2, 4 and 5
1, 2, 3, 4, 5 and 6
2, 3, 4, 5 and 6
1, 2, 3, 4 and 5
Q.3) Consider the following statements about the Agni IV missile
It is an Intermediate-range ballistic missile (IRBM)
It is surface to surface missile
It is fuelled by a two-stage solid propellant
It can deliver one-tonne nuclear warheads about 3500km away
Choose the incorrect statements:
1 and 2
1, 2 and 3
4 only
None
Comment the answers to the above questions in the comment section below!!
ANSWERS FOR '7th JUNE 2022 – Daily Practice MCQs' will be updated along with tomorrow's Daily Current Affairs.
---
ANSWERS FOR 6th JUNE 2022 – Daily Practice MCQs
Answers- Daily Practice MCQs
Q.1) – a
Q.2) – b
Q.3) – c
For a dedicated peer group, Motivation & Quick updates, Join our official telegram channel – https://t.me/IASbabaOfficialAccount
Subscribe to our YouTube Channel HERE to watch Explainer Videos, Strategy Sessions, Toppers Talks & many more…