---
(PRELIMS & MAINS Focus)
---
Religious Tolerance and Social Harmony
Syllabus
Mains – GS 1 (Social Issues)
Context: The atmosphere of religious intolerance which has seen a sharp rise in the last several years has been a serious cause for concern in the country.
India is the beloved home for practitioners of all major religions in the world. Indian culture accepts diversity of faiths and beliefs.
Religious harmony and social cohesion are two core elements for progress and development.
As per Pew Research Survey 2021, Indians of diverse religious backgrounds overwhelmingly say they are very free to practice their faiths
But there is growing intolerance towards diverse religions leading to communal violence and ripples in social harmony.
Instances of intolerance
Recent incident of ruling party spokesperson commenting on Islam and the Prophet
Haridwar Hate speech incident
Frequent use of National Security Act (NSA) for 'cow slaughter' by some state governments
As per pew research on the question of inter-religious marriage, most Hindus (67%), Muslims (80%), Sikhs (59%), and Jains (66%) felt it was 'very important' to stop the women in their community from marrying outside their religion
Why is there raise in intolerance?
Political parties polarize naive voters in the name of religion
Various cultural organisations are misinterpreting and propagating truths to affirm revivalist predispositions
Irresponsible Reporting by Media: Many a times media broadcasts unconfirmed, sensitive and often biased reports on national television
For instance: Tablighi Jamaat case during first Covid lockdown
State's support: India has many hostile neighbors, who wish to make it weak through a communal divide.
Struggle for identity
Consequences
Threat to minority: Rise in intolerance and communal disharmony lead to majoritarianism
Mob-violence: Rise in disharmony has led to targeting of religious minorities and led to a rise in mob-violence
Threat to Rule of law: With rise in incidence of mob lynchings, there is a threat to rule of law – Lynching on cow smuggling, lynching of youth in golden temple
Freedom of speech: It has also impacted freedom of speech-shows of comedians being banned by vigilante groups
Regionalism: The anti-national elements get adequate opportunity to fan regional feelings and work on creating an atmosphere to break the cohesiveness of our society.
Damage social fabric: The social fabric of the society gets irreparably damaged and the conditions of mistrust serve as a catalyst for future conflicts
Degrading International image where countries are losing faith in India's diverse credentials
Way forward
Political and moral support to the minorities
Effective administration – fair probe, media guidelines
Implementation of constitutional and legal safeguards
We, the people of India, must strive hard to generate compassion, strength, sincerity and commitment to ensure the safety and security of the people of India. And uphold the values which are synonym with the word "INDIA" – tolerance, compassion and peace.
Source: Indian Express
---
Judicial Accountability
Open in new window
Syllabus
In News: In a rare exhibition of transparency the Orissa High Court has published an annual report taking stock of its performance in a difficult year that was punctuated by the resurgence of the pandemic.
By subjecting itself to the scrutiny of the common citizen, the court has shown exceptional humility.
The report provides a district-wise breakup of cases and availability of judges.
It contains a section explaining the reasons for delays and backlog at the level of the district judiciary.
The report also sheds light on the administrative functioning of the court.
Importance of Judicial Accountability
Annual reports have traditionally been an important way of ensuring accountability of public bodies to Parliament and citizens.
Unlike the executive, the judiciary is not under any legal obligation to prepare annual reports or table them before Parliament or the state legislature.
Making annual reports mandatory will lead to judicial accountability to the citizens of India
Helps Higher judiciary to take measures to avoid delays in resolving cases, appointments of judges and administration of sub ordinate courts
The report helps to introspect on the challenges facing the institution.
Source: Indian Expres
---
Governor's Role in Universities
Syllabus
Prelims – Polity
Mains – GS 2 (Polity)
In News: The West Bengal government's decision to make the Chief Minister the Chancellor of State-run universities, instead of the Governor has refocused the attention on the Governor's Role in Universities
The area of conflict here are the appointment of Vice-Chancellors and the functioning of universities
VCs were appointed by the Chancellor of the universities
Similar Instances:
Tamil Nadu
Tamil Nadu recently passed Bills to empower the State government, instead of the Chancellor, to appoint VCs.
It also passed a separate bill to establish a new university for alternative systems of medicine with the Chief Minister as its Chancellor.
Kerala
In Kerala, the situation is different, with Governor asking the Chief Minister to take over the Chancellor's role in the light of alleged political interference in the functioning of universities.
These developments underscore that the conferment of statutory roles to Governors may be a source of friction between elected regimes and Governors who are seen as agents of the Centre
Governor's role in:
State Universities:
In most cases, the Governor of the state is the ex-officio chancellor of the universities in that state.
While the Governor's powers and functions as the Chancellor are laid out in the statutes that govern the universities under a particular state government.
Their role in appointing the Vice-Chancellors has often triggered disputes with the political executive.
Central Universities:
Under the Central Universities Act, 2009, and other statutes, the President of India shall be the Visitor of a central university.
Chancellors are appointed by the President in his capacity as Visitors.
They are titular heads with their role limited to presiding over convocations in central universities.
The VCs too are appointed by the Visitor from panels of names picked by search and selection committees formed by the Union government.
The President, as Visitor, shall have the right to authorize inspections of academic and non-academic aspects of the universities and also to institute inquiries
The original intent of making Governors hold the office of Chancellor and vesting some statutory powers on them was to insulate universities from political influence
Sarkaria Commission
Justice R.S. Sarkaria Commission noted the use of discretion by some Governors in some university appointments had come in for criticism.
It acknowledged the distinction between the Governor's constitutional role and the statutory role performed as a Chancellor, and also underlined that the Chancellor is not obliged to seek the government's advice.
M.M. Punchhi Commission
Noted that Governor should not be "burdened with positions and powers, which may expose the office to controversies or public criticism, it advised against conferring statutory powers on the Governor, it advised against conferring statutory powers on the Governor.
Previous Year Questions
Q.1) Consider the following statements: (2016)
No criminal proceedings shall be instituted against the Governor of a State in any court during his term of office.
The emoluments and allowances of the Governor of a State shall not be diminished during his term of office.
Which of the statements given above is/are correct?
1 only
2 only
Both 1 and 2
Neither 1 nor 2
Source: The Hindu
---
Ream Naval Base
Syllabus
Prelims – International Relations – Current Affairs
Mains – GS 2 (International Relations)
Context: A Chinese base in Cambodia could become a chokepoint in the Gulf of Thailand close to the strategically important Malacca Strait that has prompted global concern that it will be used by Beijing as a naval outpost on the Gulf of Thailand.
Cambodia's official described the expansion of the Ream Naval Base as "cooperation between China and Cambodia"
Background
China and Cambodia have reportedly signed a secret pact allowing China exclusive use of a naval base on the Gulf of Thailand, although officials from both countries have denied such a deal exists.
Ream Naval Base
Location: Ream Naval Base is a facility operated by the Royal Cambodian Navy on the coast of the Gulf of Thailand in the province of Sihanoukville, Cambodia.
Ream faces the Gulf of Thailand, adjacent to the South China Sea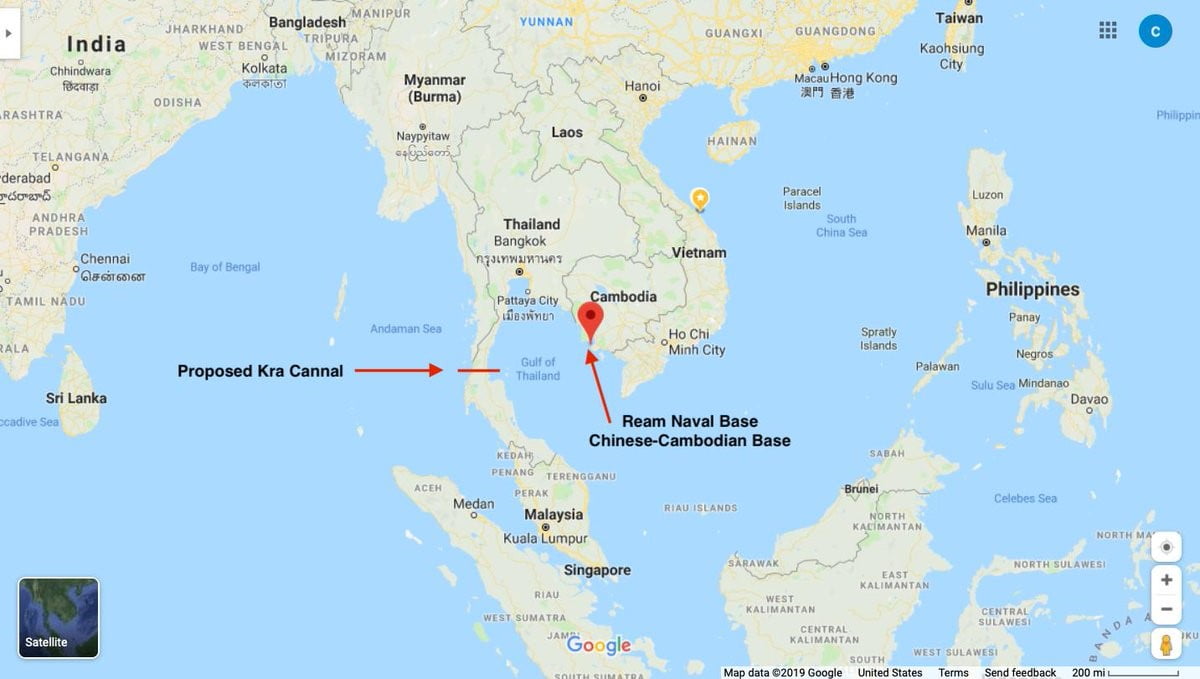 Significance
This would be china's second overseas naval foothold, after a base in Djibouti opened in 2017.
A Chinese base in Cambodia could become a chokepoint in the Gulf of Thailand close to the strategically important Malacca Strait.
China's strategic military footprint in Southeast Asia would help it bolster its territorial claims in the disputed South China Sea.
Source: The Hindu
---
Draft amendments to IT Rules, 2021
Syllabus
Prelims – Polity
Mains – GS 2 (Governance)
In News: The Ministry of Electronics and Information Technology (MeitY) has published a fresh draft of amendments to the Information Technology Rules, 2021
What are the proposed amendments to the IT Rules, 2021?
The draft proposes to create government-appointed appeal committees that will be empowered to review and possibly reverse content moderation decisions taken by social media companies.
It means in case a user is not satisfied with the content moderation decision taken by a company's grievance officer, they can appeal that decision before the proposed government-appointed appeals committee.
Every order passed by the Grievance Appellate Committee shall be complied with by the concerned intermediary
Currently, the only recourse a user has against companies' content decisions is to approach the courts
Responsibility on grievance officers appointed by social media companies – if a user complains about content which is "patently false", infringes copyright, and threatens the integrity of India, among other things, a grievance officer will have to expeditiously address it within 72 hours.
Under current rules, grievance officers have 15 days to act on and dispose of users' complaints.
What prompted the amendments?
The IT Rules, 2021 provide for a robust grievance redressal mechanism.
However, there have been many instances that grievance officers of intermediaries either do not address the grievances satisfactorily and/or fairly.
In such a scenario, the need for an appellate forum has been proposed to protect the rights and interests of users
Concerns
The proposal, without any legislative basis, seeks to subject content on social media to the direct scrutiny of the government by permitting users to appeal decisions of social media platforms to a Grievance Appellate Committee constituted by MeitY
IT Rules, 2021
These new rules deal with social media and over-the-top (OTT) platforms.
These rules have been framed in exercise of powers under section 87 (2) of the Information Technology (IT) Act, 2000
New Guidelines for Social Media/Intermediaries:
Categories of Social Media Intermediaries:
Based on the number of users, on the social media platform intermediaries have been divided in two groups:
Social media intermediaries.
Significant social media intermediaries.
Features
In case, due diligence is not followed by the intermediary, safe harbor provisions will not apply to them.
The safe harbor provisions have been defined under Section 79 of the IT Act, and protect social media intermediaries by giving them immunity from legal prosecution for any content posted on their platforms.
Grievance Redressal Mechanism is Mandatory:
Intermediaries shall appoint a Grievance Officer to deal with complaints and share the name and contact details of such officers.
The grievance Officer shall acknowledge the complaint within twenty-four hours and resolve it within fifteen days from its receipt.
Ensuring Online Safety and Dignity of Users:
Intermediaries shall remove or disable access within 24 hours of receipt of complaints of contents that exposes the private areas of individuals, show such individuals in full or partial nudity or in sexual act or is in the nature of impersonation including morphed images etc.
Additional Due Diligence for the Significant Social Media Intermediaries:
Appointments: Need to appoint Chief Compliance Officer, a Nodal Contact Person and a Resident Grievance Officer, all of whom should be resident in India.
Rules for News Publishers and OTT Platforms and Digital Media:
For OTT:
Self-Classification of Content:
The OTT platforms, called as the publishers of online curated content in the rules, would self-classify the content into five age based categories- U (Universal), U/A 7+, U/A 13+, U/A 16+, and A (Adult).
Parental Lock:
Platforms would be required to implement parental locks for content classified as U/A 13+ or higher, and reliable age verification mechanisms for content classified as "A".
Display Rating:
Shall prominently display the classification rating specific to each content or program together with a content descriptor informing the user about the nature of the content
For Publishers of News on Digital Media:
They would be required to observe Norms of Journalistic Conduct of the Press Council of India and the Programme Code under the Cable Television Networks Regulation Act 1995 thereby providing a level playing field between the offline (Print, TV) and digital media.
Grievance Redressal Mechanism:
A three-level grievance redressal mechanism has been established under the rules with different levels of self-regulation.
Self-regulation by the Publisher:
Publisher shall appoint a Grievance Redressal Officer based in India who shall be responsible for the redressal of grievances received by it.
The officer shall take decision on every grievance received by it within 15 days.
Self-Regulatory Body:
There may be one or more self-regulatory bodies of publishers.
Such a body shall be headed by a retired judge of the SC, a High Court or independent eminent person and have not more than six members.
Such a body will have to register with the Ministry of Information and Broadcasting.
This body will oversee the adherence by the publisher to the Code of Ethics and address grievances that have not been resolved by the publisher within 15 days.
Oversight Mechanism:
Ministry of Information and Broadcasting shall formulate an oversight mechanism.
It shall publish a charter for self-regulating bodies, including Codes of Practices. It shall establish an Inter-Departmental Committee for hearing grievances.
Source: Indian Express
---
Rajya Sabha Election
Syllabus
Prelims – Polity
Mains – GS 2 (Polity and Constitution)
In News: The Assemblies of 4 states will elect 16 MPs to Rajya Sabha
Rajya Sabha, or the Council of States, has 245 seats
No ruling party has ever touched the 100 mark in the last three-and-a-half decades
Every Rajya Sabha seat counts as any Bill, barring Money Bills, needs the assent of the second chamber to become law.
How often are Rajya Sabha elections held?
Rajya Sabha is a permanent House and cannot be dissolved.
To ensure continuity, one-third of its members retire after every second year, under Article 83(1) of the Constitution, and "biennial elections" are held to fill these vacancies.
The term of a member is six years.
Out of the 245 members, 12 are nominated by the President and 233 are representatives of the States and Union territories of Delhi and Puducherry.
Rajya Sabha polls: Who votes, and how?
Rajya Sabha MPs are elected by MLAs through an indirect election.
Article 80(4) provides that members shall be elected by the elected members of state Assemblies through a system of proportional representation by means of a single transferable vote.
The Fourth Schedule to the Constitution provides for allocation of Rajya Sabha seats to the states and Union Territories, on the basis of the population of each state.
How are the votes counted?
The number of votes a candidate requires depends on the number of vacancies and the strength of the House.
If there is only one vacancy, the required quota is calculated by taking the number of votes polled, divided it by 2, and adding 1.
If there is more than one vacancy, the equation is based on an assigned value of 100 for every first-preference vote. The values of the votes credited to all candidates are totalled. The total is divided by 1 more than the number of vacancies, and 1 is added to this quotient.
If for any seat, candidates fail to get the specified number, the second-preference votes will be taken into account, but with a lower value.
Beyond passing Bills, why do Rajya Sabha numbers matter?
Rajya Sabha enjoys some special powers
It can pass resolution to enact laws on state subject
Recommend creation of one or more All India Services common to the Union and the states
Rajya Sabha has a role to play if the President proclamations national emergency, in the event of failure of constitutional machinery in a State, or in the case of financial emergency. Every such proclamation has to be approved by both Houses of Parliament within a stipulated period
If a proclamation is issued at a time when Lok Sabha has been dissolved or the dissolution of Lok Sabha takes place within the period allowed for its approval, then the proclamation remains effective, if the resolution approving it is passed by Rajya Sabha within the period specified under Articles 352, 356 and 360 of the Constitution.
Previous Year Questions
Q.1) Rajya Sabha has equal powers with Lok Sabha in (2020)
the matter of creating new All India Services
amending the Constitution
the removal of the government
making cut motions
Source: Indian Express
---
Carbon bombs
Syllabus
Prelims – Environment
Mains – GS 3 (Environment)
In News: A group of environmentalists, lawyers, and activists have come together to identify and 'defuse carbon bombs'– coal, oil and gas projects that have the potential to contribute significantly to global warming.
The usage of the term 'carbon bombs' picked up after an investigative project of The Guardian
The project reported the plans of countries and private companies all over the world to engage in 195 'carbon bomb' projects.
Each such project, will release huge amounts of CO2 emissions into the atmosphere.
What are carbon bombs?
It is an oil or gas project that will result in at least a billion tonnes of CO2 emissions over its lifetime.
Whenever coal, oil, or gas is extracted it results in pollution and environmental degradation.
In total, around 195 such projects have been identified world over, including in the US, Russia, West Asia, Australia and India.
These projects will collectively overshoot the limit of emissions that had been agreed to in the Paris Agreement of 2015.
What does the investigation say?
More than 60% of these carbon bomb projects are already underway
Apart from coal, oil, and gas operations, the report highlighted the threat of methane, which routinely leaks from gas operations and is a powerful greenhouse gas, trapping 86 times more heat than CO2 over 20 years
The report criticized reliance on fuel from conventional sources and not making use of emerging, green sources of energy.
What is the plan for 'defusing' carbon bombs?
The network working towards this goal is called Leave It In the Ground Initiative (LINGO).
Its mission is to leave fossil fuels in the ground and learn to live without them.
It believes the root of climate change is the burning of fossil fuels, and the 100% use of renewable energy sources is the solution.
LINGO aims to organise ground support for protesting such projects, challenge them through litigation, and conduct analysis and studies for the same.
Previous Year Questions
Q.1)Which one of the following best describes the term 'greenwashing'? (2022)
Conveying a false impression that company's products are eco-friendly and environmentally sound
Non-inclusion of ecological/environmental costs in the Annual Financial Statements of a country
Ignoring the disastrous ecological consequences while undertaking infrastructure development
Making mandatory provisions for environmental costs in a government project/programme
Source: Indian Express
---
Daily Practice MCQs
Daily Practice MCQs
Q.1) 'Ream Naval Base', recently in news is located in?
Sea of Azov
Mediterranean Sea
Horn of Africa
Gulf of Thailand
Q.2) Consider the following statements
While the Governor of the state is the chancellor of State Universities, the President of India is the Chancellor of Central Universities.
Vice-Chancellor of both Central and State Universities are appointed by respective State Government.
Choose the correct statements:
1 only
2 only
Both 1 and 2
Neither 1 nor 2
Q.3) Which one of the following best describes the term 'carbon bomb'?
It is the amount of Carbon stored in methane hydrates of Artic region
It is the amount of carbon released into atmospehere during Industrial Revolution
It is an oil or gas project that will result in at least a billion tonnes of CO2 emissions over its lifetime
It is a newly invented technology that captures and stores carbon di oxide from Coal power plants
Comment the answers to the above questions in the comment section below!!
ANSWERS FOR '8th JUNE 2022 – Daily Practice MCQs' will be updated along with tomorrow's Daily Current Affairs.
---
War Crimes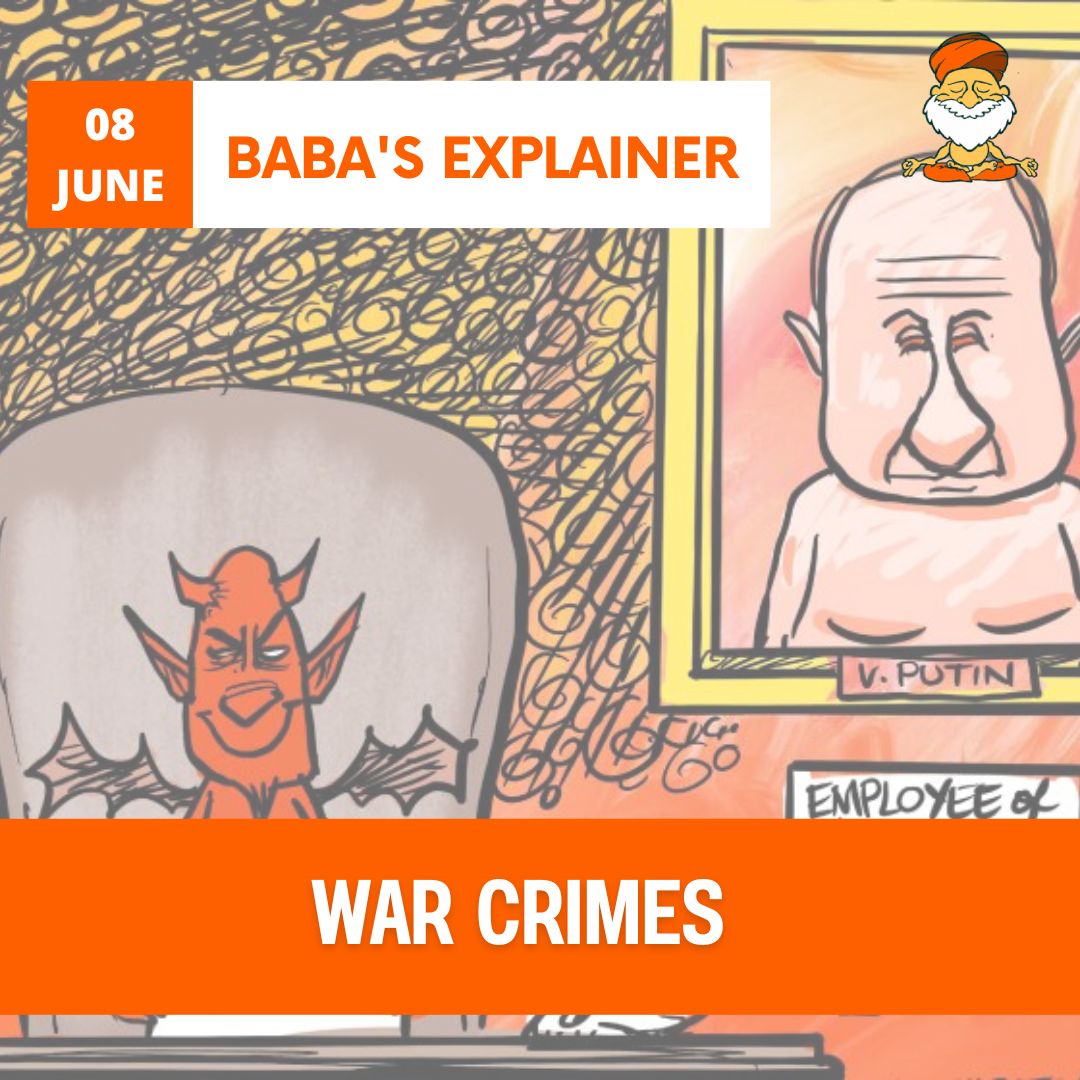 Syllabus
GS-2: Important International institutions, agencies and fora- their structure, mandate.
Context: On May 23, a domestic court in Ukraine sentenced a 21-year-old Russian soldier to life in prison for committing war crimes. The soldier had shot dead an unarmed civilian in Ukraine. This was the first conviction related to the ongoing war between Ukraine and Russia.
Since the war began, Ukrainian authorities have claimed commission of around 10,000 war crimes by the Russian soldiers.
Read Complete Details on

War Crimes
---
ANSWERS FOR 7th JUNE 2022 – Daily Practice MCQs
Answers- Daily Practice MCQs
Q.1) – d
Q.2) – d
Q.3) – d
For a dedicated peer group, Motivation & Quick updates, Join our official telegram channel – https://t.me/IASbabaOfficialAccount
Subscribe to our YouTube Channel HERE to watch Explainer Videos, Strategy Sessions, Toppers Talks & many more…