In News: NASA's new satellite will test a unique lunar orbit that will be used by future missions.
NASA launched CAPSTONE, a microwave oven-sized CubeSat weighing just 55 pounds (25 kg).
CAPSTONE, short for Cislunar Autonomous Positioning System Technology Operations and Navigation Experiment, is designed to test a unique, elliptical lunar orbit.
The satellite, launched on Rocket Lab's Electron rocket from the Rocket Lab Launch Complex 1, is heading toward an orbit intended in the future for Gateway, a Moon-orbiting outpost that is part of NASA's Artemis program.
CAPSTONE aims to help reduce risk for future spacecraft by validating innovative navigation technologies, and by verifying the dynamics of the halo-shaped orbit.
The orbit is known as a near-rectilinear halo orbit (NRHO).
It is significantly elongated, and is located at a precise balance point in the gravities of Earth and the Moon. This offers stability for long-term missions like Gateway.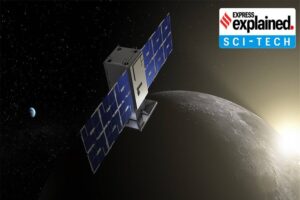 Artemis mission
NASA's Artemis mission is the next generation of lunar exploration, and is named after the twin sister of Apollo from Greek mythology.
With the Artemis programme, NASA aims to land humans on the moon by 2024, and it also plans to land the first woman and first person of colour on the moon.
NASA will establish an Artemis Base Camp on the surface and a gateway (the lunar outpost around the Moon) in lunar orbit to aid exploration by robots and astronauts.
The gateway is a critical component of NASA's sustainable lunar operations and will serve as a multi-purpose outpost orbiting the moon.
Artemis I Mission
It will be the first integrated flight test of NASA's Deep Space Exploration Systems
Orion spacecraft: Orion spacecraft is going to remain in space without docking to a space station, longer than any ship for astronauts has ever done before.
Space Launch System (SLS) rocket: It is the most powerful rocket in the world — and travels 2,80,000 miles from the earth for over four to six weeks during the course of the mission.
Newly upgraded Exploration Ground Systems at Kennedy Space Centre in Cape Canaveral, Florida.
It is an uncrewed space mission where the spacecraft will launch on an SLS rocket.
The primary operating goal of the mission is to assure a safe crew module entry, descent, splashdown, and recovery.
Artemis II will be the first crewed flight test and is targeted for 2023.
Artemis III will land astronauts on the Moon's South Pole in 2024.
Source: Indian Express
Previous Year Question
Q.1) "The experiment will employ a trio of spacecraft flying in formation in the shape of an equilateral triangle that has sides one million kilometres long, with lasers shining between the craft". The experiment in question refers to (2020)
Voyager
New Horizons
LISA Pathfinder
Evolved LISA
Q.2) With reference to the Indian Regional Navigation Satellite System (IRNSS), consider the following statements: (2018)
IRNSS has three satellites in geostationary and four satellites in geosynchronous orbits.
IRNSS covers entire India and about 5500 sq. km beyond its borders.
India will have its own satellite navigation system with full global coverage by the middle of 2019.
Which of the statements given above is/are correct?
1 only
1 and 2 only
2 and 3 only
None
For a dedicated peer group, Motivation & Quick updates, Join our official telegram channel – https://t.me/IASbabaOfficialAccount
Subscribe to our YouTube Channel HERE to watch Explainer Videos, Strategy Sessions, Toppers Talks & many more…