---
(PRELIMS & MAINS Focus)
---
Linking Textile with Tourism programme
Open in new window
Syllabus
GS-2: Government policies and interventions for development in various sectors and issues arising out of their design and implementation.
Context: Under the initiative, major tourist places are being linked with the handicrafts clusters.
Selected Places: Tirupati (Andhra Pradesh), Vadaj (Gujarat), Naini (Uttar Pradesh), Anegundi (Karnataka), Mahabalipuram (Tamil Nadu), Taj Ganj (Uttar Pradesh), Amer (Rajasthan) and Raghurajpur (For ancient Pattachitra art, a cloth-based scroll painting; Puri district of Odisha).
These craft villages will develop handicrafts as a sustainable and remunerative livelihood option for artisans in the clusters and thus protecting the rich artisanal history and heritage of the country.
Source: The Print
---
India's trade deficit
Open in new window
Syllabus
In News: India's trade deficit has widened to a record $31.02 billion in July.
Owing to contracting merchandise exports and a rise in imports
This is a three-times increase from the $10.63 billion trade deficit reported in July last year.
What is trade deficit?
Trade deficit or negative balance of trade (BOT) is the gap between exports and imports.
When money spent on imports exceeds that spent on exports in a country, trade deficit occurs.
It can be calculated for different goods and services and also for international transactions.
The opposite of trade deficit is trade surplus.
Factors that lead to it:

Some goods not being produced domestically. In that case, they have to be imported. This leads to an imbalance in their trade.
More imports than exports impact the jobs market and lead to an increase in unemployment.
A weak currency can also be a cause as it makes trade expensive.

If trade deficit increases, a country's GDP decreases. A higher trade deficit can decrease the local currency's value.
Source: The Indian Express
---
Earth is Spinning Faster
Open in new window
Syllabus
GS 3: Space and Technology
Context: Earth completed its spin in 1.59 milliseconds less than 24 hours on June 29 this year. This confirms speculations by scientists that the Earth's rotation is picking up pace.
The minute change was detected by the atomic clock that is used to measure the rotational speed of the planet to the minutest detail.
The new trend in Earth's rotational speed is being attributed to the Chandler wobble
The reason behind the speeding –
Chandler wobble: Chandler Wobble, according to Nasa, is a motion exhibited by Earth as it rotates on its axis.
Scientists in 2000 solved this mystery and said that the principal cause of the Chandler wobble is fluctuating pressure on the bottom of the ocean, caused by temperature and salinity changes and wind-driven changes in the circulation of the oceans.
While two-thirds of the Chandler wobble is caused by ocean-bottom pressure changes, the remaining one-third is by fluctuations in atmospheric pressure.
Climatic Changes:
Global warming has led to significant melting of glaciers due to which our planet's axis of rotation has been moving faster since the 1990s.
Climate change has also caused the north pole to shift in the eastward direction since the 1990s. This is happening due to changes in the hydrosphere (hydrosphere is the total amount of water on Earth).
As per the study, the satellite data from NASA's Gravity Recovery and Climate Experiment (GRACE) mission calculated that the average speed of drift was 17 times faster than from 1981 to 1995. Also, in the last four decades, the poles moved by about 4 metres in distance.
What happens now?
Scientists suggest that if the planet continues to rotate faster and complete days in less than 24 hours, it could force them to add a negative leap second. However, adding it would raise more issues than solutions, especially in the world of information & technology.
According to a blog published by Meta, which has been campaigning against the addition of a leap second, the clock moves from 23:59:59 to 23:59:60 before resetting at 00:00:00, and the addition of a negative leap second would mean a time jump. This would crash computer programs and even corrupt data as time stamps change.
Source: India Today
---
Supreme Commander of the Armed Forces
Open in new window
Syllabus
GS 2: Indian Constitution
Context: President is the supreme commander of Indian armed forces. This is the military power vested in him.
He appoints the Chiefs of the three wings of the Armed Forces, subject to certain rules and regulations.
The President has the power to make declarations of war and peace on the advice of the Council of Ministers.
Article 53 of the Constitution states that the executive power of the Union shall be vested in the President of India.
Article 53(2): "Without prejudice to the generality of the foregoing provision, the supreme command of the Defence Forces of the Union shall be vested in the President and the exercise thereof shall be regulated by law".
The powers of the presidency are, of course, circumscribed by Article 74 which states that the president shall exercise his functions only on the aid and advice of the council of ministers headed by the prime minister.
Source: Indian Express
---
Minerals Security Partnership
Open in new  window
Syllabus
GS 2: International groups and Institutions
Context: India is not a part of the Minerals Security Partnership.
About Minerals Security Partnership:
It is an ambitious new US-led partnership to secure supply chains of critical minerals, aimed at reducing dependency on China. This new alliance is seen as being primarily focused on evolving an alternative to China, which has created processing infrastructure in rare earth minerals and has acquired mines in Africa for elements such as cobalt.
Besides the US, the MSP includes Australia, Canada, Finland, France, Germany, Japan, the Republic of Korea, Sweden, United Kingdom, and the European Commission.
Could focus on the supply chains of minerals such as Cobalt, Nickel, Lithium and also the 17 "rare earth" minerals.
While Cobalt, Nickel and Lithium are required for batteries used in electric vehicles, rare earth minerals are critical, in trace amounts, in the semiconductors and high-end electronics manufacturing.
Why is India interested in joining the partnership?
One of the key elements of India's growth strategy is powered by an ambitious shift in the mobility space through the conversion of a large part of public and private transport to electric vehicles. This, alongside a concerted electronics manufacturing push, underlines the need to secure the supply of critical minerals.
Rare Earth
Rare earth metals are metals obtained from a group of 15 elements referred to as the lanthanide series in the periodic table of elements. Scandium and yttrium, while not true rare earth elements, are also included. REEs are key components in many electronic devices that we use in our daily lives, as well as in a variety of industrial application.
Rare earth comprises seventeen elements and are classified as light RE elements (LREE) and heavy RE elements (HREE).
Some RE are available in India such as Lanthanum, Cerium, Neodymium, Praseodymium and Samarium, while others such as Dysprosium, Terbium, Europium that are classified as HREE are not available in Indian deposits in extractable quantity.
Hence, there is a dependence on countries such as China for HREE, which is one of the leading producers of RE with an estimated 70 per cent of the global production.
Source: The Indian Express
---
India adds 10 more wetlands designated as Ramsar sites
Open in new  window
Syllabus
GS-3: Biodiversity and Conservation
In News: India adds 10 more wetlands designated as Ramsar sites to make total 64 sites covering an area of 12,50,361 ha in the country.
Ramsar Sites
Ramsar sites are wetlands (swamps, marshes, lakes, floodplains and other water bodies that are filled with static or flowing water) that are considered to be of international importance.
Under the Ramsar Convention, an intergovernmental treaty that aims to conserve and use wetlands and their resources sustainably, signatory countries can declare wetlands as 'Ramsar sites' provided they meet one of nine criteria.
These include if the wetland is representative of a rare or unique wetland type, or if it regularly supports 20,000 or more waterbirds.
India is one of the Contracting Parties to Ramsar Convention, signed in Ramsar, Iran, in 1971.
India signed it on 1st Feb 1982.
So far 64 wetlands covering an area of 12,50,361 ha have been designated as Ramsar Sites of International Importance from India, till date.
The New Sites:
| | | |
| --- | --- | --- |
| S.No | Name of wetland | State |
| 1. | Koonthankulam Bird Sanctuary | Tamil Nadu |
|  2. | Satkosia Gorge | Odisha |
|  3. | Nanda Lake | Goa |
|  4. | Gulf of Mannar Marine Biosphere Reserve | Tamil Nadu |
| 5. | Ranganathituu BS | Karnataka |
| 6. | Vembannur Wetland Complex | Tamil Nadu |
| 7. | Vellode Bird Sanctuary | Tamil Nadu |
| 8. | Sirpur wetland |  Madhya Pradesh |
| 9. | Vedanthangal Bird Sanctuary | Tamil Nadu |
| 10. | Udhayamarthandapuram Bird Sanctuary | Tamil Nadu |
Sources: PIB
---
The Commission for the Conservation of Antarctic Marine Living Resources (CCAMLR)
Open in new  window
Syllabus
GS-3: Biodiversity and Conservation
About:
CCAMLR seeks to ensure the "conservation of Antarctic marine living resources" and the "maintenance of the ecological relationships between harvested, dependent and related populations of Antarctic marine living resources and the restoration of depleted populations to the levels" which ensure its stable recruitment.
The Convention also seeks the "prevention of changes or minimization of the risk of changes in the marine ecosystem."
India endorsed the CCAMLR in 1985 and became a member of the Commission for Conservation of Antarctic Marine Living Resources under that Convention.
Source: The Wire
---
Reaping the demographic dividend
Open in new  window
Syllabus
GS-1: Population & associated issues
GS-2: Government policies and interventions for development in various sectors and issues arising out of their design and implementation.
In News: The UN report, World Population Prospects 2022, forecasts that the world's population will touch eight billion this year and rise to 9.8 billion in 2050.
India's population will surpass China's by 2023 and continue to surge.
India is getting a demographic dividend that will last nearly 30 years.
What is Demographic Dividend?
The economic growth potential that can result from shifts in a population's age structure, mainly when the share of the working-age population (15 to 64) is larger than the non-working-age share of the population (14 and younger, and 65 and older)
With more people in the labor force and fewer children to support, a country has a window of opportunity for economic growth if the right social and economic investments and policies are made in health, education, governance, and the economy.
However, with the passage of time, the share of the older population rises and that of the working age population begins to fall and hence the dividend is available for a period of time, 'the window of demographic opportunity'.
The realisation of the benefits of demographic dividend is not automatic. Without proper policies, the increase in the working-age population may lead to rising unemployment, fueling economic and social risks. This calls for forward-looking policies incorporating population dynamics, education and skills, healthcare, gender sensitivity, and providing rights and choices to the younger generation.
Where exactly does India lie?
India has the largest youth population in the world; around 66 per cent of the total population (more than 808 million) is below the age of 35.
In 2020, the median age of the population in India was 28, compared to 37 in the US and China, and 49 in Japan.

Japan reaped demographic dividend that lasted from 1964 to 2004.

Since 2018, India's working-age population (people between 15 and 64 years of age) has grown larger than the dependant population. This bulge in the working-age population is going to last till 2055.
This transition happens largely because of a decrease in the total fertility rate (TFR, which is the number of births per woman) after the increase in life expectancy gets stabilised.
A study on demographic dividend in India by United Nations Population Fund (UNFPA) throws up two interesting facts.

The window of demographic dividend opportunity in India is available for five decades from 2005-06 to 2055-56, longer than any other country in the world.
This demographic dividend window is available at different times in different states because of differential behaviour of the population parameters.

With falling fertility (currently 2.0), rising median age (expected to be 36 years by 2036), a falling dependency ratio (expected to decrease from 65% to 54% in the coming decade taking 15-59 years as the working age population), India is in the middle of a demographic transition. This provides a window of opportunity towards faster economic growth.
India's potential workforce
Factors in favour
India's potential workforce to rise from 885 million to 1.08 billion people over the next two decades from today and remain above a billion people for half a century.
Trends such as digitisation and automation, shifting supply chains, urbanisation, rising incomes and demographic shifts, and a greater focus on sustainability, health, and safety are accelerating to create $2.5 trillion of economic value in 2030 and support 112 million jobs, or about 30% of the non-farm workforce in 2030.
Four pillars are clearly visible that will support growth in the next decade;

The forging of a single national market,
An expansion of industry owing to the renewable-energy shift and a move in supply chains away from China
Continued pre-eminence in IT
A high-tech welfare safety-net for the hundreds of millions left behind by all this
Factors that will impede India's Growth
Bad infrastructure
Poorly skilled workforce
What measures are required to reap the best of Demographic Dividend?
To wring the best out of its demographic dividend, India needs to invest massively in quality school and higher education as well as healthcare — sectors it has neglected for decades — across India on an unprecedented scale –
Update National Transfer Accounts (NTA) Assessment: India's per capita consumption pattern is way lower than that of other Asian countries. A child in India consumes around 60% of the consumption by an adult aged between 20 and 64 (In China it is 85%). The NTA data for India (State-Specific) needs to be updated to capture the progress made on such investments since 2011-12.
Invest more in children and adolescents: Given that India's workforce starts at a younger age, a greater focus needs to be on transitioning from secondary education to universal skilling and entrepreneurship, as done in South Korea.
Make health investments: The public spending on health has remained flat at around 1% of GDP. Evidence suggests that better health facilitates improved economic production.
Rights-based approach to make reproductive healthcare services accessible: The unmet need for family planning in India at 9.4% as per the latest National Family Health Survey-5 (2019-21) is high as compared to 3.3% in China and 6.6% in South Korea, which needs to be bridged.
Bridge Gender Inequality in Education: In India, boys are more likely to be enrolled in secondary and tertiary school than girls. In the Philippines, China and Thailand, it is the reverse. In Japan, South Korea, and Indonesia, the gender differences are rather minimal. This needs to be reversed.
Address the diversity between States: While India is a young country, the status and pace of population ageing vary among States. Southern States already have a higher percentage of older people whereas north-central region can act as the reservoir of India's workforce.
Federal approach to governance reforms: A new framework need to be put in place for policy coordination between States on various emerging population issues such as migration, ageing, skilling, female workforce participation and urbanisation.
Increase female workforce participation: As of 2019, 20.3% of women were working or looking for work, down from 34.1% in 2003-04. New skills and opportunities for women and girls befitting their participation in economy is urgently needed.
Must Read: Mindmap
Source: The Hindu
---
Progress: India's climate commitments
Open in new  window
Syllabus
In News: India's NDC, or nationally determined commitments, have been updated with two promises made by the PM during the Glasgow meet, both of which are enhancements of existing targets, and would be submitted to the UN climate body.
India's Nationally Determined Commitments
The 2015 Paris Agreement requires every country to set self-determined climate targets which have to be progressively updated with more ambitious goals every few years.
India's first NDC was submitted in 2015, just before the Paris Agreement was finalised.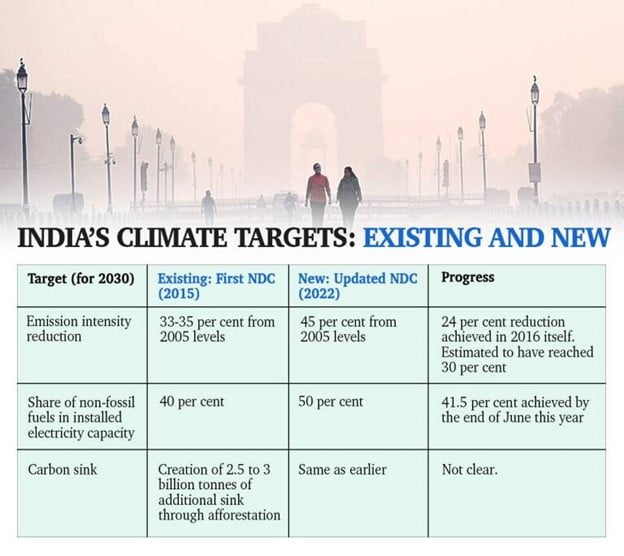 India's original NDC contained three main targets for 2030:
A 33 to 35 per cent reduction in emissions intensity (or emissions per unit of GDP) from 2005 levels
At least 40 per cent of total electricity generation to come from non-fossil renewable sources
An increase in forest cover to create an additional carbon sink of 2.5 to 3 billion tonnes of carbon dioxide equivalent
Added: India will now reduce its emission intensity by at least 45 per cent, instead of just 33 to 35 per cent, from 2005 levels by 2030.
Added: Also, it would now ensure that at least 50 per cent of its total electricity generation, not just 40 per cent, would come from renewable sources by 2030.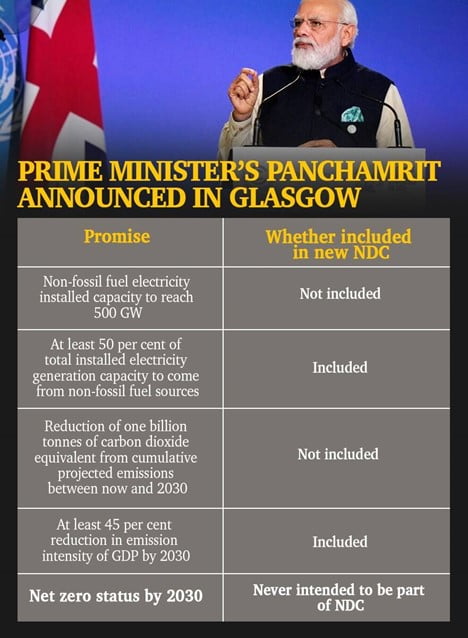 Other announcements made:
At least 500 GW of India's installed electricity generation capacity in 2030 would be based on non-fossil fuel sources.

Of the current installed capacity of 403 GW, over 236 GW, or 58.5 per cent comes from fossil fuel sources, while non-fossil fuels, which include not just renewables like solar or wind but also hydropower, nuclear and others, make up only 167 GW.
Capacity additions from non-fossil sources would have to triple in the next 10 years to reach the 500 GW target.

The country would ensure avoided emissions of at least one billion tonnes of carbon dioxide equivalent between now and 2030.

India does not have any official projection of its emissions in 2030. The emissions pathway from now to 2030 is also not clear.
According to some estimates, India's annual projections are expected to rise from about 3.3 billion tonnes in 2018 to about 4 billion tonnes by 2030. Thus, India could be emitting anywhere between 35 to 40 billion tonnes of carbon dioxide equivalent in total by the year 2030. A reduction of one billion tonnes from this would represent 2.5 to 3 per cent.

Net zero target for India for the year 2070. Net zero is a situation in which a country's greenhouse gas emissions are offset entirely, either by absorption of carbon dioxide through natural processes like photosynthesis in plants, or through physical removal of greenhouse gases using futuristic technologies.
Source: The Indian Express
---
Ensuring Efficacy of RTI Act
Open in new  window
Syllabus
GS 2: Important aspects of governance, transparency and accountability, e governance- applications, models, successes, limitations, and potential; citizens charters, transparency & accountability and institutional and other measures.
Context: Amidst renewed concern over its functioning across states, the Right to Information Act (RTI) is set to complete 17 years this October.
Current issues with the State Information Commissions
Sarthak Nagrik Sangathan (SNS) 2021 Report states – The various Information Commissions are — "acting as a major bottleneck in effective implementation of the RTI Law".
A huge backlog of second appeals, lengthy wait time for hearings, hesitancy in posting penalties and increasing opacity in the working of the commissions
The commissions have been plagued with vacancies, poor choice of commissioners, untrained staff and a non-cooperative set of public information officers (PIOs).
The threat to some RTI activists who seek information to expose corruption.

According to the Commonwealth Human Rights Initiative (CHRI), across India, 99 RTI activists have lost their lives, 180 assaulted and 187 were threatened since 2006.
While RTI is lauded in public, it faces fierce opposition from many within the bureaucracy and the lawmakers, the two key stakeholders of the RTI regime.
As on June 30, 2021, 2.56 lakh appeals were pending with 26 information commissions in the country. It will take six years and eight months to dispose of a matter in Odisha, as per the going rate, according to the SNS report.
Bad conduct of Public Information Officer
Any serious RTI query or one which concerns more than one government department requires intervention by higher officials, but it is the PIOs from junior ranks who attend hearings and are often clueless.
Often, it requires a notice to higher authorities, in some cases, the secretary of the department, to elicit the right answer. Meanwhile, it is the junior ranks who face the wrath of the commissions and even face penalties.
With CICs downgraded in rank, there will be fewer and fewer notices served to the heads of departments and senior officers to appear and answer queries.
Several RTI cases are embroiled in judicial procedures.
High courts are quick to give stay orders on CICs' decisions. The Act clearly states that the final appeal lies with the information commissions, so the appeals are masked as writs to obtain relief from high courts.
The Supreme Court in DDA vs Skipper Construction (P) Ltd made an adverse observation on the mechanical manner in which stays are granted: "High Courts must resist the temptation to exercise their writ jurisdiction in order to correct errors made by the SICs/CICs. If the High Court quashes a CIC/SIC order, it must categorically find that the order was without jurisdiction or palpably erroneous."
The Way Forward
The RTI Act is a sunshine legislation aimed at eradicating corruption and promoting transparency.
A code of conduct must be evolved for the central and state information commissioners. It is imperative for the commissioners to keep a strict distance from government heads and officialdom.
The Indian information law, rated as one of the strongest in the world, needs to be bolstered by raising awareness amongst the people and organising rigorous training of government officials.
A strong political system is a must for the RTI regime to flourish. It is imperative to ensure freedom of the press and democratic institutions, punish errant officials and maintain complete autonomy of the information commissions, in the interest of the people and the nation at large.
Source: The Indian Express
---
Daily Practice MCQs
Daily Practice MCQs
Q1. 'Minerals Security Partnership' seen in news is used in the context of
Maritime Security
Rare Earth Materials
Hydrocarbons and Mineral Oil
Major minerals supply chain
Q2. Legendary artist late Jagannath Mohapatra is associated with the practise of which of the following traditional art?
Kathak
Pattachitra art
Warli Painting
Madhubani Painting
Q3. In which of the Ramsar site, one can find the unique phumdis?
Loktak Lake, Manipur
Sunderbans, West Bengal
Pala wetland, Mizoram
Vembanad-Kole wetland, Kerala
---
Comment the answers to the above questions in the comment section below!!
ANSWERS FOR '4th August 2022 – Daily Practice MCQs' will be updated along with tomorrow's Daily Current Affairs.
---
ANSWERS FOR 3rd August 2022 – Daily Practice MCQs
Answers- Daily Practice MCQs
Q.1) – c
Q.2) – c
Q.3) – d
For a dedicated peer group, Motivation & Quick updates, Join our official telegram channel – https://t.me/IASbabaOfficialAccount
Subscribe to our YouTube Channel HERE to watch Explainer Videos, Strategy Sessions, Toppers Talks & many more…