---
(PRELIMS & MAINS Focus)
---
China's fully solar-powered, semi-satellite drone
Syllabus
Prelims – Science & Technology
In News: China's first fully solar-powered unmanned aerial vehicle, Qimingxing-50, or Morning Star-50, has successfully completed its maiden test flight with all onboard systems functioning optimally.
The Mechanics
With a wingspan of 164-ft, the drone is a large machine powered entirely by solar panels.
The high-altitude, long-endurance (HALE) UAV can stay airborne for long durations.
Flies above 20-km altitude where there is stable airflow with no clouds.
Helps these drones to make the maximum use of solar equipment to stay functional for extended durations.
In fact, the drone can operate without a break for months, even years.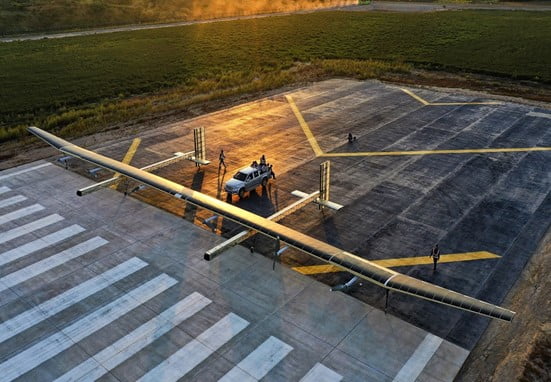 Cross between drone and satellite
The fact that the drone can operate in near-space – 20 km to 100 km above the Earth's surface – makes it capable of carrying out satellite-like functions.
These drones are also referred to as 'High Altitude Platform Stations' or pseudo-satellites.
China already has this capacity, but the Qimingxing-50's long-endurance provides an added advantage to make this capability available over a longer period.
Significance
Cost-effective to build
Easy to launch and operate
Being entirely powered by clean energy from the Sun, it can help boost China's capabilities to operate in near-space and over the ocean.
If satellite services are not available for, say, time-sensitive operations or in case of wartime disruption, then near-space UAVs can step in to fill the operational gap.
This HALE UAV is capable of conducting high-altitude reconnaissance, apart from monitoring forest fires, providing communication and environment relay.
Has any other country achieved this?
In July this year, the US Army helped test a solar-powered, near-space Airbus Zephyr S drone that set a new record by being airborne for 42 days.
Note:
India's PLI Scheme for Drone Industry
Will incentivize emergence of Advanced Automotive Technologies global supply chain in India
Help create additional employment of over 7.6 lakh people
Incentives worth ₹ 26,058 crore will be provided to industry over five years
It will bring fresh investments of over₹5,000 crore in three years and incremental production of over ₹ 1,500 crore
Source: The Indian Express
Previous Year Question
Q.1) Which one of the following statements best reflects the idea behind the "Fractional Orbital Bombardment System" often talked about in media? (2022)
A hypersonic missile is launched into space to counter the asteroid approaching the Earth and explode it in space.
A spacecraft lands on another planet, after making several orbital motions.
A missile is put into a stable orbit around the Earth and deorbits over a target on the Earth.
A spacecraft moves along a comet with the same speed and places a probe on its surface.
---
Government's Push to Promote International Trade in Rupee
Syllabus
In News: In July, the RBI issued a circular saying it had decided to put in place an additional arrangement for invoicing, payment, and settlement of exports/ imports in INR.
Purpose
To promote the growth of global trade with emphasis on exports from India.
To support the increasing interest of the global trading community in INR.
Observation: While the move to allow trade settlements between India and other countries in rupees was seen to primarily benefit trading with Russia, it was also expected to help check dollar outflow and slow the depreciation of the rupee to a "very limited extent".
What is the Current System?
Currently, exports or imports by a company are always in a foreign currency, with exceptions such as Nepal and Bhutan.
How can we make it work?
To settle trade transactions with any country, banks in India would open Vostro accounts of correspondent bank/s of the partner country for trading.
Indian importers can pay for their imports in INR into these accounts.
These earnings from imports can then be used to pay Indian exporters in INR.
A Vostro account is an account that a correspondent bank holds on behalf of another bank — for example, HSBC Vostro account is held by SBI in India.
What is the Expected use?
With Russia: There are sanctions on Russia post the Ukraine war and the country is off the SWIFT system (system used by banks for payments in foreign currency).
This means payments do not have to be made in foreign currency and this arrangement would help both Russia and India.
With other countries: The chances are slim as others may not accept it as they may need foreign currency to pay for their own imports. In fact, Sri Lanka may also want us to pay in dollars or any other foreign currency.
To arrest the fall of the rupee: The arrangement was not expected to help arrest the fall of the rupee to any significant extent.
Why is the Rupee falling?
Demand and supply: If a country imports more than it exports, then the demand for the dollar will be higher than the supply and due to this, domestic currency will depreciate against the dollar.
Russia-Ukraine war: Global disruptions caused by the Russia-Ukraine war is making our imports costly, thus widening the current account deficit.
Rising inflation: Rising inflation depreciates domestic currency since inflation can be equated with a decrease in money's buying power.
As a result, countries experiencing high inflation tend to also see their currencies weaken relative to other currencies.
High crude oil prices: Increasing crude oil prices are further widening our trade deficit thus leading to decrease in the value of rupee.
Capital outflows from India:
The US Federal Reserve recently increased the interest rates, and the return on dollar assets increased compared with those of emerging markets such as India.
It has led to outflow of dollars from India to the US.
Impact of the Fall of the Rupee
Increases cost of raw materials and imports
Since, India imports many raw materials, the price of finished goods could go up thus impacting the consumers.
India's high import dependence for fuel means oil price trajectories affect most macro parameters, including inflation, growth, current account balances, fiscal management and the rupee.
This leads to widening of the current account deficit (CAD).
Boosts exports:
In an ideal scenario, devalued rupee could have led to increase in exports.
However, in the current scenario of weak global demand and persistent volatility, exporters are not supportive of the currency fall.
Inflation:
The falling rupee's biggest impact is on inflation, given India imports over 80 per cent of its crude oil, which is the country's biggest import.
Travellers and students studying abroad will have to shell out more rupees to buy dollars from banks.
Stock market:
Rupee depreciation may see foreign investors pulling out of Indian markets, resulting in a decline in stocks and equity mutual fund investments.
Source: The Indian Express
Previous Year Question
Q.1) With reference to the Indian economy, consider the following statements: (2022)
If the inflation is too high, Reserve Bank of India (RBI) is likely to buy government securities.
If the rupee is rapidly depreciating, RBI is likely to sell dollars in the market.
If interest rates in the USA or European Union were to fall, that is likely to induce RBI to buy dollars.
Which of the statements given below is/are correct?
1 and 2 only
2 and 3 only
1 and 3 only
1, 2 and 3
---
Kushiyara River
Syllabus
Prelims – Geography
Mains – GS 2 (International Relations)
In News: India and Bangladesh signed an interim water sharing agreement for the Kushiyara river, the first such pact between them in over 25 years.
The two sides also decided to start negotiations on a comprehensive trade pact and strengthen cooperation against terrorism and radicalism.
Besides the agreement on the Kushiyara water-sharing, the two sides signed pacts on railways, space, IT and media.
What is the interim agreement on Kushiyara water sharing?
There were 54 rivers that pass through the Indo-Bangladesh border
India and Bangladesh had signed the Ganga water treaty in 1996 for sharing waters of Ganga for a period of 30 years.
Bangladesh has sought the early conclusion of the Teesta water sharing agreement, which has been hanging since 2011 due to opposition from West Bengal.
The current agreement will benefit southern parts of Assam state in India and the Sylhet region in Bangladesh.
Kushiyara river
Kushiyara River is a distributary river in Bangladesh and Assam.
It forms on the India-Bangladesh border as a branch of the Barak River when the Barak separates into the Kushiyara and Surma.
The waters of the Kushiyara originate in the state of Nagaland and pick up tributaries from Manipur, Mizoram and Assam.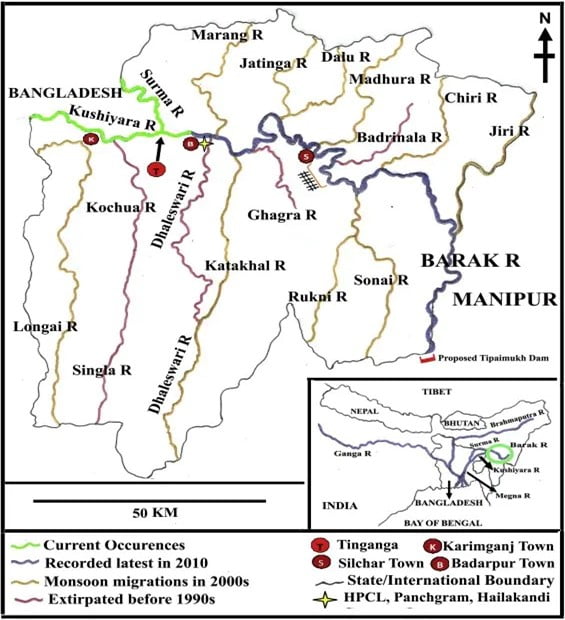 Must Read: India-Bangaldesh Realtionship
Source: Indian Express
Previous Year Question
Q.1) Gandikota canyon of South India was created by which one of the following rivers? (2022)
Cauvery
Manjira
Pennar
Tungabhadra
Q.2) Consider the following pairs: (2022)
Reservoirs States
Ghataprabha — Telangana
Gandhi Sagar — Madhya Pradesh
Indira Sagar — Andhra Pradesh
Maithon — Chhattisgarh
How many pairs given above are not correctly matched?
Only one pair
Only two pairs
Only three pairs
All four pairs
---
PM SHRI Schools (PM ScHools for Rising India)
Syllabus
Prelims: Current Affairs
Mains: GS 2 (Governance)
Context:
On the occasion of Teacher's Day on 5th September, Union Cabinet, chaired by the Prime Minister approved a new centrally sponsored scheme – PM SHRI Schools (PM ScHools for Rising India).
It aims to develop more than 14500 schools across the country as PM SHRI Schools will showcase all components of the National Education Policy 2020. Hence, they are expected to create a set of schools that would be able to act as "NEP labs".
Key features of PM SHRI scheme:
It aims to provide high-quality education in an equitable, inclusive, and joyful school environment that takes care of the diverse background, multilingual needs, and different academic abilities of children and makes them active participants in their own learning process as per the vision of NEP 2020.
These Schools will be developed as green schools, incorporating environment friendly aspects like solar panels and LED lights, nutrition gardens with natural farming, waste management, plastic free, water conservation and harvesting, study of traditions/practices related to protection of environment, climate change related hackathon and awareness generation to adopt sustainable lifestyle.
Focus will be on learning outcomes of every child in every grade and assessment at all levels will be based on conceptual understanding
Linkage with Sector Skill Councils and local industry for enhancing employability and providing better employment opportunities will be explored.
A School Quality Assessment Framework (SQAF) is being developed, specifying the key performance indicators to measure outcomes. Quality evaluation of these schools at regular interval will be undertaken to ensure the desired standards.
How it is implementing?
PM SHRI Schools would be implemented through the existing administrative structure available for Samagra Shiksha, Kendriya Vidyalayas (KVs) and Jawahar Navodaya Vidyalayas (JNVs).
These schools shall be monitored vigorously to assess progress and understand the challenges faced in implementation of National Education Policy 2020.
How PM SHRI schools will be different from existing government-run schools:
As per the plan, the upgraded schools are expected to be superior in terms of infrastructure.
They will be equipped with labs, smart classrooms, libraries, sports equipment, art room,, and shall also be developed as green schools with water conservation, waste recycling, energy-efficient infrastructure, and integration of organic lifestyle in curriculum.
These schools will also "offer mentorship" to other schools in their vicinity.
In terms of the quality of education, there will be special modules on improving foundational literacy and numeracy.
Each school will be linked/ connected to higher education institutions for mentoring, and there will be provisions for internships with local artisans.
Identification of PM shri school under the scheme:
The PM SHRI scheme will be application-based, which means states will have to identify schools for upgradation under the scheme.
Subsequently, schools will be required to self-apply online. The portal will be opened four times a year, once every quarter.
According to the selection methodology decided by the central government, states and UTs interested in getting included under the scheme will have to first agree to implement the NEP in its entirety.
Only those schools that meet a certain benchmark will qualify — the qualification criteria will include around 60 parameters from the availability of electricity to toilets.
Teams of state government officials, KVs, and JNVs will verify the claims made by the applicant school through a physical inspection. "Maximum two schools (one Elementary & one Secondary/ Senior Secondary) would be selected per block/ ULB…" (urban local body) as per the plan. The final call will be taken by an expert committee.
As per the union government Pedagogy adopted in PM shri schools will be more experiential, holistic, integrated, play/ toy-based (particularly, in the foundational years) inquiry-driven, discovery-oriented, learner-centred, discussion-based, flexible, and enjoyable.
Source:  Indian Express
Previous Year Question
Q.1) What is the purpose of 'Vidyanjali Yojana'? (2017)
To enable the famous foreign educational institutions to open their campuses in India.
To increase the quality of education provided in government schools by taking help from the private sector and the community.
To encourage voluntary monetary contributions from private individuals and organizations so as to improve the infrastructure facilities for primary and secondary schools.
Select the correct answer using the code given below:
2 only
3 only
1 and 2 only
2 and 3 only
---
Emergency Credit Line Guarantee Scheme
Syllabus
Prelims – Current Affairs
Mains – GS 3 (Economy)
Context: The scheme was launched as a part of the Atma Nirbhar Bharat package for the Micro, Small, and Medium Enterprises (MSME) borrowers to mitigate the distress caused by the COVID-19 pandemic.
The scheme was initially announced in May 2020 and then over a period of time, the Finance Ministry has expanded the scope of the ECLGS.
Recently (May 2021), ECLGS 4.0 has been introduced which provides 100 percent guarantee cover to loans up to Rs.2 crore to hospitals/nursing homes/clinics/medical colleges for setting up on-site oxygen generation plants, interest rate capped at 7.5%.
Emergency Credit Line Guarantee Scheme – Key Points
The Scheme allowed additional funding of up to Rs.3 lakh crores to different sectors, especially Micro, Small, and Medium Enterprises (MSME) and MUDRA borrowers.
Under the ECLGS, all loans sanctioned under the Guaranteed Emergency Credit Line (GECL) facility will be provided with additional credit. However, there are two specifications:

The scheme would be applicable for loans sanctioned from the date of announcement of the scheme to October 31, 2020, [Now September 3, 2021] OR
Guarantees for an amount of Rs.3 lakh crore are issued (whichever happens first) Disbursement is permitted up to December 31, 2021.
Major objectives of ECLGS:
As per this scheme, 100% guarantee coverage is to be provided by National Credit Guarantee Trustee Company Limited (NCGTC) to the Member Lending Institutions (MLI), Banks, Financial Institutions, and Non-Banking Financial Companies (NBFC)
The Scheme aims at mitigating the economic distress faced by MSMEs by providing them additional funding in the form of a fully guaranteed emergency credit line.
It shall also provide credit to the sector at a low cost, thereby enabling the small sector businesses to meet their operational liabilities and restart their manufacturing and work
Who is eligible under the ECLG Scheme?
As per the latest eligibility criteria with the launch of the expanded Emergency Credit Line Guarantee Scheme, the following criteria had to be met to be applicable for a loan under the scheme:
Enterprises with a turnover of up to Rs. 250 crores (FY 2019-20) with outstanding loans up to Rs. 50 crores, as of February 29, 2020
GECL credit provided will be up to 20% of the borrower's total outstanding credit as of February 29, 2020.
The maximum amount of loan that can be availed under the scheme is Rs. 5 crores.
Tenure & Interest Rates under ECLGS
The loan tenure is for 4 years and the moratorium period of 1 year on the principal amount is also applicable [Now the loan tenure is 5 years]
Interest rates under ECLGS have also been capped:

25% for Banks and Financial Institutions
14% for Non-Banking Financial Companies

The National Credit Guarantee Trustee Company Ltd (NCGTC) is not allowed to charge any Guarantee Fee from the Member Lending Institutions that are included under this scheme.
ECLGS 4.0 – Expansion of the Scheme
On 31st May 2021, the Indian government notified the expansion of the ECLGS. Under the version of ECLGS 4.0:
100 percent guarantee cover is being provided to hospitals/nursing homes/clinics/medical colleges for loans of up to Rs 2 crores at an interest rate of 7.5 percent. It is given for setting up on-site oxygen generation plants.
The eligible borrowers who earlier had a loan tenure of four years can now avail of a loan tenure of five years.
Additional ECLGS assistance of up to 10% of the outstanding as of February 29, 2020, to borrowers covered under ECLGS 1.
The 500 crore loan ceiling under ECLGS 3.0 is being discontinued.
The maximum additional ECLGS assistance to each borrower is being limited to 40% or Rs.200 crore, whichever is lower.
Civil aviation sector is an eligible borrower under ECLGS 3.0.
About ECLGS 2.0
The scheme was announced in November 2020 as a part of the Atma Nirbhar Bharat 3.0 package.
The Emergency Credit Line Guarantee Scheme has been expanded to 27 new sectors, including the health sector.
These 27 sectors have been identified by the Kamath Committee for one time debt restructuring. Power, construction, textiles, real estate, tourism are few among the many sectors identified.
Individual beneficiaries for both, professional and self-employed people have also been included in the scheme
The tenor has been upgraded to 5 years with a 1-year moratorium on repayment of principal.
About National Credit Guarantee Trustee Company Limited
NCGTC or the National Credit Guarantee Trustee Company Limited was registered under the Companies Act, 1956 in 2014.
It is a wholly-owned company of the Government of India.
It was established by the Department of Financial Services, Ministry of Finance.
The main role of the Organisation is to design credit guarantee programs, to share the risk of lending among the lenders, and facilitate financial access to a prospective borrower
Conclusively, to revise the economy of the country which faced major disturbances due to the COVID lockdown, the Government of India decided to take charge of making the country self-dependent. And, the Emergency Credit Line Guarantee Scheme is one of those initiatives.
Source: Indian Express
Previous Year Questions
Q.1) Which among the following steps is most likely to be taken at the time of an economic recession? (2021)
Cut in tax rates accompanied by increase in interest rate
Increase in expenditure on public projects
Increase in tax rates accompanied by reduction of interest rate
Reduction of expenditure on public projects
---
The evolving role of CSR in funding NGOs
Syllabus
Mains – GS 2 (Governance)
Context:
When COVID-19 spurred a nationwide lockdown in India in 2020, a grave need for localised social support emerged.
Giving, both private and public, flowed to NGOs working towards combating pandemic-induced challenges such as loss of livelihood for vulnerable communities, food banks, and health and medical support.
In any such social effort, programme expenses attract the big cheques — especially when they come from corporate social responsibility (CSR) initiatives in India.
But NGOs have other expenses too. In order to achieve long-term and sustained impact, they need to pay for administrative and support expenses not specifically tied to programmes— for instance, rent, electricity, technology and human resource costs.
These organisational development and indirect costs, combined with programme expenses, make up an NGOs' true costs.
And underfunding an NGO's true costs reduces the efficacy and impact of the very programmes that funders support.
The funder archetypes
Based on a recent survey of nearly 80 diverse social sector funders, there are three distinct funder archetypes — programme proponents, adaptive funders, and organisation builders.
The three archetypes represent different beliefs in terms of how philanthropy becomes impact.
Programme proponents value programme outcomes above all.
Adaptive funders are not rigid and support indirect costs and organisational development, if the NGO makes a case.
Organisation builders see value in investing in stronger organisations in addition to programmes.
CSR funders, who now represent a fifth of all private giving in India, principally fall under programme proponents.
They mostly contribute little or no money to organisational development and limit what they pay for indirect costs to a fixed rate often below 5%.
Why?
These practices are partly a consequence of CSR funders' focus on regulatory compliance — amendments to the CSR law in 2021 include substantial financial penalties for non-compliance.
Roughly 90% of the CSR funders are relatively small, unlisted companies — and companies that spend less than ₹50 lakh annually on CSR are not required by law to have a CSR committee.
They generally leave decision-making and action plans to company boards, who may have little to no experience working with NGOs or on social impact.
Hence, their priorities tend to sway towards risk avoidance, compliance, and cost minimisation.
Many CSRs make errors on safety with the unintended consequence of leaving an NGO with unpaid bills or worse still, drawing on its scarce core funding from other donors to pay for these essential costs.
How might this change?
Collaboration
For one thing, companies can pool their resources with other mission-aligned CSR or social sector stakeholders, increasing their collective impact potential, and also hire or tap into professionals with experience working with NGOs.
Learn from peer organisations
In addition, CSR funders would learn from peers who view organisational development and indirect costs differently.
Cover indirect costs and organizational development
The pandemic also exposed how vulnerable NGOs are to financial stress.
A research revealed that 54% of NGOs had less than three months in reserve funds in September 2020.
The CSR programmes cannot currently contribute to NGO reserves/corpus by law.
However, by covering indirect costs and organisational development, they still help to relieve financial pressure and make organisations more resilient.
Assistance
Corporates have considerable accounting and finance capabilities that they can offer to NGOs, in addition to their funding.
A corporate could offer volunteer financial analysis services to help the NGO calculate true costs and communicate with other funders, and build financial resilience.
CSR practices are maturing. More CSR decision-makers are shifting their focus from compliance with CSR laws to the social impact they are making. CSR funders are following several themes to make this transition, such as hiring professionals, coming together in collaborative, and defining and publishing their impact metrics to hold themselves accountable. The idea is to move beyond signing cheques to recognising that, ultimately, what's good for Indian society is also good for business.
Must Read: NGOs and their right to foreign funds
Source: The Hindu
---
A Brief History of LGBT Rights and Laws in India
Syllabus
GS-1: Effects of globalization on Indian society;  Social empowerment 
GS-2: Government policies and interventions for development in various sectors and issues arising out of their design and implementation. 
Context: People of a different sexual orientation or gender identity often narrate harrowing tales of bullying, discrimination, stigma and ostracisation. In this context, the recent directive by National Medical Commission (NMC) to all State Medical Councils, banning conversion therapy and calling it a "professional misconduct" is a welcome step.
NMC also empowered the State bodies to take disciplinary action against medical professionals who breach the guideline.
---
Daily Practice MCQs
Daily Practice MCQs
Q.1) With reference to 'Emergency Credit Line Guarantee Scheme' which of the following statements is/ are correct?
It aims to facilitate collateral-free loans to different economic sectors for which 100% guarantee coverage is provided to Member Lending Institutions (MLIS) by government.
All Schedules commercial banks are recognised as MLI to disperse the loans.
It provides the pre-approved loan for which an 'opt-out' option will be provided to eligible borrowers under the Scheme.
Which of the statements given above is/are correct?
1 only
1 and 3 only
2 and 3 only
1, 2 and 3
Q.2) Consider the following activities:
Spraying pesticides in a crop field
Inspecting the craters of active volcanoes
Collecting breath samples from spouting whales for DNA analysis
At the present level of technology, which of the above activities can be successfully carried out by using drones?
1 and 2
2 and 3
1 and 3
1, 2 and 3
Q.3) Kushiyara River, recently in news is a distributary of which of the following river?
Ganga
Teesta
Brahmaputra
Barak
---
Comment the answers to the above questions in the comment section below!!
ANSWERS FOR '8th September 2022 – Daily Practice MCQs' will be updated along with tomorrow's Daily Current Affairs.
---
ANSWERS FOR 7th September

 

– Daily Practice MCQs
Answers- Daily Practice MCQs
Q.1) – c
Q.2) – d
Q.3) – a
For a dedicated peer group, Motivation & Quick updates, Join our official telegram channel – https://t.me/IASbabaOfficialAccount
Subscribe to our YouTube Channel HERE to watch Explainer Videos, Strategy Sessions, Toppers Talks & many more…