In News: Every year in October, thousands of people assemble at Nagpur's Deekshabhoomi to pay homage to B.R. Ambedkar who converted to Buddhism and remember the historic day of October 14, 1956, when he and half a million of his followers embraced Buddhism.
Some 5,000 Tamils of Myanmar accepted Buddhism in Rangoon under the leadership of Chan Htoon, the Justice of the Supreme Court of the Union of Burma in 1956.
Context:
Dr B R Ambedkar found Buddhism spiritually satisfying as it preached love and compassion for all (karuna).
Moreover, it was in affirmation with principles of liberty, equality and fraternity that guided him throughout his life.
He found that Buddhism is rooted in India's civilization, supplements modern ethical values and is averse to social hierarchies and patriarchal domination.
What is Neo-Buddhism:
The Neo Buddhist movement (also known as the Buddhist movement For Dalits, Ambedkarite Buddhist movement or Modern Buddhist movement) is a religious as well as a socio-political movement among Dalits in India which was started by B. R. Ambedkar.
Aim: It was proposed as a mass movement that would elevate former 'Untouchables' and help them achieve self-respect.  It was hoped that Buddhist principles would mobilise them into a robust community to battle the ruling Brahmanical elites.
Theoretically, the neo-Buddhist movement is seen as an ideological and intellectual challenge to the dominant social and political ideas of the ruling elites.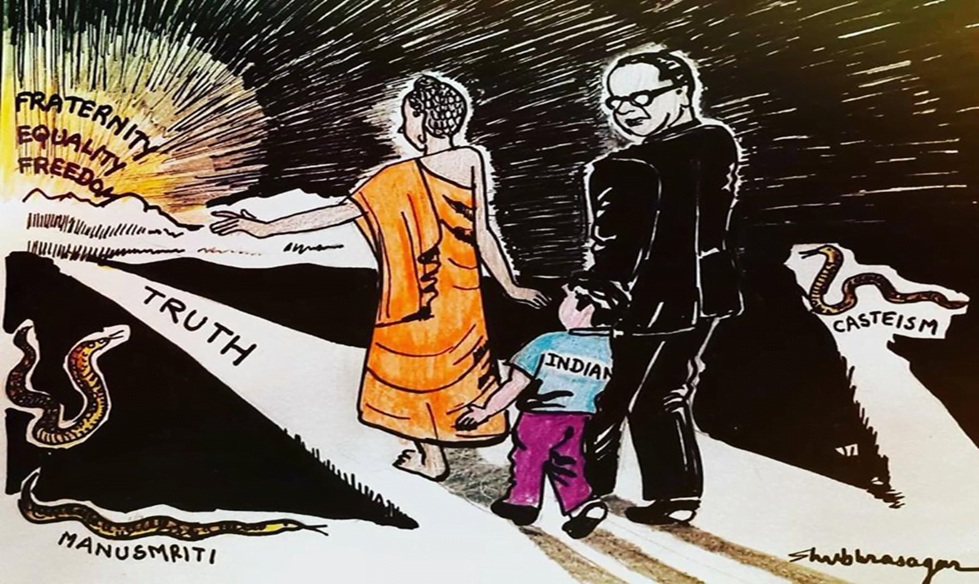 Difference between Buddhism & Neo-Buddhism:
It does not accept in totality the scriptures of the Theravada, the Mahayana, or the Vajrayana. Rather, propagates a fourth yana, a Navayana – a kind of modernistic Enlightenment version of the Dhamma.
Ambedkar and his idea of Buddhism defy many of the core doctrines of Buddhism. He saw many integral aspects of Buddhist practice as fraudulent and pessimistic. He was particularly against Buddha's parivaja.
According to Ambedkar, the Four Noble Truths are a "gospel of pessimism", and may have been added into the scriptures by Buddhist monks of a later era.
He considered the idea of Anatta (doctrine stating that human beings are soulless) problematic and asked his followers to disregard it.
Nirvana, according to Ambedkar is not some other-worldly state of perfect life, highest happiness and salvation or liberation from the cycle of birth and rebirth. In Ambedkar's view, nirvana is the socio-political "kingdom of righteousness on Earth" in which people are freed from poverty and social discrimination and empowered to create themselves happy lives.
Role of Neo-Buddhism:
Neo-Buddhism emerged as a maverick phenomenon that offered strong psychological solace to the struggling Dalit masses.
It came about to be crucial in building a challenge to the dominant narrative of Hindutva.
It is the creative application of the neo-Buddhist identity and ideology that has structured the Dalit movement as an autonomous political force in Maharashtra. Deeksha Bhoomi in Nagpur, the place where Ambedkar embraced Buddhism, has emerged as a monumental heritage site, attracting millions of visitors every year.
Here, Buddhism was resurrected not only as a part of India's cultural and civilisational heritage but also as a tool to escape the caste hierarchical cultural hegemony and social hostility.
The urban Buddhists marked by educational achievements – have offered vital leadership to Dalit politics
Conversion to Buddhism also helped Dalits to find a robust meaning about their cultural past. They reinvented the Buddhist cultural symbols, rituals and practices as the proud markers of their new social identity.
Struggles of Neo-Buddhism:
Buddhist cultural assertions and claims over public spaces became the symbols of their rejection against Hindu cultural hegemony and its social tentacles. Such assertiveness often put them in opposition with right-wing ideologies.
Today, the Buddhist population in India is one of the smallest minorities. Its ideological challenge against the Hindu social order has not been taken seriously, and even within the Dalit community, conversion to Buddhism is not perceived as a suitable path to achieve social emancipation.
A large majority (close to 80%) of Indian Buddhists resides in Maharashtra. However, it is mainly the Mahar caste, Matang and the Maratha castes which have identified themselves as neo-Buddhists. Other socially marginalised groups are still defined by Hindu caste nomenclatures and traditional occupations.
The Dalit socio-political movements in States including Uttar Pradesh, Bihar, Tamil Nadu and Karnataka have also not promoted conversion to Buddhism and there is hesitation in suggesting religious conversion as an alternative to fight the battle for social justice.
Even in States where the Scheduled Caste population is relatively high, such as in Punjab, West Bengal and Odisha, Dalits have shown restraint in adopting Buddhism to challenge their social location.
India's neighbouring Buddhist countries also have not identified neo-Buddhists as significant partners in their theological engagements.
Several Buddhist countries have built their own pagodas and temples in Bodh Gaya and are more concerned with adding new sites in India's Buddhist Circuit.
Certain individuals and Buddhist associations from Japan, Thailand and the U.K. have established some close links with the neo-Buddhists of Maharashtra, but this is small support.
The current Opposition lacks effective cultural strategies to challenge right-wing assertion. Instead, it still uses the same old formal electoral strategies.
Current government's actions:
The Centre has presented itself as the promoter of Buddhist cultural heritage at the national and international levels.
In overseas diplomatic gatherings, Prime Minister of India has frequently invoked India's ancient Buddhist identity and shared Buddhist heritage with countries, especially China, Nepal, Myanmar and Japan.
He also visited Deekshabhoomi in 2017, paid rich tributes to Ambedkar and announced multiple developmental projects.
Prime Minister inaugurated Kushinagar International Airport in Uttar Pradesh, which will help connect important Buddhist pilgrimage sites. Kushinagar is an important Buddhist pilgrim destination.
It is his government that proposed a Buddhist Circuit.
Way forward:
Revisiting the ideals of Ambedkar's neo-Buddhist movement can be helpful in building fierce ideological challenges to Hindutva's understanding of history and culture.
MUST READ: Buddhist Philosophy
Source:  The Hindu
For a dedicated peer group, Motivation & Quick updates, Join our official telegram channel – https://t.me/IASbabaOfficialAccount
Subscribe to our YouTube Channel HERE to watch Explainer Videos, Strategy Sessions, Toppers Talks & many more…