Context: Vyom mitra, the humanoid designed and developed by the Indian Space Research Organisation (ISRO) to fly aboard unmanned test missions ahead of the Gaganyaan human space-flight mission, is undergoing pre-flight ground tests at the ISRO Inertial Systems Unit (IISU) here.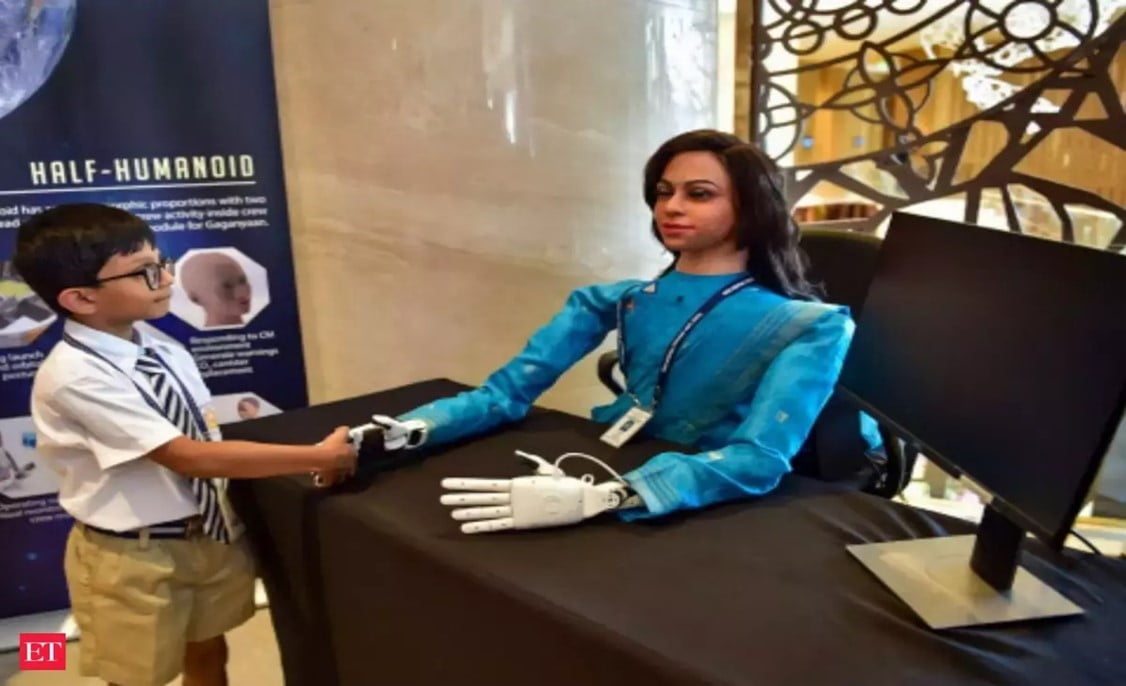 About the Half-humanoid:
Vyommitra is a female-looking spacefaring humanoid robot being developed by the Indian Space Research Organisation to function on-board the Gaganyaan, a crewed orbital spacecraft.
A humanoid is basically a robot with the appearance of a human being.
ISRO's Vyommitra (vyoma = space, mitra = friend) is also being called a half-humanoid since she will only have a head, two hands and a torso, and will not have lower limbs. Like any robot, a humanoid's functions are determined by the computer systems to which it is connected.
Why is ISRO developing a humanoid?
ISRO plans to send a human into space for the first time by 2022.
It is racing against time to develop a crew module and rocket systems that will ensure the safe travel and return of the Indian astronaut.
Other countries that have successfully launched humans into space did so after having used animals for conducting tests of their rockets and crew recovery systems.
ISRO will use the humanoid to test the efficacy of its GSLV Mk III rocket to transport a human to space and back.
The humanoid is under development at a robotics laboratory at the Vikram Sarabhai Space Centre.
Once flown into space, ISRO's half-humanoid will be able to test systems in the crew module meant for the survival and safe travel of the first Indian astronaut in 2022.
What are the tasks that Vyommitra will perform in space?
A central character in the science-fiction film Interstellar (2014), which is about space and time travel, is an artificial-intelligence -and-robotics-powered computer system called TARS, which talks to the astronauts, assists them in mission functions, and even rescues them in times of crisis.
TARS was not a humanoid, but a robotic system with exceptional capabilities.
The Vyom mitra humanoid, which will test the ground for the human spaceflight, will be a very basic version of a TARS-type, artificial-intelligence-and-robotics system.
The activities that Vyom mitra will be able to perform, once fully developed for the unmanned flight, will include:

procedures to use equipment on board the spacecraft's crew module such as safety mechanisms and switches,
receiving and acting on commands sent from ground stations
attaining launch and orbital postures,
responding to the environment,
generating warnings,
replacing carbon dioxide canisters,
operating switches,
monitoring of the crew module,
receiving voice commands,
responding via speech (bilingual).

Vyommitra will also report back to Earth on the changes occurring in the crew module during the spaceflight and return, such as heat radiation levels, to enable ISRO to understand the safety levels required in the crew module that will eventually fly a human being.
MUST READ: ISRO's Small Satellite Launch Vehicle
Source:   The Hindu                        
Previous Year Question
Q.1) With reference to India's satellite launch vehicles, consider the following statements:
PSLVs launch the satellites useful for Earth resources monitoring whereas GSLVs are designed mainly to launch communication satellites.
Satellites launched by PSLV appear to remain permanently fixed in the same position in the sky, as viewed from a particular location on Earth.
GSLV Mk III is a four-staged launch vehicle with the first and third stages using solid rocket motors; and the second and fourth stages using liquid rocket engines.
Which of the statements given above is/are correct? (2018)
1 only
2 and 3
1 and 2
3 only
For a dedicated peer group, Motivation & Quick updates, Join our official telegram channel – https://t.me/IASbabaOfficialAccount
Subscribe to our YouTube Channel HERE to watch Explainer Videos, Strategy Sessions, Toppers Talks & many more…