Context: Recently, the Confederation of Indian Industry (CII) has urged the government to encourage private-sector mining in the Rare Earths minerals sector to counter India's reliance on China for imports of such minerals. The industry has demanded to Set up an 'India Rare Earths Mission'.
About Rare Earth Minerals:
Rare earth metals are a group of 17 elements – lanthanum, cerium, praseodymium, neodymium, promethium, samarium, europium, gadolinium, terbium, dysprosium, holmium, erbium, thulium, ytterbium, lutetium, scandium, yttrium.
They are lustrous silvery-white soft heavy metals.
These metals have unusual fluorescent, conductive, and magnetic properties, which make them very useful when alloyed, or mixed, in small quantities with more common metals such as iron.
However, with the exception of the highly-unstable prometheum, rare earth elements are found in relatively high concentrations in the earth's crust.
The rare earths occur in many other minerals and are recoverable as by-products from phosphate rock and from spent uranium leaching.
Reserves and Production: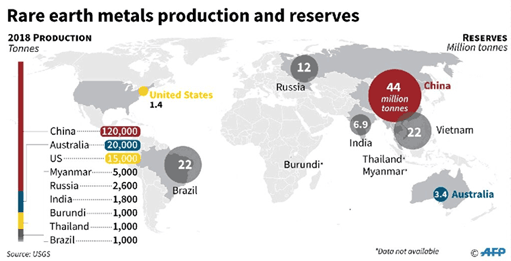 The total world reserves are estimated at 121 million tonnes of rare earth oxides (REO).
China alone accounts for 44 million tonnes followed by Brazil and Vietnam (18% each) and Russia (15%).
China accounts for 90% of the world's rare earth production.
The other major producers are Australia, USA, Russia, Malaysia and Vietnam.
Significance of Rare Earth Metals:
Manufacturing of Batteries: Minerals like Cobalt, Nickel, and Lithium are required for batteries used in electric vehicles.
Used in most of the consumer products: REEs are an essential although often tiny component of more than 200 consumer products which includes mobile phones, computer hard drives, electric and hybrid vehicles, semiconductors, flat screen TVs and monitors, and high-end electronics.
Electric Vehicles: India has an ambitious plan to convert a large percentage of its transport to electric and this would require these minerals.

80 percent of the country's two- and three-wheeler fleet, 40 percent of buses, and 30 to 70 per cent of cars will be EVs by 2030.

Clean energy: They are critical for developing clean energy which is the need of the hour today.
Industrial use: Traditional uses like Cerium for glass polishing and lanthanum for car catalysts or optical lenses.
Manufacturing of magnets: neodymium, praseodymium and dysprosium, are crucial to the manufacture of magnets which are used in industries and also in wind turbines and Drones.
Issues associated with extraction of Rare Earth Metals:
Difficult to mine: Although they are more abundant than their name implies, they are difficult and costly to mine and process cleanly.
Environmental Impact: The chief concern is that the rare earth elements are bound up in mineral deposits with the low-level radioactive element thorium, exposure to which has been linked to an increased risk of developing lung, pancreatic, and other cancers.
Chinese Dominance: Amid the transition to green energy, in which rare earth minerals are sure to play a role, China's market dominance is enough to sound an alarm in western capitals.
Monopoly of few: Most of the reserves being present in few nations causes problems for most of the world because of the concentration of reserves in the hands of few countries.
Supply Chain: Forming forward and backward supply chains will create problems when the reserves are mostly limited to one country.
Rare Earth Metals in India:
In India, monazite is the principal source of rare earths and thorium.
Rare earth elements contribute a total value of nearly $200 billion to the Indian economy.
India has the world's fifth-largest reserves of rare earth elements, nearly twice as much as Australia, but it imports most of its rare earth needs in finished form from its geopolitical rival, China.
Indian Rare Earths Ltd (IREL), a Government of India Undertaking, and KMML, a Kerala State Government Undertaking, are actively engaged in mining and processing of beach sand minerals from placer deposits.
As per the Foreign Trade Policy, 2015-2020 and the effective policy on export and import,  the  import of ores and concentrates of rare earth metals and of rare earth oxides including rutile sand are permitted 'freely'.
Challenges for India:
Scaling Up: The key challenge for India today is to scale up upstream and downstream processes in the rare earths value chain.
Monopoly of Government: India has granted government corporations such as IREL a monopoly over the primary mineral that contains REEs: monazite beach sand, found in many coastal states.
Capital-Intensive: The mining and extraction processes are capital-intensive and consumes large amounts of energy.
Competition from World: India must open its rare earth sector up to competition and innovation and attract the large amounts of capital needed to set up facilities to compete with, and supply to, the world.
Toxic By-products: The mining releases toxic by-products, an issue that has caused some controversy in India before.
Suggestive Measures for India:
New Department for Rare Earths (DRE): The best move forward might be to create a new Department for Rare Earths (DRE) under the Ministry of Petroleum & Natural Gas, drawing on its exploration, exploitation, refining, and regulation capabilities.
Allow Private Companies: This DRE should oversee policy formulation and focus on attracting investment and promoting R&D, with its first move being to allow private sector companies to process beach sand minerals within appropriate environmental safeguards.
Autonomous Regulator: It should also create an autonomous regulator, the Rare Earths Regulatory Authority of India (RRAI), to resolve disputes between companies in this space and check compliance.
Better Coordination: The DRE could coordinate with other agencies to partner directly with groupings such as the Quad, building up a strategic reserve as a buffer against global supply crises.
Encourage Indian Firms: While domestic reforms are awaited, Indian companies can be encouraged to form such junior exploration businesses in the Indian Ocean Region (IOR) to prospect for REEs and feed value added products into Indian market.
Way Forward:
Building up domestic capability: There is a need to build domestic capability and broad-base supply sources for such an important and strategic raw material.
Making it part of Make in India campaign: There is a need to make rare earth minerals a part of the 'Make In India' campaign, citing China's 'Made in China 2025' initiative that focuses on new materials, including permanent magnets that are made using rare earth minerals.
Supply chain resilience: The focus should be back on building cooperation on supply chain resilience which is a trade partnership for critical and emerging technology to deal with issues of climate, economy and pandemic impact.
Minerals Security Partnership (MSP): India should try through diplomatic channels to enter this partnership. (As, India is not a member of this.)

It is a US-led partnership initiative of 11 nations which aims to bolster critical mineral supply chains.
Partnership includes the USA, Australia, Canada, Finland, France, Germany, Japan, South Korea, Sweden, the United Kingdom, and the European Commission.

QUAD critical and Emerging Technology Working group: It aims to develop supply resilience among Quad members which includes India, US, Japan, and Australia.
Green goals: the critical minerals and emerging technology are the major need of the hour for achievement of green future goals.
MUST READ: India Deep Ocean Mission
Source:  The Hindu
For a dedicated peer group, Motivation & Quick updates, Join our official telegram channel – https://t.me/IASbabaOfficialAccount
Subscribe to our YouTube Channel HERE to watch Explainer Videos, Strategy Sessions, Toppers Talks & many more…