Context: According to the Sambhavna Trust, the leakage of 27 tonnes of deadly methyl isocyanate (MIC) gas from the pesticide plant owned by Union Carbide Corporation in Bhopal 38 years ago is still wreaking havoc on the city. The latest is the spike in incidences of fungal infection among survivors.
About Bhopal Gas Tragedy: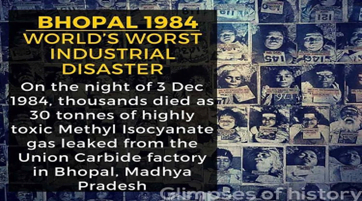 In the early hours of December 3, 1984, methylisocyanate (MIC) gas leaked from a plant operated by Union Carbide India Limited (UCIL) at Bhopal (Madhya Pradesh).
The gas drifted over the densely populated neighbourhoods around the plant, killing thousands of people immediately and creating a panic as tens of thousands of others attempted to flee Bhopal.
The final death toll was estimated to be between 15,000 and 20,000.
Some half a million survivors suffered respiratory problems, eye irritation or blindness, muscular dystrophy and other maladies resulting from exposure to the toxic gas.
The study found out that babies born to women exposed to gas were significantly more likely to have "congenital malformations" than those born to women unexposed to gas.
Congenital malformations can be defined as structural or functional anomalies that occur during intrauterine (within the uterus) life and can be identified prenatally, at birth, or sometimes may only be detected later in infancy.
Government's response to Bhopal Gas tragedy:
The government passed the Bhopal Gas Leak Act in March 1985, which allowed it to act as the legal representative for victims.
The Supreme Court of India also laid down guidelines for the money — the family of the dead were to be given Rs 100,000-300,000.
In addition, fully or partially disabled were to get Rs 50,000-500,000 and those with a temporary injury, Rs 25,000-100,000.
In June 2010, seven former employees of Union Carbide, who were all Indian nationals, were convicted of causing death by negligence and sentenced to two years of imprisonment. However, they were later released on bail.
Fungal Infections:
Ringworm disease, caused by a fungus called tinea, is on the rise.
Red itchy patches occur in the groin, on the head or in different places of the body. The rash spreads if left untreated.
Yeast infection candida albicans is also being reported to the Sambhavna Clinic by female survivors.
About Methyl Isocyanate (MIC):
Methyl isocyanate is a colourless highly flammable liquid that evaporates quickly when exposed to the air. It has a sharp, strong odour.
It is used in the production of pesticides, polyurethane foam, and plastics.
The chemical is highly reactive to heat. When exposed to water, the compounds in MIC react with each other causing a heat reaction.
Immediate health effects include ulcers, photophobia, respiratory issues, anorexia, persistent abdominal pain, genetic issue, neuroses, impaired audio and visual memory, impaired reasoning ability, and a lot more.
Long-term health effects include chronic conjunctivitis, decreased lung function, increased pregnancy loss, increased infant mortality, increased chromosomal abnormalities, impaired associate learning and more.
Source:  DownToEarth
Previous Year Question
Q.1) Magnetite particles, suspected to cause neurodegenerative problems are generated as environmental pollutants from which of the following? (2021)
Brakes of motor vehicles
Engines of motor vehicles
Microwave stoves within homes
Power plants
Telephone lines
Select the correct answer using the code given below
1, 2, 3 and 5only
1, 2 and 4 only
3, 4 and 5 only
1, 2, 3, 4 and 5
For a dedicated peer group, Motivation & Quick updates, Join our official telegram channel – https://t.me/IASbabaOfficialAccount
Subscribe to our YouTube Channel HERE to watch Explainer Videos, Strategy Sessions, Toppers Talks & many more…