Context:
There is growing evidence to suggest that the most conspicuous trend in the manufacturing sector in India has been a shift of manufacturing activity and employment from bigger cities to smaller towns and rural areas.
This has often been interpreted as a mixed bag, as it could transform the rural economy, but presents a set of constraints, which could hamper higher growth.
However, the compulsions of global competition often extend beyond the considerations of low-wage production and depend on the virtues of 'conducive ecosystems' for firms to grow.
Current rural scenario:
Urban-rural manufacturing shift:
Work Bank report (Ghani, Ejaz et al (2012) "Is India's Manufacturing Sector Moving Away from Cities? Policy Research Working Paper, World Bank").
Manufacturing is moving towards rural areas, while informal sector is moving from rural to urban locations.
Significant contributor to manufacturing Output:
Annual Survey of Industries for 2019-20 – 42% of factories are in rural areas, 62% of fixed capital is in the rural side.
Rural factories contributed to exactly half of the total manufacturing sector.
Employment:
In terms of employment, it accounted for 44%, but had only a 41% share in the total wages of the sector.
Production cost differentials – Wages, property, and land costs are all lower than in most metropolitan areas.
Cheap labour: Big firms deliberately shift production from cities to take advantage of the availability of less skilled, less unionised and less costly rural labour.
Factory floorspace supply constraints – When locations get more urbanised and congested, the greater these space constraints are.
Capital restructuring – there is a tendency for growing capital accumulation and centralisation by large multi-plant corporations.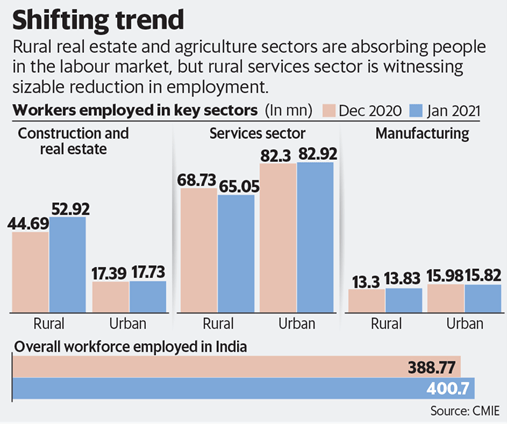 Significance of shift:
Helped maintain the importance of manufacturing as a source of livelihood diversification in rural India.
This trend helped to make up for the loss of employment in some traditional rural industries.
In the aftermath of trade liberalisation, import competition intensified for many Indian manufacturers, forcing them to look for cheaper methods and locations of production.
One way to cut costs was to move some operations from cities to smaller towns, where labour costs are cheaper.
an economic base for the transition out of agriculture.
Challenges:
Higher cost of capital for firms operating on the rural side, despite benefits of lower costs via lower rents
The rural segment accounted for only 35% of the total rent paid, while it had 60% of the total interest payments.
The benefits reaped from one source seem to be offset by the increased costs on the other front.
Skills shortage in rural areas
Manufacturing needs higher skilled workers to compete in the highly technological global 'new economy'.
Manufacturers who depend only on low-wage workers simply cannot sustain their competitive edge
Manufacturers who need higher skilled labour find that rural areas cannot supply it in adequate quantities.
Suggestions:
Institutional arrangements:
The Ministry of Micro, Small and Medium Enterprises encompasses many such organisations – KVIC, National Small Industries Corporation Limited (NSIC), Coir Board, Council for Advancement of, NABARD, SIDBI
Khadi and Village Industries Commission (KVIC): SFURTI – Scheme of Fund for Regeneration of Traditional Industries, PMEGP – Prime Minister's Employment Generation Programme
National Small Industries Corporation Limited: Export credit insurance Rural Industrialization, Raw Material assistance, Providing Infomediary Services, etc.
Integrated infrastructural development:
Nayak Committee (1992) recommendations – raising project outlay from Rs.30 lakh to Rs.50 lakh in the single window scheme, timely supply of credit, etc.
Government programs:
Cluster Development Programme: For holistic development of selected MSEs clusters through value chain and supply chain management on cooperative basis.
Rural Industry and Entrepreneurship (ASPIRE) – implementing incubation and commercialisation of Business Ideas Programme through technical/research institutes
Credit Linked Capital Subsidy Scheme (CLCSS) –
Technology upgradation of small-scale industries, including khadi, village and coir industrial units, by providing 15 percent upfront capital subsidy (limited to a maximum of Rs 15 lakh).
Prime Minister's Employment Generation Programme (PMEGP) – implemented by KVIC, a total of 5.45 lakh micro enterprises have been assisted with a margin money subsidy of Rs 12,074.04 crore, providing employment opportunities to an estimated 45.22 lakh persons since 2019.
Provision of more education and skilling for rural workers.
To establish rural areas' comparative advantage of low wages, higher reliability and productivity
hasten the process of the movement out of agriculture to higher-earning livelihoods.
Augmentation of Sources of Demand and Supply Opportunities for Large-Scale Industries – utilization of traditional methods and materials in small-scale industries will make provision of enhancement opportunities for rural individuals.
Way forward:
Need for clear solutions to the problems of rural manufacturing so that rural economy can jump-start a revival.
Given the size of the Indian economy and the need for balanced regional development, the dispersal of manufacturing activities is a welcome sign.
Source: The Hindu
For a dedicated peer group, Motivation & Quick updates, Join our official telegram channel – https://t.me/IASbabaOfficialAccount
Subscribe to our YouTube Channel HERE to watch Explainer Videos, Strategy Sessions, Toppers Talks & many more…