Context: Recently, the Union Government has decided to nominate Assam's Charaideo Maidams for the UNESCO World Heritage Centre.
Charaideo Maidams: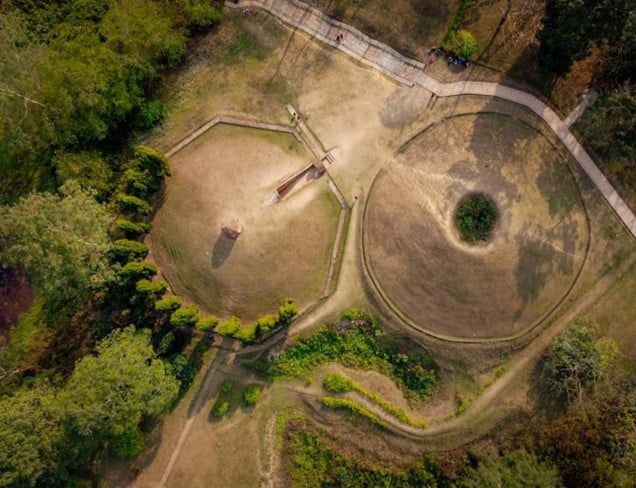 Assam's Charaideo Maidams are the Ahom equivalent of the ancient Egyptian pyramids.
The maidams represent the late medieval (13th-19th century CE) mound burial tradition of the Tai Ahom community in Assam.
The Charaideo Maidams enshrine the mortal remains of the members of the Ahom royalty, who used to be buried with their paraphernalia.
Out of 386 Maidams or Moidams explored so far, 90 royal burials at Charaideo are the best preserved, representative of and the most complete examples of mound burial tradition of the Ahom's.
After the 18th century, the Ahom rulers adopted the Hindu method of cremation and began entombing the cremated bones and ashes in a Maidam at Charaideo.
Significance:
There is currently no World Heritage Site in the category of cultural heritage in the northeast.
The nomination of the Charaideo Maidams has attained significance at a time when the country is celebrating the 400th birth anniversary of Lachit Barphukan.
Ahom Kingdom:
The Ahom dynasty was founded by Chao Lung Siu-Ka-Pha in 1253.
The Ahom rule lasted for about 600 years until the British annexed Assam in 1826.
Charaideo, more than 400 km east of Guwahati, was the first capital of the Ahom dynasty.
About Lachit Borphukan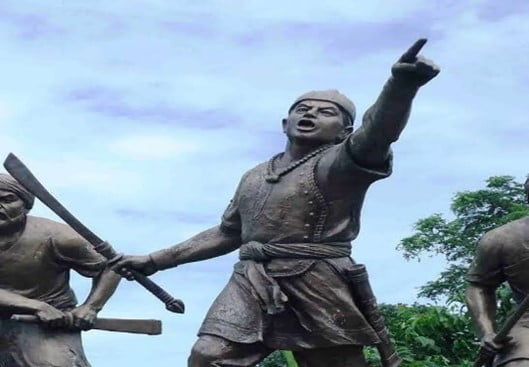 Born: on November 24, 1622 in Charaideo, the first capital of the Ahom kings.
Death: 25th April 1672.
Excelled in the art of Guerrilla Warfare.
Led two battles against an alien Mughal army.
Battle of Alaboi:
Fought on August 5, 1669 in the Alaboi Hills near Dadara in North Guwahati.
Aurangzeb had ordered the invasion in 1669 under his ally Rajput Raja Ram Singh I who led a combined Mughal and Rajput army.
Borphukan engaged in guerrilla warfare, assaulting the invaders and then falling back until Ram Singh I unleashed his entire forces on the Ahom's, defeating them in the Battle of Alaboi.
Naval battle in Saraighat in 1671:
Lachit Borphukon's valorous leadership led to the decisive defeat of the Mughals.
According to historical accounts, Lachit is said to have tricked the Mughals by feigning an attack in front.
As the fleet advanced on the river Brahmaputra, the main Ahom fleet attacked from behind, sealing a victory for the locals.
Source:   The Hindu
Previous Year Questions
Q.1) With reference to Indian history, consider the following statements:
The Dutch established their factories/warehouses on the east coast on lands granted to them by Gajapati rulers.
Alfonso de Albuquerque captured Goa from the Bijapur Sultanate.
The English East India. Company established a factory at Madras on a plot of land leased from a representative of the Vijayanagara empire.
Which of the statements given above are correct? (2022)
1 and 2 only
2 and 3 only
1 and 3 only
1, 2 and 3
Q.2) With reference to the history of India, "Ulgulan" or the Great Tumult is the description of which of the following events? (2020)
The Revolt of 1857
The Mappila Rebellion of 1921
The Indigo Revolt of 1859 – 60
Birsa Munda's Revolt of 1899-1900
For a dedicated peer group, Motivation & Quick updates, Join our official telegram channel – https://t.me/IASbabaOfficialAccount
Subscribe to our YouTube Channel HERE to watch Explainer Videos, Strategy Sessions, Toppers Talks & many more…