Context: Odisha Governor has backed the entry of foreign nationals inside the world-famous Jagannath Temple in Puri, wading into a debate that has lasted for decades and periodically triggered controversy.
About Puro Jagannath Temple: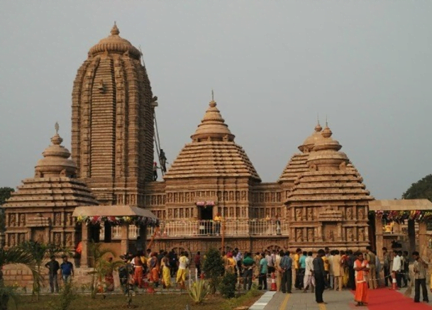 The Shree Jagannath Temple of Puri is an important Hindu temple dedicated to Lord Jagannath, a form of Vishnu, in Puri in the state of Odisha on the eastern coast of India.
The present temple was rebuilt from the 10th century onwards, on the site of an earlier temple, and begun by King Anantavarman Chodaganga Deva, first of the Eastern Ganga dynasty.
The Puri temple is famous for its Annual Ratha yatra, or chariot festival, in which the three principal deities are pulled on huge and elaborately decorated temple cars.

These gave their name to the English term Juggernaut.

Unlike the stone and metal icons found in most Hindu temples, the image of Jagannath is made of wood and is ceremoniously replaced every twelve or nineteen years by an exact replica.
Architecture of Jagannath temple: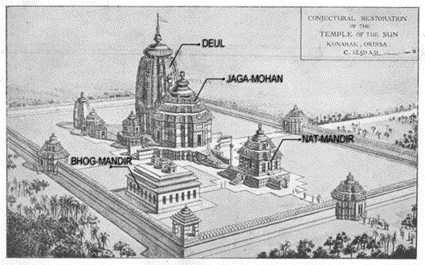 The temple is built in the Kalinga style of architecture, with the Pancharatha (Five chariots) type consisting of two anurathas, two konakas and one ratha.
Jagannath temple is a pancharatha with well-developed pagas.
'Gajasimhas' (elephant lions) carved in recesses of the pagas, the 'Jhampasimhas' (Jumping lions) are also placed properly.
The perfect pancharatha temple developed into a Nagara-rekha temple.
The temple is built on an elevated platform, as compared to Lingaraja temple and other temples belonging to this type.
This is the first temple in the history of Kalingaan temple architecture where all the chambers like Jagamohana, Bhogamandapa and Natyamandapa were built along with the main temple.
There are miniature shrines on the three outer sides of the main temple.
Source: Indian Express
Previous Year Questions
Q.1) The Prime Minister recently inaugurated the new Circuit House near Somnath Temple Veraval. Which of the following statements are correct regarding Somnath Temple? (2022)
Somnath Temple is one of the Jyotirlinga shrines.
A description of Somnath Temple was given by Al-Biruni.
Pran Pratishtha of Somnath Temple (installation of the present day temple) was done by President S. Radhakrishnan.
Select the correct answer using the code given below:
1 and 2 only
2 and 3 only
1 and 3 only
1,2 and 3
Q.2) With reference to Chausath Yogini Temple situated near Morena, consider the following statements:
It is a circular temple built during the reign of Kachchhapaghata Dynasty.
It is the only circular temple built in India.
It was meant to promote the Vaishnava cult in the region.
Its design has given rise to a popular belief that it was the inspiration behind the Indian Parliament building.
Which of the statements given above are correct? (2021)
1 and 2
2 and 3 only
1 and 4
2, 3 and 4
For a dedicated peer group, Motivation & Quick updates, Join our official telegram channel – https://t.me/IASbabaOfficialAccount
Subscribe to our YouTube Channel HERE to watch Explainer Videos, Strategy Sessions, Toppers Talks & many more…