Context: Maghi Mela has been celebrated in the city of Sri Muktsar Sahib in Punjab for centuries in memory of 40 Sikh warriors who were killed fighting the Mughals in the Battle of Khidrana in 1705.
About Maghi Mela: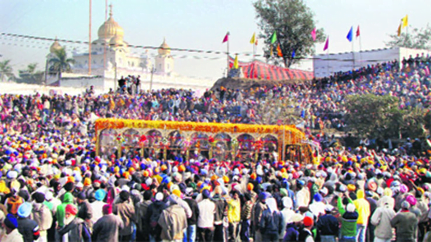 The Maghi fair is held to honour the memory of the forty Sikh warriors killed during the Battle of Muktsar in 1705.
It is held in the holy city of Sri Muktsar Sahib every year in January, or on the month of Magh according to the Nanakshahi calendar.
Guru Gobind Singh chose Maghi as one of the three festivals to be celebrated by Sikhs (the others are Baisakhi and Bandhi chor divas (Diwali).
Nanakshahi calendar was designed by Sikh scholar Pal Singh Purewal to replace the Bikrami calendar, to work out the dates of gurpurab and other festivals.
It is one of the most important festivals for Sikhs.
History of the battle:
Muktsar, originally called Khidrana, was named as Muktsar ("the pool of liberation").
These forty Sikhs, led by their leader Mahan Singh, had formally deserted Sri Guru Gobind Singh in the need of hour, and signed a written memorandum to the effect.
When Mai Bhago, heard of this cowardly act, she scolded the Singh's and inspired them refresh with spirit of bravery for which Sikhs are known.
Hence, the unit returned and joined the Guru who was already engaged in action at Khidrana.
All forty of them attained martyrdom.
The memorandum (bedawa) was torn down by the Guru himself just before Mahan Singh died.
Source: Indian Express
Previous Year Questions
Q.1) Consider the following pairs:
Site of Ashoka's major rock edicts            Location in the State of
Dhauli                                                           Odisha
Erragudi                                                 Andhra Pradesh
Jaugada                                                  Madhya Pradesh
Kalsi                                                             Karnataka
How many pairs given above are correctly matched? (2022)
Only one pair
Only two pairs
Only three pairs
All four pairs
Q.2) Consider the following statements:
21st February is declared to be International Mother Language Day by UNICEF.
The demand that Bangla has to be one of the national languages was raised in the Constituent Assembly of Pakistan.
Which of the above statements is/are correct? (2021)
1 only
2 only
Both 1 and 2
Neither 1 nor 2
For a dedicated peer group, Motivation & Quick updates, Join our official telegram channel – https://t.me/IASbabaOfficialAccount
Subscribe to our YouTube Channel HERE to watch Explainer Videos, Strategy Sessions, Toppers Talks & many more…