Context: Recently, a Report of the Department-related Parliamentary Standing Committee on Transport, Tourism and Culture was released.
National Tourism Day is celebrated across the country on January 25 every year to appreciate India's beauty and spread awareness about the importance of tourism and its impact on the economy.
This year's theme: for National Tourism Day is 'Rural and Community Centric Tourism'.
The central government is organizing the main event in Telangana's Pochampally village, a weavers' hamlet on the outskirts of Hyderabad.
Known for its famous hand-woven Ikat sarees, Pochampally was selected as one of the best tourism villages by the United Nations World Tourism Organization (UNWTO) in 2021.
Tourism sector in India
Travel and Tourism in India was the largest service industry: and was worth $234 bn in 2018.
According to The World Travel and Tourism Council (WTTC): the tourism industry in India generated $194 bn or 6.8% of India's GDP in 2019.
The tourism sector in India: is predicted to grow at an annual rate of 6.9% to $460 bn by 2028 which is 9.9% of GDP.
About National Tourism Policy: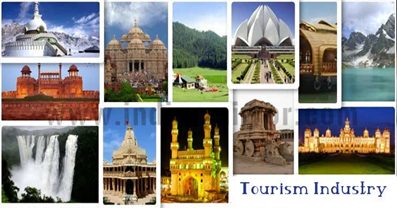 As per the draft National Tourism Policy, five key areas would be given significant focus in next 10 years that are:

green tourism
digital tourism
destination management
skilling the hospitality sector and
supporting tourism-related MSMEs.

It include 'perceptions related to safety and security', and weak engagement between the Centre and the states.
Government has also identified factors that hamper the growth of the tourism sector in the country.
It also mentions 'the menace of touts' and 'low standards of cleanliness and hygiene' as other factors that deter the industry from leveraging its full potential.
To promote investment in the tourism sector, draft mentions granting of industry status to the sector, along with formally granting infrastructure status to hotels.
The draft policy offers framework conditions to help this sector, especially in the wake of the pandemic.
Key recommendations of committee:
National Tourism Council (NTC):
Government should create National Tourism Council (NTC) on the model of GST council.
Aim: To give recommendations to the Central and State governments on various issues of the tourism sector and its stakeholders.
Tourism, Travel and Hospitality sector:
Spending Capex above Rs. 25 crores will reduce operating costs for hospitality players through subsidized rates of electricity and water charges, property tax, development tax etc.
It will also attract investments in the Sector.
It praises eight States Maharashtra, Gujarat, Madhya Pradesh, Kerala, Karnataka, Punjab, Rajasthan and Uttarakhand which have accorded industry status to hospitality projects.
Tourism in Concurrent List:

It recommended to include Tourism in concurrent list.
It will help in simplifying issues of the pandemic-hit Indian tourism sector since tourism is a multi-sectoral activity.

It raised concerns over delay in final UC (Utilization Certificate) submission in project.

It includes projects like "Infrastructure Development at Puri, Shree Jagannath Dham-Ramachandi-Prachi River front at Deuli under Mega Circuit" of the PRASHAD Scheme and Integrated Development of tourist circuit around specific themes (SWADESH DARSHAN) has been pending since 2015.

It recommends Ministry to identify the issues causing delay in payment of various expenditure items with the ITDC (India Trade Development Corporation).
Facts about India Tourism:
The country is home to 40 UNESCO heritage sites: The last site to be added to the World Heritage Site list is Dholavira, a Harappan city that is located in the city of Gujarat.

The country currently has 32 cultural sites, 7 natural sites, and one mixed property.

India's most organic state: The Himalayan state of Sikkim has come out as the most organic state in present day India. The state reportedly has some 47.3% under forest cover.
Highest Rail Bridge in the world: The country is home to the highest rail bridge in the world. The 1,315 m long Chenab Bridge is located in Jammu and Kashmir, and is 35 m higher than the Eiffel Tower.
One of the most untouched places on earth: India's North Sentinel Island is one of the most untouched places in the world. The island is home to the Sentinelese people, who have isolated themselves from the world.
The oldest fort in India: Himachal Pradesh's Kangra Fort is said to be the oldest in the country. It used to be home to royal treasures, and is said to have been built 3500 years ago.
Wildlife sanctuaries: The country has a total of 566 wildlife sanctuaries. Ranthambore National Park in Rajasthan is the largest wildlife sanctuary in the country.
Cleanest village in Asia: Mawlynnong located in the state of Meghalaya is ranked as the cleanest village in Asia.
Challenges Associated with Tourism sector in India:
The tourism industry has been heavily hit by the coronavirus disease (Covid-19) pandemic: The World Tourism Organization has said that tourist arrivals around the world are not expected to return to their pre-pandemic levels until 2024.
Fear of Uncertainty: Due to the spread of coronavirus and enforcement of social distancing norms peoples are fearing and unwillingness to come out from their home.
Lack of arrival of international tourists: International traveling was banned by most of the countries to control the spreading chain of coronavirus. Therefore, the Indian tourism sector got a smaller number of tourists as compared to earlier and no foreign exchange earnings.
Business Hurdles, Lack of Hygiene and Comfortable accommodation: During COVID-19, restrictions laid down by the government to control outstretch of coronavirus impacted on most tourists and tour operators to get adequate business.
Revenue loss during COVID-19: People are not ready to go outside of their home and they are not willing to take tours. Due to closure of tour destinations, monuments, heritage sites and lack of arrival of tourists the Indian tourism projected a revenue loss of Rs. 1.25 trillion.
Tour operators have shut down their business: the majority of registered and unregistered tour operators closed their operations in India; hence it affected much on profitability and productivity of the Indian tourism industry.
Lack of integrated tourism promotion: Promotional activities are barred due to the spread of COVID-19 and there is no benefit of promotion of tourism during COVID-19.
Loss of productivity and Profitability: Indian tourism industry was thoroughly put to a stop to their services. Therefore there is no productivity of the tourism activities and profitability.
Government of India's recent Initiatives:
Development of tourist's circuit around specific themes (SWADESH DARSHAN):

Ministry should take the advantage of the regional, national and international linkages developed in North Eastern States so far in the tourism front.
All the states and UT/s should be given the exact same amount as per its budgeted allocation.

The Tourism Ministry has launched the Incredible India Tourist Facilitator Certification (IITFC) portal.

It is an online programme where one can learn about tourism at their own time, space, path and pace.
The successful completion of this programme would enable the learner to become a Certified Tourist Facilitator of Ministry of Tourism, government of India.

Facilitative visa regime is a prerequisite for increasing inbound tourism.

Ministry of Tourism takes the initiative with Ministry of Home Affairs and Ministry of External Affairs for achieving the same.

The "Incredible India 2.0" Campaign of the Ministry marks a shift from the generic promotions being undertaken across the world to market specific promotional plans and content creation.
Recently, in order to promote night tourism, the Culture Ministry has decided to open 10 historical monuments till 9 PM for common visitors across the country.

Further, it urged all the states and UTs to open their important monuments till late night for visitors.

Government promotes states to organize surveys in their respective states to understand how the foreign tourists perceive India and should work towards removing negative impressions.
This will lead to change the perception of India in the mind of foreign tourists which will yield us good results for promotion of tourism.
Way Forward:
As a travel destination, few other nations can offer the diversity of products and experiences found in India. The travel and tourism industry offers significant opportunity for fulfilment of key national growth imperatives including employment generation across all regions of the country, and growth in the sector can contribute to overall economic development in the country. However, tourism in India, though growing consistently, is yet to realize its full potential due to several challenges that plagued the sector. Alleviation of these challenges will be essential for the industry to realize its full potential.
Source: The Hindu
For a dedicated peer group, Motivation & Quick updates, Join our official telegram channel – https://t.me/IASbabaOfficialAccount
Subscribe to our YouTube Channel HERE to watch Explainer Videos, Strategy Sessions, Toppers Talks & many more…