Context: India's significant border challenge is that it has contested borders with Pakistan and China and both of them have a strategic nexus directed against India.
About India's borders: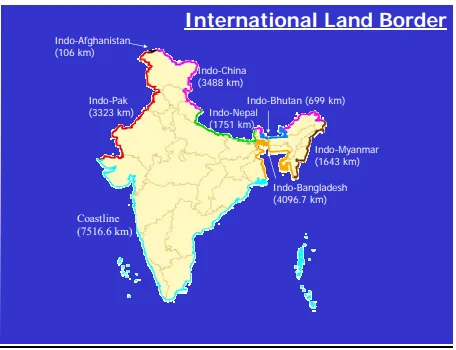 India's borders are unique due to the variety of terrains through which these borders pass, namely deserts, mountains, glaciers and forests.
It is obvious that managing such large borders in diverse terrain conditions poses myriad challenges.
India shares borders with the countries as follows:
Bangladesh:70 kms running along West Bengal, Assam, Meghalaya, Tripura and Mizoram.
Pakistan: 3323 kms running along Gujarat, Rajasthan, Punjab, Union Territory of Jammu & Kashmir and Union Territory of Ladakh.
China: 3488 kms running along Arunachal Pradesh, Sikkim, Uttarakhand, Himachal Pradesh and Union Territory of Ladakh.
Nepal: 1751 kms running along Uttarakhand, Uttar Pradesh, Bihar, West Bengal and Sikkim.
Bhutan: 699 kms running along Sikkim, West Bengal, Assam and Arunachal Pradesh.
Myanmar: 1643 kms running along Arunachal Pradesh, Nagaland, Manipur and Mizoram.
Afghanistan: 106 kms running along Union Territory of Ladakh
India's Border disputes
With Pakistan:
On the borders:

Barely two months after Independence, Pakistani fighters invaded Jammu and Kashmir, leading to the first of four wars the two countries have since fought.
The Kashmir region is often dubbed as one of the most militarized places in the world.
POK is Pakistan Occupied Kashmir which refers to the region in Kashmir which is under control of Pakistan.

Issue of Drugs:

Drugs smuggling from Pakistan is another major challenge for our paramilitary forces and state police.
Punjab, a strategic border state, has been the target of drug smuggling for many years now.

Terrorism:

Terrorism emanating from territories under Pakistan's control remains a core concern in bilateral relations.
With China:
It is along the LAC with China that India faces the toughest border challenge.
India has disputed borders with China in Ladakh, Middle Sector, and in Arunachal Pradesh.
Despite many levels of talks, very little progress has been made to resolve the dispute.
China is using the dispute against India, whom it sees as its competitor in Asia, to moderate its strategic behaviour and advance its national goals and aspirations.
China-Pakistan Economic Corridor (CPEC):
The CPEC is a collection of infrastructure projects that have been under construction throughout Pakistan beginning 2013.
The CPEC is part of China's larger Belt and Road Initiative.
India has protested the project from its inception since it passes through large chunks of Pakistan-occupied Kashmir.
India-Nepal and India- Bhutan Border Management Challenges
The region is comparatively peaceful and the matters of security in the region are handled by the SSB (Sashastra Seema Bal).

However, peaceful and open borders come with several challenges.

Both Nepal and Bhutan are landlocked. The border posts with India serve as their entry point for essential supplies.
Any use of force can seriously hamper bilateral relations.
The disputed areas with Nepal involve the Kalapani and the Susta regions.
India-Bangladesh Border Management Challenges
The 1971 war separated the east Pakistan region and resulted in the creation of Bangladesh.
The region is manned by the Border Security Force.
This border faces a severe refugee crisis.

The influx of Rohingya minorities from West Bengal is a cause of concern.

Malaria is another concern that the on-ground troops face.

The marshy swamps are nearly inhospitable and infested with anopheles' mosquitoes.

Further, the rugged topography and the constantly shifting course of the river Brahmaputra create security concerns.
Cattle smuggling has also been rampant along the border, there were instances when security forces had to use legitimate force to cool off the situation and apprehend the culprits.
India's chicken neck corridor at Siliguri in west Bengal acts as the only source of connectivity between mainland India and the Northeastern region through the land.
This narrow strip of land is thus strategically important and hence security forces have to deploy a considerable amount of force to ensure the security of the region.
India's strategy to tackle its border disputes
Deployment of troops & surveillance:
The Indian Army and the BSF are deployed in multiple layers to form an anti-infiltration grid.
The border fence and deployment of other surveillance devices has helped in reducing infiltrations.
The surgical strikes launched by our armed forces in the wake of terrorist attacks supported by Pakistan's ISI have succeeded in sending the message of firm resolve to deal with the menace of terrorism and proxy wars.
Construction activities: As part of the strategy to secure the borders as also to create infrastructure in the border areas of the country, several initiatives have been undertaken by the Border Management Division. These include:
Construction of fence, floodlighting, roads, Border Out Posts (BOPs), Company Operating Bases (COBs) and
Deployment of technological solutions along the India-Pakistan, India-Bangladesh, India-China, India-Nepal, India-Bhutan and India-Myanmar borders.
Other:
Projects like Trans-Arunachal Highway will help in mounting an effective and speedy response against an aggression by the China.
The Border Roads Organisation (BRO) completed more than 100 projects in border areas, the majority of which were close to the border with China.
India is speeding up work on the Nimu-Padam-Darcha axis which is going to help troops move to Ladakh from other parts of the country.
However, this will take time; until then we have to be prepared to deal with its aggression along LAC in an 'Armed Coexistence' scenario.
Need for northeast settle disputes:
The maximum area of ​​the Northeast is surrounded by countries like China, Myanmar, Bangladesh, from which India has a dispute.

India is connected to the northeast by the Siliguri corridor, a very narrow area.
Thus, North East including Siliguri is a very strategic region for India. Therefore maintaining peace is very important aspect in the region.

The people of the Northeast are extremely isolated and backward from pre- independence.

After independence, disputes need to be resolved to reduce the trust deficit of the people there, to develop and establish peace there.

It is essential to achieve the true essence of fraternity described in the Constitution of India.
Peace in the North-East will save India's resources which can be used for international border management and welfare projects.
Recommendations For better border management:
The principle of 'Single Point Control' Or "One-Force-One-Border" principle must be followed if the borders are to be effectively managed. Divided responsibilities never result in effective control
The advances in surveillance technology, can help to maintain a constant vigil along the LAC and make it possible to reduce physical deployment as and when modern surveillance assets can be provided on a regular basis to the formations deployed forward.
Similarly, the availability of a larger number of helicopter units will enhance the quality of aerial surveillance and the ability to move troops to quickly occupy defensive positions when it becomes necessary.
The recent nomination of the Central Reserve Police Force (CRPF) as the national-level counterinsurgency force should enable the other central para-military forces (CPMFs) like BSF and ITBP to return to their primary role of better border management.
It is also recommended that all Para-military forces managing unsettled borders should operate directly under the control of the army.
There should be lateral induction from the army to the para-military forces so as to enhance their operational effectiveness.
External threats to India's security are not the only border management issue dealt with at present by the national security apparatus.
In recent past, India's rate of growth has far outpaced that of most of its neighbors and this has generated problems like mass migrations into India.
Way Forward:
Government should resolve pending border disputes with the neighboring countries, as they later become matters of national-security threat. The border-guarding force should not be distracted from its principal task and deployed for other internal security duties. For  example ITBP, a force specifically trained for India- China border should not be used in the Naxalite-infested areas.
It is felt that the responsibility for unsettled and disputed borders, such as the LoC in J&K and the LAC on the Indo-Tibetan border, should be that of the Indian Army while the BSF should be responsible for all settled borders. Developing Infrastructure-accelerated development of infrastructure along the border, especially to wean the border population from illegal activities.
Source:  Indian Express
For a dedicated peer group, Motivation & Quick updates, Join our official telegram channel – https://t.me/IASbabaOfficialAccount
Subscribe to our YouTube Channel HERE to watch Explainer Videos, Strategy Sessions, Toppers Talks & many more…