---
(PRELIMS & MAINS Focus)
---
Follow on Public Offering
Syllabus
Context: Adani Enterprises recently said it has decided not to go ahead with its ₹20,000-crore follow-on public offer (FPO) and will return the proceeds to investors.
About Follow on Public Offering:
FPO is a follow up to the initial public offering.
It is also known as a follow-on public offer which is the issuance of shares after the company has been listed on the stock exchange.

In other words, an FPO is an additional issuance of shares while an IPO is simply the first issuance.

Companies usually announce FPOs to raise equity or reduce debt.
Types Of FPO
Diluted FPO:

There is dilution in the ownership of existing shareholders.
Here, the company decides to issue new shares to the public which increases the total number of shares outstanding.
When there is an increase in the number of shares, the ownership percentage of existing shares decreases since newly issued shares will also represent a certain proportion of ownership in the company.

Non-Diluted FPO:

There is no dilution in ownership of existing shareholders because no new shares are issued.
The shares which are offered to the public are shares that are held by non-public shareholders.
Usually, these shareholders are Promoters, Directors of the company, or Pre-IPO investors.
Difference between Initial Public O vs FPO
Meaning: IPO is the first issuance of shares by a company while an FPO is the issuance of shares by a company so they can raise additional capital after its IPO.
Price: In an IPO, the price is either fixed or variable as a range, while in an FPO the price is dependent upon the number of shares as they increase or decrease and is market-driven.
Share Capital: In an IPO the share capital increases because the company decides to issue fresh capital to the public for its listing.
Value: IPOs are oftentimes more expensive to carry out than FPOs.

The reason FPOs are cheaper is that the value of the company listing its shares is getting diluted further.

Risk: IPOs are considered to be riskier than FPOs.
Status of the company: A company that is unlisted issues an IPO while a company that is already listed issues an FPO.
Source: BusinessToday
Previous Year Questions
Q.1) What is the importance of the term "Interest Coverage Ratio" of a firm in India?
It helps in understanding the present risk of a firm that a bank is going to give a loan to.
It helps in evaluating the emerging risk of a firm that a bank is going to give a loan to.
The higher a borrowing firm's level of Interest Coverage Ratio, the worse is its ability to service its debt.
Select the correct answer using the code given below:
1 and 2 only
2 only
1 and 3 only
1, 2 and 3
Q.2) Which of the following is issued by registered foreign portfolio investors to overseas investors who want to be part of the Indian stock market without registering themselves directly?
Certificate of Deposit
Commercial Paper
Promissory Note
Participatory Note
---
Biotin
Syllabus
Prelims – Science and Technology
Context: Recently dermatologists in Delhi have cautioned users that there is no scientific evidence to prove usage of biotin for healthy hair and nail growth.
About Biotin (Vitamin B7):
It is a water-soluble vitamin that helps the body metabolize fats, carbohydrates, and protein.
Water-soluble vitamins are not stored in the body, so daily intake is necessary.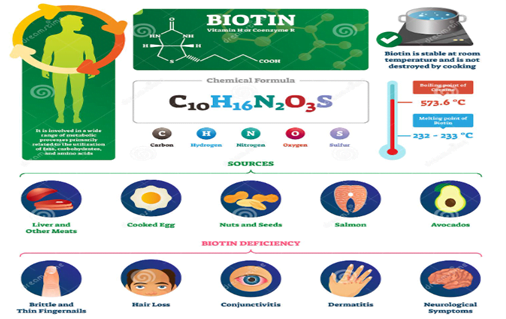 The human cells cannot synthesize vitamin B7.

However, bacteria in the body can produce biotin, and the vitamin is present in numerous foods.

Sources of Biotin: Red meat, eggs, seeds, and nuts.
Deficiency of Biotin can cause: Hair loss, scaly, red rash around the eyes, nose, mouth, and genitals, Depression, Lethargy, Hallucinations, loss of control of bodily movements, known as ataxia, Weakened immune function, Increased risk of bacterial and fungal infections
---
Lab Grown Diamonds
Syllabus
Prelims – Science and Technology
Context: During her Budget speech, Finance Minister Nirmala Sitharaman announced the government's move to focus on lab-grown diamonds.
About Lab Grown Diamonds (LDG):
Lab grown diamonds are diamonds that are produced using specific technology which mimics the geological processes that grow natural diamonds.
They are not the same as diamond simulants.
LDGs are chemically, physically and optically diamond and thus are difficult to identify as lab grown.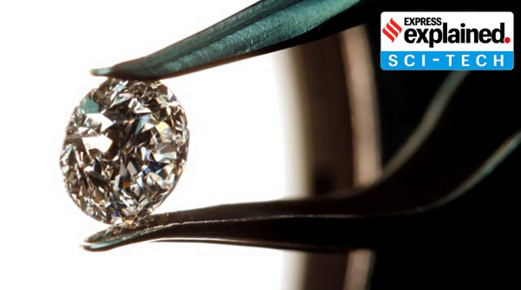 While materials such as Moissanite, Cubic Zirconia (CZ), White Sapphire, YAG, are diamond simulants that simply attempt to look like a diamond, they lack the sparkle and durability of a diamond and are thus easily identifiable.
However, differentiating between an LDG and an Earth Mined Diamond is hard, with advanced equipment required for the purpose.
Uses of LGDs:
LDGs are most often used for industrial purposes, in machines and tools.
Their hardness and extra strength make them ideal for use as cutters.
Pure synthetic diamonds have high thermal conductivity, but negligible electrical conductivity.

This combination is invaluable for electronics where such diamonds can be used as a heat spreader for high-power laser diodes, laser arrays and high-power transistors.

As the Earth's reserves of natural diamonds are depleted, LDGs are slowly replacing the prized gemstone in the jewellery industry.
Source:  Indian Express
Previous Year Questions
Q.1) Which one of the following is the context in which the term "qubit" is mentioned? (2022)
Cloud Services
Quantum Computing
Visible Light Communication Technologies
Wireless Communication Technologies
Q.2) Consider the following statements:
Biofilms can form on medical implants within human tissues.
Biofilms can form on food and food processing surfaces.
Biofilms can exhibit antibiotic resistance.
Which of the statements given above are correct? (2022)
1 and 2 only
2 and 3 only
1 and 3 only
1, 2 and 3
---
Environmental Information, Awareness, Capacity Building and Livelihood Programme (EIACP)
Syllabus
Prelims – Environment and Ecology
Context: Recently, the Environmental Information, Awareness, Capacity Building and Livelihood Programme (EIACP) organised a 'National workshop on LiFE' in association with National Museum of Natural History, a subordinate office of Ministry of Environment, Forest and Climate Change.
About Environmental Information, Awareness, Capacity Building and Livelihood Programme (EIACP):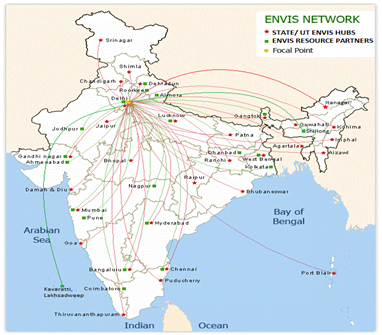 Environmental Information System (ENVIS) was renamed as EIACP (Environmental Information, Awareness, Capacity Building and Livelihood Programme).
ENVIS came into existence as a plan programme in 1983.
It serves as a single-stop web-enabled repository of comprehensive environmental information with collection, collation, storage, retrieval and dissemination of the same through a nationwide network of ENVIS Hubs and ENVIS Resource Partners (RPs).
About National Museum of Natural History:
The National Museum of Natural History (NMNH), New Delhi was established in 1972.
The museum functions under the Ministry of Environment, Forests and Climate Change, Government of India.
It is an institution devoted to environmental education, derives its strength principally from theme-based exhibition galleries, experiential resource centers and Out-Reach Activities, with the intention to depict the country's rich natural heritage and natural history (Geology, Botany and Zoology).
Objectives of NMNH:

To develop the NMNH in the country's capital to achieve the highest level of quality to promote environmental education on a national level
To develop Regional Offices (Regional Museum of Natural History) in various regions of the country in order to extend its activities at the regional/local levels
To develop museum-based educational projects at the level so as to help school curriculum on environmental education
To develop environmental education resource materials (such as audio-visual aids, low-cost teaching aids, school loan kits, etc.) to promote environmental education
To undertake research (musicological and collection based) consonant with the scope and resources of the museum
To extend professional help to other agencies/organizations regarding natural history collections/museums
To develop national and international cooperation/collaboration with other organizations/professional bodies/museums related to natural history/environmental education.
Source: PIB
Previous Year Questions
Q,1) Consider the following statements:
The Climate Group is an international non-profit organisation that drives climate action by building large networks and runs them.
The International Energy Agency in partnership with the Climate Group launched a global initiative "EP100".
EP100 brings together leading companies committed to driving innovation in energy efficiency and increasing competitiveness while delivering on emission reduction goals.
Some Indian companies are members of EP100.
The International Energy Agency is the Secretariat to the "Under2 Coalition".
Which of the statements given above are correct? (2022)
1,2, 4 and 5
1,3 and 4 only
2,3 and 5 only
1,2, 3, 4 and 5
Q.2) Statement 1:
The United Nations Capital Development Fund (UNCDF) and the Arbor Day Foundation have recently recognized Hyderabad as 2020 Tree City of the World
Statement 2:
Hyderabad was selected for recognition for a year following its commitment to grow and maintain the Urban forests.
Which one of the following is correct in respect of the above statements? (2021)
Both Statement 1 and Statement 2 are correct and Statement 2 is the correct explanation for Statement 1
Both Statement 1 and Statement 2 are correct but Statement 2 is not the correct explanation for Statement 1.
Statement 1 is correct but Statement 2 is not correct.
Statement 1 is not correct but Statement 2 is correct.
---
Grand Slam
Syllabus
Context: Recently, Novak Djokovic win 10th Australian Open and 22nd grand slam title.
About Grand Slam:
It is the achievement of winning all 4 most important annual tennis events played in 4 countries.
It includes Australian Open in mid-January, the French Open from around late May to early June, Wimbledon in June–July, and the US Open in August–September.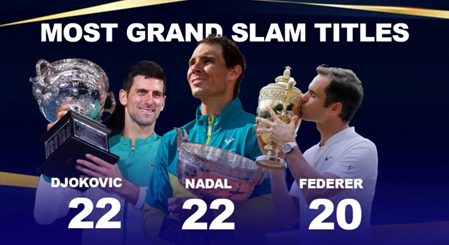 They offer the most ranking points, prize money, public and media attention, the greatest strength and size of field, and greater number of "best of" sets for men, which is 5.
Australian and United States tournaments are played on hard courts while French on clay, and Wimbledon on grass courts.
Source:  Indian Express
Previous Year Questions
Q.1) Consider the following statements in respect of the Laureus World Sports Award which was instituted in the year 2000:
American golfer Tiger Woods was the first winner of this award
The award was received by Formula One players so far.
Roger Federer received this award the maximum number of times compared to others.
Which of the above statements is/are correct? (2021)
1 and 2 only
2 and 3 only
1 and 3 only
1, 2 and 3
Q.2) Consider the following statements in respect of the 32nd Summer Olympics:
The official motto for this Olympics is 'A New World'.
Sport Climbing, Surfing, Skateboarding, Karate and Baseball are included in this Olympics.
Which of the above statements is/are correct? (2021)
1 only
2 only
Both 1 and 2
Neither 1 and 2
Q.3) Consider the following statements in respect of the ICC World Test Championship:
The finalists were decided by the number of matches they won.
New Zealand was ranked ahead of England because it won more matches than England.
Which of the above statements is/are correct? (2021)
1 only
2 only
Both 1 and 2
Neither 1 and 2
---
Privilege Motion
Syllabus
Prelims – Polity and Governance
Context: A breach of privilege motion moved against senior BJP MLA and Deputy Leader of the Opposition led to an uproar in the Rajasthan Assembly recently, with Speaker announcing that a decision on the motion will be taken shortly.
About Privilege Motion:
All Members of Parliament (MPs) enjoy rights and immunities, individually and collectively, so that they can discharge their duties and functions effectively.
Any instance when these rights and immunities are disregarded by any member of Lok Sabha or Rajya Sabha is an offence, called 'breach of privilege', which is punishable under the Laws of Parliament.
Article 105 of the Constitution expressly mentions two privileges, that is, freedom of speech in Parliament and right of publication of its proceedings.
Apart from the privileges as specified in the Constitution, the Code of Civil Procedure, 1908, provides for freedom from arrest and detention of members under civil process during the continuance of the meeting of the House or of a committee thereof and forty days before its commencement and forty days after its conclusion.
Applicability:
The Constitution also extends the parliamentary privileges to those persons who are entitled to speak and take part in the proceedings of a House of Parliament or any of its committee
These also include the Attorney General of India.
The parliamentary privileges do not extend to the President who is also an integral part of the Parliament.

Article 361 of the Constitution provides for privileges for the President.
Role of the Lok Sabha Speaker and Rajya Sabha Chairperson:
The speaker of Lok Sabha and the Chairperson of Rajya Sabha are the first levels of scrutiny of a privilege motion in the two Houses of Parliament.
They can either take a decision on the privilege motion or can also refer it to the privileges committee of Parliament.
Once the Speaker or the House Chairperson gives consent under Rule 222, the concerned member is allowed to explain himself or herself.
Rules Governing Privilege:
Rule No 222 in Chapter 20 of the Lok Sabha Rule Book and correspondingly Rule 187 in Chapter 16 of the Rajya Sabha rulebook governs privilege.
Rules say that a member may, with the consent of the Speaker or the Chairperson, raise a question involving a breach of privilege either of a member or of the House or a committee thereof.
Privilege Committee:
The Speaker of Lok Sabha nominates a committee of privileges consisting of 15 members of parliament from each party.
While the Rajya Sabha committee has 10 members.
The Speaker may also allow a half-hour debate on the report by the committee before passing orders or directing that the report be tabled before the House.
Source:  The Hindu
Previous Year Question
Q.1) Consider the following statements:
A bill amending the Constitution requires a prior recommendation of the President of India.
When a Constitution Amendment Bill is presented to the President of India, it is obligatory for the President of India to give his/her assent.
A Constitution Amendment Bill must be passed by both the Lok Sabha and Rajya Sabha by a special majority and there is no provision for joint sitting.
Which of the statements given above are correct? (2022)
1 and 2 only
2 and 3 only
1 and 3 only
1, 2 and 3
---
PM CARES Fund
Syllabus
PM CARES Fund
About PM CARES Fund:
Prime Minister's Citizen Assistance and Relief in Emergency Situations Fund (PM CARES Fund) is set up as a public charitable trust  under the Registration Act, 1908 in 2020.
It is not created under the Constitution or any law made by the Parliament or the state
The fund is administered on an honorary basis by Additional Secretary/ Joint Secretary, in charge of the PM CARES Fund in the PMO.
The Prime Minister's Office provides administrative and secretarial support to the Trustees .
The fund consists entirely of voluntary contributions from individuals/organizations and does not get any budgetary support.
Donations to PM CARES Fund would qualify for 80G benefits for 100% exemption under the Income Tax Act, 1961.
Donations to PM CARES Fund will also qualify to be counted as Corporate Social Responsibility (CSR) expenditure under the Companies Act, 2013
PM CARES Fund has also got exemption under the FCRA and a separate account for receiving foreign donations has been opened.
PM CARES Fund accepts donations and contributions from individuals and organizations based in foreign countries.
This is consistent with respect to Prime Minister's National Relief Fund (PMNRF). PMNRF has also received foreign contributions as a public trust since 2011.
PM CARES Fund is audited by an independent auditor
The Head Office of the Fund is Prime Minister's Office, New Delhi.
Constitution of the Trust :
Prime Minister is the ex-officio Chairman of the PM CARES Fund
Minister of Defence, Minister of Home Affairs and Minister of Finance, Government of India are ex-officio Trustees of the Fund.
Any person appointed a Trustee shall act in a pro bono capacity.
Objectives:
To undertake and support relief or assistance of any kind relating to a public health emergency or any other kind of emergency, calamity or distress, either man-made or natural,
creation or upgradation of healthcare or pharmaceutical facilities, other necessary infrastructure, funding relevant research or any other type of support.
To render financial assistance, provide grants of payments of money or take such other steps as may be deemed necessary by the Board of Trustees to the affected population.
Source: Indian express
---
Universal Periodic Review
Syllabus
Prelims – International relations
In News: Sri Lanka has concluded its Review under the 4th Cycle of the Universal Periodic Review (UPR) in Geneva
Universal Periodic Review
The Universal Periodic Review was established by the General Assembly of the United Nations (UNGA) in 2006
It is a State-driven voluntary peer-review process which provides the opportunity for each State to declare the steps taken at the national level to improve the human rights situation at that State and to fulfil their human rights obligations.
The goal of UPR is the improvement of the human rights situation in every country
The UPR also aims to provide technical assistance to States and enhance their capacity to deal effectively with human rights challenges and to share best practices in the field of human rights among States and other stakeholders.
The reviews are conducted by the UPR Working Group which consists of the 47 members of the Council
Any UN Member State can take part in the discussion/dialogue with the reviewed States.
Each State review is assisted by groups of three States, known as "troikas", who serve as rapporteurs.
The selection of the troikas for each State is done through a drawing of lots following elections for the Council membership in the General Assembly.
Sources: Newsonair
---
MISHTI scheme
Syllabus
In News: In the Union Budget 2023-24 presented on Wednesday (February 1), Finance Minister Nirmala Sitharaman announced a new MISHTI scheme.
MISHTI scheme
Building on India's success in afforestation, 'Mangrove Initiative for Shoreline Habitats & Tangible Incomes', MISHTI, will be taken up for mangrove plantation along the coastline and on salt pan lands, wherever feasible, through convergence between MGNREGS, CAMPA Fund and other sources.
Why mangroves?
Mangrove forests — consisting of trees and shrub that live in intertidal water in coastal areas — host diverse marine life.
They also support a rich food web, with molluscs and algae-filled substrate acting as a breeding ground for small fish, mud crabs and shrimps, thus providing a livelihood to local artisanal fishers.
They act as effective carbon stores, holding up to four times the amount of carbon as other forested ecosystems
Mangrove forests capture vast amounts of carbon dioxide from the atmosphere and their preservation can both aid in removal of carbon from the atmosphere and prevent the release of the same upon their destruction.
Mangrove Alliance for Climate (MAC)
Launched at the 27th session of Conference of Parties (COP27) UN climate summit, with India as a partner.
An initiative led by the United Arab Emirates (UAE) and Indonesia, the Mangrove Alliance for Climate (MAC) includes India, Sri Lanka, Australia, Japan, and Spain.
It seeks to educate and spread awareness worldwide on the role of mangroves in curbing global warming and its potential as a solution for climate change.
The current state of the mangroves
South Asia houses some of the most extensive areas of mangroves globally, while Indonesia hosts one-fifth of the overall amount.
India holds around 3 per cent of South Asia's mangrove population.
Besides the Sundarbans in West Bengal, the Andamans region, the Kachchh and Jamnagar areas in Gujarat too have substantial mangrove cover.
Source: Indian express
---
Agriculture Infrastructure Fund (AIF)
Syllabus
In News: On the occasion of India's presidency of the G-20, through the theme 'One Earth, One Family, One Future', a one-day workshop on Agriculture Infrastructure Fund (AIF) and Madhya Pradesh Farm Gate App is being organized with the aim of encouraging the sense of global unity and increasing the participation of women in the field of agriculture.
Representatives of NABARD and APEDA will provide information about various schemes
Agriculture Infrastructure Fund (AIF)
Agriculture Infra Fund (AIF) is a financing facility launched in 2020 for creation of post-harvest management infrastructure and community farm assets.
Under this scheme, Rs 1 lakh crore is to be disbursed by financial year 2025-26 and the interest subvention and credit guarantee assistance will be given till the year 2032-33.
It gives 3% interest subvention, credit guarantee support through CGTMSE for loan of up to Rs.2 crore and facility of convergence with other Central and State Govt. Scheme
AIF is providing all around financial support to the farmers, Agri-entrepreneurs, farmer groups like Farmer Producer Organisations (FPOs), Self Help Groups (SHGs),  Joint Liability Groups (JLGs) etc. and many others to create post-harvest management infrastructure and build community farming asset throughout the country.
NABARD
NABARD came into existence in 1982 by transferring the agricultural credit functions of RBI and refinance functions of the then Agricultural Refinance and Development Corporation (ARDC).
Consequent to the revision in the composition of share capital between Government of India and RBI, NABARD today is fully owned by Government of India.
It is an apex regulatory body for overall regulation of regional rural banks and apex cooperative banks in India.
It is under the jurisdiction of Ministry of Finance, Government of India.
The bank has been entrusted with "matters concerning policy, planning, and operations in the field of credit for agriculture and other economic activities in rural areas in India".
NABARD is active in developing and implementing financial inclusion.
The Agricultural and Processed Food Products Export Development Authority (APEDA)
It is a statutory body, established by the Government of India under the Agricultural and Processed Food Products Export Development Authority Act passed by the Parliament in 1985.
The Authority replaced the Processed Food Export Promotion Council (PFEPC).
Functions
Development of industries relating to the scheduled products for export by way of providing financial assistance or otherwise for undertaking surveys and feasibility studies, participation in enquiry capital through joint ventures and other reliefs and subsidy schemes;
Registration of persons as exporters of the scheduled products on payment of such fees as may be prescribed;
Fixing of standards and specifications for the scheduled products for the purpose of exports;
Carrying out inspection of meat and meat products in slaughter houses, processing plants, storage premises, conveyances, or other places where such products are kept or handled for the purpose of ensuring the quality of such products;
Improving of packaging of the Scheduled products;
Improving of marketing of the Scheduled products outside India;
Training in various aspects of the industries connected with the scheduled products;
Source PIB
Previous Year Question
Q1) With reference to 'National Investment and Infrastructure Fund', which of the following statements is/are correct?
It is an organ of NITI Aayog.
It has a corpus of Rs. 4, 00,000 crore at present.
Select the correct answer using the code given below:
1 only
2 only
Both 1 and 2
Neither 1 nor 2
---
Urban farming
Syllabus
Mains – GS 3 Agriculture, GS1 Urbanisation
Context:
A new draft policy by Delhi-based research non-profit People's Resource Centre, says some 60 per cent of Delhi's demand for meat is fulfilled by city-grown produce, as is 25 per cent of its milk and 15 per cent of its vegetable needs.
Yet policies on land use and farming in the National Capital do not acknowledge the role of cultivation and distribution of food in urban areas
India is rapidly urbanising and is estimated to host 50 per cent of its population in cities by 2050.  Hence, there needs to be increased focus on urban farming
The "Draft Citizen's Policy for Urban Agriculture in Delhi"
It was submitted to the Delhi government in 2022
It aims to provide a holistic framework for urban farming.
It recommends building on existing practices, promoting residential and community farming through rooftop and kitchen gardens, allocating vacant land for agricultural use, creating a market, developing policies for animal rearing and spreading awareness.
These recommendations are crucial to ensure food security for urban communities.
Urban agriculture

Urban and peri-urban agriculture (UPA) can be defined as practices that yield food and other outputs through agricultural production and related processes (transformation, distribution, marketing, recycling) taking place on land and other spaces within cities and surrounding regions.
It involves urban and peri-urban actors, communities, methods, places, policies, institutions, systems, ecologies and economies, largely using and regenerating local resources to meet changing needs of local populations while serving multiple goals and functions.
Need and Significance
Rapid urbanisation, population explosion and climate change increases the risk of food shortage – A 2017 study published in the International Journal on Emerging Technologies.
50 per cent of women and children in urban areas are anaemic due to lack of adequate nutrition – 2010 report by M S Swaminathan Research Foundation, Chennai. Both studies recommend urban agriculture
Globally, in 2020, the UN Food and Agriculture Organization acknowledged that urban and peri urban farming can contribute to local food and nutritional needs, enable jobs and reduce poverty.
Our cities already suffer from high population density, unaffordable housing, improper waste disposal, water scarcity most of the year and flooding during the rains, pollution and attendant illnesses, food and nutritional insecurity and urban poverty, among others.
Indian scenario
Noting the critical need for a paradigm shift in urban planning, 2022-23 budget speech announced the decision to set up a high-level committee to steer the required changes in urban policy, planning, capacity building and governance.
Given the current context and future exigencies, this presents an opportune moment to critically engage with urban land-use planning (ULP), especially urban and peri-urban agriculture (UPA), as one of the essential elements of sustainable urbanisation.
In 2008, Pune's civic administration launched a city farming project to train and encourage people to take up farming on allocated land.
Kerela had been food dependent until 2012 when the state government launched a vegetable development programme to encourage gardening in houses, schools, government, and private institutions.
According to Kerala State Planning Board, vegetable production rose from 825,000 tonnes in 2011-12 to 1.3 million tonnes in 2014-15.
Similarly, in 2014, the Tamil Nadu government introduced a "do-it-yourself" kit for city dwellers to grow vegetables on rooftops, houses and apartment buildings under its Urban Horticulture Development Scheme.
Since 2021, Bihar encourages terrace gardening in five smart cities through subsidy for input cost.
Challenges
Absence in Planning – Agriculture, mostly associated with rural practice, hardly finds a place in urban planning guidelines. For instance, India's Urban and Regional Development Plans Formulations and Implementation (URDPFI) guidelines mention agriculture while preparing city plan
Policy lacunae – The recently released draft Master Plan of Delhi for 2041, does not acknowledge the role of the practice. It aims to divide 8,000 hectares of land along the Yamuna into two sub-zones and restrict human activity or settlement in areas directly adjacent to the river.
Rapid development is a hindrance.
Citing the example of Jaunti village in Delhi, where the Green Revolution began – It has become an 'urban village', making its land non-agricultural.
Farmers cannot avail benefits under any agricultural schemes such as crop insurance.
Environmental degradation – Excessive use of chemical fertilisers and pesticides in urban farms can lower produce and soil quality.
Scalability – Kitchen gardening or small-scale community farming cannot sustain the large population, but can act as a cushion to protect urban residents from inflation, vulnerabilities of weather or crises such as COVID-19
Suggestion for future
Integration is key – While such initiatives are welcome, their impact cannot be expected to be widespread without a strong policy for urban farming. For instance, Pune's 2008 initiative failed to take off due to poor interest from people and the government.
Viability of urban agriculture.
Farming in cramped urban spaces marred by water scarcity and pollution is not easy.
A 2016 paper titled Future of Urban Agriculture in India by the Hyderabad-based Institute for Resource Analysis and Policy mentions that in Delhi, Hyderabad, Ahmedabad and Chennai, wastewater is directly or indirectly used for urban farming.
Hydroponics, a method of soilless farming that uses nutrient solutions to sustain plants, offers a cleaner approach.
Compared to commercial farming, hydroponics requires 90 per cent lesser water, which can be reused. One can grow more plants in the space given," she says. However, she admits that markets for such initiatives are still niche and at a nascent stage.
Prioritise estimation of waste management capacity, build infrastructure for it and regulate industrial installations to this capacity.
 Adequate political will for financial inputs and enforcement of regulations will be essential for often fund-starved urban administrations and for curbing violations of environmental norms.
International best practises
As per World Economic Forum informs that Singapore is already producing almost 10 per cent of its food through rooftop farming while conventional farming is done only on 1 per cent of its land.
Public spaces are landscaped to grow vegetables and fruits in raised beds, containers or vertical frames. These, besides generating income, also extend positive externalities to the neighbourhood through clean and green environment, nutrition and cultural connect
To promote urban farming, governments must recognise informal practices and link them with agricultural schemes.
Way forward;
It is an appropriate time to introspect and transform the way we produce and consume.
With climate change, there is a greater need for localising nourishment of humans to prevent starvation and overcome nutritional deficiency
Apart from governments, citizens and professionals from the field of architecture, planning, agriculture, social sciences and private developers need to cross-learn and co-create productive green urbanism for a resilient future.
Source: DTE
---
Practice MCQs
Daily Practice MCQs
Q.1) Recently in news, MISHTI scheme is related to which of the following
Upliftment of marginalised sections like street vendors
Upskilling minority communities to reduce industry-academia mismatch
Mangrove plantation along the coastline
None of the above
Q.2) With reference to 'Agriculture Infrastructure Fund', which of the following statements is/are correct?
It is a scheme of Ministry of Finance
It includes start-ups along with Self Help Groups (SHG)
Select the correct answer using the code given below:
1 only
2 only
Both 1 and 2
Neither 1 nor 2
Q.3) Which of the following articles of the Indian Constitution explicitly mentions about the privileges of members of the Parliament?
Article 72
Article 105
Article 102
Article 211
Comment the answers to the above questions in the comment section below!!
ANSWERS FOR ' 2nd February 2023 – Daily Practice MCQs' will be updated along with tomorrow's Daily Current Affairs.st
---
ANSWERS FOR 1st February

 

– Daily Practice MCQs
Answers- Daily Practice MCQs
Q.1) – c
Q.2) – a
Q.3) – c
For a dedicated peer group, Motivation & Quick updates, Join our official telegram channel – https://t.me/IASbabaOfficialAccount
Subscribe to our YouTube Channel HERE to watch Explainer Videos, Strategy Sessions, Toppers Talks & many more…