---
(PRELIMS & MAINS Focus)
---
International Yoga Day
Syllabus
About International Yoga Day :
The UN proclaimed 21st June as IDY by passing a resolution in December 2014.
It was during the 69th session of the General Assembly.
About Yoga and UNESCO Intangible Heritage Sites:-
Intangible cultural heritage means the traditions or living expressions inherited from our ancestors and passed through generations as a way of life.
These include oral traditions, performing arts, social practices, rituals, and festive events.
The Convention of the Safeguarding of the Intangible Cultural Heritage was adopted by the United Nations Educational, Scientific and Cultural Organization (UNESCO) in 2003 and entered into force in 2006.
Salient features of Intangible Cultural heritage:-
Traditional, contemporary and living at the same time
Inclusive
Representative
Community-based
The Purpose of the Convention:-
to safeguard the expressions of intangible cultural heritage that are endangered by the processes of globalization
to ensure respect for the intangible cultural heritage of the communities, groups and individuals
to raise awareness at the local, national and international levels of the importance of the intangible cultural heritage.
The Committee to the Convention publishes three lists of intangible cultural heritage:
Representative List of the Intangible Cultural Heritage of Humanity
List of Intangible Cultural Heritage in Need of Urgent Safeguarding
Register of good safeguarding practices
UNESCO World Intangible Cultural Heritage List 2021
Kutiyattam: Sanskrit theatre-2008
Vedic chanting-2008
Ramlila: the traditional performance of the Ramayana-2008
Ramman: religious festival and ritual theatre of the Garhwal Himalayas, India-2009
Chhau dance-2010
Kalbelia: folk songs and dances of Rajasthan-2010
Mudiyettu: ritual theatre and dance drama of Kerala-2010
Buddhist chanting of Ladakh: recitation of sacred Buddhist texts in the trans-Himalayan Ladakh region, Jammu and Kashmir, India-2012
Sankirtana: ritual singing, drumming and dancing of Manipur-2013
Traditional brass and copper craft of utensil making among the Thatheras of Jandiala Guru, Punjab, India-2014
Nawrouz-2016
Yoga-2016
Kumbh Mela-2017
Durga Puja in Kolkata-2021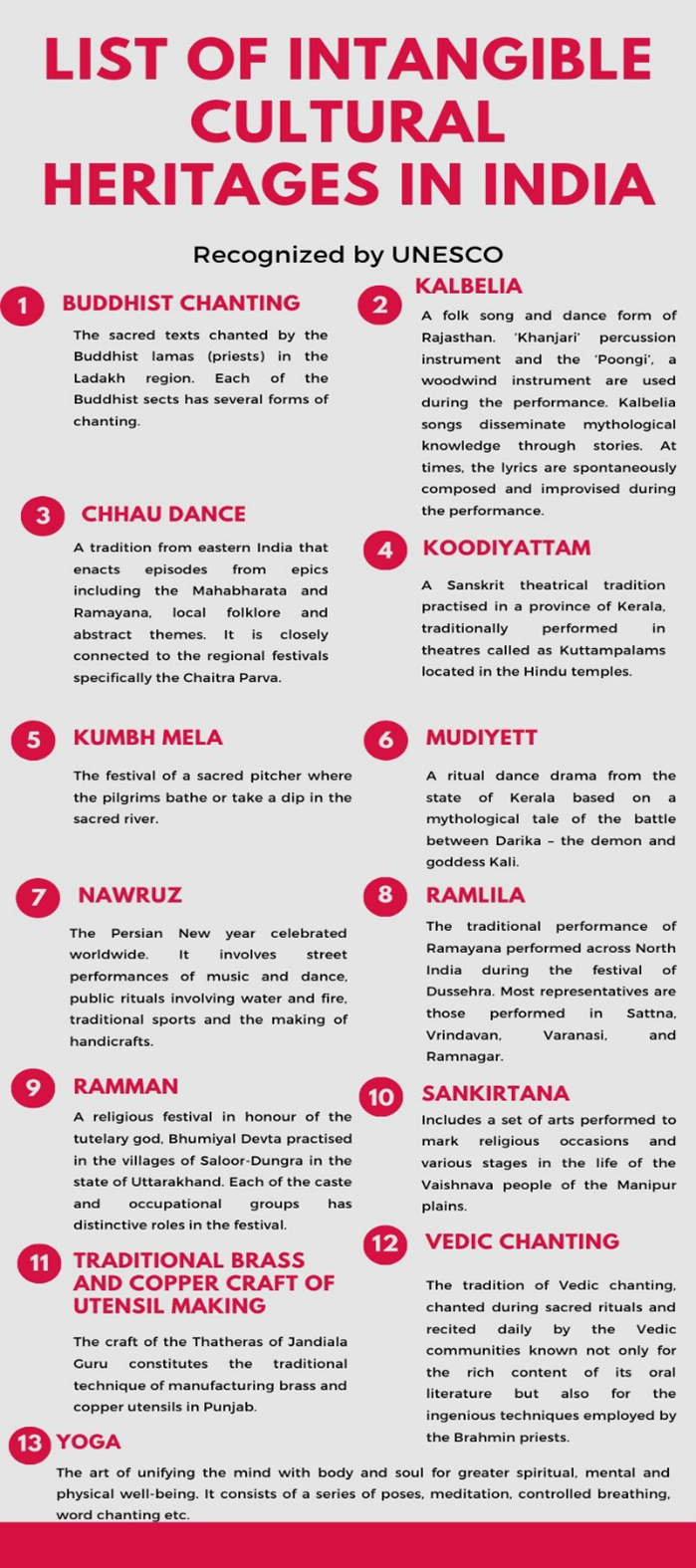 IMAGE SOURCE: Click here
MUST READ: India's list of World Heritage Sites
SOURCE: PIB
PREVIOUS YEAR QUESTIONS
Q.1) With reference to Manipuri Sankirtana, consider the following statements: (2017)
It is a song and dance performance
Cymbals are the only musical instruments used in the performance
It is performed to narrate the life and deeds of Lord Krishna
Which of the statements given above is/are correct?
1, 2 and 3
1 and 3 only
2 and 3 only
1 only
Q.2) Consider the following pairs: (2017)
Traditions                                       Communities
Chaliha Sahib Festival           Sindhis
Nanda Raj Jaat Yatra             Gonds
Wari-Warkari                         Santhals
Which of the pairs given above is/are correctly matched?
1 Only
2 and 3 Only
1 and 3 Only
None of the above
---
INDIASOFT
Syllabus
Context: The 23rd edition of INDIASOFT was inaugurated recently.
About INDIASOFT:-
It is held consecutively since 2001.
It has emerged as the favourite meeting ground for Indian tech developers and global consumers.
Purpose: With more than 1000 IT and tech companies converging to meet and connect with each other, the show brings to the fore competencies of the Indian software and tech industry.
Provides multiple opportunities to forge business alliances, spread first-hand information about the latest innovations and help build a vibrant and dynamic tech world.
MUST READ:  Indian Deep Tech and a case for a strategic fund
SOURCE: PIB
PREVIOUS YEAR QUESTIONS
Q.1) Concerning foreign-owned e-commerce firms operating in India, which of the following statements is/are correct? (2022)
They can sell their own goods in addition to offering their platforms as marketplaces.
The degree to which they can own big sellers on their platforms is limited.
Select the correct answer using the code given below:
1 only
2 only
Both 1 and 2
Neither 1 nor 2
Q.2) Concerning the international trade of India at present, which of the following statements is/are correct? (2020)
India's merchandise exports are less than its merchandise imports.
India's imports of iron and steel, chemicals, fertilisers and machinery have decreased in recent years.
India's exports of services are more than its imports of services.
India suffers from an overall trade/current account deficit.
Select the correct answer using the code given below:
1 and 2 only
2 and 4 only
3 only
1, 3 and 4 only
---
National Mission on Natural Farming (NMNF)
Syllabus
Context: Recently, the Government has formulated National Mission on Natural Farming (NMNF) as a separate and independent scheme to motivate farmers to adopt chemical-free farming and enhance the reach of natural farming.
About National Mission on Natural Farming (NMNF):-
Formulated as a separate and independent scheme from 2023-24 by upscaling the Bhartiya Prakritik Krishi Paddati (BPKP).
The scheme is from 2023 to 2026.
Mission Objectives:-
To promote an alternative system of farming for freedom from externally purchased inputs, cost reduction and thereby increasing income of farmers.
To popularize integrated agriculture-animal husbandry models based on desi cow and local resources.
To collect, validate and document Natural Farming practices.
To undertake activities for awareness creation, capacity building, promotion and demonstration of Natural Farming.
To create standards, certification procedures and branding for Natural Farming products for national and international markets.
Benefits to farmers:-
Incentive to farmers for one-time on-farm manure production infrastructure:-

A financial assistance of Rs. 15000/- per ha @ Rs. 5000/- per ha/year for three years

Training of Farmers by Champion farmers and CRP
Farmer Producer Organisations (FPO) formation for farmers practicing Natural Farming:

100 FPOs in the Gangetic belt
Another 400 FPOs across the country

Farmer Field School:–

It will involve activities to create awareness.
About Bhartiya Prakritik Krishi Paddati (BPKP):-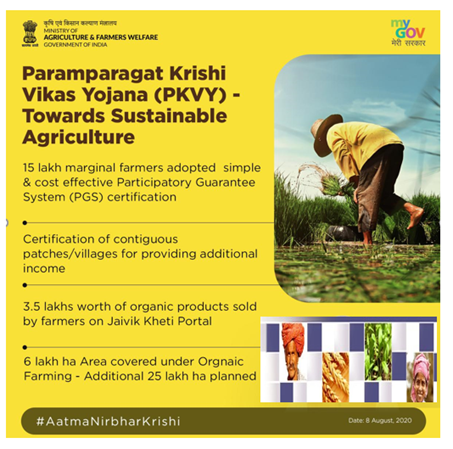 IMAGE SOURCE: Paramparagat Krishi Vikas Yojana – Bing images
It is a Centrally Sponsored Scheme (CSS).
It is a sub-mission under the Paramparagat Krishi Vikas Yojana (PKVY), which falls within the umbrella of the National Mission on Sustainable Agriculture (NMSA).
Objectives:-

To improve farmers' profitability, availability of quality food and restoration of soil fertility and farmland ecosystem as well as generate employment.
Contribute to rural development.
Promoting traditional indigenous practices, which give freedom to farmers from externally purchased inputs.

It focuses on on-farm biomass recycling with major stress on biomass mulching

Use of cow dung–urine formulations and
Exclusion of all synthetic chemical inputs either directly or indirectly.

Under BPKP, financial assistance of Rs 12200/ha for 3 years is provided for cluster formation, capacity building and continuous handholding by trained personnel, certification and residue analysis with a vision of covering 12 lakh ha in 600 major blocks of 2000 hectares in different states.
The scheme is compliant with PGS-India certification under the PGS India programme.
8 States opted: Andhra Pradesh, Chattisgarh, Kerala, Himachal Pradesh,  Madhya Pradesh, Odisha, Tamil Nadu and Jharkhand
MUST READ: Natural Farming
SOURCE: PIB
PREVIOUS YEAR QUESTIONS
Q.1) With reference to organic farming in India, consider the following statements: (2018)
'The National 'Programme for Organic Production' (NPOP) is operated under the guidelines and 'directions of the Union Ministry of Rural Development.
'The Agricultural and Processed Food Product Export Development Authority '(APEDA) functions as the Secretariat for the implementation of NPOP.
Sikkim has become India's first fully organic State.
Which of the statements given above is/are correct?
1 and 2 only
2 and 3 only
3 only
1, 2 and 3
Q.2) Consider the following statements: The nationwide 'Soil Health Card Scheme' aims at (2017)
expanding the cultivable area under irrigation.
enabling the banks to assess the quantum of loans to be granted to farmers on the basis of soil quality.
checking the overuse of fertilizers in farmlands.
Which of the above statements is/are correct?
1 and 2 only
3 only
2 and 3 only
1, 2 and 3
---
FAME II scheme
Syllabus
Prelims –Science and Technology and Governance
Context: Recently the Committee on Estimates (2022-23) for evaluation of electric vehicle policy suggested an extension of the FAME II scheme that was to end next year.
About the FAME II scheme:-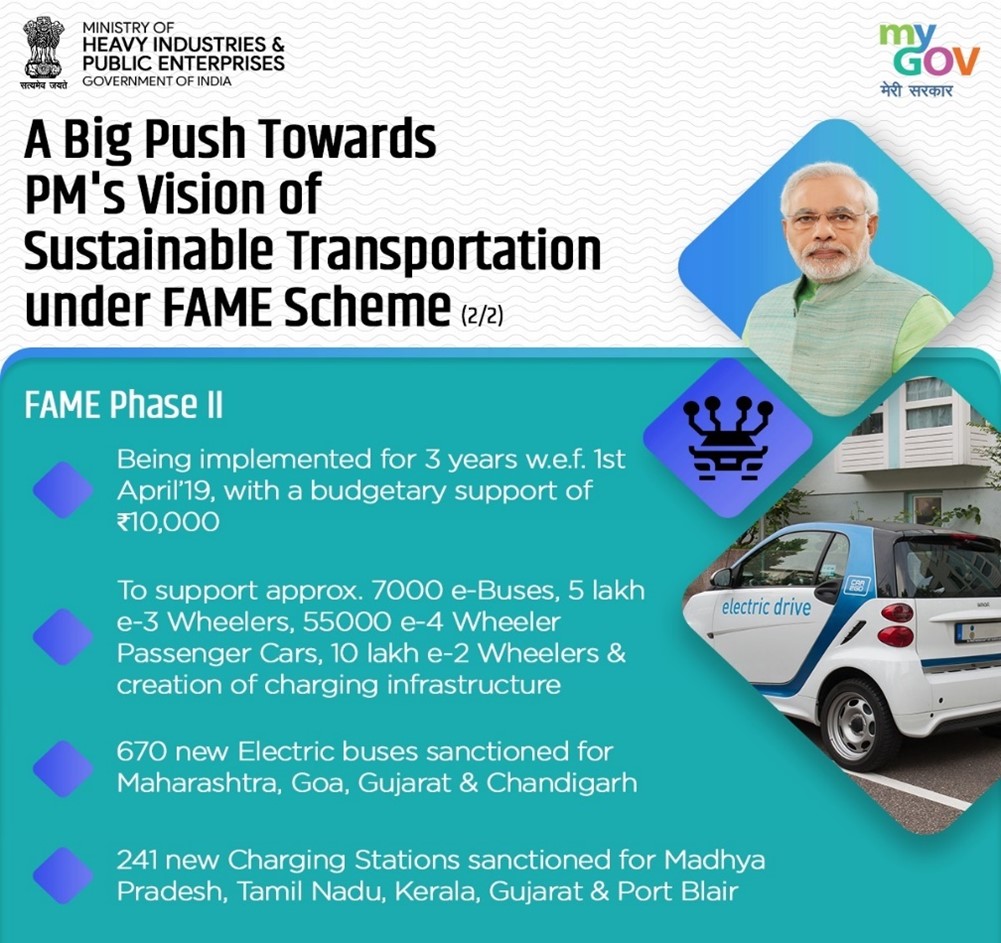 IMAGE SOURCE: Policy – Transforming India (mygov. in)
Launched in 2015, a part of the National Electric Mobility Mission Plan.
Implementation by: Department of Heavy Industries, Ministry of Heavy Industries and Public Enterprises.
Objective:-

To encourage electric vehicles by providing subsidies.
It aims to promote the manufacturing of electric and hybrid vehicle technology and to ensure sustainable growth of the same

It has two phases of the scheme:

Phase I: started in 2015 and was completed on 31st March 2019
Phase II: started from April 2019, will be completed by 31st March 2022

The scheme covers Hybrid & Electric technologies like Mild Hybrid, Strong Hybrid, Plug-in Hybrid & Battery Electric Vehicles.
FAME-II: some modifications were made to the original scheme.

To drive adoption of electric vehicles
Introduction of a demand incentive of Rs. 15,000 per kWh for electric two-wheelers with a maximum cap at 40% of the vehicles' cost.
Phase 2 of the scheme was approved for a period of three years starting from April 2019.
It aims to generate demand by way of supporting e-buses, e 2-wheelers, e three- wheelers

Launch of aggregate demand for 300,000 electric three-wheelers by Energy Efficiency Services Limited.
MUST READ: Electric buses under FAME scheme sanctioned
SOURCE: DOWN TO EARTH
PREVIOUS YEAR QUESTIONS
Q.1) Which of the following are the reasons/factors for exposure to benzene pollution? (2020)
Automobile exhaust
Tobacco smoke
Woodburning
Using varnished wooden furniture
Using products made of polyurethane
Select the correct answer using the code given below:
1, 2 and 3 only
2 and 4 only
1, 3 and 4 only
1, 2, 3, 4 and 5
Q.2) With reference to 'fuel cells' in which hydrogen-rich fuel and oxygen are used to generate electricity, consider the following statements : (2015)
If pure hydrogen is used as a fuel, the fuel cell emits heat and water as by-products.
Fuel cells can be used for powering buildings and not for small devices like laptop computers.
Fuel cells produce electricity in the form of Alternating Current (AC).
Which of the statements given above is/are correct?
1 only
2 and 3 only
1 and 3 only
1, 2 and 3
---
Malaria
Syllabus
Prelims –Science and Technology
Context: Recently, the World Health Organization (WHO) has certified Azerbaijan and Tajikistan as malaria-free.
About Malaria:-
IMAGE SOURCE: A Happy Ending To Malaria Story? – Scientific Animations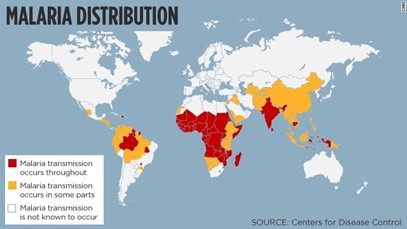 IMAGE SOURCE: malaria – Bing images
It is a life-threatening mosquito-borne blood disease.
It is caused by Plasmodium parasites.
It is predominantly found in the tropical and subtropical areas of Africa, South America as well as Asia.
It is preventable as well as curable.
Transmission: The parasites spread through the bites of infected female Anopheles mosquitoes.

In the human body, parasites initially multiply in liver cells and then attack the Red Blood Cells (RBCs).

There are 5 parasite species that cause Malaria in humans and 2 of these species (Plasmodium falciparum and Plasmodium vivax) pose the greatest threat.
India's status:-
In India, malaria elimination efforts were initiated in
These were intensified after the launch of the National Framework for Malaria Elimination (NFME) in 2016.
It is an initiative under the Ministry of Health and Family Welfare.
NFME is in line with WHO's 2016-2030 Malaria Strategy.

WHO's 2016-2030 Malaria Strategy: guides the WHO Global Malaria Programme (GMP).

Status on elimination: India continues to show a sustained decline in overall malaria but faces several challenges in its malaria elimination journey.
MUST READ: Malaria Vaccine
SOURCE: DOWN TO EARTH
PREVIOUS YEAR QUESTIONS
Q.1) Consider the following diseases (2014)
Diphtheria
Chickenpox
Smallpox
Which of the above diseases has/have been eradicated in India?
1 and 2 only
3 only
1, 2 and 3
None
Q.2) Widespread resistance of the malarial parasites to drugs like chloroquine has prompted attempts to develop a malarial vaccine to combat malaria. Why is it difficult to develop an effective malaria vaccine? (2010)
Malaria is caused by several species of Plasmodium
Man does not develop immunity to malaria during natural infection
Vaccines can be developed only against bacteria
Man is only an intermediate host and not the definitive host
---
Mangroves in India
Syllabus
Prelims –Environment and Ecology
Context: Recent studies report that an alarming 50 per cent of the world's mangrove forests have disappeared in the last five decades due to coastal developments.
About Mangroves in India:-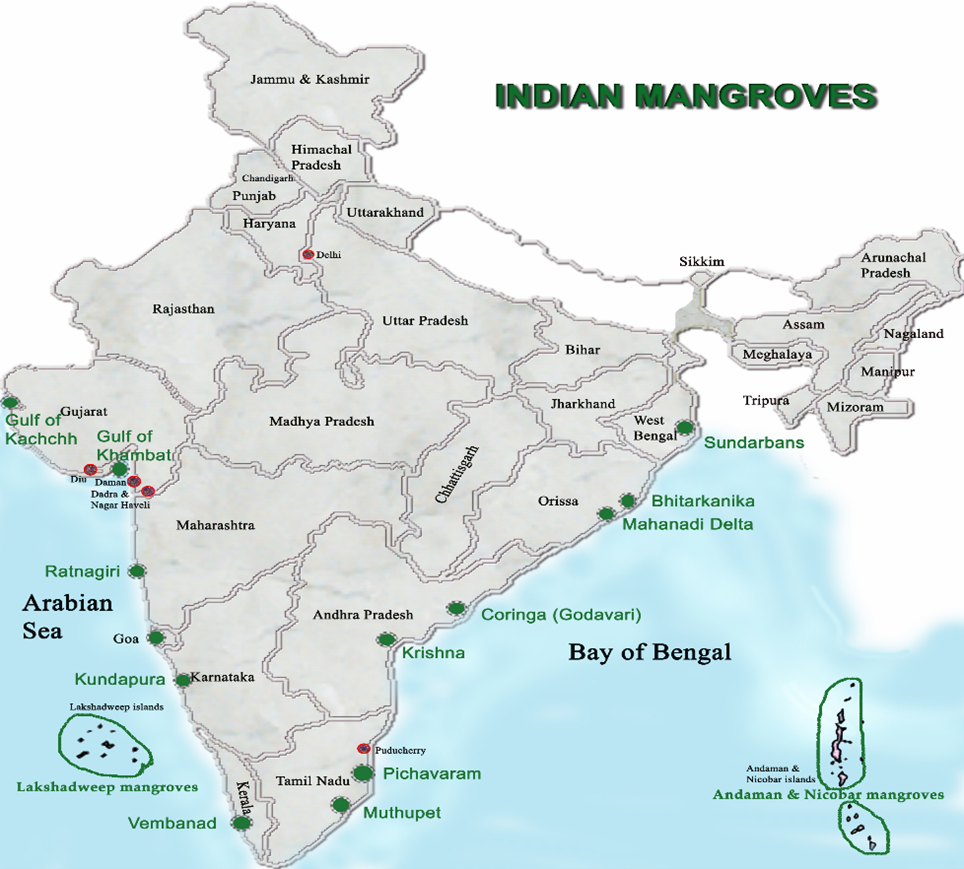 IMAGE SOURCE: Environmental Information System (casmbenvis.nic.in)
It is a small tree or shrub
It grows along coastlines taking root in salty sediments, often underwater.
They are found in marshy intertidal estuarine regions.
They can survive a high degree of salinity through several adaptive mechanisms.
Mangrove forests also contribute to climate change mitigation by absorbing large amounts of greenhouse gases from the atmosphere and storing them in their soils i.e., up to four times more carbon than other tropical forests.
Mangroves are key habitats for coastal biodiversity.
They are also important in coastal erosion mitigation and storm damage reduction.
Geographical Location:-
Mangroves are found only along sheltered coastlines within the tropical or subtropical latitudes because they cannot withstand freezing temperatures.
They share the unique capability of growing within reach of the tides in salty soil.
Asia has the largest number of mangroves worldwide.
India's contribution is 45.8% total mangrove cover in South Asia.

According to the India State of Forest Report, 2019, the mangrove cover in India is 4,975 sq km, which is 15% of the country's total geographical area.
West Bengal has the highest percentage of area under total Mangrove cover followed by Gujarat and Andaman Nicobar Islands.
Sundarbans in West Bengal are the largest mangrove forest regions in the world.

It is listed as a UNESCO World Heritage Site.
MUST READ: Mangrove Breakthrough
SOURCE: DOWN TO EARTH
PREVIOUS YEAR QUESTIONS
Q.1) Consider the following statements: (2021)
Moringa (drumstick tree) is a leguminous evergreen tree.
Tamarind tree is endemic to south Asia.
In India, most of the tamarind is collected as minor forest produce.
India exports tamarind and seeds of moringa.
Seeds of moringa and tamarind can be used in the production of biofuels.
Which of the statements given above is correct?
1, 2, 4 and 5
3, 4 and 5
1, 3 and 4
1,2, 3 and 5
Q.2) With references to India, Didwana, Kuchaman, Sargol and are the names of (2021)
Glaciers
Mangrove areas
Ramsar sites
Saline lakes
---
Akash Weapon System
Syllabus
Prelims –Science and Technology
Context: Recently, the Prime Minister termed the signing of the contract for the procurement of the Akash Weapon System for the Indian Army, a welcome development.
About Akash Weapon System:-
AKASH is a Short Range Surface Air Missile system.
It is a Russian-made missile system.
It was planned and developed as part of India's Integrated Guided-Missile Development Program (IGMDP
The Defence Research and Development Organisation (DRDO) created it, and Bharat Dynamics Limited (BDL). produced it
It can track aeroplanes up to 50–80 kilometres away and at altitudes of 18,000 metres.
It can destroy aerial targets such as fighter jets, cruise missiles, and air-to-surface missiles, as well as ballistic
It is to protect vulnerable areas and vulnerable points from air attacks.
AKASH Weapon System can simultaneously engage Multiple Targets in Group Mode or Autonomous Mode.
It has built-in Electronic Counter-Counter Measures (ECCM) features.
The entire weapon system has been configured on mobile platforms.
AKASH Weapon Systems has been inducted and is operational with the Indian Air Force (IAF) as well as the Indian Army (IA).
MUST READ: Akash Prime missile
SOURCE: AIR
PREVIOUS YEAR QUESTIONS
Q.1) The term 'IndARC' is sometimes seen in the news, is the name of? (2015)
an indigenously developed radar system inducted into Indian Defence
India's satellite to provide services to the countries of the Indian Ocean Rim
a scientific establishment set up by India in the Antarctic region
India's underwater observatory to scientifically study the Arctic region.
Q.2)Which reference to Agni-IV Missile, of the following statements is/are correct? (2014)
It is a surface-to-surface missile.
It is fuelled by liquid propellant only.
It can deliver one-tonne nuclear warheads about 7500 km away.
Select the correct answer using the code given below.
1 only
2 and 3 only
1 and 3 only
1, 2 and 3
---
Misogyny in the matrimonial market
Syllabus
GS-1: Society (Women's Issues)
Context: In a recent study, carried out on a large matrimonial website to understand the marital preferences of men, it was found that there exists a striking penalty for employed women in the "marriage market", especially in north India.
India was ranked 143 out of 146 countries in 2022 in the Global Gender Gap Report's category for economic participation and opportunity category for women.
In contrast to countries at similar income, education and fertility levels, female labour force participation rates in urban India at 24 per cent continue to be the lowest (Periodic Labour Force Survey (PLFS 2017-18)).
Can partner preferences in the marriage market influence women's labour market decisions?
In a setting with near-universal marriage, the preferences of potential spouses or their families may loom large for Indian women. If men systematically discriminate against employed women when it comes to choosing a life partner, this could contribute to women who might otherwise wish to work, choosing not to.
Let us observe the findings of the study:
The ones who were employed received nearly 15 per cent fewer responses from male suitors relative to those who were not working.
The preference for non-working female partners holds across all education groups of female profiles.
Moreover, women employed in "masculine" occupations were additionally 3 per cent less likely to receive responses compared to women employed in "feminine" occupations.
Lastly, a woman in a "masculine" job who stated a preference to continue to work after marriage was less likely to elicit male interest, relative to a woman in a "feminine" job who preferred to continue working.
Profiles of working women elicited less interest from men even when their caste, education levels and family incomes matched those of the men.
These results are driven by responses from higher caste men in Delhi, where patriarchal norms are more salient.
Further, the level of discrimination against working women was higher by male suitors with lower education levels, who are more representative of the average male population in India.
What do these findings indicate?
Reinforcement of gendered patterns: These patterns are likely to reinforce the gendered patterns that typify the Indian workforce, making it harder for women to work, especially in occupations where they are not already well represented.
Letting go of additional income: It is worth remembering that having a spouse who works is likely to increase household income significantly. By penalising women for making this choice, men are expressing a preference that is strong enough that they are willing to give up additional household income.
Gender gap in time spent in domestic work:

In urban India, married women spend almost 7.5 times more time on domestic work as compared to married men.
Women in north India, and especially amongst high castes, spend more time on domestic work relative to women in the south (Time Use Survey, 2019).

Working Schedules and their interpretations:

Male-dominated occupations may be characterised by more inflexible working schedules.
Women who work, in general, and those who work in male-dominated occupations, may even be considered "sexually impure" due to greater interactions with men at work.
Conclusion
A developing country like India, seeking to achieve rapid economic growth can ill afford educated women staying out of the workforce.
Changing norms and attitudes of men (besides women) is critical to increasing women's participation and reducing their occupational segregation.
---
For a dedicated peer group, Motivation & Quick updates, Join our official telegram channel – https://t.me/IASbabaOfficialAccount
Subscribe to our YouTube Channel HERE to watch Explainer Videos, Strategy Sessions, Toppers Talks & many more…