---
(PRELIMS & MAINS Focus)
---
Mission 50K-EV4ECO
Syllabus
Context: Recently, SIDBI launched a new financing solution for electric vehicle space under the scheme 'Mission 50K-EV4ECO'.
About Mission 50K-EV4ECO:-
Objective: to promote the growth and development of the value chain of India's electric vehicle industry.
It is expected to promote EV adoption and strengthen associated infrastructure in the country.
The project prioritizes the uptake of 2-wheeler, 3-wheeler, and 4-wheeler EVs through direct and indirect lending.
The objective of this scheme is to provide access to affordable financing for electric vehicles and to develop charging infrastructure, including battery swapping.
The scheme is the precursor to the EVOLVE scheme by SIDBI-World Bank.
It provides better financing terms and other solutions to address the issues faced in the EV ecosystem in India.
Small Industries Development Bank of India (SIDBI):-
SIDBI was set up in 1990, under an Act of the Indian Parliament.
Headquarters: Lucknow, Uttar Pradesh, India
Chairman & Managing Director: Shri Sivasubramanian Ramann
It acts as the Principal Financial Institution for the Promotion, Financing and Development of the Micro, Small and Medium Enterprise (MSME) sector as well as for the coordination of functions of institutions engaged in similar activities.
The Shares of SIDBI are held by the Government of India and twenty-two other institutions / public sector banks/insurance companies owned or controlled by the Central Government
MISSION: To facilitate and strengthen credit flow to MSMEs and address both financial and developmental gaps in the MSME eco-system.
VISION:-

To emerge as a single window for meeting the financial and developmental needs of the MSME sector to make it strong, vibrant and globally competitive.
To position SIDBI Brand as the preferred and customer-friendly institution and
For enhancement of shareholder wealth and highest corporate values through a modern technology platform.
SIDBI is implementing the PSIG programme funded by UKAid through Department for International Development (DFID), UK.
SIDBI has been implementing the "Poorest States Inclusive Growth (PSIG) Program".
It is funded by UK Government through the Department for International Development (DFID), UK since April 2012.
The program aimed at enhancing income and employment opportunities of the poor, especially women, in the four poorest States of Bihar, MP, Odisha and UP by enabling the target group to participate and benefit from wider economic opportunities and growth.
The program has come to a successful end in March 2020. To take the PSIG legacy forward, Swavalamban Resource Facility (SRF) has since been launched within the P&D Vertical of the Bank.
MUST READ: Deep-sea Mining for Building EV Batteries
SOURCE: THE ECONOMIC TIMES
PREVIOUS YEAR QUESTIONS
Q.1) Consider the following statements (2022)
In India, credit rating agencies are regulated by the Reserve Bank of India.
The rating agency popularly known as ICRA is a public limited company.
Brickwork Ratings is an Indian credit rating agency.
Which of the statements given above is correct?
1 and 2 only
2 and 3 only
1 and 3 only
1, 2 and 3
Q.2) Which one of the following best describes the term "greenwashing"? (2022)
Conveying a false impression that a company's products are eco-friendly and environmentally sound
Non-inclusion of ecological/ environmental costs in the Annual Financial Statements of a country
Ignoring the consequences of disastrous ecological while infrastructure development undertaking
Making mandatory provisions for environmental costs in a government project/programme
---
Limited Purpose Clearing Corporation (LPCC)
Syllabus
Context: Recently, SEBI released guidelines on an upfront contribution by issuers for LPCC's Settlement Guarantee Fund.
About Limited Purpose Clearing Corporation (LPCC):-
LPCC is an entity established by SEBI.
It will undertake the activity of clearing and settlement of repo rate transactions.
The new framework will come into force from May 1.
 Under the framework, an amount of 0.5 basis points of the issuance value of debt securities per annum based on the maturity of debt securities will be collected by the stock exchanges and placed in an escrow account before the allotment of the debt securities.

This amount is applicable on a public issue or private placement of debt securities.

The stock exchanges would transfer the amounts so collected to the bank account of the LPCC within one working day of the receipt of the amount and inform the details of the same to the LPCC.
The details of the amounts so collected would also be disclosed by the stock exchanges on their website.
 LPCC would provide an illustration of the calculation of the amounts to be contributed by the eligible issuers.
AMC Repo Clearing Limited (ARCL) has been granted recognition as LPCC by SEBI.
ARCL:-

It was incorporated in April 2021.
It is recognized in principle by the Securities and Exchange Board of India (SEBI) under Stock Exchanges and Clearing Corporations (SECC) Regulations, 2018.
 ARCL is a Central Counter Party (CCP) offering clearing and settlement services to all trades executed on NSE and BSE under triparty repo in corporate debt securities with robust risk management along with a guarantee mechanism.

The mechanism will be used to settle:-

disputes between clearing members
contention between the clearing members and their clients
differences between the LPCC and its vendors
disputes between clearing members or its clients and the LPCC.

The disputes arising between clearing members of the LPCC will be settled by conciliation and/or by an arbitration panel consisting of three clearing members, other than the clearing members who are party to the dispute.

The decision of the arbitration panel would be final and binding on the parties.
In case a clearing member or the LPCC is not satisfied then the disputes would be resolved under the procedure laid down in the Payment and Settlement Systems Act, 2007.
The eligible issuers would be notified by the LPCC as per its risk management policy,
Significance:
A well-functioning repo market contributes to the development of the debt securities market by way of boosting the liquidity of the underlying debt securities and allowing market participants to monetize their debt holdings without selling the underlying, thus meeting their temporary need for funds.
MUST READ: Long-Term
SOURCE: BUSINESS LINE
PREVIOUS YEAR QUESTIONS
Q.1) Convertible Bonds, consider the following statements: (2022)
As there is an option to exchange the equity bond, Convertible Bonds pay a lower rate of interest.
The option to convert to equity affords the bondholder a degree of indexation to rising consumer prices.
Which of the statements given above is/are correct?
1 only
2 only
Both 1 and 2
Neither 1 nor 2
Q.2) With reference to India, consider the following statements: (2021)
Retail investors through Demat account can invest in Treasury Bills and Government of India Debt Bonds in the primary market
The "Negotiated Dealing System-Ordering Matching" is a government securities trading platform of the Reserve Bank of India.
The "Central Depository Services Ltd" is jointly promoted by the Reserve Bank of India and the Bombay Stock Exchange.
Which of the statements given above is/are correct?
1 only
1 and 2
3 only
2 and 3
---
City Nature Challenge
Syllabus
Prelims –Environment and Ecology
Context: As per recent announcements, Delhi will take part in the City Nature Challenge for the first time in 2023.
About City Nature Challenge:-
It started in 2016 as a competition between Los Angeles and San Francisco, the City Nature Challenge (CNC) has grown into an international event, motivating people around the world to find and document wildlife in their own cities.
It was Invented by community science staff, Lila Higgins at the Natural History Museum of Los Angeles County (NHM) and Alison Young and Rebecca Johnson at the California Academy of Sciences (CAS).
It is run by the Community Science teams at the California Academy of Sciences and the Natural History Museum of Los Angeles County (NHM).
 It is an international effort for people to find and document plants and wildlife in cities across the globe.
It's a competition where cities are in a friendly contest with each other to see who can make the most observations of nature, who can find the most species, and who can engage the most people.
The first City Nature Challenge was an eight-day competition between Los Angeles and San Francisco, engaging residents and visitors in documenting nature to better understand urban biodiversity.
MUST READ: Biodiversity Mainstreaming
SOURCE: HINDUSTAN TIMES
PREVIOUS YEAR QUESTIONS
Q.1) Which one of the following has been constituted under the Environment (Protection) Act, 1986? (2022)
Central Water Commission
Central Ground Water Board
Central Ground Water Authority
National Water Development Agency
Q.2) With reference to Indian laws about wildlife protection, consider the following statements : (2022)
Wild animals are the sole property of the government.
When a wild animal is declared protected, such animal is entitled to equal protection whether it is found in protected areas or outside.
Apprehension of a protected wild animal becoming a danger to human life is sufficient ground for its capture or killing.
Which of the statements given above is/are correct?
1 and 2
2 only
1 and 3
3 only
---
National Panchayat Awards
Syllabus
Context: Recently, the President of India, Smt Droupadi Murmu presented the National Panchayat Awards.
About National Panchayat Awards:-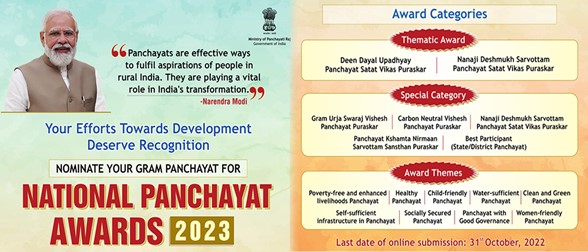 IMAGE SOURCE: National Panchayat Awards INFO – Bing images
The National Panchayat Awards were given to the best-performing Panchayats by assessing their performance in the attainment of SDGs.
These annual awards were first instituted in 2011.
The Awardee Panchayats are awarded under various categories namely:-

Deen Dayal Upadhyay Panchayat Satat Vikas Puraskar (DDUPSVP) for the performance under individual LSDG themes
Nanaji Deshmukh Sarvottam Panchayat Satat Vikas Puraskar (NDSPSVP) for the aggregate performance under all 9 LSDG themes and green initiative-related Special Categories
Gram Urja Swaraj Vishesh Panchayat Puraskar
Carbon Neutral Vishesh Panchayat Puraskar were felicitated by the dignitaries and the award money was transferred digitally to the Awardee Panchayats on this occasion.
NIRNAY app:-
National Initiative for Rural India to Navigate, InnovAte and Resolve PanchaYat decisions (NIRNAY), is a mobile application of the Ministry of Panchayati Raj.
It is aimed at empowering rural communities during the National Conference.
It provides easy access to critical information discussed during a Gram Sabha.
It will be a game-changer for rural communities in India by acting as a means of verification of facts where necessary or in case of queries that may arise regarding the resolutions undertaken during the Gram Sabha.
This would bring in more transparency and increase efficiency in the functioning of Panchayats, which play a vital role in decentralized participatory democracy.
It is a significant step towards realizing the vision of 'Minimum Government, Maximum Governance' at the grassroots level.
It is expected to accelerate the pace of rural transformation to achieve the vision of Gram Swaraj laid down by Mahatma Gandhi.
MUST READ: E-PANCHAYAT FACILITY
SOURCE: PIB
PREVIOUS YEAR QUESTIONS
Q.1) Which of the following is/are the aim/aims of the "Digital India" Plan of the Government of India? (2018)
Formation of India's own Internet companies like China did.
Establish a policy framework to encourage overseas multinational corporations that collect Big Data to build their large data centres within our national geographical boundaries.
Connect many of our villages to the Internet and bring Wi-Fi to many of our schools, public places and major tourist centres.
Select the correct answer using the code given below :
1 and 2 only
3 only
2 and 3 only
1, 2 and 3
Q.2) What is the aim of the programme 'Unnat Bharat Abhiyan'? (2017)
Achieving 100% literacy by promoting collaboration between voluntary organizations and the government's education system and local communities.
Connecting institutions of higher education with local communities to address development challenges through appropriate technologies.
Strengthening India's scientific research institutions in order to make India a scientific and technological power.
Developing human capital by allocating special funds for health care and education of rural and urban poor, and organizing skill development programmes and vocational training for them.
---
Carbon Offsetting
Syllabus
Prelims –Environment and Ecology
Context: Recently, Carbon Offsets came under fire as a way for companies to compensate for carbon emissions through eco projects elsewhere.
About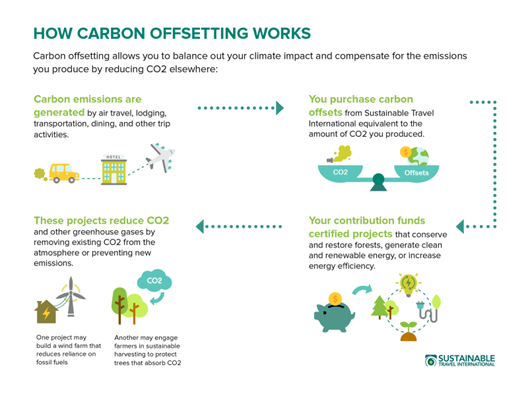 IMAGE SOURCE: How-Carbon-Offsets-Work-Infographic-Web.png (1600×1200) (sustainabletravel.org)
Carbon Offsetting can be defined as the mitigation of carbon footprints through the development of alternative projects such as solar, wind, tidal energy or reforestation.
Carbon footprint can be defined as the total amount of greenhouse gases produced to directly and indirectly support human activities, usually expressed in equivalent tons of carbon dioxide (CO2).

There are two types of carbon footprinting which are given below:-
Organisational: Emissions from all the activities across the organisation such as energy use, industrial processes and company vehicles.
Product: Emissions over the whole life of a product or service, from the extraction of raw material and manufacturing rights through to its use and final reuse, recycling or disposal.
Carbon Offsetting Working Mechanism:-
Buying offsets is a way to "compensate" for environmental damage.
The companies make a financial contribution to projects that reduce the amount of carbon dioxide in the atmosphere, and in exchange can keep polluting themselves.

Examples of projects include planting trees and rewetting peatlands which store huge amounts of carbon in their soil.
Using this logic, the FIFA World Cup in Qatar recently billed itself as climate-neutral.

In recent years, the carbon offset industry has boomed.
It is worth $2 billion (€1.87 billion) annually and is expected to grow five times that size by the end of the decade.
After the concept's invention in 1987, some international treaties such as the Kyoto Protocol have let industrialized countries use carbon credits, each of which is worth one ton of carbon, to keep within emissions limits.
Offsetting in practice:-
Offset projects can be broadly split into two categories: removals and avoidances.
Removal: it describes actions which actively take carbon out of the air and store it permanently, such as by planting trees or direct air capture which is not technology available at scale.
Avoidance: in this, offsets are from projects that stop the release of greenhouse gases, such as protecting trees from being logged.
MUST READ:  Sequestration
SOURCE: THE INDIAN EXPRESS
PREVIOUS YEAR QUESTIONS
Q.1) Climate Action Tracker" which monitors the emission reduction pledges of different countries is a : (2022)
Database created by a coalition of research organisations
Wing of "International Panel of Climate Change"
Committee under "United Nations Framework Convention on Climate Change"
Agency promoted and financed by United Nations Environment Programme and World Bank
Q.2) What is blue carbon? (2021)
Carbon captured by oceans and coastal ecosystems
Carbon sequestered in forest biomass and agricultural soils
The carbon contained in petroleum and natural gas
Carbon present in the atmosphere
---
Blastomycosis
Syllabus
Prelims –Science and Technology
Context: Recently, the fungus Blastomyces killed 1 & infected 100 at a Michigan paper mill.
About Blastomycosis:-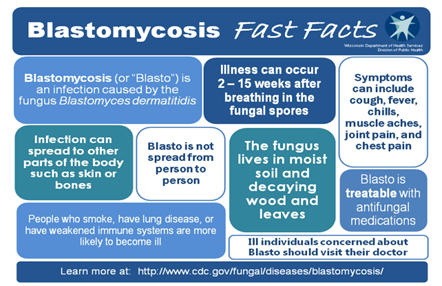 IMAGE SOURCE: Blastomycosis | Outagamie County, WI
Blastomycosis is an infection caused by a fungus called Blastomyces.
 The fungus lives in the environment, particularly in moist soil and in decomposing matter such as wood and leaves.
 In the United States, the fungus mainly lives in the midwestern, south-central, and southeastern states, particularly in areas surrounding the Ohio and Mississippi River valleys, the Great Lakes, and the Saint Lawrence River.
People can get blastomycosis after breathing in the microscopic fungal spores from the air.
 Although most people who breathe in the spores don't get sick, some people will develop symptoms like fever and cough, and the infection can sometimes become serious if it is not treated.
Symptoms:-
Fever
Cough
Night sweats
Muscle aches or joint pain
Weight loss
Chest pain
Fatigue (extreme tiredness)
Skin lesions; such as raised bumps, blisters, or ulcers
Treatment:-
 Itraconazole is a type of antifungal medication that is typically used to treat mild to moderate blastomycosis.
Amphotericin B is usually recommended for severe blastomycosis in the lungs or infections that have spread to other parts of the body.
Depending on the severity of the infection and the person's immune status, the course of treatment can range from six months to one year.
MUST READ: Mucormycosis
SOURCE: DOWN TO EARTH
PREVIOUS YEAR QUESTIONS
Q.1) In the context of vaccines manufactured to prevent the COVID-19 pandemic, consider the following statements: (2022)
The Serum Institute of India produced a COVID-19 vaccine named Covishield using an mRNA platform.
Sputnik V vaccine is manufactured using a vector-based platform.
COVAXIN is an inactivated pathogen-based vaccine.
Which of the statements given above is correct?
1 and 2 only
2 and 3 only
1 and 3 only
1, 2 and 3
Q.2) Which one of the following statements best describes the role of B cells and T cells in the human body? (2022)
They protect the environmental allergens. body
They alleviate the body's pain and inflammation.
They act as immunosuppressants in the body.
They protect the body from diseases caused by pathogens.
---
Kudremukh Range
Syllabus
Prelims –Environment and Ecology
Context: Recently, the Kudremukh Iron Ore Company Limited (KIOCL) has sought post-facto approval for submerging 700 acres of forest in the Kudremukh Range.
About Kudremukh Range:-
It is located in the Western Ghats in the Chikmagalur district of Karnataka.
It got its name from its main peak, Kudremukh Peak (1892 metres), which has a marked similarity to the face of a horse.
Kudremukh National Park, the second largest wildlife protected area in the Western Ghats, is located in these ranges.
It is believed that Kudremukh served as a landmark for sailors on the western coast for over 2000 years.
Kudremukh national park:-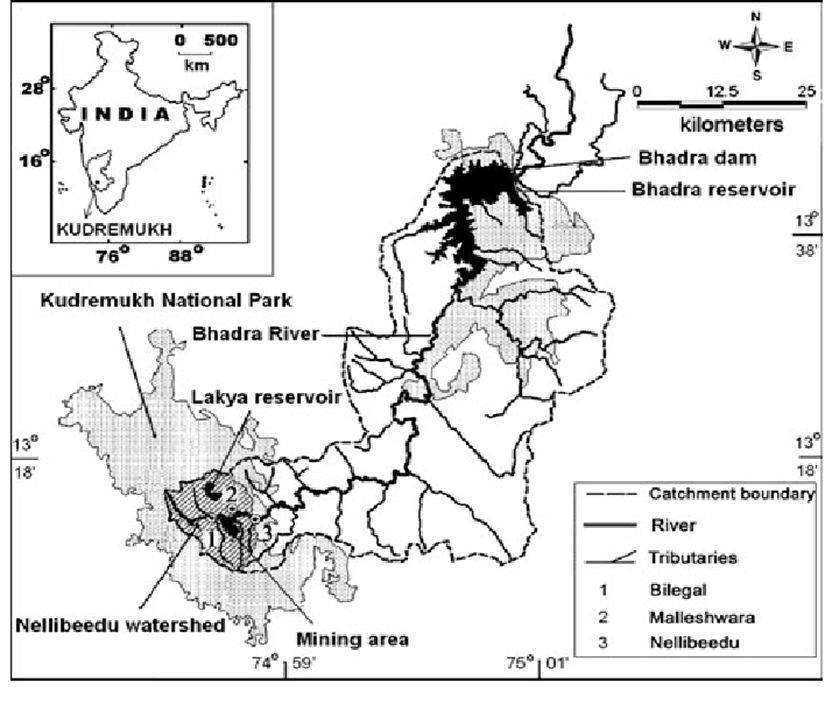 IMAGE SOURCE: Map showing the location of the Kudremukh mining area and sampling sites…. | Download Scientific Diagram (researchgate.net)
The Kudremukh national park stretches from the Narasimha Parvat in the north to the Jamalabad Fort in the south.
Kudremukh National Park covers the areas of three districts namely Dakshina Kannada, Udupi and Chikmagalur.
It was established as a Reserved Forest in the year 1916.
In 1987 it was declared a National Park.
The Tunga, the Bhadra and the Nethravathi rivers originate from this national park.
The famous Kadambi waterfalls are also located in the Kudremukh National Park.
Key Feature: It has the single largest contiguous population of Lion Tailed Macaque (LTM) in the world, tropical wet evergreen forests, top three carnivores (Tiger, Leopard, and wild dogs)
Fauna: tigers, wild dogs, leopards, Malabar giant squirrels, sloth bears, common langurs, gaur, sambar, barking deer, spotted deer and sloth bears.

The Malabar whistling thrush, Malabar trogon, imperial pigeon, and great pied hornbill are among the 195 bird species found in the park.

Flora: It has the least disturbed low-altitude wet evergreen forests and shola-grassland biome.

Kudremukh represents one of the world's major habitats and has tropical biological richness and is thus among one of the 34 biological hotspots of the world.
MUST READ: Eco-sensitive Zones (ESZ)
SOURCE: DECCAN HERALD
PREVIOUS YEAR QUESTIONS
Q.1) Which of the following Protected Areas are located in the Cauvery basin? (2020)
Nagarhole National Park
Papikonda National Park
Sathyamangalam Tiger Reserve
Wayanad Wildlife Sanctuary
Select the correct answer using the code given below:
1 and 2 only
3 and 4 only
1, 3 and 4 only
1, 2, 3 and 4
Q.2) Which one of the fo
allowing protected areas are well-known for the conservation of a sub-species of the Indian swamp deer (Barasingha) that thrives well on hard ground and is exclusively graminivorous. (2020)
Kanha National Park
Manas National Park
Mudumalai Wildlife Sanctuary
Tal Chhapar Wildlife Sanctuary
---
Civil Union and Concept of Marriage
Syllabus
Context: Recently The Supreme Court clarified that the hearing's scope would be limited to developing a notion of a "civil union" that finds legal recognition under the Special Marriage Act.
About Civil Union:
A civil union (also known as a civil partnership) is a legally recognized arrangement similar to marriage, created primarily as a means to provide recognition in law for same-sex couples.
Civil unions would be accompanied by rights such as inheritance rights, property rights, parental rights, employment benefits to spouses, joint parenting right to abstain from testifying against one's partner — similar to the spousal privilege given under Section 122 of the Indian Evidence Act.
Difference between the Civil Union and Marriage:
A civil union is a legal agreement between two individuals that provides them with some of the rights and benefits of a marriage, such as inheritance rights, tax benefits, and access to healthcare.
Recognition: Civil unions were recognized solely by issuing states and not by federal law, whereas marriages were recognized both at the state and federal levels.
Uniformity of Benefits: Couples in civil unions were not able to enjoy the benefits of being in a civil union uniformly across all states, due to variations in state laws.
Spousal Privilege: Civil unions provided spousal privileges similar to those given under Section 122 of the Indian Evidence Act, whereas marriages automatically provided this privilege.
Conversion: In the wake of the legalisation of same-sex marriages, several civil unions were converted into marriages.
Legal Status of Civil Unions:
A civil union is the legal status that provides same-sex couples specific rights and responsibilities normally conferred upon married couples.
This means that same-sex couples who are in a civil union have access to legal protections and benefits that were previously unavailable to them.
These rights are often similar to those conferred upon married couples, such as inheritance rights, employment benefits to spouses, joint parenting or joint ownership rights, and the right to abstain from testifying against one's partner.
Benefits of Civil Unions:
Inheritance rights
Employment benefits to spouses
Joint parenting or joint ownership rights
The right to abstain from testifying against one's partner
Countries that Allow Civil Unions for Same-Sex Couples:
In the year 2015, the Supreme Court of the United States (SCOTUS) legalized same-sex marriages across the nation with its landmark ruling in "Obergefell v. Hodges"
From 1993, couples in Norway enjoyed the right to enter into civil unions, which gave way to a new law 15 years later, allowing such couples to marry, adopt and undergo state-sponsored artificial insemination.
Similarly, countries like Brazil, Uruguay, Andorra, and Chile had also recognized the right of same sex couples to enter into civil unions, even before they formally recognized their legal right to marriage.
Additional Information:
About Special Marriage Act of 1954:
All marriages in India can be registered under the respective personal law Hindu Marriage Act, 1955, Muslim Marriage Act, 1954, or under the Special Marriage Act, 1954.
The Special Marriage Act, 1954 is an Act of the Parliament of India with provision for civil marriage for people of India and all Indian nationals in foreign countries, irrespective of religion or faith followed by either party.
The couples have to serve a notice with the relevant documents to the Marriage Officer 30 days before the intended date of the marriage.
Applicability:
Any person, irrespective of religion.
Hindus, Muslims, Buddhists, Sikhs, Christians, Parsis, or Jews can also perform marriage under the Special Marriage Act, 1954.
Inter-religion marriages are performed under this Act.
This Act is applicable to the entire territory of India and extends to intending spouses who are both Indian nationals living abroad.
Source:  Indian Express
MUST READ:  Legalising same sex marriage
---
India- UAE Relations
Syllabus
Mains – GS 2 (International Relations)
Context: India, the world's second-largest food producer, is an essential partner in the UAE's ambition to strengthen food security. The India-UAE food security partnership stands to benefit from multiple points of convergence.
India- UAE Relations:
Diplomatic:
India and the United Arab Emirates (UAE) established diplomatic relations in 1972.
UAE opened its Embassy in Delhi in 1972 and India opened its Embassy in Abu Dhabi in 1973.
The traditionally strong bilateral relations enjoyed by India and UAE received impetus with the visit of PM Modi to UAE on 16-17 August 2015 that marked the beginning of a new strategic partnership between the two countries.
Modi's last visit to the UAE was in August 2019, when he received the UAE's highest award, 'Order of Zayed'.
Economic and Commercial Relations:
Trade, which was dominated by traditional items such as dates, pearl and fishes, underwent a sharp change after the discovery of oil in UAE.
The real impetus, however, started after Dubai positioned itself as a regional trading hub by the early 1990s and about the same time, the economic liberalization process started in India.
India-UAE trade is today around US$ 60 billion, making UAE, India's third largest trading partner for the year 2018-19.
UAE is the second largest export destination of India (after US) with an amount of over US$ 30 billion for the year 2018-19.

For UAE, India was the second largest trading partner during 2018.

UAE is the 10th biggest FDI investor for India.
A consortium led by ONGC was awarded a 10 per cent stake in the Lower Zakum Concession in 2018.- first time that the Emirate awarded a stake in a functioning oil field to an Indian group.
Energy Cooperation:
The UAE is one of India's key energy providers and remains committed to meeting India's growing energy demand.
India imported US $10.9 billion worth of crude oil from the UAE in 2019-20. The UAE is the first international partner to invest by way of crude oil in India's Strategic Petroleum Reserves Program.
The countries are also collaborating in the renewable energy sector as seen by mutual participation in the International Solar alliance.
Defence and Security Cooperation:
UAE Air Force Officers participated as Observers in Trilateral Air Exercise on Humanitarian Assistance & Disaster Relief (HADR) in 2018.
Indian Navy Ships participated in the maiden IN-UAEN Bilateral Exercise in 2018 named Gulf Star 1.
IN Ships have been regularly participating in IDEX/NAVDEX held in Abu Dhabi biennially.
'Desert Eagle II', a ten-day air combat exercise, was held in 2016 between the air forces of India and UAE.
That New Delhi could turn to the UAE for help to deploy its mid-air refuellers for Rafale jets, and it agreed to extend the facility, is seen to reflect the close relationship that India and Abu Dhabi have built.
Indian Community:
The Indian expatriate community of approximately 3.4 million is the largest ethnic community in UAE constituting roughly about 35% of the country's population.
Significance of India-UAE relationship:
Remittances to India: India had received over US $83 billion in remittances in 2020 which was one of the highest in the world.

The remittances from the UAE in the first half of 2020 accounted for US $21 billion.

Strategic considerations: The UAE, due to its strategic location, has emerged as an important economic centre in the world and is also a major re-export hub for India.

Further good relations with the UAE are imperative to counter China's influence in the Middle-east region.

Security of the region: The Middle-east region is still witnessing a lot of conflicts in Syria, Iraq etc.

Good relations with UAE are imperative to give India a core place in discussion surrounding the Middle-east region.
Further UAE can support India in strengthening the security of the Indian ocean region especially along the western coast of Somalia that is prone to piracy.

Gateway to Africa: Engagement with the UAE will pave the way for India to leverage UAE's easy access to the African market and its various trade partners.

This can help India to become a part of the supply chain especially in handlooms, handicrafts, textiles and pharma.

Entry into regional groupings: UAE commands a significant respect in regional groupings like OIC (Organization of Islamic Cooperation).

An improvement in relation will open India's door for an OIC membership.
India's Soft Power: Good relations with UAE is a sine qua non for enhancing India's Soft power in the Middle-east region.
A recent progression of it was witnessed in 2021 when both Abu Dhabi and Dubai celebrated Diwali.
Challenges in the Ties:
Recent Turbulence in relations: It is caused by the comments on Prophet Mohammed by Nupur Sharma and Naveen Kumar Jindal
Balancing geopolitics: India with Iran (also played out over Yemen) and UAE with China.
Energy pricing: As an OPEC country UAE is on the side of the debate, where India as a major oil consumer is arguing for a cap on prices- this has seen some heated words between oil ministers in the past

India and UAE are yet to renegotiate their air services agreement, which has become a thorn in ties, because the UAE wants to increase the number of flights to India and the number of destinations, but India continues to cap these to protect Indian airlines.

Treatment of Indian labour: This frequently flares up as Indians aren't granted citizenship in the UAE, and conditions at Indian labour camps become a matter of concern.

During the pandemic much of the labour to the gulf has had to return, and remittances are likely to be slashed in the next few years

Treatment of minorities in India is becoming a big issue: After the CAA protests, social media controversies, now the Hijab Ban has raised concerns in Gulf countries, and the OIC issued a very strong statement.
Legal Issues: Legal problems have in the past dampened foreign investments from coming to India.

Checks and regulations are needed, better streamlining of the procedures and processes help in avoiding such problems.
Way Forward:
The UAE today is India's closest partner in the Arab world and fortunately, there is enough resilience in bilateral ties to withstand the recent convulsions. It will continue to forge closer partnership in these areas, building on their close and friendly relations and historical people-to-people connect.
India-UAE has a strong energy partnership which is now acquiring a new focus on renewable energy. It will take a sustained public diplomacy effort to further improve the relations
Source:  The Hindu
---
Practice MCQs
Daily Practice MCQs
Q.1) Kudremukh national park is often mentioned in the news located in
Rajasthan
West Bengal
Karnataka
Odisha
Q.2) Consider the following statements regarding the Blastomycosis:
It is a fungal disease caused by Blastomyces
The fungus lives in the environment, particularly in moist soil and in decomposing matter such as wood and leaves.
It is an airborne disease
Which of the statements given above are correct?
1 and 2 only
1 and 3 only
2 and 3 only
1 2 and 3
Q.3) Consider the following statements regarding the Limited Purpose Clearing Corporation (LPCC):
LPCC is an entity established by RBI.
It will undertake the activity of clearing and settlement of repo rate transactions.
Which of the statements given above is/are correct?
1 only
2 only
Both 1 and 2
Neither 1 nor 2
Comment the answers to the above questions in the comment section below!!
ANSWERS FOR ' 20th April 2023 – Daily Practice MCQs' will be updated along with tomorrow's Daily Current Affairs.st
---
ANSWERS FOR 19th April

 

– Daily Practice MCQs
Answers- Daily Practice MCQs
Q.1) – a
Q.2) – b
Q.3) – c
For a dedicated peer group, Motivation & Quick updates, Join our official telegram channel – https://t.me/IASbabaOfficialAccount
Subscribe to our YouTube Channel HERE to watch Explainer Videos, Strategy Sessions, Toppers Talks & many more…