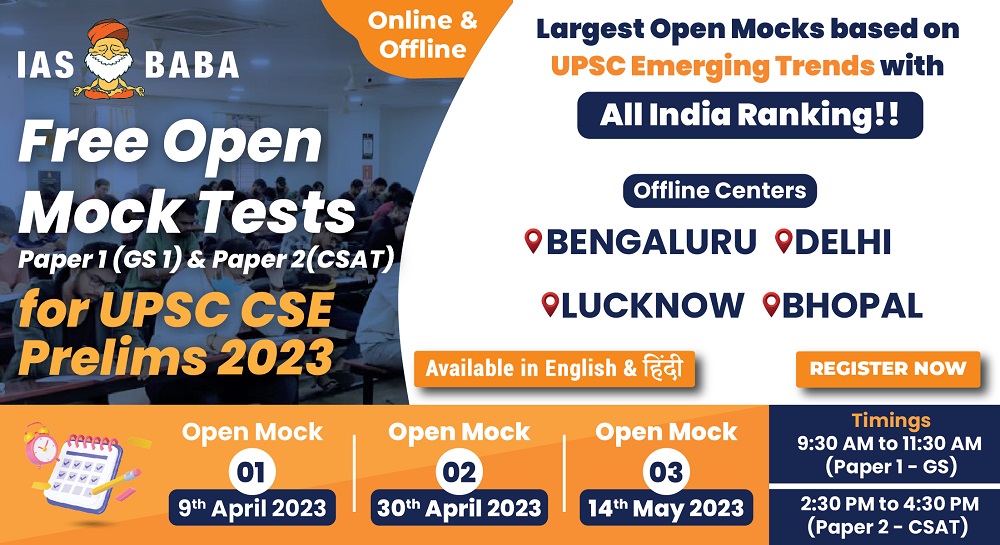 Thank you for your overwhelming response to the 1st Open Mock which is scheduled for 9th April 2023.
Please be informed that due to a significant rise in the number of registrations in Bangalore & Delhi, we have decided to conduct the Open Mock in a School instead of IASbaba Centres.
The details of the centres/venue can be found below.
Date of the All India Mock Test
9th April 2023
Paper 1 (General Studies)
9:30 AM to 11:30 AM
Paper 2 (CSAT)
2:30 PM to 4:30 PM
Centres for All India Mock Test
Note: Venue/Centre has changed for Bangalore & Delhi. Students should arrive at the below centres even if the admit card / registered email states different location
* Please be at the centres at least 15 minutes before the scheduled time
Link to log in for the examination: test.iasbaba.com/login
If your credentials are not working, you can always reset your password using the Forgot Password option.
The test links will open at 9:30 AM for Paper 1 and 2:30 PM for Paper 2. Refresh the web page if it is still locked after the stipulated time. Do not panic!
The clock will be set on the server. The countdown timer in the top right corner of the screen will display the remaining time available for you to complete the examination. When the timer reaches zero, the examination will end by itself. You will not be required to end or submit your examination.
The test will be automatically submitted if the time limit is exhausted.
A stable internet connection is required for attempting the examination without any issues.
If you still face any issues after following the above-mentioned steps, please mail us at support@iasbaba.com. (Please mail us only after following the steps mentioned above, do not mail us in a hurry. There might be genuine aspirants who might face an issue since we are also humans! We can only attend one query at a time) 
Bring the e-Admit Card or Registration eMail (softcopy/printout) and the (original) Photo Identity Card, in each session to secure admission to Examination Hall. e-admit card copy will be collected by the IASbaba team.
Please note that entry into the Examination Venue shall be closed 10 minutes before the commencement, i.e. 9:20 AM for the Forenoon Session and 02:20 PM for the Afternoon Session. No candidate shall be allowed entry into the Examination Venue after the closure of the entry.
Your candidature for the Examination is provisional.
Answers other than those made by Black Ball Point Pen will not be evaluated.
Candidates are advised not to bring any valuables/ costly items and bags to the Examination Venue, as safekeeping cannot be assured. IASbaba will not be responsible for any loss in this regard.
More Mock Tests will happen on 30th April & 14th May
The registrations and details will be announced soon!
Are you ready?
All the very best!