Dear Students,
We are introducing comprehensive Sociology Optional Regular Classroom cum Test series Programme intended to provide conceptual clarity over the subject matter as well as to impart Answer writing skills into the students. Hence, we have come up with a comprehensive course which is suitable for both beginners and veterans
Foundation Course for Sociology Optional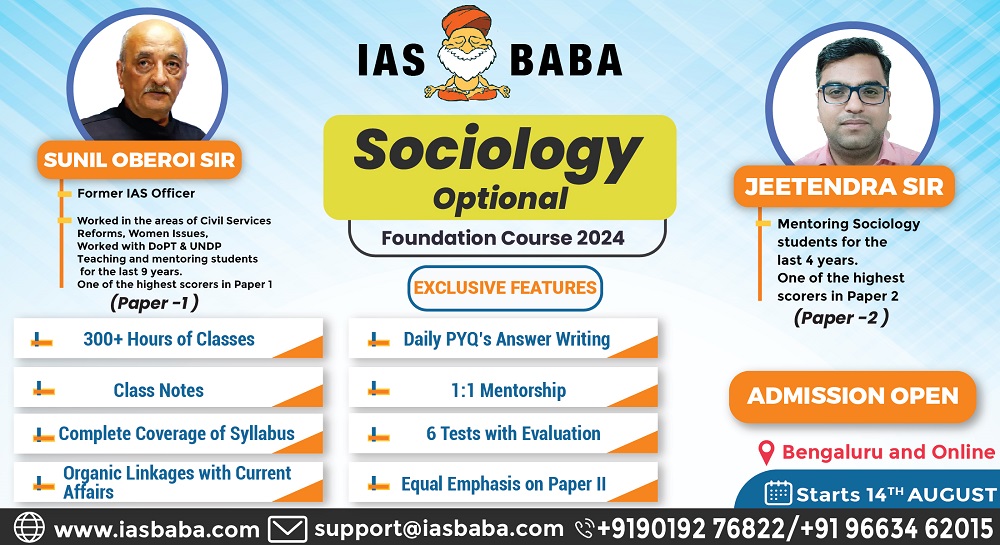 Features of the Programme
300+ Classes

Classes – Comprehensive coverage of the syllabus including the complete dynamic syllabus of Paper-2 through customized and readily accessible videos.
All the necessary themes will be covered under this programme.
Live and regular doubt clearing sessions.
Personalized online dashboard for every student with access till Mains exam of 2024.
Most comprehensive answer writing program which includes 6 with synopsis, evaluation, feedback & analysis
Topic-wise classroom dictation Notes in easy to understand format sourced from standard books (not guides) including analysis of 5 year questions and analysis of EPW and The Hindu.
Incorporation of solved PYQ'S at the end of each topic

Strategy on How to incorporate knowledge of Paper 1 into paper 2 and Vice versa.

Individual mentorship
Total number of teaching hours: approx 300+ hours.
Sociological analysis of current events (concept & application), additional concepts, easy revision mind maps, data sets for answer enrichment.
Programme Starts from 14th August
Former IAS Officer
Worked in the areas of Civil Services Reforms, Women Issues
Worked with DoPT & UNDP
Teaching & Mentoring students for the last 9 years
One of the highest scores in Paper 1
Jeetendra Sir
Mentoring students for the last 4 years
One of the highest scores in Paper 2
For more enquiries please reach us at –
support@iasbaba.com and 9169191888