IASbaba Press Information Bureau 13th May to 19th May, 2018
GS-2
---
Role of Village Level Entrepreneurs (VLEs) in revolutionizing Common Service Centre Movement
(Topic: Government policies and interventions for development in various sectors and issues arising out of their design and implementation)
CSC VLEs are enabling the disbursement of entitlement and pension to various citizens living in far flung areas of the country
Numbers:
2.92 lakh CSCs across the country

54,000 women VLEs are working hard to achieve the goals of Digital India mission in rural areas.

In just 4 years, the total transactions of VLEs have increased from just one Cr (in year 2013-14) for an amount of 180 Cr to 17.83 Cr for an amount of Rs. 19,000 Cr in 2017-18.

CSCs have given employment to more than 10 lakh people in India.
---
Cabinet apprised of MoU between India and France on Technical Cooperation in the field of railways
(Topic: Bilateral, regional and global groupings and agreements involving India and/or affecting India's interests)
The MoUs provide a platform for Indian Railways to interact and share the latest developments and knowledge in the railway sector. The MoUs facilitate exchange of technical experts, reports and technical documents, training and seminars/workshops focusing on specific technology areas and other interactions for knowledge sharing.
The MoU will provide a framework of cooperation for focused approach in following key areas:-
High speed and semi-high speed rail;

Station renovation and operations;

Modernisation of current operations and infrastructure;

Suburban trains
Cabinet approves
MoU between India and Morocco in the legal field: The MoU will give an opportunity to the Lawyers, Law Officers and law students to discuss issues in the field of law and justice in seminars, symposiums and workshops arranged by authorities of India and Morocco.
MoU between the India and Swaziland on cooperation in the field of Health and Medicine: The MoU covers the following areas of cooperation:-
Drugs & Pharmaceutical products;

Medical Consumable products;

Medical Research;

Medical Equipment;

Public Health;

Communicable Disease Control & Surveillance;

Health Tourism
MoU between India and Suriname for cooperation in the field of electoral management and administration: Including exchange of knowledge and experience in the field of organizational and technical development of electoral process; support in exchanging information, institutional strengthening and capacity building, training of personnel, holding regular consultations etc.
MoU between India and Equatorial Guinea for Cooperation in the field of Traditional Systems of Medicine: The Traditional Systems of Medicine in India are well organized, codified and well documented comprised of Ayurveda, Yoga & Naturopathy, Unani, Siddha, Sowa Rigpa and Homoeopathy. These systems hold tremendous potential in the global health scenario. The Ministry of AYUSH having the mandate to promote, propagate and globalize these Traditional Systems has taken effective steps by entering into MoU with Malaysia,Trinidad & Tobago, Hungry, Bangladesh, Nepal, Mauritius, Mongolia, Iran and Sao Tome & Principe for cooperation in the field of Traditional Medicine.
MoU on Cooperation in the field of Medicinal Plants between India and Equatorial Guinea: India is one of the richest countries in the world in terms of biodiversity, having 15 agro-climatic zones.
Out of the 17000-18000 species of flowering plants, more than 7000 are estimated to have medicinal usage in folk and documented systems of medicine like Ayurveda, Unani, Siddha & Homoeopathy (AYUSH System of Medicine).

About 1178 species of medicinal plants are estimated to be in trade of which 242 species have annual consumption levels in excess of 100 metric tonnes/year.

Medicinal plants are not only a major resource base for the traditional medicine & herbal industry but also provide livelihood and health security to a large segment of Indian population.

There is global resurgence in traditional and alternative health care systems resulting in world herbal trade which stands at US$ 120 billion and is expected to reach US$ 7 trillion by 2050.

Moreover, there are a large number of medicinal plants, particularly those found in tropical region, which are common to the two countries given similar geo-climatic factors.
MoU between India and Morocco in the field of Mining and Geology: The MoU will provide an institutional mechanism between India and Morocco for cooperation in the field of geology and mining. The activities involved in the cooperation viz. development of geological infrastructure, promotion of mining and geology, training programs and establishment of geological data bank would serve the objective of innovation.
---
GS-3
National Policy on Biofuels – 2018
(Topic: Environment and Ecology; Biodiversity; Pollution)
The Policy categorises biofuels as "Basic Biofuels" viz.
First Generation (1G) bioethanol & biodiesel– made from sugar + starch + oil + animal fats + food crops like corn, sugarcane, sugar beet, wheat and sorghum (made from feedstocks that can also be consumed

as human food

)

"Advanced Biofuels" – Second Generation (2G) ethanol, Municipal Solid Waste (MSW) to drop-in fuels – made from non-food crops + agricultural waste + wood chips (not normally used for human consumption)

Third Generation (3G) biofuels, bio-CNG etc. to enable extension of appropriate financial and fiscal incentives under each category – made from algae + other biomass sources
Raw materials: The Policy expands the scope of raw material for ethanol production by allowing use of Sugarcane Juice, Sugar containing materials like Sugar Beet, Sweet Sorghum, Starch containing materials like Corn, Cassava, Damaged food grains like wheat, broken rice, Rotten Potatoes, unfit for human consumption for ethanol production.
Appropriate Pricing: Farmers are at a risk of not getting appropriate price for their produce during the surplus production phase. Taking this into account, the Policy allows use of surplus food grains for production of ethanol for blending with petrol with the approval of National Biofuel Coordination Committee.
Funding Scheme: With a thrust on Advanced Biofuels, the Policy indicates a viability gap funding scheme for 2G ethanol Bio refineries of Rs.5000 crore in 6 years in addition to additional tax incentives, higher purchase price as compared to 1G biofuels.
Supply Chain Mechanism: The Policy encourages setting up of supply chain mechanisms for biodiesel production from non-edible oilseeds, Used Cooking Oil, short gestation crops.
Roles and responsibilities of all the concerned Ministries/Departments with respect to biofuels has been captured in the Policy document to synergise efforts.
Expected Benefits:
Reduce Import Dependency: One crore lit of E10 saves Rs.28 crore of forex at current rates. The ethanol supply year 2017-18 is likely to see a supply of around 150 crore litres of ethanol which will result in savings of over Rs.4000 crore of forex.
Cleaner Environment: One crore lit of E-10 saves around 20,000 ton of CO2 emissions. For the ethanol supply year 2017-18, there will be lesser emissions of CO2 to the tune of 30 lakh ton. By reducing crop burning & conversion of agricultural residues/wastes to biofuels there will be further reduction in Green House Gas emissions.
Health benefits: Prolonged reuse of Cooking Oil for preparing food, particularly in deep-frying is a potential health hazard and can lead to many diseases. Used Cooking Oil is a potential feedstock for biodiesel and its use for making biodiesel will prevent diversion of used cooking oil in the food industry.
MSW Management: It is estimated that, annually 62 MMT of Municipal Solid Waste gets generated in India. There are technologies available which can convert waste/plastic, MSW to drop in fuels. One ton of such waste has the potential to provide around 20% of drop in fuels.
Infrastructural Investment in Rural Areas: It is estimated that, one 100klpd bio refinery will require around Rs.800 crore capital investment. At present Oil Marketing Companies are in the process of setting up twelve 2G bio refineries with an investment of around Rs.10,000 crore. Further addition of 2G bio refineries across the Country will spur infrastructural investment in the rural areas.
Employment Generation: One 100klpd 2G bio refinery can contribute 1200 jobs in Plant Operations, Village Level Entrepreneurs and Supply Chain Management.
Additional Income to Farmers: By adopting 2G technologies, agricultural residues/waste which otherwise are burnt by the farmers can be converted to ethanol and can fetch a price for these waste if a market is developed for the same. Also, farmers are at a risk of not getting appropriate price for their produce during the surplus production phase. Thus conversion of surplus grains and agricultural biomass can help in price stabilization.
Background:
Aim: Promote biofuels in the country
By: Ministry of New and Renewable Energy during the year 2009
Biofuels in India are of strategic importance as it augers well with the ongoing initiatives of the Government such as Make in India, Swachh Bharat Abhiyan, Skill Development and offers great opportunity to integrate with the ambitious targets of doubling of Farmers Income, Import Reduction, Employment Generation, Waste to Wealth Creation. Biofuels programme in India has been largely impacted due to the sustained and quantum non-availability of domestic feedstock for biofuel production which needs to be addressed.
1G: Most common first-generation biofuels include:
Biodiesel – extraction of vegetable oils, with or without esterification, from the seeds of plants like soybean, rape (canola) and sunflower
Ethanol – fermentation of simple sugars from sugar crops (sugarcane) or starch crops (corn, wheat)
Biogas – anaerobic fermentation of organic waste and crop residues as energy crops
As with any industry, certain concerns (in this case related to cost and inefficiency) arose out of first-generation biofuel production. This evolution naturally led to second-generation biofuels.
2G: Second-generation non-food feedstocks include woody crops and agricultural residues or waste, which are a little more difficult to extract. For this reason, advanced conversion technologies are needed in the process, which is also why second-generation biofuels are known as "advanced biofuels."
Second-generation technologies cover a wider range of biomass resources, from agriculture to forestry and waste materials. One well-known second-generation technology is called lignocellulosic processing, which uses forest materials.
3G:
Impressive diversity: Algae can produce such fuels as biodiesel, butanol, gasoline (petrol), ethanol, and even jet fuel!
Higher yields: Algae is capable of producing much more than its other feedstock counterparts, and with lower resource inputs. By some estimates, algae can produce 10-fold what even the best conventional feedstocks can generate.
The capital and operating costs of third-generation production are the highest. This subsector requires additional research and development to reach the point of being a sustainable method of consistent biofuel production on a commercial scale, but the potential is highly promising
4th generation biofuel (4G): Made from specially engineered plants or biomass – to:
Produce sustainable energy

Capture and store carbon dioxide (they are carbon-negative; take away more carbon dioxide than it produces)
Do Read: Link 1
---
Green Skill Development Programme (GSDP)
(Topic: Environment and Ecology; Biodiversity; Pollution)
Realizing the need for developing the green skills, the Ministry of Environment, Forest & Climate Change (MoEF&CC) is utilising the vast network and expertise of Environmental Information System (ENVIS) hubs and Resource Partners (RPs).
Aims to: Get 80, 000 people imparted green skills and in filling the skill gaps in the environment sector
Objective: The programme endeavours to develop green skilled workers having technical knowledge and commitment to sustainable development.
The number of people to be employed under GSDP will be increased to cover 2.25 lakh people next year and to about 5 lakh people by the year 2021
It will help in the attainment of the Nationally Determined Contributions (NDCs), Sustainable Development Goals (SDGs), National Biodiversity Targets (NBTs), as well as Waste Management Rules (2016).
---
Review of Skill Development in Aviation Sector & Progress being made on developing National Air Cargo Policy
(Topic: Infrastructure: Airports)
The demand for aviation skilled personnel has been rising commensurately with the boom in the civil aviation sector witnessed in the last 3-4 years. Recognizing this demand and to bolster the Skill India Mission, Shri Suresh Prabhu made the following observations:
Steps must be taken so as to have skill development centres across all States.

Institutional strengthening – In the context of training, the existing institutional structure should be strengthened further to ramp up the training. The business model of the Aviation University should be re-looked keeping in mind the vast demand for the human skilled resources in the coming years. As per a study, by 2035, the Indian Civil Aviation sector would require 0.8 to 1 million personnel directly and another 3 million indirectly.

Training process re-engineering – outline actionable ideas to modify the existing training process to enhance the quality of the output as well as to make the system more efficient

A comprehensive development plan on skill development should be prepared along with funding related strategies that will aid the capacity building required in the sector
Recognizing the need for increasing air cargo industry size in India, the Sh. Prabhu made the following observations:
Sufficient land should be earmarked in the upcoming airports for cargo operations.

Should create air cargo trans-shipment hubs in India – sourcing cargo from neighbouring states and partner countries

The policy should aim at creating inter-modal hubs and should have air-sea, air-road, air-inland waterways connectivity

Geographical location and distinct products related to that location should be kept in mind while developing the cargo policy
---
National Wind-solar Hybrid Policy
(Topic: Infrastructure – Energy)
By: Ministry of New and Renewable Energy
Objective of the policy is to provide a framework for promotion of large grid connected wind-solar PV hybrid system for efficient utilization of transmission infrastructure and land
Aims at reducing the variability in renewable power generation and achieving better grid stability
The Policy seeks to
Promote new hybrid projects as well as hybridisation of existing wind/solar projects. The existing wind/solar projects can be hybridised with higher transmission capacity than the sanctioned one, subject to availability of margin in the existing transmission capacity.

Provides for procurement of power from a hybrid project on tariff based transparent bidding process for which Government entities may invite bids

Permits use of battery storage in the hybrid project for optimising the output and further reduce the variability

Mandates the regulatory authorities to formulate necessary standards and regulations for wind-solar hybrid systems
---
Launch of Intellectual Property mascot – IP Nani
(Topic: Issues relating to intellectual property rights)
Mascot IP Nani is a tech-savvy grandmother who helps the government and enforcement agencies in combating IP crimes with the help of her grandson "Chhotu" aka Aditya. The IP mascot will spread awareness about the importance of Intellectual Property Rights (IPRs) among people, especially children, in an interesting manner.
This character is also in line with the World Intellectual Property Organization's (WIPO) campaign for the World IP Day which celebrates the brilliance, ingenuity, curiosity and courage of the women who are driving change in our world and shaping our common future. It also highlighted that how a strong IP system can support innovative and creative women and indeed everyone in their quest to bring their amazing ideas to the market.
Objective of National IPR Policy: IPR Awareness: Outreach and Promotion". Under this objective, one of the key focus areas is awareness on IPR for school children, as it is essential to nurture creativity and the ability to innovate starting out from a young age.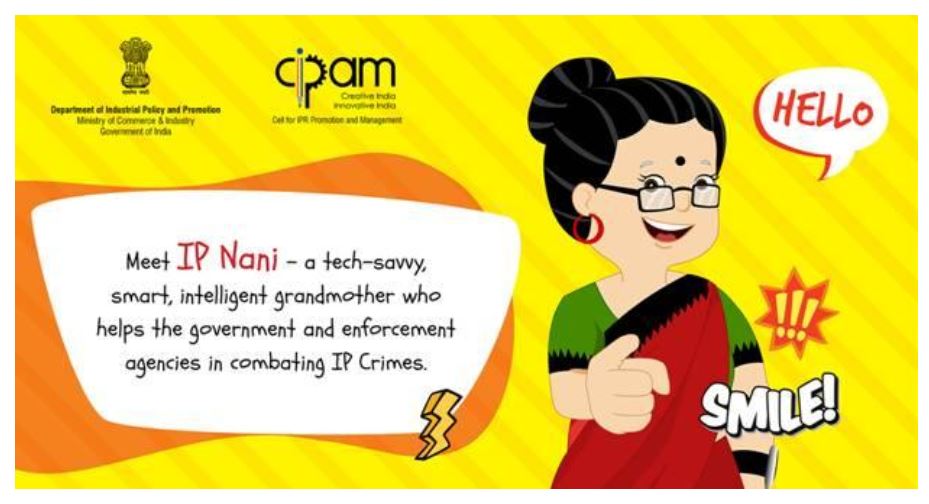 Prelims oriented news:
Prime Minister of Malaysia: H. E. Tun Dr. Mahathir Mohamad
Botanical Garden of India Republic (BRIG) project: Help preserve the endangered vegetation in the country.
Recent Cyclonic Storm over Gulf of Aden: SAGAR
Samarth – Scheme for Capacity Building in Textile Sector
Objective: To provide demand driven, placement oriented National Skills Qualifications Framework (NSQF) compliant skilling programmes to incentivize and supplement the efforts of the industry in creating jobs in the textiles sectors.
Target: The scheme targets to train 10 lakh persons (9 lakh in organised and 1 lakh in traditional sector) over a period of 3 years (2017-20), with an outlay of Rs. 1300 crore.
Establishment of National Institute of Mental Health Rehabilitation at Bhopal
To provide rehabilitation services to the persons with mental illness, capacity development in the area of mental health rehabilitation, policy framing and advanced research in mental health rehabilitation.
NIMHR will be the first of its kind in the country in the area of mental health rehabilitation.  

It will serve as an institution of excellence to develop capacity building in the area of mental health rehabilitation and also help the Government to develop models for effective rehabilitation of persons with mental illness.
Mt. Bhagirathi-II:
Located in the Garhwal Himalayas in Gangotri National Park

Indian Army Women Officers' Mountaineering Expedition to Mt. Bhagirathi-II (6512 metres) consisting of nine women officers has begun – The expedition aims at encouraging women in the field of adventure where dauntless courage, will-power and determination is put to test. The Indian Army women officers are exploring their maximum potential in the field of adventure sports.

Locate it on the map
National Geoscience Awards: Started in 1966 by the Ministry of Mines
Geological Survey of India

, the leading geoscientific survey organisation in the country, was founded in 1851. It was the world's second such survey organisation.

In March

2020

,

India

will host the 36th International Geological Congress. This is the biggest geological conference in the world.
Atal Pension Yojana: Subscribers base crosses 1 crore mark on completion of 3 years of launch of the Scheme
A guaranteed Pension Scheme for citizens of India

Focused on the unorganised sector workers which constitute more than 85% of workforce

Under the APY, the guaranteed minimum pension of Rs. 1,000/- or 2,000/- or 3,000/- or 4,000/ or 5,000/- per month will be given at the age of 60 years depending on the contributions by the subscribers.

The Spouse of the Subscriber is also eligible for pension and the nominee would be receiving the accumulated pension wealth.
"AYUSH" finds a place in English Language:
Acronym for five traditional and complementary systems of medicine, namely Ayurveda, Yoga & Naturopathy, Unani, Siddha and Homoeopathy

As approved by the Commission, the word 'ayush' will have the meaning "Traditional and Non-Conventional Systems of Health Care and Healing which include Ayurveda, Yoga, Naturopathy, Unani, Siddha, Sowa Rigpa, Homoeopathy etc.
India participates for the first time at the Meeting of Cultural Ministers of the SCO held in Sanya, Hainan province, China
The main objectives of the SCO are to strengthen relations among member states; promote cooperation in various fields like political affairs, economics, and education, culture, tourism, environment protection etc. and promote regional peace, security, and stability among others. India attaches special importance to SCO in promoting multilateral, cultural, political, security, economic and people-to-people interaction in the region.
India became

full member of the Shanghai Cooperation Organization (SCO)

on 9th June, 2017 during the SCO Heads of State Summit in

Astana, Kazakhstan.
An eight-member multilateral organization, established on 15 June 2001 in Shanghai, China by the leaders  of China, Kazakhstan, Kyrgyzstan, Russia, Tajikistan and Uzbekistan.

SCO represents approximately 42% of the world's population, 20% of its GDP and 22% of the landmass.
National Urban Livelihoods Mission (NULM)
Seeks to reduce poverty and vulnerability of the urban poor through access to gainful self-employment and skilled wage employment opportunities
Provide social security

Strengthen tenure security

Improve basic infrastructure and public services in informal settlements where urban poor are concentrated

Reduce vulnerability

Improve working conditions
Indian Railways fits specially designed aerators in basin-taps of Tejas Express as a step towards water conservation
The aerators through their fine pores break the stream of incoming water into fine water sub-streams.

Hence, while the outflowing water is sufficient for utilisation towards cleanliness, the aerators prevent wastage of water by reducing excess water flow.
Quotes:
Swachh Bharat and Swastha Bharat must be mass movement
The Vice President of India, Shri M. Venkaiah Naidu
Media should take the truth into the society with courage and enthusiasm

Media should dedicate itself to a new TRP philosophy of promotion of Truth in a Responsible and Professional manner

Media should be a Means of Empowerment for Development through Informed Actions
Union Minister of Agriculture and Farmers' Welfare Shri Radha Mohan Singh
During the last decade, India has attained first position with around 14% average annual growth in the export of fish & fishery products. Fish production in India has also grown by 27% in 2014-18 as compared to 2010-14.

Government has made a budget provision of Rs 7,522.48 crore for the establishment of Fisheries and Aquaculture Infrastructure Development Fund (FAIDF) which has the potential to benefit 40 lakh marine and inland fishermen, especially women, self-help groups, weaker sections by making available modern infrastructure facilities and increased value of the produce.

Owing to low prospects of fisheries production along the coast, the government has decided to promote deep sea fishing and has introduced a sub-component 'Assistance for Deep Sea Fishing' under the Blue Revolution: under this scheme, self-help groups of traditional fishermen are being given 50 per cent of the vessel cost i.e. the central assistance of Rs 40 lakh for vessel costing up to Rs 80 lakh. Advanced and modern deep sea fishing vessels will be built in the country by indigenous technology.

National Policy on Marine Fisheries: will promote the integrated development of marine fisheries in the country for the next 10 years. State governments should take all necessary steps to ensure sustainable fishing. There is a need to fix fleet size, gear size, minimum legal size of fish, and minimum net size in their respective territorial waters to ensure proper utilization of marine fishery resources through fisheries management.
Essential for physical and social infrastructure in the North Eastern Region (NER)
HIRA: NITI Aayog has recently launched the 'NITI Forum for the North East' which envisages that development projects in the NER will be based on the concept of "HIRA" (Highways, Inland Waterways, Railways and Airways)
Three 'I's are important: Institutions; Information and Infrastructure
Supply-driven approach to infrastructure development has overlooked the local developmental aspirations in NER. Besides mega infrastructure projects, micro-interventions like e.g. storage facilities could help optimize the utilization of local resources for promoting entrepreneurship and job creation. Need to have a

bottom-up approach

rather than the top-down approach for developing the required infrastructure – there is need to have in place grass root R&D facilities at par with global standards. Local engagement is the key.

Proper pricing, efficient supply of raw materials and product diversification can support the local industries to catch-up. Agri-based value chains have higher prospects in the NER.

Special attention needs to be paid for extending digital connectivity across the region especially digital solutions for remote areas.

NER has great potential for developing Green and Clean Energy based on generating Solar Energy.

There should be provisions for addressing the specific financing requirements of the aspirational areas so as to ensure balanced regional development in the NER.

There should be a dedicated think tank for the NER at the Central Government level.
For a dedicated peer group, Motivation & Quick updates, Join our official telegram channel – https://t.me/IASbabaOfficialAccount
Subscribe to our YouTube Channel HERE to watch Explainer Videos, Strategy Sessions, Toppers Talks & many more…