IASbaba's Daily Current Affairs (Prelims + Mains Focus)- 11th June 2018
---
(PRELIMS+MAINS FOCUS)
---
18th SCO summit in Qingdao
Part of: Prelims and Mains GS Paper II- International relations; India and its neighbours
Fast recap: About SCO
SCO is a Eurasian political, economic, and military organisation.

It was founded in 2001 in Shanghai by the leaders of China, Kazakhstan, Kyrgyzstan, Russia, Tajikistan, and Uzbekistan.

The headquarters in Beijing, China.

June 2017, at a summit in Astana, India and Pakistan officially joined SCO as full-fledged members.

Currently, China is the host and chair of the SCO.
In news:
Prime Minister Narendra Modi and Pakistani President Mamnoon Hussain met in 18th SCO summit in Qingdao.

After engaging with China in Wuhan and Qingdao, India appeared to be

rebalancing its ties with Pakistan

in order to build bridges with Eurasia, within the framework of the

eight-nation SCO

.

India is exploring the possibility of connectivity to Central Asia through the Pakistan-Afghan corridor, under the SCO framework.

SCO has resolved to fight terrorism, separatism and extremism with a renewed vigour in the next three years, and called for a unified global counter-terrorism front under the coordination of the UN

[UN Comprehensive Convention on International Terrorism

].

In the summit, the leaders also talked about the special role of the SCO Regional Anti-Terrorist Structure in the fight against "the three evils" — terrorism, extremism and separatism — to ensure regional security.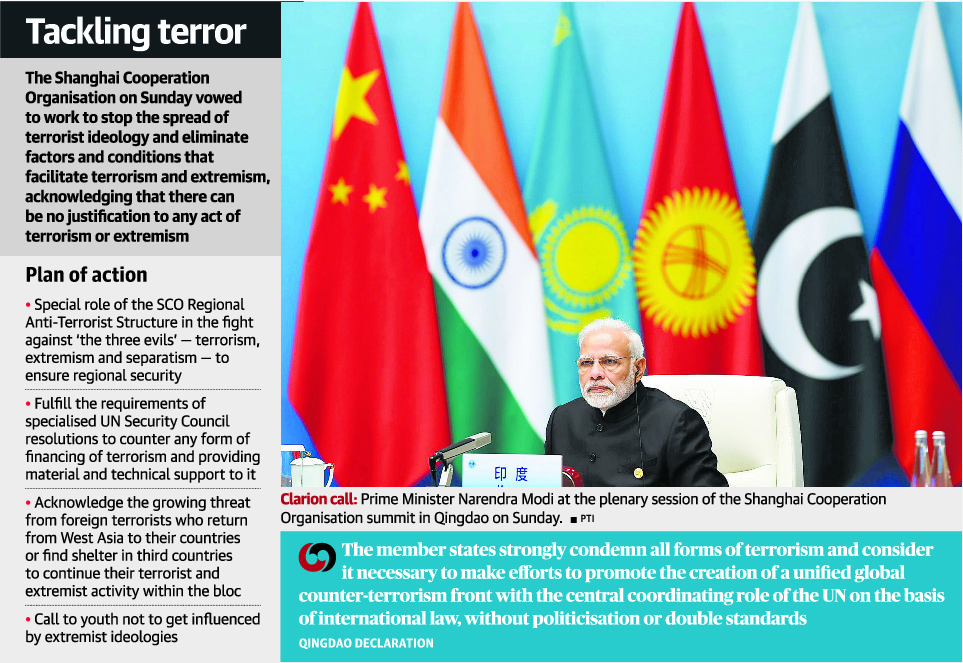 Pic link: https://d39gegkjaqduz9.cloudfront.net/TH/2018/06/11/DEL/Delhi/TH/5_11/2e527882_2165210_101_mr.jpg
SECURE
PM Modi also spelt out his new mantra applicable to the SCO, which he termed as SECURE:
'S' for security of citizens,

'E' for economic development,

'C' for connectivity in the region,

'U' for unity,

'R' for respect of sovereignty and integrity, and

'E' for environmental protection.
Do you know?
India and Pakistan relations have been strained after an attack on an Army camp in Uri in Jammu and Kashmir by Pakistan-based terror organisations in 2016.
Article link: India rebalancing ties with Pak. to open path to Eurasia
---
India refuses to endorse China's Belt and Road Initiative
Part of: Prelims and Mains GS Paper II- International relations; India and its neighbours
Key pointers:
More than a year after boycotting the Belt and Road Forum in Beijing,

India again refused to endorse the ambitious Chinese Belt and Road Initiative (BRI)

.

After the two-day SCO summit, the eight full members signed

the Qingdao joint declaration

but India was missing from the section that referred to the BRI.

Prime Minister Narendra Modi said that India welcomed connectivity projects that respected the sovereignty and territorial integrity of nations.
Background:
The BRI, proposed by Chinese President Xi Jinping in 2013, is aimed at building a trade and infrastructure network connecting Asia with Europe and Africa along ancient trade routes.

India has staunchly opposed the project citing the China Pakistan Economic Corridor (CPEC) – an important part of the BRI – that goes through Pakistan-occupied Kashmir (PoK).

Citing its opposition to the CPEC, India had skipped the Belt and Road Forum in May last year, which 29 state heads had attended.
---
Rise in India-ASEAN naval games
Part of: Prelims and Mains GS Paper II and III – International relations; India and the World; Defence and Security
In news:
India is instituting a series of bilateral and multilateral naval exercises with Association of South East Asian Nations (ASEAN) countries as part of the increasing military-to-military cooperation.
This is in addition to assisting the countries in capacity-building and sale of military hardware.
Key points:
Navies of India and Indonesia to hold their first bilateral exercise in the Java Sea.

India will stage a new trilateral exercise with Thailand and Singapore soon.

Navy recently conducted maiden bilateral exercises with Myanmar, Thailand and Vietnam.
Coordinated Patrol (CORPAT)
Naval exercise between India and Indonesia

India has deployed INS Kulish, a Kora class missile corvette, and one Dornier maritime patrol aircraft in recent CORPAT exercise.
Article link: Rise in India-ASEAN naval games – NATIONAL
---
Insolvency Code: what's new
Part of: GS prelims – Indian Economy
In news:
Last week, President Ram Nath Kovind gave his nod to promulgate the Insolvency and Bankruptcy code (Amendment) Ordinance 2018.

In a major change, homebuyers would now be treated as financial creditors or, in other words, on par with banks.

The amendment enables homebuyers (either as an individual or group) to initiate insolvency proceedings against errant builders.

Homebuyers shall have the right to be represented in the committee of creditors (CoC), which takes the key decision regarding revival of the company or its liquidation.
Just know that homebuyers now treated as financial creditors.
Article link: Economy Insolvency Code: what's new
---
(MAINS FOCUS)
---
NATIONAL
TOPIC:
General Studies 2:
Government policies and interventions for development in various sectors and issues arising out of their design and implementation.
General Studies 3:
Conservation, Environmental pollution and degradation, environmental impact assessment.
Economic Development, Bio diversity, Environment, Security
Implementing the Forest Rights Act in true spirit
In news:
As per a report- Official figures say 62 per cent of land claims made by tribals were rejected in Maharashtra.
Such rejection, though not uncommon, is against the spirit of The Scheduled Tribes and Other Traditional Forest Dwellers (Recognition of Forest Rights) Act, 2006 (FRA).
The FRA:
The Act vests a number of rights with forest-dwelling communities, including rights over forest land for habitation and cultivation, right of ownership, access to collect, use, and dispose of minor forest produce, right to govern and manage any community forest resource which they have been traditionally conserving for sustainable use.
Historically, during the colonial and post-colonial periods, forest management and access to forest resources like non-timber forest products (NTFPs) was largely driven by the principles of centralisation, exclusion and exploitation.
The FRA envisages to change this and ensure that the economic benefits of NTFPs accrue to tribal people — this is one reason that claims on forest resources should be addressed without bias.
Importance of the NTFPs:
The report of the sub-group on NTFPs and their sustainable management in the 12th Five Year Plan highlighted that NTFPs constitute one of the largest unorganised sectors in India. Almost 275 million people depend on NTFPs with a turnover of at least Rs 6,000 crore per annum.
There is a strong potential to scale up NTFP collection and processing.
However, NTFPs potential as a source of development and poverty alleviation has been deeply neglected.
Role of the FRA:
Prior to the enactment of the FRA in 2006, forest laws nationalised non-timber forest produce and regulated the market process, creating severe inefficiencies.
The FRA provides the legal basis of ownership rights over NTFPs to forest dwellers.
Case study- Vidarbha region:
The remarkable impact of ownership rights over these forest products in terms of incomes and empowerment can be observed in Maharashtra's Vidarbha region.
In the region, the community rights under FRA have been implemented at scale, with almost 5.86 lakh hectares of forests being transferred to the jurisdiction of gram sabhas.
Ownership over minor forest produce, specially tendu leaves and bamboo, has improved the economic condition of forest dwellers.
There is a significant change in their socio-economic condition due to the additional income from NTFPs.
Migration has reduced and, in some areas,, reverse migration has started.

Villagers also report that dependence on middlemen for loans has come down drastically as the payment for NTFPs like tendu leaves and bamboo is made before June, which helps them in their agricultural activity.

Investment in education and health by the villagers has increased.

The improvement in their economic condition has empowered the poor, marginalised tribal and forest dweller to be more assertive in the decision-making process at the gram sabha and panchayat level.
These are remarkable developments, wherein recognition of rights over forests and forest products seem to have kick-started a process of economic development and empowerment in one of the poorest, left-wing extremist affected parts of India.
Positive developments due to the FRA:
The recognition of rights over forests and forest products has transferred the decision-making power to communities to decide when, where, how and to whom to sell their non-timber forest products and how to govern their forests.

The FRA also fosters democratic control over customary forests by forest-dependent communities, ensuring more effective, sustainable and people-oriented forest conservation, management and restoration.
For instance, in the Vidarbha region, the recognition of community rights over forest resources and land has led to dramatic reduction in incidence of forest fires. The forest cover regeneration has improved and indiscriminate felling and diversion of forests has been contested.
Concern:
Unfortunately, above mentioned positive developments have been largely confined to Vidarbha, a few villages in Kalahandi district of Odisha and Gujarat's Narmada and Dangs districts.
In the rest of the country, state governments continue to resist and create hurdles in the implementation of community rights over NTFPs and forests.

Despite several orders from the nodal agency, the Union Ministry of Tribal Affairs, the implementation of the provision of collective rights over NTFPs under the FRA has been weak and ineffective.

The failure to recognise access rights of forest dwellers over NTFPs is a perpetuation of the historical injustice on India's forest-dwelling communities and a missed opportunity to democratise forest governance and improve the economic condition of marginalised forest communities.
Conclusion:
A report of the Rights and Resources Initiative (2015) suggests that if the FRA is implemented properly, it could lead to the recognition of the rights of at least 150 million forest-dwelling people over 40 million hectares of forestland in more than 1,70,000 villages. The economic impact of this could be huge in rural areas as NTFPs constitute about 20 per cent to 40 per cent of the annual income of forest dwellers.
It provides them critical subsistence during the lean seasons, particularly for tribal groups such as hunter-gatherers, and the landless. Given that most of the NTFPs are collected, used and sold by women, it would also lead to financial and social empowerment for millions of women.
Connecting the dots:
A report suggests that if the Forest Rights Act is implemented properly, it could lead to the recognition of the rights of at least 150 million forest-dwelling people over 40 million hectares of forestland in more than 1,70,000 villages. The socio-economic impact of this could be huge in rural areas. Discuss.
---
ECONOMY
TOPIC:General Studies 3:

Indian Economy and issues relating to planning, mobilization of resources, growth, development and employment.
Inclusive growth and issues arising from it.
Government Budgeting.
e-technology; indigenization of technology and developing new technology.
Open data, open government
Introduction
The new wave of a technological revolution will not be from pure data or access to consumer behaviour, but the application of data and their assimilation with solving social problems, enabling better governance and powering elected governments to serve their citizens better.
Key pointers:
Data-driven governance is ushering in a new revolution.

A real paradign shift has begun – due to integration of Artificial Intelligence and open data.

Consumer-behaivour is being redefined as most of the companies have access to customer's choice and information-sharing and they embrace data-driven innovation.
Concerns around privacy and consent
This "datafication" of businesses has also brought to the fore the criticality of developing data management, storage and privacy laws.
For instance, European Union introduced General Data Protection Regulation. India has adopted a collaborative model to develop privacy laws, which includes deliberations with creators of data (the consumer) and users (corporates).
Open government data
Open government data is a silent but powerful movement unfolding globally.
Over 100 governments have already signed a charter to proactively share data collected by various government departments, for public consumption.

Fostering collaboration, enabling creative innovations and collective problem-solving are giving accountability and transparency a shot in the arm.
Open government data means publishing information collected by the government in its entirety, such as government budgets, spending records, health-care measures, climate records, and farming and agricultural produce statistics.
If the advent of data-driven business models was a watershed moment, this is the real pot of gold. Unfortunately, the potential of this national asset is being grossly underutilised.
Significance of open government data
Such data collected by governments are for citizen welfare; hence they have an implicit right to benefit from the information.

Data sets such as government budget usage, welfare schemes and subsidies increase transparency and thereby build trust.

It paves the way to develop technology-led innovations which can unlock massive economic value, thereby benefitting even the poorest of poor, the under-represented and the marginalised.

Availability of data on yearly produce of crops, soil data health cards and meteorological data sets can help companies develop customised crop insurance solutions with specific risk-based pricing.

Data points around progress in literacy rates, demographic data and density of educators can help develop customised solutions for villages.

Similarly, information on availability of facilities in public hospitals, current occupancy rates, hospital and demographic data can pave the way for curated health-care applications.

It can help India achieve its stated objectives to double farmers' incomes by 2022 and provide universal health coverage and micro loans to micro, small and medium enterprises among others.

Open data can add an additional 1.5% to the country's GDP. (about $22 billion)
India's current position
The Ministry of Electronics and Information Technology has made some laudable efforts, including a policy around open data.
India currently houses more than 1.6 lakh data resources and has published over 4,015 application programme interfaces (APIs) from across 100-plus departments. As a result,

India's global ranking by the Global Open Data Barometer has jumped.

Open Data project shows good intent but sporadic execution. Even though India publishes data points, very little of it is getting utilised by data consumers, scientists and corporates. Naturally, the socio-economic impact is limited.
The way forward: Five-point framework
5C framework can help to address the current underlying execution gaps of the Open Data project
The first step is to

ensure completeness of data stacks

opened for use either through machine-readable formats or direct APIs.
Completeness would imply a data set. For example, soil data cards will have data on all relevant aspects as well as current emerging technologies such as Blockchain and the Internet of Things to provide the opportunity to automate data collection.
Comprehensiveness of a data stack

or various data sets is essential. For example, a comprehensive agri-data set would have digitised data sets on soil data, rainfall, crop production as well as market rates. Currently, data sets shared in India are somewhat disjointed and not comprehensive.

Clustering of relevant data sets and APIs

would be the next step. This would mean combining data sets which can lead to the creation of applications such as farm insurance from weather, soil and crop cycle/sale data. Therefore, technology developers have a road map of "innovations in focus" for national development.

The fourth step is

building anchor cases or use-cases to encourage data usage

. A case in point is Aadhaar/identity data which has seen exponential growth (post identification in e-KYC). Taking the Aadhaar case further, its API has led to the development of market applications, an Aadhaar-enabled payment system, and direct benefit transfers among others which are clearly pushing the "financial inclusion" drive.

The final step would be

setting up a comprehensive governance framework

which includes

an open data council with cross-sector representation

to monitor, regulate and build usage after proportionate oversight.
The time is now ripe for the government to create a data-driven governance architecture by building digital trust in the economy and its intent.
Connecting the dots:
Data-driven governance is ushering in a new revolution. Do you agree? Discuss how Artificial Intelligence coupled with Open data can help in good and open governance?
---
(TEST YOUR KNOWLEDGE)
Model questions: (You can now post your answers in comment section)
Q.1) The Qingdao Declaration is related to which of the following organsiations:
Select the correct option
SAARC

G7

SCO

None of the above
Q.2) 'Regional Anti-Terrorist Structure' is associated with which of the following organsiations:
SAARC

G7

SCO

UN
Q.3) Coordinated Patrol (CORPAT) is associated with which of the following countries:
India, Thailand and Singapore

India and Japan

India and ASEAN

India and Indonesia
---
MUST READ
Open data, open government
Draw the line for the speakers and governors
In good faith: Saving planet, looking within
Digital revolution will transform India
For a dedicated peer group, Motivation & Quick updates, Join our official telegram channel – https://t.me/IASbabaOfficialAccount
Subscribe to our YouTube Channel HERE to watch Explainer Videos, Strategy Sessions, Toppers Talks & many more…