IASbaba's Daily Current Affairs (Prelims + Mains
Focus)- 24th July 2018
---
(PRELIMS+MAINS FOCUS)
---
Rajiv Gauba panel to check cases of mob lynching
Part of: GS Prelims and Mains II and III – Social issues; Internal Security; Law and Order issue
In news:
High-level committee headed by Rajiv Gauba, had been constituted to check cases of "mob lynching".

The government said a Group of Ministers (GoM), headed by Union Home Minister will consider the report of the committee and submit its recommendations to Prime Minister.
Do you know?
As per the Constitution, 'Police' and 'Public Order' are State subjects and State governments are responsible for controlling crime, maintaining law and order and protecting the life and property of the citizens.

Supreme Court condemned the recent spate of lynchings as "horrendous acts of mobocracy" and told Parliament to make lynching a separate offence.
---
India is a popular hub for medical tourism
Part of: GS Prelims and Mains II – Social/Health issues; Tourism/Infrastructure; Economy
In news:
India attracts a large number of foreign patients every year.
Reasons:
A rare combination of advanced facilities,

skilled doctors, and

low cost of treatment
Bangladesh and Afghanistan continued to be the top countries from where the maximum number foreign tourist arrivals (for medical purpose) was seen.
Other countries from where large numbers of medical tourists came to India include Iraq, Oman, Maldives, Yemen, Uzbekistan and Sudan.
The NITI Aayog has identified medical value travel as a major source of foreign exchange earnings.
---
2017-18 FDI inflows
Part of: GS Prelims and Mains III – Indian Economy; Foreign Investment inflows
In news:
According to RBI –
Karnataka registered the biggest increase in Foreign Direct Investment (FDI) last year.

Karnataka sees 300% jump in FDI inflows and Tamil Nadu FDI inflows increased.

Gujarat, Maharashtra and Andhra Pradesh all saw a drop in FDI inflows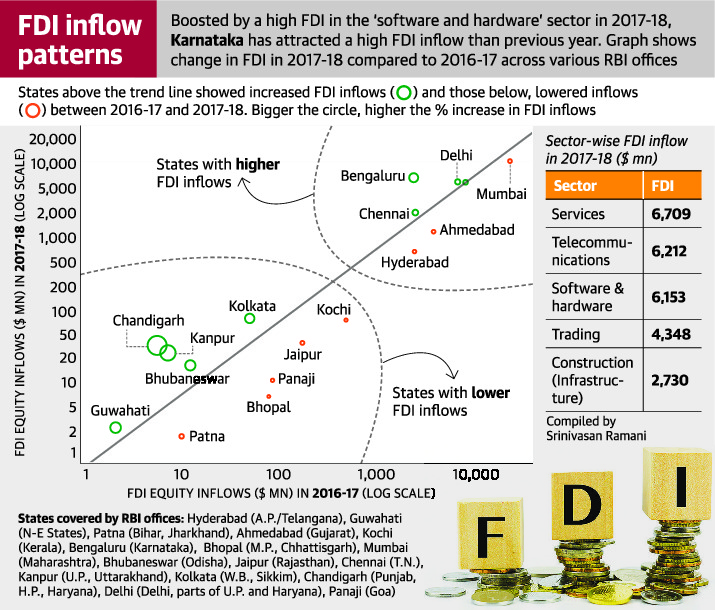 Pic: https://d39gegkjaqduz9.cloudfront.net/TH/2018/07/24/DEL/Delhi/TH/5_07/bfa29fc0_2268301_101_mr.jpg
About Foreign direct investment:
Foreign Direct Investment (FDI) is a form of investment that involves the inoculation of foreign funds into an enterprise that operates in a different country of origin from the financier.
Foreign direct investment is vital part of an open and real international economic system and a major promoter to development.
Determinates of FDI in Host Country:
Host Country Determinants:
Policy framework for FDI

Economic, political and social stability

Rules regarding entry and operations.

Standards of treatment of foreign affiliates.

Policies on functioning and structure of markets (esp. competition and merger and acquisition [M&A] Policies

International agreements on FDI

Privatization Policy

Trade policy (barriers-tariff and non-tariff) and coherence of FDI and trade policies
Do you know?
India had jumped one spot to 8th rank in the 2017 Global FDI Confidence Index.

Governance and regulatory issues made up 7 of the top-10 factors that investors consider when deciding on an investment destination according to the report.

However, India in 2018 has fallen out of the top 10 destinations for FDI in terms of its attractiveness, according to an AT Kearney (Global FDI Confidence Index) report.

Reasons – Challenges with implementation of GST and impact of demonetization.

Notable reforms done – elimination of the Foreign Investment Promotion Board, a government agency responsible for reviewing all potential foreign investment, and the liberalisation of foreign investment thresholds for the retail, aviation, and biomedical industries,
Think:
Difference between FDI and FII
Miscellaneous
Iran was the second-biggest oil supplier to Indian state refiners

According to the "World Investment Report for 2018", issued by the United Nations Conference on Trade and Development (UNCTAD), Indian FDI in Africa in 2016-17 at $14 billion was even lower than it was in 2011-12 at $16 billion.
---
(MAINS FOCUS)
---
NATIONAL
TOPIC:General Studies 2:

Welfare schemes for vulnerable sections of the population by the Centre and States and the performance of these schemes; mechanisms, laws, institutions and bodies constituted for the protection and betterment of these vulnerable sections
Human Rights Issue – LGBT community issue
Government policies and interventions in regard to the above issue.
SC Order On Sec 377
Supreme Court bench recently concluded its hearing on Section 377 of the Indian Penal Code (IPC)
What is Section 377? (Fast recap)
Section 377 reads as follows: "Whoever voluntarily has carnal intercourse against the order of nature with any man, woman or animal, shall be punished with imprisonment for life, or with imprisonment of either description for a term which may extend to ten years, and shall also be liable to a fine."
Do you know?
Section 377 of the IPC traces its history back nearly 500 years.

Section 377 is modelled on Britain's Buggery Act of 1533.

The prime architect of that Act was the (in)famous

Thomas Cromwell

. Cromwell's Act made it a capital offence.

Thomas Macaulay

, architect of India's IPC in 1860, was the one who added this law into the code at his discretion and without much debate.

Thomas Macaulay is often credited with bringing English education to India.

Section 377 of the Indian Penal Code came into force in 1862.
The terms "carnal intercourse" and "against the order of nature" are not defined precisely anywhere in the code.
It had led to – wide variety of definition and misinterpretations of the law – in most of the cases during British India and independent India.
Background:
In a landmark judgement in 2009, the Delhi high court found Section 377 to be

inconsistent with the fundamental rights under Article 13(1)

of the Constitution .

Additionally, it was found to be in violation of the right to privacy and dignity (

Article 21

), freedom of expression and right to equality (

Article 19 (1) and Articles 14 and 15

).

The judgement also stated that it would unfairly target the LBGTQ+ community because the acts that are criminalized are closely associated with homosexuality.
In summary, the Delhi high court found Section 377 to be unconstitutional.
Four years later, a two-judge bench of the Supreme Court overruled the Delhi high court judgement on the grounds that it was legally unsustainable.

The bench took a literal and technical view rather than the wider sweep that the Delhi high court had applied, putting legal technicality above judgement and wisdom.
One side (the literalists) holds that Parliament must enact laws that the judiciary should enforce, and, therefore, it is up to Parliament to change the law.
The other side (the pragmatists) has always maintained, as the incumbent government just stated, that the courts must opine if Parliament is unable or unwilling to modernize a 150-year-old law.
Though the 172nd report of the Law Commission of India recommended the deletion of Section 377, no action was taken.
Earlier this month, the Supreme Court began to hear a clutch of appeals challenging the constitutional validity of Section 377.
According to the new bench –
"If Section 377 of the IPC goes away entirely, there will be anarchy. We are solely on consensual acts between man-man, man-woman. Consent is the fulcrum here. You cannot impose your sexual orientation on others without their consent."

A section of people could not live in fear of the law which shrink their rights to choice, privacy and dignity.
Conclusion:
Section 377 criminalises a section of people for being a sexual minority. A cross-section of the people has approached the Supreme Court against the penal provision. They are not just seeking protection as sexual minorities, but recognition of characteristics inherent in all human beings. They argue that the right to sexuality, sexual autonomy and freedom to choose a sexual partner form the cornerstone of human dignity. Section 377 has a "chilling effect" on the right of equality, liberty, life, dignity and non-discrimination on the ground of sex.
The pertinent question before the court is, what is the 'order of nature' meant by Section 377 in its text. Once the Constitution Bench decides that homosexuality is also an order of nature and upholds the fundamental right to sexuality, sexual orientation and choice of same-sex partners, the doors are opened for individuals to approach the court in future on the larger issues of legalising same-sex marriages, inheritance, adoption, and reservation in employment.
Clearly, the verdict on Section 377 will bring subtle tectonic shifts in India's whole social landscape.
Connecting the dots:
In India, Section 377 of the IPC was introduced not as a reflection of existing Indian values and traditions, but rather, it was imposed upon Indian society due to the moral values of the colonisers. Indian society prior to enactment of the IPC had a much greater tolerance of homosexuality. Comment.

Do you think the constitutional ideals of equality and justice have been compromised by criminalising homosexuality in India? Discuss the issue in light of the controversy surrounding section 377 of the Indian Penal Code.
---
NATIONAL/SOCIAL
TOPIC:General Studies 2:

Welfare schemes for vulnerable sections of the population by the Centre and States and the performance of these schemes; mechanisms, laws, institutions and bodies constituted for the protection and betterment of these vulnerable sections
Issues relating to development and management of Social Sector/Services relating to Health, Education, Human Resources.
Is India's new higher education commission bill visionary?
In News-
Recently, The Ministry of Human Resource Development (MHRD) has put out the draft Higher Education Commission of India (Repeal of University Grants Commission) Act, 2018.
Introduction
The Constitution of India mandates Central Government to take steps for coordination and determination of standards in institutions for higher education or research and scientific and technical institutions.
For promoting uniform development of quality of education in higher educational institutions, there is a need for creation of a Body that lays down uniform standards, and ensures maintenance of the same through systematic monitoring and promotion.
The existing regulatory structure as reflected by the mandate given to University Grants Commission required redefinition based on the changing priorities of higher education and allows its growth.
Hence this Act provides for establishing the Higher Education Commission of India repealing the University Grants Commission Act, 1956.
Do you know?
The UGC, was formally established in November 1956 as a statutory body of the Government of India through an Act of Parliament for the coordination, determination and maintenance of standards of university education in India.

The UGC has the unique distinction of being the only grant-giving agency in the country which has been vested with two responsibilities: that of providing funds and that of coordination, determination and maintenance of standards in institutions of higher education.
The UGC`s mandate includes:
Promoting and coordinating university education.

Determining and maintaining standards of teaching, examination and research in universities.

Framing regulations on minimum standards of education.

Monitoring developments in the field of collegiate and university education; disbursing grants to the universities and colleges.

Serving as a vital link between the Union and state governments and institutions of higher learning.

Advising the Central and State governments on the measures necessary for improvement of university education.
Flaws in the proposed Higher education commission of India bill
The default status of a good university is to be autonomous. The spirit of Clause 15 (3) of the draft Act is no different to Section 12 of the UGC Act where wide powers are given to the Commission.
The standards laid down by regulators are applied to all the universities but they cater to only institutions at the bottom of the period. That is the reason why the IITs, IIMs and other good institutions suffer at the thought of UGC control.
The draft bill for the National Commission for Higher Education and Research (NCHER) 2012 had proposed a separate autonomous body for allocations of funds. It would have been good step if the current draft took that into consideration instead of MHRD handling the funds.
National Knowledge Commission and Yashpal Committee had, in 2008, recommended the setting up of a single regulatory authority. Presently, there are 13 regulators in the area of higher education, each functioning independently and often times issuing contradictory regulations. For ex- The draft act does not mention about the regulator for technical education
Accreditation is an important tool for quality improvement in learning outcomes. National Accreditation Regulatory Authority Bill in 2012 had proposed for creating an autonomous accrediting agency but the draft bill attempts to establish as a subordinate body.
UGC Act specifies that degrees can be awarded only by a university deemed to be a university and an institution specially empowered by Parliament in this behalf. The present draft removes that restriction and by virtue of authorisation by UGC, any higher education institution in India, whether university or not, can become entitled to award diploma, degree etc. This could lead to a free-for-all situation.
The present UGC Act empowers it under Section 22 (3) to define a degree, including its duration and nomenclature. The present draft removes that provision which can create chaos as different authorities will be free to give different nomenclature to a degree/diploma with variable duration.
The draft allows any university, including private and deemed-to-be-universities, to affiliate. This could lead to an unhealthy competition and scramble for colleges for affiliation, especially by private universities, for purely commercial reasons.
The skill programmes and courses are terminal in nature and given the stigma that society unfortunately attaches to working with the hands, it has failed to get mass acceptability. The draft could have provided more powers to the Commission in mainstreaming skills into the education system.
Way ahead
Online education and blended learning are the order of the day and probably also of the future.
Madhav Menon Committee had recommended open and distance learning in place of highly capital intensive conventional class room education. The present draft has retained that provision which is a good sign going ahead with the much needed reforms.
Connecting the dots:
Critically analyze the role of University Grant Commission in light of higher education in India. Also suggest the broad framework which should be adhered to by the policy.

Why doesn't India have globally competitive institutions of education? Examine. What would it take to transform higher education in India? Analyse.
---
(TEST YOUR KNOWLEDGE)
---
Model questions: (You can now post your answers in comment section)
Q.1) Which among the following is/are part of  State Subject?
Police

Public order

Co-operative societies
Choose correct answer:
1 only

1 and 2 only

1 and 3 only

1, 2 and 3
---
Q.2) Consider the following statements with reference to the Foreign Direct Investment
FDI inflows are highly volatile as the capital can leave the country overnight

FDI is preferable over debt financing as it does not create interest obligations
Which of the following statements is/are correct?
1 only

2 only

Both 1 and 2

Neither 1 nor 2
---
Q.3) Which among the following statements is/are true in regard to FDI and FII?
FDI brings foreign capital, technology and management, FII brings only foreign Capital.

In FII, investments flow into stock market; whereas in FDI, investments flow directly in primary market.

FDI investments are more stable compared to FIIs.
Choose the correct answer:
1 only

1 and 2 only

2 and 3 only

1, 2 and 3
---
Q.4) Which among the following is/are matched correctly?
World Development Report               – World Bank

Global Financial Stability Report        – IMF

World Investment Report                   – UNCTAD

Global Competitiveness Report          – World Economic Forum
Select the correct answer using the codes given below:
1 and 3 only

1, 2 and 4 only

2 and 4 only

1, 2, 3 and 4
---
MUST READ
Changing the order of battle
The art of writing a judgment
Befriending the neighbour
The deep and far of science
The Israeli turn
A Law For Children
Raja Mandala: Trailing China