IASbaba's Daily Current Affairs (Prelims + Mains
Focus)- 26th July 2018
---
(PRELIMS+MAINS FOCUS)
---
Sabarimala temple ban: because of celibate nature of the deity
We have already read many articles on this issue.
Issue:
Women aged between 10 and 50 were banned from entering a temple because they are considered 'impure' (due to menstrual cycle)

The above can be viewed as discriminatory practices and violation of the fundamental rights to equality and gender justice.  — Article 15(1)

SC bench had also said that exclusion of women from entering a temple because they are considered 'impure' amounts to the practice of untouchability, a social evil abolished by law.

It denotes a patriarchal and partisan approach.

It curtails her religious freedom assured by Article 25(1).

Prohibition of women's entry to the shrine solely on the basis of womanhood and the biological features associated with womanhood is derogatory to women, which Article 51A(e) aims to renounce.
Do you know?
Article 25 (1) which mandates freedom of conscience and right to practise religion. "All persons are equally entitled to freedom of conscience and the right freely to profess, practise and propagate religion…"
Critics views:
Critics now argue that the prohibition on the entry of women of a certain age into the Sabarimala temple is not based on misogyny but the celibate nature of the deity.
Misogyny – dislike of, contempt for, or ingrained prejudice against women

Celibate – abstaining from marriage and sexual relations, typically for religious reasons or a person who abstains from marriage and sexual relations
Lord Ayyappa at the Sabarimala temple is a "Naishtika Brahmachari" and devotees who come to offer him worship should appear to be brahmacharis. Hinduism is a faith of tolerance and not discriminatory.
Women should accept the prohibition out of respect for the age-old tradition.
---
NALSA Scheme: Compensation Scheme for Women Victims/Survivors of Sexual Assault/Other Crimes-2018
Introduction:
Compensation Scheme for Women Victims/Survivors of Sexual Assault/Other Crimes-2018
It is scheme, proposed by the National Legal Services Authority, for compensating victims of sexual assault and acid attack.

Supreme Court recently said that the scheme should be modified to "some extent" to make it applicable to child victims of such assaults.
Important Value Additions
About the scheme:
As per NALSA's scheme, victim of gangrape in any part of the country would now get a minimum compensation of Rs 5 lakh and up to a maximum of Rs 10 lakh.

Similarly, in case of rape and unnatural sexual assault, the victim would get a minimum of Rs 4 lakh and maximum of Rs 7 lakh as compensation.

The scheme also says that victim of acid attacks, in case of disfigurement of face, would get a minimum compensation of Rs 7 lakh, while the upper limit would be Rs 8 lakh.

In acid attack cases, if the injury was more than 50 per cent, a minimum compensation of Rs 5 lakh would be given, while the maximum would be Rs 8 lakh.
Do you know?
Nirbhaya Fund was announced by the Centre in 2013 after the December 16, 2012 gangrape and murder case in Delhi to support the initiatives on women's safety across the country.
Miscellaneous:
Underground lake detected on Mars: Scientists have spotted a sizeable salt-laden lake under ice on the southern polar plain of red planet (Mars)

Nilgiri Mountain Railway (NMR) – figures in UNESCO's list of World Heritage sites
Udhagamandalam, Coonoor and Mettupalayam stations had been identified and developed as heritage stations
The GST Council has announced some 'relief' for publishers in the form of reduction in GST on e-book sales — from 18% to 5%. The reduction is applicable only to books that have a print version as well.

Formal employment, as measured by the number of subscribers in the Employees' Provident Fund (EPFO), Employees' State Insurance Scheme (ESIC), and the National Pension Scheme (NPS), witnessed double-digit growth in May 2018
---
(MAINS FOCUS)
---
INTERNATIONAL RELATIONS
TOPIC: General Studies 2

India and its international relations
Bilateral, regional and global groupings and agreements involving India and/or affecting India's interests
India and China – to play a larger role in Africa
Key pointers:
Africa's global outreach and its engagement were earlier confined to developed world.

But now this is changing as African countries seeking other partners.

Emerging powers in Asia sees this as an opportunity to tap into.

Proof – Recent visits by India and China to Africa underscore both the countries are shaping new narratives of engaging with Africa.
Growing engagements with Africa
Ahead of the 10

th

BRICS Summit,

Indian PM visited Rwanda and Uganda

, while China visited Senegal and Rwanda, with a stopover in Mauritius.

With the

10th BRICS Summit in Johannesburg, South Africa

– the bloc of emerging market economies will also be opening a new chapter in their all-round cooperation.

PM Modi had earlier

visited Mozambique, South Africa, Tanzania and Kenya in 2016

.

In the last four years, there have been 23 outgoing visits to Africa by the President, the Vice President and the Prime Minister.

Recent PM visit to

Rwanda

is the first ever Prime Ministerial visit and India elevated its ties to that of a

strategic partnership

last year.

First China-Africa Defence and Security Forum was held in Beijing last month (June 2018) which saw a host of African ministers and army chiefs in attendance.
Do you know?
Africa exports raw materials and imports manufactured goods.

For both China and India, bolstering economic ties are of paramount importance.

Africa's trading patterns with the Asian giants still remain rather traditional.
Difference approach
Indian engagement lays emphasis on the long term — enhancing Africa's productive capacities, diversifying skills and knowledge, and investing in small- and medium-sized enterprises.

China's approach is more traditional — resource-extraction, infrastructure development and elite-level wealth creation.

China is currently Africa's largest trading partner ($166 billion in 2011).

India-Africa trade: $62.66 billion (2017-2018)
The Indian private sector has yet to take full advantage of the investment climate in Africa.
Africa is also important with regard to security and geo-strategic considerations for both India and China.
India's security and defence cooperation with Africa is mainly

limited to maritime cooperation

in the form of anti-piracy operations off the coast of Somalia,

deployment of Indian forces to UN peacekeeping missions in Africa

, regular shipping visits, and

joint-naval patrolling

in the Western Indian Ocean Region.

China supports Africa's military transformation by providing equipment, advanced technology, and independent capacity-building in security — and the China-Africa Defence and Security Forum is an important development.
Both India and China are laying emphasis on infrastructure and connectivity projects in priority regions of the world as the next phase of economic globalisation.
In

China's ambitious Belt and Road Initiative (BRI)

, East Africa and the Indian Ocean Region are key focus areas.

India's key focus areas – cross-border connectivity with Eastern African countries and Indian Ocean island countries.

India desires to foster more robust people-to-people connections, increase investment-led trade and business opportunities, and strengthen bilateral partnerships.

India is also seeking to reinvigorate its cultural links with East Africa under the rubric of

Project 'Mausam'

, an initiative of the Ministry of Culture.
India-Africa cross border connectivity programmes –
Project 'Mausam'

which seeks to revive lost linkages with the Indian Ocean 'world' (East Africa, the Arabian Peninsula, the Indian subcontinent and Southeast Asia).

Maritime-port connectivity under the government's

Security and Growth for All in the Region (SAGAR)

and the

SagarMala initiative.

Digital connectivity under the

Pan African e-Network project

on tele-education and tele-medicine (launched in 2004)

Air connectivity

in the form of

direct flights

from Indian cities to African destinations.

Asia Africa Growth Corridor (AAGC)

– a trilateral initiative (India, Japan and many African nations) – to develop 'industrial corridors', 'institutional networks' for the growth of Asia and Africa, and to promote development cooperation.
Conclusion:
From the above it can be concluded that –
the centre of gravity of global politics and economics shifts to the Indo-Pacific region

emerging powers like India and China will begin to play a larger role in Africa

There are significant differences in their approaches, however the challenge for them would be to develop partnerships with African nations in a way that makes Africa a part of their growth stories.
Map work:
East African nations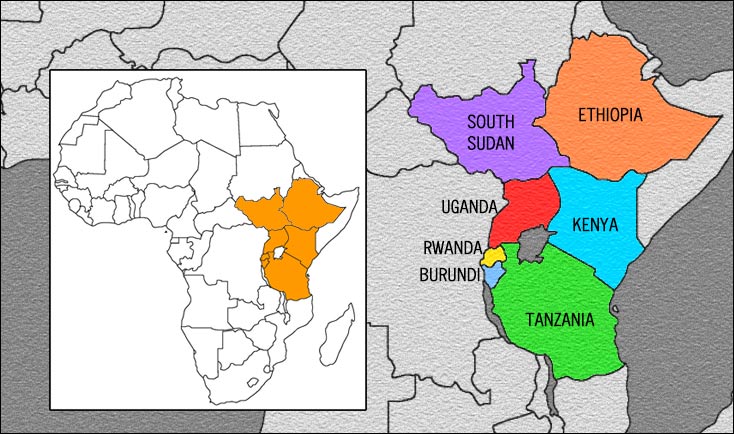 Pic: https://www.eachamber.org/wp-content/uploads/2015/03/region-map.jpg
Connecting the dots:
India's engagement with the African countries is one that of shared history of colonialism and struggle against the imperial powers. It makes India the natural partner for the Africans. However, on the contrary, it is China that has made deep inroads into the African continent. Why? Analyse. (For Model answer, refer to Q.3 in below link –

https://iasbaba.com/2018/02/synopsis-iasbabas-tlp-2018-upsc-mains-general-studies-questions-30th-january-2018-day-47/

)

What strategic importance does Indo-African ties hold for India seen in the larger framework of global south-south cooperation? Also discuss the recent developments between India and East African countries.
---
NATIONAL
TOPIC: General studies 1 and 2

Indian Constitution- historical underpinnings, evolution, features, amendments, significant provisions and basic structure.
Modern Indian history from about the middle of the eighteenth century until the present- significant events, personalities, issues
Significance of Montagu-Chelmsford reforms
About:
This month marks the 100th year of the publication of the 'Report on Indian constitutional reforms', commonly known as the Montagu-Chelmsford Report (MCR).

The below article provides the important contributions and significance of Montagu-Chelmsford Report.
Do you know?
Edwin Montagu, then Secretary of State for India, had advocated for increased participation of Indians in the British Indian administration.

After many meetings with Indian representatives, Montagu and the then Governor-General, Lord Chelmsford, published the MCR on July 8, 1918.

Government of India Act of 1919 is also known as Montagu-Chelmsford Reforms.
Significance of Montagu-Chelmsford Report (MCR)
The MCR stands out for proposing some of the most radical administrative changes.
MCR proposed for

giving provincial legislatures the mantle of self-governance

.

It advocated the

need "to emancipate the local governments and legislatures from central control

; and to advance, by successive stages, in the direction of

conferring responsible government on the provinces

."

(You can use this information while answering on Local Self Government or failure of PRIs or Municipal bodies)

Montagu-Chelmsford Committee

recommended for the "creation of municipalities and local body institutions with sufficient autonomy

to handle their local issues… bereft of the intrusive control of the Government."

They also suggested that administration of different Presidencies and associated departments be placed under the control of legislatures.

Ultimately, the

MCR established the framework for devolution of powers and gave credence to the cry for self-governance

.

Another one of the most far-reaching objectives of the report was to elucidate the principle of accountable governance by directing that the "Government of India must remain wholly responsible to Parliament."
Some important features of Government of India Act 1919
It relaxed the central control over the provinces by demarcating and separating the central and provincial subjects. The central and provincial legislatures were authorised to make laws on their respective list of subjects. However, the structure of government continued to be centralised and unitary.

It further divided the provincial subjects into two parts—transferred and reserved.  The transferred subjects were to be administered by the governor with the aid of ministers responsible to the legislative Council. The reserved subjects, on the other hand, were to be administered by the governor and his executive council without being responsible to the legislative Council. This dual scheme of governance was known as 'dyarchy'.

It introduced, for the first time, bicameralism and direct elections in the country. Thus, the Indian Legislative Council was replaced by a bicameral legislature consisting of an Upper House (Council of State) and a Lower House (Legislative Assembly). The majority of members of both the Houses were chosen by direct election.

It required that the three of the six members of the Viceroy's executive Council (other than the commander-in-chief) were to be Indian.

It separated, for the first time, provincial budgets from the Central budget and authorised the provincial legislatures to enact their budgets.

It provided for the establishment of a public service commission. Hence, a Central Public Service Commission was set up in 1926 for recruiting civil servants.
Conclusion
Thus MCR laid the platform for the development of a responsible government. The reforms were accepted by 32nd session of the Indian National Congress, led by British theosophist Annie Besant, as it is essential for the progress of British India.
The MCR also became the basis for the Government of India Act, 1935, and, ultimately, the Constitution.
The key principles of responsible government, self-governance and federal structure grew out of these reforms. The MCR on Indian constitutional reforms along with the Montagu Declaration are, thus, worthy claimants of the title of the Magna Carta of modern India.
Connecting the dots
Montagu-Chelmsford Report on Indian constitutional reforms is a watershed in India's constitutional history. Elucidate.
---
(TEST YOUR KNOWLEDGE)
Model questions: (You can now post your answers in comment section)
Note:
Featured Comments and comments Up-voted by IASbaba are the "correct answers".

IASbaba App users – Team IASbaba will provide correct answers in comment section within 24 hours. Kindly refer to it and update your answers.
Q.1) Which Articles in the Constitution grants us the Right to Freedom of Religion?
Article 14-18

Article 23-24

Article 25-28

Article 368
---
Q.2) Which of the following Fundamental Rights are available only to Indian Citizens?
No discrimination on the basis of religion, race, caste, sex or place of birth.

Equal opportunity in the matters of Public employment

Freedom of Speech and expression

Protection of life and personal Liberty
Select the code from below:
2 only

1,2 and 3

1 and 2           

All of the above
---
Q.3) India is a secular state. Which of the following statements regarding Indian Secularism are correct?
There is no official religion of Indian state.

State does not discriminate against any citizen on the grounds of religion.

There is complete separation of the religion and the State.
Select the code from following:
1 and 2

2 and 3

1 and 3

All of the above
---
Q.4) Which among the following constitutes the provisions under Right to freedom of religion?
Right of minorities to establish and administer cultural and educational institutions.

Freedom to manage religious affairs

Freedom from payment of taxes for promotion of any religion

Protection of language, script and culture of religious minorities
Select the correct answer using the code given below.
2 and 3 only

2 and 4 only

1, 2 and 3 only

2, 3 and 4 only
---
Q.5) Consider the following about Compensation Scheme for Women Victims/Survivors of Sexual Assault/Other Crimes-2018
It is scheme proposed by the National Legal Services Authority

The scheme is for compensating all victims of sexual assault and acid attack
Choose the correct answer:
1 only

2 only

Both 1 and 2

Neither 1 nor 2
---
Q.6) Consider the following statements about Ports in India
The Major Ports are under the Union List of the Constitution of India

Non Major Ports are under the Concurrent List of the Constitution of India

Project MAUSAM and SAGAR are customer-oriented initiative of the Government of India to modernize India's Ports so that port-led development can be augmented and coastlines can be developed to contribute in India's growth
Select the correct statements
1 and 2

2 and 3

1 and 3

All of the above
---
Q.7) Asia-Africa Growth Corridor (AAGC) is an economic cooperation between alĺ the governments of African countries and which of the following countries?
India

China

Japan
Select the correct code:
1 and 2

2 and 3

1 and 3

All of the above
---
Q.8) Which one of the following Acts of British India declared, for the first time, that its objective was the gradual introduction of responsible government in India?
Indian Council Act. 1861

Indian Council Act, 1892

Indian Council Act. 1909

The Government of India Act of 1919
---
MUST READ
The Sabarimala singularity
Detention no cure: on RTE Act amendment
Sanctions relief: on waiver for India under CAATSA
Israel's new law is a form of apartheid
Muzzling information
Eminence is just a tag
Starvation deaths in 2018
On the move
For a dedicated peer group, Motivation & Quick updates, Join our official telegram channel – https://t.me/IASbabaOfficialAccount
Subscribe to our YouTube Channel HERE to watch Explainer Videos, Strategy Sessions, Toppers Talks & many more…