IASbaba's Daily Current Affairs (Prelims + Mains
Focus)- 26th October 2018
---
(PRELIMS + MAINS FOCUS)
---
Mammals of India (MaOI)
Part of: GS Prelims and Mains III – Conservation of animals
In news:
Scientists and researchers from the National Centre for Biological Sciences (NCBS) in Bangalore have come up with a new citizen-science repository on Indian mammals, called Mammals of India (MaOI).

Mammals of India (MaOI) is an online, peer-reviewed, freely-accessible portal – The website provides an opportunity to anyone to upload photographic observations on mammals to be reviewed by experts and uploaded on the website.
Do you know?
As per current estimates, 426 species of mammals are found in India; of them 47 species are endemic to the Indian subcontinent.
---
China, Japan to partner in building Asia infrastructure
Part of: GS Prelims and Mains II – International Relations
In news:
Japan and China to partner in building Asia infrastructure

40th anniversary of the China-Japan treaty of friendship

Both leaders are expected to seek areas of convergence between China's Belt and Road Initiative and Japan's concept of a free and open Indo-Pacific.
---
India set to be third largest aviation market
In news:
India will be the third largest aviation market globally.

While China will climb up one spot to displace US as the world's largest aviation market in the mid-2020s, India will take the third place by surpassing the U.K. around 2024.

Asia-Pacific region is expected to see the fastest growth at the rate of 4.8%, followed by Africa (4.6%) and west Asia (4.4%).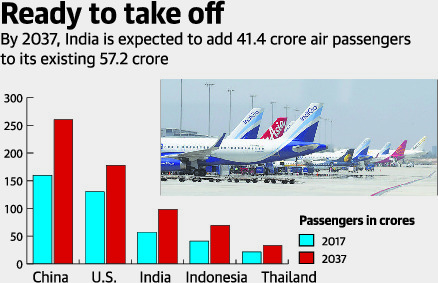 Pic: https://d39gegkjaqduz9.cloudfront.net/TH/2018/10/26/DEL/Delhi/TH/5_05/92d571e0_2483606_101_mr.jpg
---
(MAINS FOCUS)
---
NATIONAL
TOPIC:General studies 3
In the net: on direct tax base
Introduction
Government released the new back series data, according to it,

the direct tax base has significantly widened in the last few years.

The steps taken by the Union government over the last few years to widen its tax base may finally be yielding some rewards.
Do you know?
Tax to GDP ratio:
The tax-to-GDP ratio is a ratio of a nation's tax revenue relative to its gross domestic product (GDP).

The tax-to-GDP ratio drops, when a country's tax revenues grow at a slower rate than the GDP,.

As tax revenue grows quicker than the GDP, the ratio will increase.

The government's ability to spend on socioeconomic development depends on the tax to GDP ratio.
Tax buoyancy:
Tax buoyancy is an indicator to measure efficiency and responsiveness of revenue mobilization in response to growth in the Gross domestic product or National income.

A tax is said to be buoyant if the tax revenues increase more than proportionately in response to a rise in national income or output.
Analysis of data released by the Central Board of Direct Taxes:
The total number of tax returns filed in the country increased by over 80% over the last four financial years, from 3.79 crores in 2013-14 to 6.85 crores in 2017-18.

Further, the direct tax to GDP ratio rose to 5.98% in 2017-18, the highest it has been in the last 10 years.

The average income reported by individual and corporate taxpayers also witnessed a significant rise in the last three years.

The total direct tax collection is estimated to be over ₹10 lakh crore in 2017-18, an increase of about 18% from the previous year.

With tax growth rate surpassing the growth in GDP, the tax buoyancy factor rose to 1.81.

Reason behind rise in tax compliance

This rise in tax compliance has been attributed to the various measures taken by the Union government to increase compliance.

It includes better gathering of information about sources of income, ease of getting refunds, and lowering of various other tax compliance costs.
Criticism
The widening of the tax base is clearly good news for a government which, from the very beginning of its tenure, has declared its intent to improve tax collections.

But the contribution of direct taxes to the total amount of taxes collected by the government, which is currently 52.29%, is still below what it was in 2013-14.

In fact, the share of direct taxes has fallen every single year since 2013-14, except this year.

It is also far too low when compared to its peak of over 60% in 2009-10.

In other words, most of the rise in the total tax collection in the last few years has come from indirect tax collections.

This year, direct tax collection increased at a higher rate compared to the collection of indirect taxes.
Way forward
A further increase in the share of direct taxes will help the government to lower regressive indirect taxes that impose a significant burden on the poor.

Direct taxes are also a better choice from the standpoint of economic efficiency as they help avoid the severe distortionary effects of indirect taxes such as the Goods and Services Tax.

Amidst increasing global tax competition, India is likely to face pressure to bring down corporate tax rates if it wants to maintain its stature as an attractive investment destination.

Efforts to draft a new direct tax cod are caught in the net bureaucratic delays. There is need to address this issue.
Connecting the dots:
Even though there is significant increase in direct tax base, there is need to bring the Direct Tax Code. Discuss.
---
NATIONAL
TOPIC:General studies 3

Infrastructure: Energy
Sustainable agriculture
Environment and climate change
Our time begins now
Introduction
Even at the time of its signing in 2015, it was clear that the Paris Agreement on climate change would not be enough to avoid global warming of 1.5° C over pre-industrial temperatures.

In fact, early analyses revealed that the collective effect of Nationally Determined Contributions (NDCs) would result in 3-5° C of warming.

More recently, there has been mounting pressure on India to raise its pledges further.

The Intergovernmental Panel on Climate Change (IPCC) report on 1.5° C has come at a time when there are multiple alarms for India.

Another study in Nature Climate Change identifies India as the country with the most expected damage from rising levels of carbon dioxide.
India and global scenario
India's NDC is already ambitious and it has made decisive changes in its energy sector.

Meanwhile, the U.S. has pulled out of the climate treaty, and the support of Australia and Brazil teeters on the outcome of their respective elections.

Some countries are also doing less than they claim. According to a study, with aviation, shipping and trade counted, the U.K. has made no reduction to its greenhouse gas emissions.
Socio-economic challenges before India
India has two complex and inter-related problems; to bring a vast population out of poverty and into decent lives, while dealing responsibly with the global carbon challenge and building resilience to climate change.

India ranks 130 among nations in the Human Development Index.

In spite of remarkable recent improvements, India still has 364 million living in multidimensional poverty.

Nearly a third (27.5%) are multidimensionally poor and about a fifth (19.1%) are vulnerable to becoming poor.

Almost half the country is therefore at high risk from events such as loss of a job or ill health of a family member.

Combined with damage from a severe cyclone, flood or drought, each subsequent shock will have a multiplier effect on hundreds of millions, potentially pushing them deeper into poverty.

Add to this the current rural distress and the large youth bulge with few job prospects, and the country is in dire straits.

It is clear that past development frameworks have not improved well-being across social strata.

Evidence indicates that economic growth has gone hand-in-hand with rising inequality and the creation of a small but powerful class of the super-rich.
SDGs are crucial
To deal with these complex challenges it is needed to deepen and expand India's commitment to the Sustainable Development Goals (SDGs).

Only the transformative and cross- scale changes can realise the synergies of meeting SDGs, reducing greenhouse gas emissions and adapting to a changing climate.

Further, "scaling up" may not be the correct way for size and diversity of India rather, relevant modifications and local and institutional innovation will be more appropriate.

India has a large number of successful examples of transformative innovation around energy production and access, land, livelihoods and climate resilience.
Infrastructure
The Bureau of Energy Efficiency showed how government 'nudges' are made effective through appliance labelling and large-scale procurement of efficient devices.
In the building and cement industry, innovation around housing and new materials, including natural fibre composites, could make far-reaching changes in infrastructure through low-carbon modular technologies.
Affordable and clean energy
India expects to reach its ambitious solar target of 100 GW capacity by 2022 primarily through large centralised solar power plants.

To achieve these targets, significant amounts of land, water and evacuation infrastructure and support from mega-corporations is required.

Some States have shown, renewable-based microgrids can become an important feature of electricity policy.

Jharkhand, which has 249 remote villages powered by solar microgrids, is now considering their use even in villages that are already grid connected.

With modern power electronics and innovations in hybrid waste to energy, water recycling and community gardens could be integrated into larger grids.

Sustainable approaches to land are evident in cases such as forest conservation in Mendha-Lekha village in Maharashtra and community delivery of public services in Nagaland.

These and several other instances are documented in initiatives such as Vikalp Sangam.

India has for long had strongly rooted cultural movements about living sustainably with land and its ecology that provide  practical models.
Sustainable agriculture
Agro-ecology methods are best suited for increasing crop yield, raising profits, trapping soil carbon, reducing dependence on fertilisers and pesticides.

Successful models are already effective in some states, one such example is "Zero Budget Natural Farming" of Andhra Pradesh.

If similar methods were used for the entire country, the savings would be substantial.
Conclusion
Energy and livelihood gains from alternative visions could be far more significant than conventional ways of replacing fossil-fuelled infrastructure  with renewables.

It involves a lot of learning-by-doing, living laboratories and innovation, practice, patience and support from government and academia.

Large investments are needed to make the transitions in each sector that would take the country to a near zero-carbon economy.

But given the shortage of external support and the need for rapid deployment, India will not be able to rely entirely on external funds.

Some of this could instead be financed through a 'luxury' carbon tax that curbs non-essential consumption.

Savings can also be expected from the economic and social transformation itself.

Political pressure and activism across the globe may soon turn the tide in other countries, but India needs to begin now with its enormous untapped successes.

We cannot be pressured from outside, but need to change from within.
Connecting the dots:
India has to bring a vast population out of poverty and into decent lives, while dealing responsibly with the global carbon challenge and building resilience to climate change. Comment.
---
(TEST YOUR KNOWLEDGE)
Model questions: (You can now post your answers in comment section)
Note:
Featured Comments and comments Up-voted by IASbaba are the "correct answers".

IASbaba App users – Team IASbaba will provide correct answers in comment section. Kindly refer to it and update your answers.
Q.1) Consider the below statements with regard to mammals:
The drastic feature which separates a mammal from an animal is that mammals have mammary glands, which all animals do not have.

Rodents make up the largest order of mammals and Shrews and moles are second largest group of mammals.

The smallest mammal is the Bumblebee Bat.
Which of the statements given above is/are correct?
1 and 2 only

1 and 3 only

2 and 3 only

1, 2 and 3
---
Q.2) Which of the following mammals are exclusively endemic to India?
Elvira rat

Namdhapa flying squirrel

Malabar Civet

Markhor
Select the code from following:
1,2 and 3

2,3 and 4

1,3 and 4

All of the above
---
Q.3) Which among the following are features of Mammal?
Sweat glands and oil glands are found on skin

Tooth comes twice in these animals

There is no nucleus in its blood cells

All non-egg laying animals are mammals and hence man is also a mammal
Choose the correct code
1 and 4 only

2 and 4 only

1, 2 and 3 only

All the above
---
Q.4) According to energy efficiency of an electrical appliance, a star rating is given to it. This guides a customer to go for more energy efficient appliance. Which of the following organizations gives Star rating in India?
Bureau of Energy Efficiency

Bureau of Indian Standards

Department of Science and Technology

DRDO
---
Q.5) On which of the following can you find the Bureau of Energy Efficiency Star Label?
Ceiling fans

Electric geysers

Tubular fluorescent lamps
Select the correct code
1 and 2 only

3 only

2 and 3 only

1, 2 and 3
---
MUST READ
Our time begins now
Think small: on Ganga rejuvenation
#MeTooIndia: Will it change the way men behave?
Custom vs law
CBI is dead, long live CBI
Retrieving the spoils of colonialism
Is it time to introduce wholesale banks in India?
For a dedicated peer group, Motivation & Quick updates, Join our official telegram channel – https://t.me/IASbabaOfficialAccount
Subscribe to our YouTube Channel HERE to watch Explainer Videos, Strategy Sessions, Toppers Talks & many more…