IASbaba's Daily Current Affairs (Prelims + Mains
Focus)- 27th October 2018
---
(PRELIMS + MAINS FOCUS)
---
Understanding the basics: CBI and CVI
Part of: GS Prelims and Mains II – Indian Polity: Constitutional and Non Constitutional bodies, Statutory bodies and other bodies –  their functions and roles
In news:
Many reports have surfaced stating dishonesty and harassment of the public by those at top positions in the CBI.

It is important to know basics – about CBI, its functions and role of CVC
About CBI
CBI was established under the

Delhi Special Police Establishment Act, 1941

.

It is the primary central government body responsible for policing.

It comes under the

Department of Personnel and Training

which is under the PMO.

Hence, the

head of the CBI reports directly to the PMO

as FBI reports directly to the President of the United States.

CBI is

not a statutory body

as it was created by executive resolution.
In the last 65 years, the organisation has evolved from an anti corruption agency to a multi faceted, multi disciplinary central police law enforcement agency.
Today it has following divisions
Anti Corruption Division

Economic Offences Division

Special Crimes Division

Directorate of Prosecution

Administration Division

Policy & Coordination Division

Central Forensic Science Laboratory
Do you know?
Director, CBI as Inspector General of Police, Delhi Special Police Establishment, is responsible for the administration of the organisation.
With enactment of CVC Act, 2003, the

Superintendence of Delhi Special Police Establishment vests with the Central Government except investigations of offences under the Prevention of Corruption Act, 1988, in which, the superintendence vests with the Central Vigilance Commission.
CBI has been provided security of two year tenure in CBI by the CVC Act, 2003.
The CVC Act also provides mechanism for selection of Director, CBI and other officers of the rank of SP and above in CBI.
The CBI is subject to three ministries of the Government of India and Two Constitutional bodies:-
Ministry of Home Affairs: Cadre Clearance

DoPT: Administration, Budget and Induction of non IPS officers

Union Public Service Commission: Officers of and above the rank of Deputy SPECIES

Law and Justice Ministry: Public prosecutors

Central Vigilance Commission: Anti-corruption cases.
About CVC and its role with regard to CBI
Central Vigilance Commission is a

statutory body under CVC Act

and serves as the apex anti-corruption body.

CVC was established in 1964 under the

recommendations of Santhanam Committee

, it gained statutory authority in 2003 CVC Act.

It

superintends the work of CBI

in corruption cases.

CVC has no investigation wing of its own as it depends on CBI and the Chief Vigilance Officers of central organizations, while CBI has its own investigation wing.
Functions and powers of the Central Vigilance Commission under the Central Vigilance Commission Act, 2003
Exercise superintendence over the functioning of the Delhi Special Police Establishment (CBI) insofar as it relates to the investigation of offences under the Prevention of Corruption Act, 1988; or an offence under the Cr.PC for certain categories of public servants –

section 8(1)(a)

;

Give directions to the Delhi Special Police Establishment (CBI) for superintendence insofar as it relates to the investigation of offences under the Prevention of Corruption Act, 1988 –

section 8(1)(b)

;

To inquire or cause an inquiry or investigation to be made on a reference by the Central Government –

section 8(1)(c)

;

To inquire or cause an inquiry or investigation to be made into any complaint received against any official belonging to such category of officials specified in sub-section 2 of Section 8 of the CVC Act, 2003 –

section 8(1)(d);

Review the progress of investigations conducted by the DSPE into offences alleged to have been committed under the Prevention of Corruption Act, 1988 or an offence under the Cr.PC – section

(8)(1)(e)

;

Review the progress of the applications pending with the competent authorities for sanction of prosecution under the Prevention of Corruption Act, 1988 –

section 8(1)(f);

Tender advice to the Central Government and its organizations on such matters as may be referred to it by them –

section 8(1) (g);

Exercise superintendence over the vigilance administrations of the various Central Government Ministries, Departments and Organizations of the Central Government –

section 8(1)(h)
Crux:
Remember Section 8 of the Central Vigilance Commission Act, 2003

In simpler words, CBI works under the guidance of CVC when the matter is related to public corruption. CVC doesn't have any control or oversight over CBI as its officers are appointed, transferred and promoted by DoPT which comes under PMO.

CBI investigates other high-profile cases other than the matters of public corruption while CVC's role is only limited to matters of corruption and probity in public life.
---
Person in news: M.S. Swaminathan
1ST World Agriculture Prize for Swaminathan
In news:
Renowned agricultural scientist and the chief architect of the green revolution in India,

M S Swaminathan

, was awarded the first World Agriculture Prize for his contributions to Indian agriculture .

The prize, instituted by the private think tank

Indian Council for Food and Agriculture (ICFA)

, includes a $100,000 cash award. (₹73,45,500)
Receiving the prize, Swaminathan said: "There is no agriculture without farmers. It is the basic need of people and it cannot be commercialised".
---
(MAINS FOCUS)
---
INTERNATIONAL
TOPIC:General studies 2

Bilateral, regional and global groupings and agreements involving India and/or affecting India's interests.
Effect of policies and politics of developed and developing countries on India's interests
Touching base
Introduction
India and Japan institutionalised annual meeting since 2006,

since then both the countries have held a closely aligned world-view.

In the forthcoming annual summit both the countries are expected to take stock of all the challenges they are facing, notably with regard to the U.S. and China.
Challenges before India and Japan
Trade tariffs applied by U.S., sanctions against Iran and Russia,

as well as

the U.S.'s exit from several multilateral and security regimes

are impacting both countries in different ways.

For

India

, the impact is more direct, as the economy has been hurt by

new American tariffs, review of its GSP (trading) status, and restrictions on visas for professionals.

The possible U.S.

sanctions over Indian engagement with Iran

as well as

defence purchases from Russia

pose a looming challenge.

For

Japan

too,

U.S. trade tariffs

are a concern and Washington's

exit from the Trans-Pacific Partnership

is corralling Southeast Asian countries into a free trade regime under

Chinese domination

.

The U.S.'s on and off nuclear negotiations with North Korea

is cause of concern for Japan.

The other

common concern is managing an increasingly influential China.
To resolve multilateral issues
India and Japan must closely cooperate on how to manage these challenges while maintaining their growing security ties with U.S., as members of the trilateral and quadrilateral formations in the Indo-Pacific.

India and China had decided to compare notes on the way forward with their common neighbour, especially on building and financing alternatives to China's Belt and Road projects for countries along the "Asia-Africa growth corridor".
Bilateral negotiations
The Shinkansen bullet train project (Bullet train between Mumbai and Ahmadabad)

has gathered speed with respect to finances but it could still run into delays over land acquisition issues.

India and Japan have stepped up military exchanges

, and will begin negotiations on a landmark acquisition and cross-servicing logistics agreement.

The purchase of

ShinMaywa US-2 amphibian aircraft

proceedings are still pending.

In bilateral trade,

level of trade between both the countries has declined

as compared to what was there five years ago.
Conclusion
India and Japan are facing many similar challenges but none of these issues is insurmountable.

The larger concerns of how to navigate uncharted and stormy geopolitical terrain, while maintaining strong positions on the international rules-based order, are likely to dominate this annual summit.
(This news is in early stages, larger picture will be clear after the conclusion of summit.)
Connecting the dots:
In the changing world order, India and Japan has a bigger role to play for sustaining rule based global order. Discuss.
---
(MAINS FOCUS)
---
HEALTH/POLLUTION
TOPIC:General studies 2 & 3

Health and public services
Local governance and administration
Infrastructure
Environment and pollution
Think small
Introduction
Bad sanitation is India's worst-kept secret, but recent data from Uttar Pradesh show that in spite of working in mission mode to expand sanitation, 87% of faecal sludge expelled from toilets in urban areas is untreated.
Study conducted by Centre for Science and Environment
The study in U.P. conducted by the Centre for Science and Environment has now exposed the grim situation.

Viewed against the 2030 goal to achieve clean water and sanitation for all under the UN Sustainable Development Agenda, this depressing statistic shows how much work remains to be done.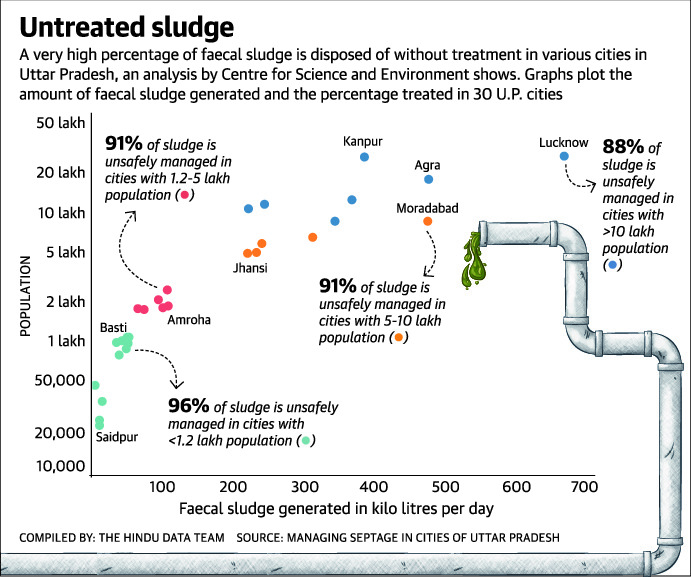 Pic: https://d39gegkjaqduz9.cloudfront.net/TH/2018/10/23/DEL/Delhi/TH/5_07/d2b1bef2_2476469_101_mr.jpg
Steps taken by state and their effects
State support for improved housing and planned development has never been strong, and the

National Urban Sanitation Policy of 2008 has not changed

that significantly.

At the national scale, a

United Nations report of 2015 estimates that 65,000 tonnes of untreated faeces is introduced into the environment in India annually

.

The Swachh Bharat Abhiyan

promised a major shift, but it has focussed more on the basic requirement of household and community toilets in rural and urban areas.

The study The study by CSE has exposed broken links, of

faecal sludge and septage being collected from household tanks and simply discharged into drains

, open land and wetlands.

The problem of the waste not being contained collected without

manual labour

, transported and treated safely is becoming graver.
Need of new approach
The CSE study is being followed up with a mapping exercise on the flow of faecal waste streams in individual cities.

The collection efficiency for sludge in Varanasi, Allahabad and Aligarh and such cities ranges from just 10% to 30%.

It is now time for a new approach. This has to be decentralised and different from the strategy being used to clean the Ganga

.

Clean Ganga strategy relies on large sewage treatment plants for riverside cities and towns.

Immediate investments in

decentralised sludge management systems

would bring twin benefits: of

improving the environment and reducing the disease burden

imposed by insanitary conditions.
Way forward
One immediate intervention

needed is the

creation of an inter-departmental task force

to identify land to build small treatment systems for sludge, and to provide

easily accessible solutions to houses

that are currently discharging waste into open drains.

The business of emptying faecal material using tanker trucks needs to be

professionalised and de-stigmatised

.

It is unacceptable

that manual scavengers continue to be employed

in

violation of the law

to clean septic tanks in some places, and caste factors play out in the recruitment of workers even in the mechanised operations.

All aspects

of the business

of sanitation need reform

if India is

to meet Goal Number 6 of the Sustainable Development Goals

with egalitarian policies.

A large State such as Uttar Pradesh provides the opportunity to demonstrate commitment to policy. Success here can transform lives.
Connecting the dots:
Decentralised sludge management systems are vital to achieve clean water goals of SDG by 2030. Elucidate.
---
(TEST YOUR KNOWLEDGE)
Model questions: (You can now post your answers in comment section)
Note:
Featured Comments and comments Up-voted by IASbaba are the "correct answers".

IASbaba App users – Team IASbaba will provide correct answers in comment section. Kindly refer to it and update your answers.
Q.1) Central Bureau of Investigation (CBI) was set up on the recommendation of:
Santhanam Committee

Administrative Reforms Commission of India

Gorwala Report

Ashok Mehta Committee
---
Q.2) Consider the following about Central Vigilance Commission
The Central vigilance Commission is an apex body setup by Parliament on the recommendations of Santhanam committee report.

The jurisdiction of the Commission extends only over Central government agencies.

It also exercises superintendence over the functioning of the Delhi Special Police Establishment.
Which of the statements given above are correct?
1 and 3

1 and 2

2 and 3

All of the above
---
Q.3) Consider the following statements about CVC and CBI:
Central Vigilance Commission (CVC) was established by an executive resolution of the Central government.

CVC establishment was recommended by the Santhanam Committee on Prevention of Corruption.

Central Bureau of Investigation (CBI) was set up by a resolution of the Ministry of Home Affairs.

The establishment of the CBI was recommended by the Santhanam Committee on Prevention of Corruption.
Which of the above given statements are correct?
1, 2 and 3 only

1 and 2 only

3 and 4 only

All of the above
---
Q.4) The Asia-Africa Growth Corridor or AAGC is an economic cooperation agreement between the governments of
India and Russia

Japan and Russia

India and Japan

USA and Japan
---
MUST READ
Who will speak truth to unfreedom?
Proceed with caution
Punjab's burning problem
East meets east
A gulf too wide
Courting anarchy