Press Information Bureau (PIB) IAS UPSC – 3rd Dec to 8th Dec – 2018
GS-2
Government of India and Asian Development Bank Sign $85 Million Loan to Support Odisha Skill Development Project
(Topic: Bilateral, regional and global groupings and agreements involving India and/or affecting India's interests)
The Government of India and the Asian Development Bank (ADB) signed $85 million loan to improve the skill development eco-system in Odisha and establish an advanced skill training center, the World Skill Center (WSC), in the state capital Bhubaneswar.
The project will improve the quality of the State's TVET programs by making them relevant to industry and demand driven, and will impart advanced occupation-ready skills training aligned with international standards. It would also complement the efforts to target the employment needs of the emerging sectors in India and globally

The project will engage Institute of Technical Education Services (ITEES), Singapore, to support Odisha Skill Development Authority in setting-up and operationalizing WSC which would offer internationally bench marked advanced training programs for the working age population of Odisha.

The project will help over 150,000 people learn skills in priority sectors, including manufacturing, construction and services for formal employment. WSC will deliver eight training courses for 13,000 full-time students, provide training for 5,000 teachers, and train 1,000 assessors.

It will improve the overall eco-system of skill development in Odisha by providing integrated services through an entrepreneurship incubation center, a career counseling and placement center, a curriculum design and development center, and education technology deployment center.

These important functions of WSC will support a network of Government ITIs and develop skills and capacity of polytechnics, college of engineering, and other private skilling centers.

ADB will also administer a $2 million technical assistance grant from the Japan Fund for Poverty Reduction, financed by the Government of Japan that will support capacity development activities under the project
Cabinet approves
MoC between India and Japan in the field of Environmental Cooperation:

Enable establishment and promotion of closer and long-term cooperation between India and Japan in the field of environment protection and management of natural resources on the basis of equity, reciprocity and mutual benefits, taking into account the applicable laws and legal provisions in each country. Further, the MoC entails exchange of information and technology between the two countries.
Revised Model MoU between India and foreign Financial Intelligence Units (FIUs) for exchange of information:

The core functions of FIU-IND in relation to foreign FIUs include screening and processing requests from foreign Financial Intelligence Units (FIUs), disseminating information to foreign FIUs, establishing and maintaining relationship with foreign FIUs, and facilitating, administering and negotiating MoUs with foreign FIUs.
MoU between India and the USA concerning Scientific and Technical Cooperation in the Earth Sciences:

Enable sharing of the expertise available with organizations in both countries, and adoption of the latest state-of-the-art technology in the field of Earth Science. Specific areas of cooperation include ecosystems, climate variability and land-use changes, energy, minerals, environmental health, natural hazards, risk and resilience of assessments, water resources, and informatics and data integration.
MoU between India and France in the field of energy efficiency / energy conservation:

The MoU will lead to awareness creation on energy efficiency. Development of tools for collection, use and analysis of CO2 emissions and GHG data for tracking global emissions for INDC. It will promote Research and Development, and demonstration of energy efficient technologies. Development of sustainable mobility with specific focus on electric transport.
Agriculture Export Policy, 2018:

The Government has come out with a policy to double farmers' income by 2022. Exports of agricultural products would play a pivotal role in achieving this goal. In order to provide an impetus to agricultural exports, the Government has come out with a comprehensive "Agriculture Export Policy" aimed at doubling the agricultural exports and integrating Indian farmers and agricultural products with the global value chains. The Agriculture Export Policy has the following vision:

        
"Harness export potential of Indian agriculture, through suitable policy   instruments, to make India global power in agriculture and raise farmers' income."
Objectives:
To double agricultural exports from present ~US$ 30+ Billion to ~US$ 60+ Billion by 2022 and reach US$ 100 Billion in the next few years thereafter, with a stable trade policy regime.

To diversify our export basket, destinations and boost high value and value added agricultural exports including focus on perishables.

To promote novel, indigenous, organic, ethnic, traditional and non-traditional Agri products exports.

To provide an institutional mechanism for pursuing market access, tackling barriers and deal with sanitary and phyto-sanitary issues.

To strive to double India's share in world agri exports by integrating with global value chain at the earliest.

Enable farmers to get benefit of export opportunities in overseas market.
MoU between India and Tajkistan on Cooperation on Peaceful uses of Space Technology for Development:

The MoU would lead to development of joint activity in the field of application of space technologies for the benefit of humanity. It will lead to setting up of a Joint Working Group, which will further work out the plan of action including the time-frame and the means of implementing the provisions of this Agreement.
MoU between India and Russia on Joint Activities under Human Spaceflight Programme:

Will strengthen the cooperation between India and Russia and would provide impetus to develop the technologies and advanced systems required for the human space flight programme like radiation shielding, life support systems, crew module, rendezvous and docking systems, space suit, training for astronauts etc.
MoU between India and Zimbabwe for cooperation in the field of geology, mining and mineral resources:

The objectives of the MoU are, exchange of information on resources, laws and policy, organization of seminars to exchange views on development strategies, encouragement of transfer of technologies between the Parties, promotion of value addition and opportunities for investment in the mining sector. These provisions, will enable taking up of activities like documentation, dissemination and would serve the objective of innovation.
Agreement between India and Uzbekistan on Cooperation in the exploration and uses of Outer Space for peaceful purposes:

Will strengthen the cooperation between India and Uzbekistan and would provide impetus to explore newer research activities and application possibilities in the field of remote sensing of the earth; satellite communication; satellite navigation; space science and exploration of outer space.
MoU between India and Morocco for Cooperation in the Peaceful Uses of Outer Space:
This MoU shall enable the following potential interest areas of cooperation     such as, space science, technology and applications including remote sensing of the earth; satellite communication and satellite-based navigation; Space science and planetary exploration; use of spacecraft and space systems and ground system; and application of space technology; and

The MoU would lead to set up a Joint Working Group, drawing members from DOS/ISRO and Royal Centre for Remote Sensing (CRTS) and the Royal Centre for Space Research and Studies (CRERS), which will further work out the plan of action including the time-frame and the means of implementing the MoU.
Agreement between India and Algeria on Cooperation in the field of Space Sciences, Technologies and Applications:
This Agreement shall enable pursuing the following potential interest areas of cooperation such as, space science, technology and applications including remote sensing of the earth; satellite communication and satellite-based navigation; Space science and planetary exploration; gse of spacecraft and space systems and ground system; and application of space technology.

The Agreement would lead to set up a Joint Working Group, drawing members from DOS/ISRQ, and the Algerian Space Agency (ASAL), which will further work out the plan of action including the time-frame and the means of implementing this Agreement.
Memorandum of Cooperation between India and Japan in the field of Healthcare and Wellness:
Promoting specific projects:
Developing human resource in the field of acute medicine, surgery and trauma  care including focus on new areas of competency in each field;

Establishing an advanced joint testing laboratory for clinical examination;

Establishing a Japanese language education centre for trainee candidates of care workers;

Establishing collaborations among tertiary care centres in both countries such as AUMS; and

Supporting sending organisations to provide pre-lectures about elderly care for technical intern training programmes of care workers through sending out certificated care workers from Japan and providing a curriculum and textbooks so as to provide trained care-givers to Japan.
(b)      Development of infrastructure:
Establishing a centralised management healthcare distribution centre;

Improving sanitary environment by increasing access to hygienic and affordable toilets such as on-site processing one;

Promoting institutional collaboration on patient data analysis and Information   and Communication Technology & Artificial Intelligence in medicine;

India-Japan Innovation Hub in India;

Establishing high end mobile BSL 3 Lab facilities in India; and

Collaboration on getting high end medical devices including Point of Care Diagnostics with a special focus on establishing manufacturing units in India under "Make in India".
(c)      Human development:
Developing human resource, research and project promotion for health self-management such as ME-BYO and Ayurveda; and

Holding an India-Japan public and private healthcare forum.
(d) Any other areas as may be mutually decided upon to promote the synergies between AYUSHMAN Bharat Programme and other initiatives and AHWM
---
GS-3
Distribution of Soil Health Cards (SHC) for optimal utilization of fertilizers
(Topic: e-technology in the aid of farmers)
Soil Health Card Scheme has been taken up for the first time in a comprehensive manner across the country. Under the scheme soil health cards are provided to all farmers so as to enable the farmers to apply appropriate recommended dosages of nutrients for crop production and improving soil health and its fertility.
The unique features of SHC scheme are: –
Collecting soil samples at a grid of 2.5 ha in irrigated area and 10 ha in un-irrigated areas.

Uniform approach in soil testing adopted for 12 parameters viz. primary nutrients (NPK); secondary nutrient (S); micronutrients (B,Zn, Mn. Fe & Cu); and other (pH, EC & OC) for comprehensiveness.

GPS enabled soil sampling to create a systematic database and allow monitoring of changes in the soil health over the years.
Must Read: Link
Solve: Examine the economic implications of soil erosion in India. Also discuss the ways that can address soil erosion.
---
Cabinet approves National Mission on Interdisciplinary Cyber-Physical Systems (NM-ICPS)
(Topic: Science and Technology)
Implementation by: Department of Science &Technology
The Mission addresses the ever increasing technological requirements of the society, and takes into account the international trends and road maps of leading countries for the next generation technologies.
The mission implementation would develop and bring:
Cyber Physical Systems (CPS) and associated technologies within reach in the country,

Adoption of CPS technologies to address India specific National / Regional issues,

Produce Next Generation skilled manpower in CPS,

Catalyse Translational Research,

Accelerate entrepreneurship and start-up ecosystem development in CPS,

Give impetus to advanced research in CPS, Technology development and higher education in Science, Technology and Engineering disciplines, and

Place India at par with other advanced countries and derive several direct and indirect benefits
Implementation strategy:
The NM-ICPS is a comprehensive Mission which would address technology development, application development, human resource development & skill enhancement, entrepreneurship and start-up development in CPS and associated technologies.

The Mission aims at establishment of 15 numbers of Technology Innovation Hubs (TIH), six numbers of Application Innovation Hubs (AIH) and four numbers of Technology Translation Research Parks (TTRP). These Hubs & TTRPs will connect to Academics, Industry, Central Ministries and State Government in developing solutions at reputed academic, R&D and other organizations across the country in a hub and spoke model.

The Hubs & TTRPs have four focused areas along which the Mission implementation would proceed, namely (i) Technology Development; (ii) HRD & Skill Development; (iii) Innovation, Entrepreneurship & Start-ups Ecosystem Development; (iv) International Collaborations.
Prelims oriented News
Global Burden of Disease (GBD) 2016 report that showed that Non-Communicable Diseases (NCDs) and injuries were the main cause of death among people of all age groups in India.
Shahpurkandi Dam Project: In Punjab on river Ravi
Skoch Award for National Significance: Ministry of New and Renewable Energy, Government of India
The award has been conferred on the Ministry considering its purpose and critical role played in installing about 73 GW renewable energy capacity in the country.

With 21 per cent of total installed capacity, within the year renewable energy grossed a magic figure of providing one billion units of electricity in the country.

Today, India ranks 4 in the world in wind energy capacity and 5th in solar & total renewable energy capacity installed in the world.

India has played a critical role in setting up of international solar alliance.
Food and Agriculture organisation (FAO) Council approves India's proposal to observe an International Year of Millets in 2023:
Will enhance global awareness to bring back these nutri-cereals to the plate, for food and nutrition security and hence increase production for resilience to challenges posed globally by climate change.

Millets consists of Jowar, Bajra, Ragi and minor millets together termed as nutri-cereals.

This is further supported by increase in Minimum Support Prices (MSP) of millets.
In addition, the FAO Council also approved India's membership to the Executive Board of the United Nations World Food Program (WFP) for 2020 and 2021.
FAO:
A specialized agency of the United Nations that leads international efforts to defeat hunger.

A source of knowledge and information, and helps developing countries in transition modernize and improve agriculture, forestry and fisheries practices, ensuring good nutrition and food security for all.
Environment Technology Verification (ETV) process allows companies to showcase the success and efficacy of their solutions through a pilot demonstration project. The Government is inviting technology solution providers to apply for the ETV programme in the areas of decentralised waste water and industrial effluent treatment, data and information and ancillary services such as solid waste management, sustainable agriculture and hydropower.
National Commission for Women to support livelihood programmes in Northeast: National Commission for Women (NCW) will support Northeast livelihood programmes for women, particularly for those in younger age group, through Skill development and Specialized training, which can enable them to earn their living and also empower them as individuals.
Even though the women in Northeast, by and large, are quite emancipated as far as their contribution in outdoor work is concerned, but there was a huge scope for raising the levels of education among the women living in remote and rural areas, and also to impart skill training to make them self – reliant.

It can supplement its efforts and resources in carrying forward several of the women-oriented projects which are already undertaken by the Ministry of Development of North-eastern Region and the NEC.
Successful launch of GSAT-11
Heaviest, largest and most-advanced high throughput communication satellite of India.

GSAT-11 is part of ISRO's new family of high-throughput communication satellite (HTS) fleet that will drive the country's Internet broadband from space to untouched areas; the broadband domain is now ruled by underground fibre and covers partial and convenient locations.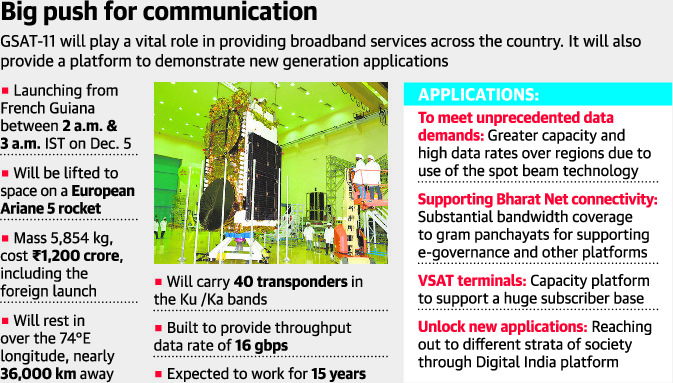 Pic: https://d39gegkjaqduz9.cloudfront.net/TH/2018/12/04/DEL/Delhi/TH/5_07/47720869_2571067_101_mr.jpg
Air Connectivity under UDAAN Scheme
Scheme: Ude Desh ka Aam Naagrik (UDAN)
An innovative scheme to develop the regional aviation market. It is a market-based mechanism in which airlines bid for seat subsidies.

This first-of-its-kind scheme globally will create affordable yet economically viable and profitable flights on regional routes so that flying becomes affordable to the common man even in small towns.
Solve: Critically examine the significance of regional connectivity for a developing economy like India. Also discuss the features of the UDAN scheme launched by the government.
Amendments in Central Motor Vehicles Rules, 1989:
All new vehicles will be sold pre-fitted with High Security Registration Plates – HSRP from the 1st of April next year.

This step is likely to improve the coverage of HSRP on vehicles, while ensuring its quality by the vehicle manufacturers. The HSRP helps in keeping track of the vehicle, and makes it easier to trace a lost or stolen vehicle.
Person in News:
Dr Rajendra Prasad:
The first President of India, in office from 1952 to 1962

A supporter of Mahatma Gandhi, Prasad was imprisoned by British authorities during the Salt Satyagraha of 1931 and the Quit India movement of 1942.
Shri R. Venkataraman
An Indian lawyer, Indian independence activist and politician who served as a Union Minister and as the eighth President of India

In 1984, he was elected as the seventh Vice President of India and in 1987, he became the 8th President of India and served from 1987 to 1992.

Had participated in Quit India Movement
Dr. B. R. Ambedkar
Mahaparinirvan Diwas: Death Anniversary of Ambedkar
Bhimrao Ramji Ambedkar (14 April 1891 – 6 December 1956), popularly known as Babasaheb Ambedkar, was an Indian jurist, economist, politician and social reformer who inspired the Dalit Buddhist movement and campaigned against social discrimination towards the untouchables (Dalits), while also supporting the rights of women and labour.

He was independent India's first law and justice minister, the principal architect of the Constitution of India, and a founding father of the Republic of India.
His autobiography: Waiting for a Visa
His books:
Annihilation of Caste –

It strongly criticised Hindu orthodox religious leaders and the caste system in general, and included "a rebuke of Gandhi" on the subject.

Who Were the Shudras? –

Ambedkar tried to explain the formation of untouchables. He saw Shudras and Ati Shudras who form the lowest caste in the ritual hierarchy of the caste system, as separate from Untouchables.
Reserve Bank of India
Ambedkar was trained as an economist, and was a professional economist until 1921, when he became a political leader. He wrote three scholarly books on economics:
Administration and Finance of the East India Company

The Evolution of Provincial Finance in British India

The Problem of the Rupee: Its Origin and Its Solution[98][99]
The Reserve Bank of India (RBI), was based on the ideas that Ambedkar presented to the Hilton Young Commission.
Ambedkar and Untouchability
While practising law in the Bombay High Court, he tried to promote education to untouchables and uplift them. His first organised attempt was his establishment of the central institution Bahishkrit Hitakarini Sabha, intended to promote education and socio-economic improvement, as well as the welfare of "outcastes", at the time referred to as depressed classes. For the defence of Dalit rights, he started five periodicals –
Mooknayak (the leader of the dumb, 1920)

Bahishkrit Bharat (Ostracized India, 1924)

Samta (Equality, 1928)

Janata (The People, 1930)

Prabuddha Bharat (Enlightened India, 1956)
Manusmriti Dahan Din: In a conference in late 1927, Ambedkar publicly condemned the classic Hindu text, the Manusmriti (Laws of Manu), for ideologically justifying caste discrimination and "untouchability", and he ceremonially burned copies of the ancient text. On 25 December 1927, he led thousands of followers to burn copies of Manusmrti. Thus, annually 25 December is celebrated as Manusmriti Dahan Din (Manusmriti Burning Day) by Ambedkarites and Dalits.
Kalaram Temple movement: About 15,000 volunteers assembled at Kalaram Temple satygraha making one of the greatest processions of Nashik. The procession was headed by a military band, a batch of scouts, women and men walked in discipline, order and determination to see the god for the first time. When they reached to gate, the gates were closed by Brahmin authorities.
Poona Pact:
In 1932, British announced the formation of a separate electorate for "Depressed Classes" in the Communal Award.
Gandhi fiercely opposed a separate electorate for untouchables, saying he feared that such an arrangement would divide the Hindu community. Gandhi protested by fasting while imprisoned in the Yerwada Central Jail of Poona. Following the fast, Congress politicians and activists such as Madan Mohan Malaviya and Palwankar Baloo organised joint meetings with Ambedkar and his supporters at Yerwada.

On 25 September 1932, the agreement known as Poona Pact was signed between Ambedkar (on behalf of the depressed classes among Hindus) and Madan Mohan Malaviya (on behalf of the other Hindus). The agreement gave reserved seats for the depressed classes in the Provisional legislatures, within the general electorate.

Due to the pact, the depressed class received 148 seats in the legislature, instead of the 71 as allocated in the Communal Award earlier proposed by British Prime Minister Ramsay MacDonald. The text uses the term "Depressed Classes" to denote Untouchables among Hindus who were later called Scheduled Castes and Scheduled Tribes under India Act 1935, and the later Indian Constitution of 1950. In the Poona Pact, a unified electorate was in principle formed, but primary and secondary elections allowed Untouchables in practice to choose their own candidates.
Must Read: Link 1 + Link 2 + Link 3 + Link 4
Solve: "In our country, democracy is not a natural sentiment that people are born with. It is an idea that has to be cultivated in an essentially unequal society." This statement by Dr. B R Ambedkar resonates as much with the India of present as it did with India of 70 years back. Critically comment.
Quotes:
Vice President of India, Shri M. Venkaiah Naidu
On Person with Disabilities (Divyangjan)
People with special needs require empathy and not sympathy.

There is a need to change societal norms through intensive awareness campaigns to remove the stigma attached to disability.

Society has a duty towards fellow human beings to make them lead good quality lives with dignity. One must learn to recognize the valuable human assets we have in persons with disabilities.

Calling upon the people to rededicate to the cause of less fortunate, he stressed the need to provide appropriate career and life-enhancing policies and measures to boost their self-confidence so that the people with special needs can lead a dignified life.

Legislations such as the Rights of Persons with Disabilities Act, 2016 focuses on various key elements of empowerment of persons with disabilities. It provides for promoting inclusive education, skill development, healthcare, social security, rehabilitation, recreation and sporting activities among persons with disabilities.

Early identification of disability and effective interventions were important in providing care to those in need. He stressed the need to harmonize the immunization and disease-prevention programmes with appropriate rehabilitation models and added that children in the susceptible age groups should be given access to better health care and nutrition to prevent occurrence of disability.

Empowerment of every person including persons with disabilities. Provisions of the Act have to be strictly implemented to ensure that children with disabilities have access to school education with proper pedagogical support. Our education system has to be re-invented to create inclusive educational opportunities and we have to use technology creatively to make this possible.

Policy makers and planners must be aware of the infrastructural requirements of persons with special needs and create accessible environment.

Increasing access to public facilities must be priority area given the size of the existing infrastructure and added that such gigantic task requires support of all stakeholders for developing barrier-free environment for the Persons with Disabilities be it in the physical infrastructure, transportation sector or the ICT ecosystem.
On Optimal Utilization of Demographic Dividend in India
India has an advantage of Demographic Dividend like no other country in the World has today with over 60% percent of its youth in the working age group at present.

In the near future, most of the sectors of Indian economy would require more skilled workforce than the present. It would be both a challenge and an opportunity for India to provide its workforce with required skill sets and knowledge to enable them to contribute substantially to its economic growth.
Union Environment Minister Dr. Harsh Vardhan – Indian Pavilion at COP-24
India has made great strides in its journey towards climate change adaptation and mitigation.
This year the theme of India Pavilion is 'One World One Sun One Grid'. We have set an ambitious   target that 40 per cent of its installed power capacity will be from non-fossil fuels by 2030.

We   have launched many policies and set up institutional mechanisms to advance our climate actions. These initiatives are a reflection of our commitment towards addressing climate change concern including energy security, food and water security, capacity enhancement at national and state level.

A nationwide   campaign in preserving and protecting the environment called the Green   Good Deeds Movement. We realized that people's participation is crucial to accomplish our goal and so this campaign was prepared to inspire, encourage and involve each and every individual of our society. The attempt is to ensure that each and every citizen must adopt measures to protect the environment by doing small but significant green good deed such as save energy, save water, car-pool to work, use dustbins for disposal of waste, segregate waste, plant trees, and so on and so forth.

India is working hard for achieving 175 GW targets for installed Renewable Energy capacity by 2022. The effect of increased use of renewable energy is now visible in India.  Resultantly, India stands 4th in wind power 5th in renewable power and 5th in solar power installed. Besides solar and wind power, we are also working on biomass, biofuel and bio-energy. Our   aim will always be to leap ahead into the future of energy solutions that make this world a cleaner and greener place.

Till date more than 310 million LEDs have been installed countrywide.

Around 58 million    households are already covered under Ujjwala scheme. Ujjwala scheme will not only contribute to improved health of women and children, but also help on reducing forest degradation.

Just in last 2 years India achieved 1% increase in its forest cover whereas in many countries   across the globe, it is depleting.

More   than 0.26 million Electric Vehicles have been sold, with more than 91 million CO2 Reduction (in kg).  

Apart from this, we have also pledged to get rid of single-use plastic by 2022 across the country.
Essay Topics:
Self-regulation is a better approach for regulation of Media & Entertainment sector

India's prowess in agriculture diplomacy
For a dedicated peer group, Motivation & Quick updates, Join our official telegram channel – https://t.me/IASbabaOfficialAccount
Subscribe to our YouTube Channel HERE to watch Explainer Videos, Strategy Sessions, Toppers Talks & many more…