IAS UPSC Prelims and Mains Exam – 25th May 2020
---
(PRELIMS + MAINS FOCUS)
---
Part of: GS-Prelims and GS-III – Environment
In News:
Three

new plant species

have been recently discovered by a team of scientists of the Botanical Survey of India. 

These species were found in the evergreen forest patches of the southern end of the

Western Ghats in Kerala and Tamil Nadu.
Key takeaways:
These species are:
Eugenia sphaerocarpa

It belongs to the Myrtaceae or Rose apple family.

A good population of Eugenia sphaerocarpa is growing in the

Kakkayam area

of the

Malabar wildlife sanctuary

in Kerala above 800m.

'Sphaerocarpa' denotes to the large, showy lemon-yellow spherical fruits. 

The fruits of Eugenia species are known for their palatability (pleasant to taste).
Goniothalamus sericeus

It belongs to the Annonaceae family of custard apple.

A small number of Goniothalamus sericeus plants has been found in the

Kanyakumari wildlife sanctuary

in Tamil Nadu at an altitude of 1400m.

Mature flowers with characteristic greenish-yellow to beige petals are fragrant while the fruits are very showy and an attractive golden yellow in colour. 

Sericeus refers to the presence of dense silky hair on petals.

Memecylon nervosum

It belongs to the

Melastomataceae

(Kayamboo or Kaasavu in local parlance) family.

A small population of nervosum was also found at the

Kanyakumari wildlife sanctuary

in Tamil Nadu at an altitude between 700-900m.

The species has showy purplish-blue flowers and mauve to purplish red fruits. 

Nervosum

refers to the presence of prominently raised lateral and intramarginal veins on the lower surface of the lamina. 

Image source: Click here
---
Part of: GS-Prelims and GS-II – Welfare Schemes; GS-III – Agriculture
In News:
Rajiv Gandhi Kisan Nyaya Yojana

is a new income support programme announced by the State government of Chhattisgarh.
Key takeaways:
Farmers would get up to ₹13,000 an acre a year under the scheme.

In the first instalment, ₹1,500 crore would be distributed among 18 lakh farmers aming whom more than 80% are small and marginal farmers. 

The annual cost of the scheme would be ₹5,700 crore.

Initially, the scheme would

cover

rice, maize and sugarcane farmers. 

It would later expand to other crops as well.

Rice and maize farmers would get ₹10,000 an acre, while sugarcane farmers would get ₹13,000. 

The money would be distributed in four instalments.

This will

help them

through the agricultural cycle and help with extension activities.

The

additional income to

farmers would increase

rural demand

and also act as a

stimulus

for the State's economy. 
---
Recently, the

Second Addendum to the Protocol on Inland Water Transit and Trade

was signed between India and Bangladesh.

To boost trade, economic activity and connectivity, India and Bangladesh have added five more "ports of call". 

The protocol (water) routes have also been increased from 8 to 10.

Inclusion of Sonamura- Daudkhandi stretch of 'Gumti river' (93 Km): It will improve the connectivity of Tripura and adjoining States with Indian and Bangladesh's economic centres.
Important value additions:
Protocol on Transit and Trade
Protocol on Transit and Trade

through inland waterways between Bangladesh and India was first signed in 1972 (immediately after independence of Bangladesh)

It was last renewed in 2015 for five years with a provision for its automatic renewal for a further period of five years giving long term assurance to various stakeholders.
---
Part of: GS-Prelims and GS-III – Science and Technology
In News:
Researchers using NASA's

Antarctic Impulsive Transient Antenna

(ANITA) have found a fountain of high-energy particles erupting from the ice in Antarctica. 

This could be proof of a parallel universe.
Important value additions:
Antarctic Impulsive Transient Antenna (ANITA)
The ANITA instrument is a radio telescope to detect ultra-high energy cosmic-ray neutrinos from a scientific balloon flying over the continent of Antarctica.

It is the first NASA observatory for neutrinos of any kind.

Neutrinos are of great interest to astrophysicists as they are the only particle that can reach earth unattenuated (not weakened) at all energies.

It detects these ultra-high energy neutrinos by use of the

Askaryan effect

. 

This effect predicts the production of a coherent radio emission from the cascade of particles produced in a high-energy particle interaction.

ANITA-I was launched in 2006–07 and ANITA-IV was launched in 2016. 
Miscellaneous 
Wadi Rum 
It is also known as the Valley of the Moon.

It is a valley cut into the sandstone and granite rock in southern Jordan.

It is the largest wadi in Jordan. 
---
(MAINS FOCUS)
---
INTERNATIONAL/ SECURITY
Topic: General Studies 2:

India and its neighborhood- relations. 
Context: The India-China border has been witnessed tensions during April-May 2020, with incidents reported in at least four different locations along the Line of Actual Control (LAC).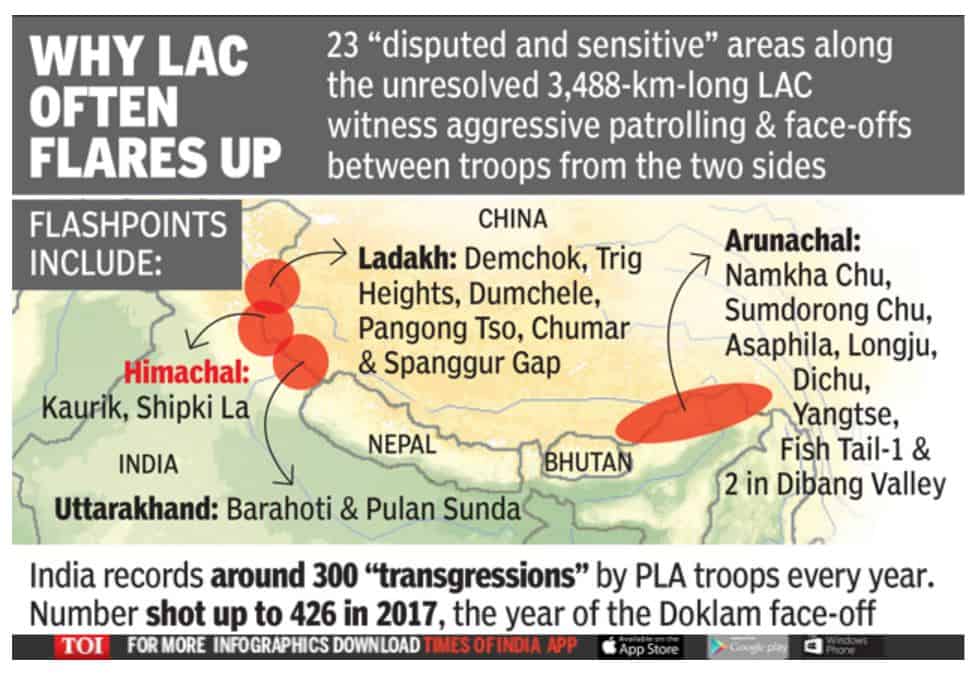 Pic Source: Times of India
Where have the incidents (army clashes) happened?
The Pangong lake in Ladakh

Naku La in Sikkim

Galwan valley and Demchok in Ladakh
Why do face-offs occur?
Non-Demarcation of LAC:

LAC that has never been demarcated. As a result, India and China have overlapping claim lines along LAC which leads to such clashes

Non-implementation of protocols

: Additionally, the Protocols agreed to in 2005 and 2013 regarding rules of engagement to prevent such incidents, have not always been adhered to.
What is behind the latest tensions?
The northern bank of

Pangong lake

has always been a point of contention where there are differing perceptions of the LAC.

The stand-off in

Galwan valley

(not many incidents in past as LAC was thought to be settled here) was triggered by China moving in troops & equipment to stop construction activity by India

Delhi says that construction was well within India's side of the LAC, but China thinks otherwise. 

The broader context for the

unexpected tensions in Sikkim

appears to be a changing dynamic along the LAC, as India plays catch-up in improving infrastructure there. 

China has enjoyed an

advantage in infrastructure

as well as terrain that is more favourable to mobilisation in Sikkim area and likes to maintain status-quo.
Why has not the LAC been clarified?
India has long

proposed an exercise

to clarify differing perceptions of the LAC to prevent such incidents. 

The exercise could pave the way to regulate activities in contested areas until a final settlement of the boundary dispute.

Maps were exchanged in the Middle Sector, but the exercise fell through in the Western Sector where divergence is the greatest.

China has since

rejected this exercise

, viewing it as adding another complication to the on-going boundary negotiations. 
What is the state of boundary negotiations?
 In 2005, an agreement on political parameters and guiding principles completed the first of three stages of the talks. 

The 2005 agreement said both sides "shall safeguard due interests of their settled populations in border areas".

The current, and most difficult, stage involves agreeing a framework to resolve the dispute in all sectors. 

The final step will involve delineating and demarcating the boundary in maps and on the ground.
What are the prospects of a settlement?
The likelihood appears remote. 

The main differences are in the Western and Eastern sectors. 

India sees China as occupying 38,000 sq km in

Aksai Chin.

In the east, China claims as much as 90,000 sq km, extending all across

Arunachal Pradesh. 

One particular sticking point appears to involve

China's claims to Tawang

in Arunachal Pradesh, which has been increasingly raised by China in recent years

A swap was hinted at by China in 1960 and in the early 1980s, which would have essentially formalised the status quo. 

Both sides have now ruled out the status quo as a settlement, agreeing to meaningful and mutual adjustments. 

At the same time, the most realistic solution will involve only minor adjustments along the LAC, considering neither side will be willing to part with territory already held.
What is the Strategic Calculation behind boundary dispute?
India insists that its relations with China won't improve fundamentally until the border dispute is resolved

China appears to view an unsettled border as holding some leverage with India, one of the many pressure points it could use to keep India off-guard
Conclusion
Until the strategic calculus — and China's broader view of its relations with India — changes, the stalemate will likely continue
Connecting the dots:
China's Belt and Road Initiative & India's Neighbourhood First Policy

Panchsheel agreement between India & China in 1954
---
GOVERNANCE/ ECONOMY/ AGRICULTURE
Topic: General Studies 2,3:

Indian Economy and issues relating to planning, mobilization, of resources 
Government policies and interventions for development in various sectors 
Context: Chhattisgarh government has recently launched the Rajiv Gandhi Kisan Nyay Yojana (RGKNY), an income transfer scheme for farmers
About RGKNY
It aims to supplement the income of the Chhattisgarh State's 18 lakh rice, maize and sugarcane farmers through direct cash transfers

RGKNY provides 10,000/acre for paddy farmers and Rs 13,000/acre for sugarcane farmers.

The scheme will be extended to farmers of other crops — in fact, to landless labourers as well

This is in addition to the Centre's

PM-KISAN scheme

that provides ₹6,000 to farm families owning less than five acres of land
Did You Know about similar income transfer schemes by State governments?
Telangana

Rytha Bandu Scheme offers cash transfer scheme of Rs 5,000/acre, per season

Odisha

government launched the KALIA scheme (Krushak Assistance for Livelihood and Income Augmentation) 

West Bengal

has Krishak Bandhu scheme

Jharkhand

has Mukhya Mantri Krishi Aashirwad Yojana 
What are the Challenges of income transfer scheme?
Targeting the Real Beneficiary

: 
Ideally, the money should go to the real tiller. But in large parts of the country, there is no record of tenancy.

The government data shows only 10% tenancy in the country while several micro-level studies indicate that it could be anywhere between 25-30%.
Identification issues:
The other issue is identifying the landless labourers working on farms as majority of them are temporary and seasonal workers. 

This leaves the task of identification to panchayats which can open doors for large leakages and corruption
Short-term solution

: 
Income transfers are only palliative and cannot address the underlying problem, which is the non-remunerative nature of farming. 

Transfer of income can lead to conspicuous consumption diverting money away from productive investments
Why is there a low record of tenancy in India?
The current law, favouring "land to the tiller", is loaded against the owner.

As a result, much of tenancy in the country remains oral.

Hence, there is a need to change the tenancy laws, and open up land lease markets, ensuring that the owner of the land has full rights to take his land back after the expiry of the lease period
Way Forward
Information and persuasion campaigns: 
Fully inform the tiller that the owner has got income support and then appeal to the owner to pass on this benefit to the tiller or adjust the rent accordingly

This would increase the chances of the benefits being passed on to the real tillers — or at least help the tenants to bargain on the terms of tenancy.
Creation of Umbrella Scheme by merging of Various Schemes: 
Merging income support schemes

,

including the PM KISAN and state-level schemes, with the MGNREGA and price-subsidy schemes (food & fertilizer) to start a basic income cover for poor households

This approach can cover landless labourers, farmers, and poor consumers 
Structural Changes to Agriculture:

This includes the following
Rectifying messy land records

Getting rid of unscientific and unsustainable crop patterns, 

Correcting market linkages that make the farmers vulnerable to exploitation by officials and middlemen

Ensuring adequate irrigation

Adoption of technology

Resolving conflict with wildlife, and 

Adapting agriculture to changing weather and climate patterns.
Connecting the dots:
Zero Budget Natural Farming

Cooperative Farming
---
(TEST YOUR KNOWLEDGE)
---
Model questions: (You can now post your answers in comment section)
Note: 
Correct answers of today's questions will be provided in next day's DNA section. Kindly refer to it and update your answers. 

Comments Up-voted by IASbaba are also the "correct answers".
Q.1 Wadi Rum is located in which of the following Country?
Yemen

Jordan

United Arab Emirates

Saudi Arabia
---
Q.2 Consider the following Species recently found in Western Ghats of Tamil Nadu and Kerala:
Eugenia sphaerocarpa

Goniothalamus sericeus

Memecylon nervosum
Which of the above was/were discovered in Malabar wildlife sanctuary?
1 only

3 only

Both 1 and 2

1, 2 and 3
---
Q.3 Which of the following state has recently announced Rajiv Gandhi Kisan Nyaya Yojana for farmers?
Jharkhand

Odisha

Madhya Pradesh

Chhattisgarh
---
ANSWERS FOR 23rd May 2020 TEST YOUR KNOWLEDGE (TYK)
---
Must Read
About the need for increasing MGNREGA works:
About criticism of agricultural package recently announced:
About Criticism of Judiciary:
For a dedicated peer group, Motivation & Quick updates, Join our official telegram channel – https://t.me/IASbabaOfficialAccount
Subscribe to our YouTube Channel HERE to watch Explainer Videos, Strategy Sessions, Toppers Talks & many more…