IAS UPSC Prelims and Mains Exam – 20th July 2020
---
(PRELIMS + MAINS FOCUS)
Assam floods: Several rare Rhinos died due to floods 
Part of: GS Prelims and Mains III – Conservation of endangered species; Protected areas
Key facts from the article: 
All rhinos have poor eyesight. They have blurred vision and tend to attack based on smell and hearing.

 

Kaziranga National Park and Tiger Reserve (KNPTR) – has more than 55% of the world's population of the one-­horned 

Rhinos

.

 
Kaziranga National Park 
It is a national park in the 

Golaghat

 and Nagaon districts of Assam. The sanctuary, which hosts two-thirds of the world's great one-horned rhinoceroses, is a 

World Heritage Site.

 

Kaziranga is recognized as an 

Important Bird Area by 

BirdLife

 International

 for conservation of avifaunal species.

 

Kaziranga has the largest population of the Wild water buffalo anywhere accounting for about 57% of the world population.

 
Total number of National Parks in Assam is Five (5). Kaziranga National Park, Manas National park, Orang National Park, Dibru-Saikhowa National Park and Nameri National Park. 
One-horned rhino: 
 One-horned rhinoceros is the largest of the Asian Rhinos.

 

Assam is home to the largest population of one-horned rhinos.

 
Conservation status: 
IUCN status: Vulnerable

 

It is included in the Schedule – I of Wildlife (Protection) Act, 1972.

 
---
India-Bangladesh: Cattle smuggling issue 
Part of: GS Mains II – India and its neighbourhood relations; Bilateral ties 
In news: 
Three Bangladeshi nationals alleged to be cattle smugglers were lynched by locals in Assam. Four others from across the border escaped.

 

This was the second such incident in the same district of Assam in less than two months.

 
Unresolved issues and irritants that remain: 
Water sharing

: Teesta River Agreement, 

Farakka

 

barriage

, Bangladesh objection to the construction of 

Tipaimukh

 dam on Barak river in Manipur.  

 

Migrant's issue: 

NRC exercise and perception that illegal migrants will be deported to Bangladesh.

 

Illegal activities along border:

 Cattle smuggling, trafficking, drugs dealing and fake currency.

 

India's handling of 

Rohingya issue

.

 

China factor:

 growing security and military relations, increasing investment of china in infrastructural projects in Bangladesh is cause of concern for India. Ex: Chittagong port.

 

Delivery deficit

 associated with Indian projects in Bangladesh.

 
Key facts: 
India shares longest border of length 4,096 km with Bangladesh. 

 

Bangladesh shares land borders with India to the west, north and the east and Myanmar to the east, whereas the Bay of Bengal lies to its south.

 

Indian states Assam, Tripura, Mizoram, Meghalaya, and West Bengal share the India-Bangladesh border.

 
---
First-of-its-kind Godhan Nyay Yojana launched in Chhattisgarh 
Part of: GS Prelims and Mains II and III – Govt schemes and initiatives; Animal Husbandry; Rural development 
In news: 
Godhan

 

Nyay

 Yojana

 was launched by Chhattisgarh government.

 

Under the scheme, government will procure cow dung at Rs 2 per kilogram from livestock owners and use it to prepare organic fertilizers.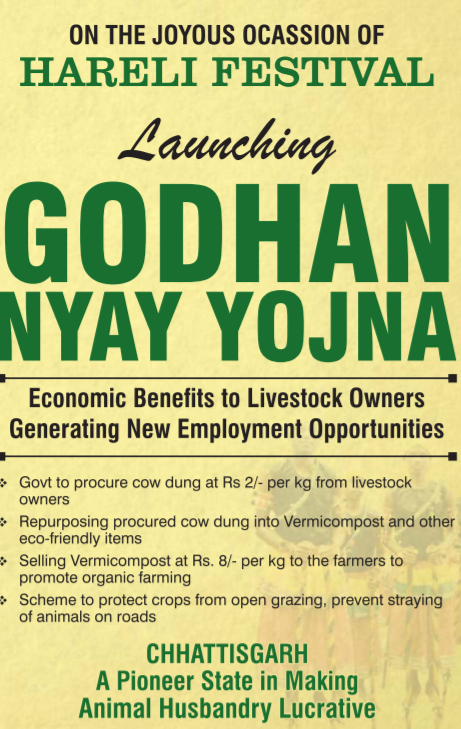 Benefits of the scheme: 
With implementation of this scheme, government aims to give a 

boost to rural economy

 and to 

create employment opportunities 

in the rural areas.

 

Gives boost to organic farming.

 

Proper disposal of waste produced by cattle, hence keeps the city and roads clean.

 
---
Video surveillance system on trains 
Part of: GS Mains III – Infrastructure; Security 
In news: 
Railway board had formed a committee to standardise the Standard Operating Procedure (SOP) for Video Surveillance System in coaches.

 

The SOP would consist of details relating to data uploading, retention and retrieval besides defining monitoring and response by security personnel and 

front line

 Railway officials.

 
Do you know? 
The 

Railways has planned to install surveillance cameras in 7,000 coaches by March 2021 as part of a 

Video Surveillance System 

to cover stations and trains.

 

The panel has devised a strategy on the modalities and procedure for 

real­time

 surveillance, storage, retention and retrieval of feed generated by CCTV cameras installed in passenger coaches.

 
Benefits: 
Security measure to prevent/detect crimes at railway stations/trains.

 

Helps to ensure adequate safety of women, children and elderly passengers on railway premises.

 
---
Miscellaneous:
Person in news: Kannan Warrier 
Sacred Groves 
Part of: GS Prelims and Mains III – Environment and Biodiversity; Conservation 
In news: 
Coimbatore-based Kannan 

Warrier

 gets 

Indian Council of Forestry Research and Education's 

National Award of Excellence

 for outstanding research in forestry, including conservation of endangered sacred groves in the Alappuzha district of Kerala.

 
About Sacred Groves: 
Sacred groves comprise of patches of forests or natural vegetation – from a few trees to forests of several acres – that are usually dedicated to local folk deities.

 

These spaces are protected by local communities because of their religious beliefs and traditional rituals that run through several generations.

 

The groves 

are treasure

 houses of rare species, and medicinal and economically important plants. Felling trees from these lands is considered taboo. 

 

People believe that any kind of disturbance will offend the local deity, causing diseases, natural calamities or failure of crops. For example, the Garo and the Khasi tribes of 

northeastern

 India completely prohibit any human interference in the sacred groves.

 
Classification of Sacred Groves 
Traditional Sacred Groves

 – It is the place where the village deity resides, who is represented by an elementary symbol

 

Temple Grove

s – Here a grove is created around a temple and conserved.

 

Groves around the burial or cremation grounds.

 
Tribe/Community in news: Kayapo people and Uighars 
About: 
Kayapo people are 

are

 indigenous peoples in Brazil who inhabit a vast area spreading across the Amazon River and along Xingu River and its tributaries.

 

The Kayapo use intricate black body paint covering their entire bodies. They believe that their ancestors learned their social skills from insects, so they paint their bodies to mimic them and to better communicate with the Spirit that exists everywhere.

 

The black body paint also allows them to blend into their surroundings when hunting in the forests.

 
Who are the Uighurs? 
Uigurs

, are a minority Turkic ethnic group originating from and culturally affiliated with the general region of Central and East Asia.

 

The Uyghurs are recognized as native to the Xinjiang Uyghur Autonomous Region of the People's Republic of China.

 

China rejects the idea of them being an indigenous group.

 

Uighur communities are also found in Uzbekistan, Kyrgyzstan, and Kazakhstan, and several thousand live in Australia.

 
Do you know? 
In the early part of the 20th Century, Uighurs briefly declared independence, but the region was brought under the complete control of communist China in 1949. 
---
(MAINS FOCUS)
---
GOVERNANCE/ SOCIETY
Topic: General Studies 2 

Mechanisms, laws, institutions and Bodies constituted for the protection and betterment of people 
Statutory, regulatory and various quasi-judicial bodies. 
New consumer rights law
Context: 
The Consumer Protection Act, 2019 which replaces the Consumer Protection Act, 1986, comes into force on 20th July 2020. 
Did You Know? 
December 24 is observed as National Consumer Day as the Consumer Protection Act, 1986 received the assent of the President on this day.

 
Issues with Consumer Protection Act 1986 
Not aligned with digital age:

 

It was not equipped to deal with digital-age problems, where e-commerce and direct sellers get away with infractions.

 
Lacked Regulator:

 

It 

h

ad no regulator 

to secure consumers' rights

 

Lacked effective implementation

: L

arge number of pending consumer complaints in consumer courts across the country

 
Some of the key provisions of 2019 Act are: 
1. Definition of a Consumer
A consumer is defined as a person who 

buys any good or avails a service

 for a consideration. 

 

It does not include a person who obtains a good for resale or a good or service for commercial purpose.

 

It 

covers transactions through all modes

 including offline, and online through electronic means, teleshopping, multi-level marketing or direct selling

 
2. Establishment of the Central Consumer Protection Authority (CCPA)
CCPA will protect, promote and enforce the rights of consumers. 

 

The CCPA will 

regulate cases

 related to unfair trade practices, misleading advertisements, and violation of consumer rights. 

 

The CCPA will have the right to 

impose a penalty

 on the violators 

 

It can 

pass orders to recall goods

 or withdraw services, discontinuation of the unfair trade practices and reimbursement of the price paid by the consumers.

 

It 

will have an 

investigation wing

 to enquire and investigate such violations. 

 
3. Consumer Rights 
T

he right to be protected against the marketing of goods, products or services which are hazardous to life and property;

 

The right to be informed

 about the quality, quantity, potency, purity, standard and price of goods, products or services

, so as to protect consumers from unfair trade practices

 

The right to be assured

, wherever possible, access to a variety of goods, products or services at competitive prices;

 
The right to be heard

 and to be assured that consumer's interests will receive due consideration at appropriate fora

 

The right to seek redressal

 against unfair trade practice or restrictive trade practices or unscrupulous exploitation of consumers;

 

T

he right to consumer awareness

 
The 1986 also had same rights but was limited to goods. But the 2019 act expanded the scope by inclusion of services 
4. Penalties for misleading advertisement: 
The CCPA may impose a penalty on a manufacturer or an endorser of up to Rs 10 lakh and imprisonment for up to two years for a false or misleading advertisement. 

 
5. Consumer Disputes Redressal Commission
CDRCs will be set up at the 

 
District

 level: Complaints where

 value does not exceed Rs one crore.

 

State Level: 

Complaints where

 value 

is between 

Rs

 1-10

 crore

 

N

ational levels

: 

Complaints where

 value 

exceeds 

10

 crore

 
Final appeal will lie before the Supreme Court.

 
6. Product liability: 
Product liability means the liability of a product manufacturer, service provider or seller to compensate a consumer for any harm or injury caused by a defective good or deficient service

 
7. Consumer Friendly
It is the right of a consumer to sue a company at the place of her residence and not where the company specifies. 

 

The consumer can also request attendance/hearings via video conference, which will cut the cost of litigation

 
Challenges 
Without a strong tort law ecosystem, the consumer will likely not get a fair deal. 

 
P

arts pertaining to separate Consumer Protection Authority for advertisements, rules for e-commerce websites, accountability for celebrity endorsements are yet to be notified. 

 
Way Forward 
Class action will make a stronger case for the court to impose a pinching penalty on errant firms, which would then perhaps ensure that the consumer is not taken for granted 
Connecting the dots 
Judicial Backlogs in India and the reasons for it

 

Lok 

Adalats

 
---
POLITY/ GOVERNANCE/ SECURITY 
Topic: General Studies 2:

Structure, organization and functioning of the Executive

Government policies and interventions for development in various sectors and issues arising out of their design and imp 
Why a separate anti-torture law?
Context: The death of a father and son due to alleged custodial torture in Thoothukudi district of Tamil Nadu. 
P. 

Jayaraj

(

58) and his son J 

Beniks

(31), were taken into police custody for violating COVID-19 curfew hours. However, they died four days later allegedly due to custodial torture.

 

This incident has once again given rise to the demand for a separate law against torture. 

 
Did You Know? 
Torture is not defined in the Indian Penal Code, but the definitions of 'hurt' and 'grievous hurt' are clearly laid down. 

 

India has signed 

U.N. Convention against Torture and other Cruel, Inhumane or Degrading Treatment (CAT)

, but is yet to ratify it

 
Does that mean there aren't safeguards against torture? 
No, there are provision in law and Court judgements that provide safeguards  
Though the definition of 'hurt' does not include mental torture, Indian courts have included psychic torture, environmental coercion, tiring interrogative prolixity,

 

among others, in the ambit of torture

 

Voluntarily causing hurt and grievous hurt to extort confession are also provided in the 

Indian Penal 

Code with enhanced punishment.

 

Under the Code of Criminal Procedure, a judicial magistrate 

inquires

 into every custodial death.

 

The National Human Rights Commission has laid down specific guidelines for conducting autop

sy under the eyes of the camera, to prevent interference by police

 
Supreme Court Judgements on Custodial Torture 
D.K. 

Basu

 v. State of West Bengal: 

Under this case, the Supreme Court of India observed in this widely publicized death in police custody that using torture to impermissible and offensive to Article 21. 

 

Nilabati

 

Behera

 v. State of Orissa

: 

Court 

made sure that the state could no longer escape liability in public law and had to be compelled to pay compensation

 

 Similarly, the Court has held in many cases that policemen found guilty of custodial death should be given the death penalty. 

 

Therefore, there is neither a dearth of precedents nor any deficiency in the existing law

 
Was there any attempt at enacting specific legislation on prevention of torture? 
Yes, a fresh draft of the Prevention of Torture Bill was released in 2017 for seeking suggestions from various stakeholders. 

 

It included 'severe or prolonged pain or suffering' as a form of torture but that was left undefined.

 
Criticism of the bill 
The Bill was not only vague but also very harsh for the police to discharge its responsibilities without fear of prosecution and persecution. 

 

It was inconsistent with the existing provisions of law. 

 

The proposed quantum of punishment was too harsh. 

 

Though the 262nd Law Commission Report recommended that the death penalty be abolished except in cases of 'terrorism-related offences', the Bill provided for the death penalty for custodial deaths

 
In the Bill, the proposed registration of every complaint of torture as an FIR and blanket denial of anticipatory bail to an accused public servant was not reasonable. 

 

Overall, the proposed Bill was not a reformative one.

 
Way Ahead 
Retired Supreme Court Justice Deepak Gupta 

has 

said that 

is need to first

 implement the law as we have it

 
The investigation

s, the prosecutions are not fair and

 these must be rectified first

 

The temptation to use third-degree methods must be replaced with scientific skills

 

There is need for better training for police officers

 
Connecting the dots 
Police reforms

 

Capital Punishment—Is it needed?

 
---
(TEST YOUR KNOWLEDGE)
---
Model questions: (You can now post your answers in comment section)
Note: 
Correct answers of today's questions will be provided in next day's DNA section. Kindly refer to it and update your answers. 

Comments Up-voted by IASbaba are also the "correct answers".
Q.1) Which of the following National Parks are present in Assam?
Nameri

 National Park

 

Kaziranga National Park

 

Manas National Park

 

Dibru

 

Saikhowa

 National Park

 
Select the correct statements
2 and 3

1, 2 and 3

2, 3 and 4

 All of the above
---
Q.2) Consider the following statements about Kaziranga National Park
It is part of the middle Brahmaputra alluvial flood plains.

Wild Water Buffalo is only found in Kaziranga National Park

 

It is a World Heritage Site

 
Select the correct statements
3 only

2 and 3

1 and 3

 All of the above
---
Q.3) Which of the following states of India share its border with Bangladesh and Myanmar?
Assam
Mizoram
Tripura
Meghalaya
Select the correct statements
1 and 2 

2 only

1 and 3

2, 3 and 4
---
Q.4) Consider the following statements regarding Sacred Groves of India
These are tracts of Hilly regions which are regenerated around places of worship.

 

They help in protection of many rare and threatened species.

 

Forestation is strictly prohibited in these regions.

 

These are protected by the government under Wild Life Protection Amendment Act- 2002.

 
Select the correct statements
1 and 2 

3 and 4

1 and 4

2 and 4
---
Q.5) Consider the following pairs:
(Tribe/Community) : : (Associated country) 
Kayapo :

 : Brazil

 

Uighurs :

 : Bangladesh

 

Rohingya :

 : Myanmar

 
Which of the above pairs is/are correct? 
1 only

1 and 3

2 and 3

1, 2 and 3
---
ANSWERS FOR 18th July 2020 TEST YOUR KNOWLEDGE (TYK)
---

Must Read
About QUAD
About US Student's VISA
About private sector participation in Agriculture
For a dedicated peer group, Motivation & Quick updates, Join our official telegram channel – https://t.me/IASbabaOfficialAccount
Subscribe to our YouTube Channel HERE to watch Explainer Videos, Strategy Sessions, Toppers Talks & many more…