India's Nuclear Doctrine
TOPIC: General studies 3

Security challenges and their management in border areas
In News: India has said that it is committed to no first use of strategic weapons under its nuclear doctrine. 
Speaking at the Conference on Disarmament, at 75th Session of the First Committee of the United Nations General Assembly, India said that its nuclear weapons are meant to maintain a posture of minimum deterrence. Earlier this month, Foreign Secretary Harsh Vardhan Shringla said nuclear disarmament can be achieved through an agreed multilateral framework.
India also reiterated its commitment to a universal, verifiable and non-discriminatory nuclear disarmament for the complete elimination of nuclear weapons. India believes that nuclear disarmament can be achieved through a step-by-step process underwritten by a universal commitment and an agreed multilateral framework. India remains convinced of the need for meaningful dialogue among all States possessing nuclear weapons, for building trust and confidence
India's reiteration of its nuclear doctrine is significant, as it comes at a time when the armed forces are on alert at the borders, both at the LoC with Pakistan and the Line of Actual Control (LAC) with China, and also in readiness for any contingency to face a "two-front war", a euphemism for a hypothetical Sino-Pakistani joint attack on India. Both these neighbours also possess nuclear weapons.
India's N-weapons journey 
India embarked on the path of nuclear weapons development after its face-off with China in the 1962 war, followed by China carrying out nuclear tests in 1964 and in the subsequent years.
In 1974, under Prime Minister Indira Gandhi, India conducted its first nuclear tests, Pokhran-I, dubbed as a "peaceful nuclear explosion". 

Despite more than two decades of international pressure that followed to make India abandon its pursuit of nuclear weapons, India again carried out a test in May 1998, Pokhran-II, involving a fission device, a low-yield device, and a thermonuclear device. Its successful execution meant that India had the ability to introduce nuclear warheads into its fast-developing missile programme. 

A fortnight after the Pokhran-II tests, Pakistan also carried out similar tests, confirming progress with its nuclear weapons programme; since that time its nuclear arsenal has expanded rapidly.
In 1999, India came out with an explicit nuclear doctrine that committed, among other things, to NFU — that is it would never carry out a nuclear first-strike. This doctrine emphasised "minimal deterrence, no first use and non-use against non-nuclear weapon states", in the words of former National Security Adviser Shivshankar Menon. The NFU promise thus went together with credible minimum deterrence (CMD).
India has been tabling an annual resolution in the UNGA on 'Reducing Nuclear Danger' since 1998. The annual resolution calls for immediate and urgent steps to reduce the risks of unintentional and accidental use of nuclear weapons, including through de-alerting and de-targeting.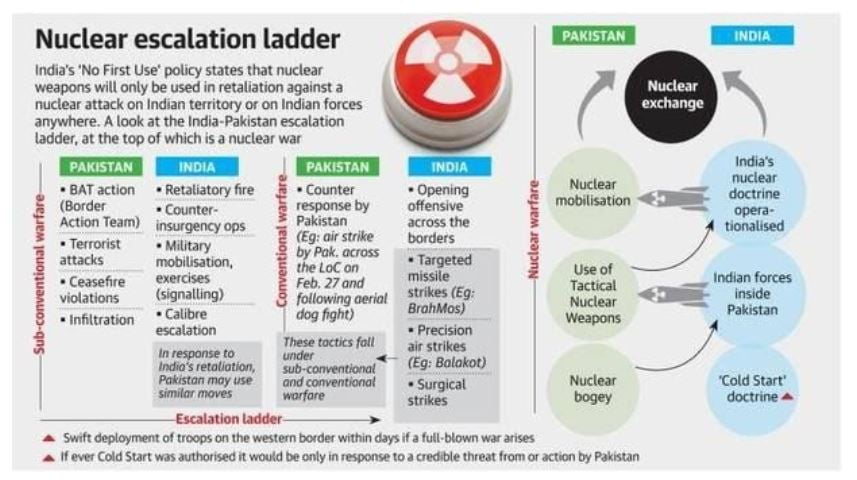 Source: https://www.thehindu.com/news/national/4l6p4w/article29248428.ece/alternates/FREE_615/Nuclear-escalation 
What does CMD mean for the Indian nuclear doctrine?
Credible minimum deterrence does not imply indefinite expansion of the nuclear arsenal; rather it is built on an assured second-strike capability. This implies that in the event of another nation carrying out a first nuclear strike of any magnitude against India, India's nuclear forces shall be so deployed as to ensure survivability of the attack and the capability to carry out a massive, punitive nuclear retaliation aimed at inflicting damage that the aggressor will find "unacceptable". Additionally, CMD requires a robust command and control system; effective intelligence and early warning capabilities; comprehensive planning and training for operations in line with the strategy; and the will to employ nuclear forces and weapons.
Currently, the Nuclear Command Authority is responsible for command, control and operational decisions on nuclear weapons; specifically it is the Cabinet Committee on Security and ultimately the office of the Prime Minister of India, that is responsible for the decision to carry out a nuclear attack.
Do we need to revisit the NFU policy?
After the 1998 nuclear tests in India and Pakistan, the CMD was established in the sense that in the following decade, including the aftermaths of the attack on the Indian Parliament in 2001 and the Mumbai terror attacks in 2008, neither country felt inclined to instigate all-out war.
In 2013, Shyam Saran, convener of the National Security Advisory Board, said: "India will not be the first to use nuclear weapons, but if it is attacked with such weapons, it would engage in nuclear retaliation which will be massive and designed to inflict unacceptable damage on its adversary. The label on a nuclear weapon used for attacking India, strategic or tactical, is irrelevant from the Indian perspective."
However, there may be some concerns with this idea that India will retaliate massively even if Pakistan uses tactical nuclear weapons — possibly on Indian forces operating on Pakistani soil — against it. This strategy would take both countries back into the old-world deterrence paradigm of "mutually assured destruction", because any surviving forces in Pakistan after India's retaliation would surely launch a devastating attack against targets across India.
Conclusion
The Balakot strikes that followed the Pulwama attack (both in February 2019) demonstrate that the Narendra Modi government is not shy of taking cross-border military action. If another sub-conventional attack, say a terror attack, occurs on Indian soil anytime soon, these theories will likely be tested. What remains unclear is how high up the escalation ladder both countries will be willing to go.
MUST READ: In stand-off, keeping an eye on the nuclear ball
Connecting the Dots:
What are your views on India's 'No First Use' nuclear doctrine? Should it be reviewed keeping in view the changing security dynamics in the region? Critically examine.

The nuclear tests conducted at Pokhran in 1998 helped to get the global high table to make space for India. Do you agree? Critically comment.

Enumerate the top nuclear challenges the world faces today.

As nuclear states push the line against other nuclear states, even if they do not want a war… war may find them. Comment.
For a dedicated peer group, Motivation & Quick updates, Join our official telegram channel – https://t.me/IASbabaOfficialAccount
Subscribe to our YouTube Channel HERE to watch Explainer Videos, Strategy Sessions, Toppers Talks & many more…