---
(PRELIMS + MAINS FOCUS)
---
Part of: GS Prelims and GS -II – International Relations 
In news
Recently, the Indian Prime Minister addressed the 47th

G7 Summit

2021 through video conferencing.

G7 is an informal intergovernmental organisation of seven countries – US, Canada, France, Germany, Italy, Japan and UK. 

It represents 40% of the global GDP

In 2021 Summit India, South Africa, Australia and South Korea were invited as guest countries. 
Significant outcomes of the Summit known as Carbis Bay Declaration 
G7 shall secure more than 1 billion covid-19 vaccine doses

either through donating surplus supplies funds or providing further finance to

Covax

, a scheme backed by UN to distribute vaccines to low and middle-income countries 

It shall increase the climate finance contributions

and meet and overdue spending pledge of dollar hundred billion a year to help poor countries cut carbon emissions 

Infrastructure plan was announced

to rival China's Belt and Road initiative by supporting project such as Railways in Africa and wind farms in Asia 

It backed a

minimum tax of at least 15%

on large multinational companies to stop them from using tax havens to avoid taxes 

India has sought G7's support for the proposal made at the WTO by India and South Africa for a TRIPS waiver on covid related Technologies.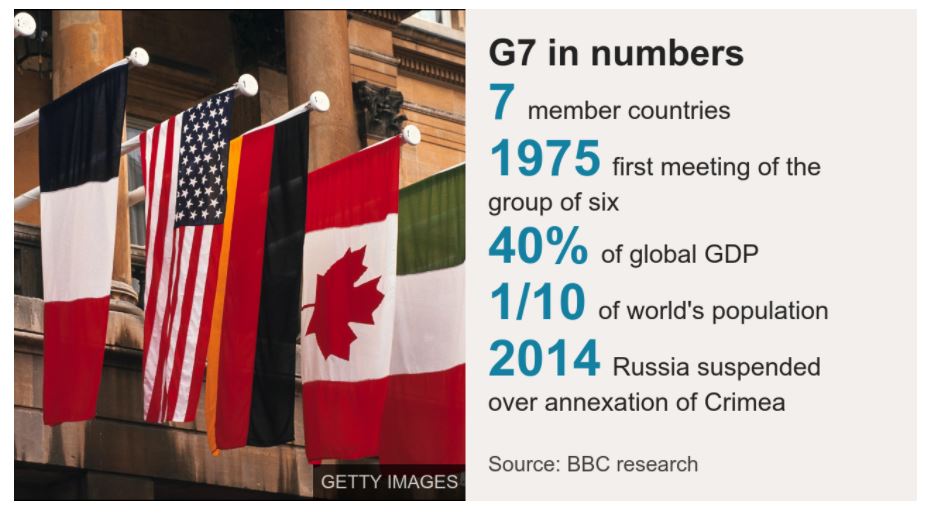 Source: BBC
---
Part of: GS Prelims and GS -III – Sci & Tech
In news
The Wide Area Linear Optical Polarimeter (WALOP) is being developed at Inter-University Centre for Astronomy and Astrophysics (IUCAA), India.

WALOP is a vital instrument for the PASIPHAE Project.

Polar-Areas Stellar-Imaging in Polarisation High-Accuracy Experiment (PASIPHAE) is an international collaborative sky surveying project.
About the PASIPHAE Survey
It is an

opto polarimetric survey 

It aims to measure the

linear polarization from millions of stars

.

The survey will use two high-tech optical polarimeters to observe the northern and southern skies, simultaneously.

The survey will be

conducted concurrently

from the South African Astronomical Observatory in Sutherland, South Africa in the southern hemisphere, and the Skinakas Observatory in Crete, Greece, in the north.
Importance of the Project
It will be used to perform

magnetic tomography of the Milky Way Galaxy

.

Tomography is a technique for displaying a representation of a cross section through a solid object using X-rays or ultrasound.

It will deduce the 3-dimensional structure of the magnetic field and the dust that resides in the Galaxy.
About WALOP
The WALOP will be

capable of observing hundreds of stars concurrently

present both in the northern and the southern skies.

It will operate on the principle that at any given time, the data from a portion of the sky under observation will be split into four different channels.

Depending on the manner in which light passes through the four channels, the polarisation value from the star is obtained.
---
Part of: GS Prelims and GS -III – Conservation 
In news
Recently, the Indian Coast Guard has pressed into service an

aircraft for 'Operation Oliva'

to protect

Olive Ridley turtles

.
What is Operation Oliva
It was initiated in the early 1980s

Every year, Operation Olivia helps protect Olive Ridley turtles as they congregate along the Odisha coast for breeding and nesting from November to December.
Olive Ridley Turtles
These are the

smallest and most abundant

of all sea turtles found in the world.

They are carnivores 

They migrate thousands of kilometers between feeding and mating grounds in the course of a year.

They are best known for their unique mass nesting called

Arribada

, where thousands of females come together on the same beach to lay eggs.

Habitat

:

They are found in

warm waters

of the Pacific, Atlantic and Indian oceans.

The Odisha's

Gahirmatha Marine Sanctuary

is known as the world's largest rookery of sea turtles.

IUCN Red List

: Vulnerable

CITES

: Appendix I

Wildlife (Protection) Act, 1972

: Schedule I
Other Initiatives
To reduce accidental killing in India, the Odisha government has made it mandatory for trawls to use

Turtle Excluder Devices

(TEDs), a net specially designed with an exit cover which allows the turtles to escape while retaining the catch.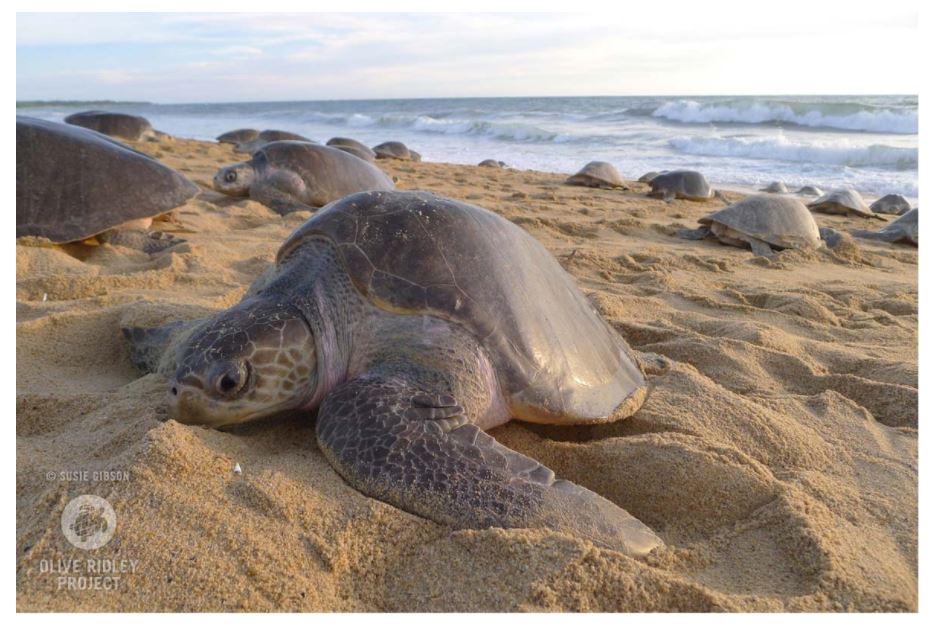 Source: Olive Ridley Project
---
Part of: GS Prelims and GS -III – Defence and Security
In news
Recently, the Defence Minister has approved the budgetary support of Rs. 498.8 crore to

Innovations for Defence Excellence (iDEX) challenge

under the Defence Innovation Organisation (DIO) for the next five years.
About iDEX
It was launched by the Prime Minister in April

2018

.

It

aims to achieve self – reliance and foster innovation

and technology development in Defence and Aerospace.

It engages Industries including MSMEs, start-ups, individual innovators, R&D institutes and academia.

Funded and managed by:

DIO

It also functions as the executive arm of DIO.

DIO is a 'not for profit' company registered under Section 8 of the Companies Act 2013.

Founding members:

Hindustan Aeronautics Limited (HAL) & Bharat Electronics Limited (BEL) – Defence Public Sector Undertakings (DPSUs). 

It will provide the engaging industries with funding and other support to carry out Research & Development.

iDEX has partnered with leading incubators in the country to provide hand holding, technical support and guidance to the winners of iDEX challenges.
---
Part of: GS Prelims and GS III – Economy
In news
Department of Heavy Industry (DHI) has recently modified

FAME II scheme

.

Objective of the modification

: To drive adoption of electric vehicles
Modifications 
Introduction of a

demand incentive

of Rs. 15,000 per kWh for electric two wheelers with a maximum cap at 40% of the vehicles' cost. 

Launch of an aggregate demand for 300,000 electric

three- wheelers

by Energy Efficiency Services Limited.
FAME scheme 
It was launched in 2015 

It forms a part of

National Electric Mobility Mission Plan 2020

. 

It

aims to promote manufacturing of electric and hybrid vehicle technology

and to ensure sustainable growth of the same 

Phase 2 of the scheme was approved for a period of

three years

starting from first April 2019 

It

aims to generate

demand by way of supporting e-buses, e 2-wheelers,  e three- wheelers 

By selling over 75,000 vehicles FAME has so far resulted in

savings

of over 20 million litres of fuel and has led to almost 40 million kg

reduction

in CO2.
---
Miscellaneous
Jiyo Parsi scheme

 
The scheme has resulted in a rise in the number of births in the Parsi community. 

It was launched in 2013 

Objective:

To prevent the decline in population of the Parsi zoroastrian community in India 

Developed by:

Ministry of Minority affairs and Parzor Foundation 

It comprises three components:

Medical assistance for assisted reproductive treatments, Advocacy and Health of the community
---
(Mains Focus)
---
SECURITY/ INTERNATIONAL
Topic:

GS-2: Government policies and interventions for development in Health sectors 
GS-3: Challenges to National Security
Context: The growth of exponential technologies such as synthetic biology, artificial intelligence and nanotechnology is bound to change the theory and practice of national security. COVID-19 has quickened the inevitable.
Synthetic biology is a revolutionary technology which can help us manipulate biological organisms and processes for human betterment, especially in treating diseases, by re-engineering cells
There are many risks associated with Synthetic technology which must be addressed before it becomes widely accessible. Some of these risks are:
Incomplete Understanding:

The rapid rise of synthetic biology in the last two decades and its still-to-be-understood implications haven't received sufficient attention from the security studies or policy communities. 

Deliberate Misuse:

While the technology is still not easily accessible, the day is not far off when such technologies won't be difficult to access. There is a need to carefully review, especially in the wake of the pandemic, the biosecurity systems in place where such technologies are in use.

Bioweapons

: A well-planned attack using highly infectious pathogens synthetically engineered in a lab could be disastrous. This should concern security establishment.

Lacks attention of Policy makers:

The linkage between national security and synthetic biology is yet to become an agenda item in mainstream national security debates.  Contrast this with the focus on nuclear weapons, facilities and material. 

Accidental leaks

of experimental pathogens are another concern. Insufficiently trained staff, inadequately safeguarded facilities, and lack of proper protocols could all be behind such leaks

Dual Use Technology:

While bio-weapons are banned, research for medical and bio-defence purposes are allowed. While this is understandable, the problem is that there is a thin line between bio-defence research and bio-weapons research. Bio-defence research could potentially be used to create bio-weapons.
Inadequate International Regulation
Unlike the nuclear domain, the fields of biology or synthetic biology are not regulated internationally despite growing military interest in synthetic biology applications and their potential misuse.

When it comes to bio-weapons, all we have is the Biological and Toxin Weapons Convention (BTWC) of 1972 with no implementing body. 

The BTWC does not have a verification clause, nor does it have clearly laid down rules and procedures to guide research in this field.

India Uniquely Unprepared: 

Given poor disease surveillance, insufficient coordination among various government departments dealing with biosecurity issues, porous borders and ill-trained border control institutions and the pathetic state of the healthcare system, India is ill prepared for defending against pathogens or dangerous biological organisms attack.
Way Forward
The November 2021 BTWC review conference must take stock of the advances in the field, address the thinning line between biotechnology research and bio-weapons research, and consider international measures for monitoring and verification.
Connecting the dots:
---
INTERNATIONAL/ SECURITY
Topic:

GS-2: India and its neighborhood- relations 
GS-3: Challenges in managing the borders
Context: Defence Minister on June 12 approved a revised policy on how India compiles, archives and disseminates its war documents and related history.
As per the new policy, 
Once an operation/war is completed, the first cut of history is to be prepared and disseminated for internal circulation

within five years.

 

Whether this first draft of history is to be placed in the public domain or not, will be determined on a

case by case basis

, depending on the sensitivity of the operation/war.

Predictably, the Henderson

Brooks-Bhagat report relating to the 1962 war

with China, which is still under wraps, will not be part of the new policy. Apparently, another committee will take a view on previous wars.
A year after Galwan Incident
Carefully shaped narratives about the military defending national sovereignty and territorial integrity are crucial for any political leadership — authoritarian or democratic — and Galwan has special salience for both China and India.
India has interpreted Galwan as a case

of Chinese aggressiveness

and places the onus on Beijing to restore the status quo.

In China, the incident is being projected as a case of guarding the border and defending the motherland. The incident has been used to stoke pride in military and

muscular nationalism

domestically.

India's narrative about Galwan remains opaque

and there has been no detailed official statement from the Ministry of Defence on the current tactical situation in Ladakh.
Way Ahead
The Galwan anniversary should encourage the government to set up an independent

panel of experts to review the institutional lapses

that led to an altered LoAC in the Ladakh sector.
Concurrently, Delhi will need to objectively review and

anticipate what the PLA may embark upon next.
The incident should encourage government to craft affordable and effective long-term strategic/security policies that are

not clouded by political compulsions.
Connecting the dots:
China's Belt & Road Initiative
---
(TEST YOUR KNOWLEDGE)
---
Model questions: (You can now post your answers in comment section)
Note:
Correct answers of today's questions will be provided in next day's DNA section. Kindly refer to it and update your answers.

Comments Up-voted by IASbaba are also the "correct answers".
Q.1 Jiyo Parsi scheme is developed by which of the following? 
Ministry of Minority affairs 

Parzor Foundation 

NITI Aayog

Both (a) and (b)
---
Q.2 Consider the following statements regarding FAME scheme:
It forms a part of National Electric Mobility Mission Plan 2020. 

It aims to promote manufacturing of electric and hybrid vehicle technology and to ensure sustainable growth of the same 
Which of the above is or are correct 
1 only 

2 only 

Both 1 and 2 

Neither 1 nor 2 
---
Q.3 Gahirmatha Marine Sanctuary is located in which of the following state of India?
West Bengal

Odisha

Maharashtra

Kerala 
---
ANSWERS FOR 14th June 2021 TEST YOUR KNOWLEDGE (TYK)
---
Must Read
On G-7 Summit:
On Centre's liberalised vaccination policy:
On conducting board exams:
For a dedicated peer group, Motivation & Quick updates, Join our official telegram channel – https://t.me/IASbabaOfficialAccount
Subscribe to our YouTube Channel HERE to watch Explainer Videos, Strategy Sessions, Toppers Talks & many more…