---
(PRELIMS + MAINS FOCUS)
---
Part of: Prelims and GS – III – Conservation
In news Assam's Environment and Forest Department has decided to destroy the rhinoceros horns, elephant tusks (ivory) and body parts of other protected animals stored in the district treasuries.
About 5% of the specimens would be preserved for education, awareness and scientific purposes.

The destruction of the horns and other animal articles

would be in conformity

with a relevant section of the

Wildlife (Protection) Act of 1972.

A State-level committee has been constituted for this purpose and a public hearing will be held soon.
Background 
The Assam government had in 2016 constituted the Rhino Horn Verification Committee to study the specimens kept in 12 treasuries. 

The exercise was a bid to allay public apprehensions about tampering and allegations that officials were illegally trading the horns collected from dead rhinos or retrieved from poachers and smugglers.
News source: TH 
---
Part of: GS Prelims and GS- II – International Relations; GS – III – Defence and security
In news The first of two additional Krivak class stealth frigates being built by Russia is expected to be delivered to India in the middle of 2023
Frigate ships are

kind of guard ships.

In October 2016, India and Russia signed an Inter-Governmental Agreement (IGA) for four

Krivak or Talwar class stealth frigates

— 

Two to be procured directly from Russia 

Two to be built by Goa Shipyard Ltd. (GSL) 

The frigates were being built to operate both Indian and Russian equipment.

The Navy currently operates six Krivak class frigates weighing around 4,000 tonnes.
Do you know?
The Krivak class were a series of frigates and guard ships (patrol boats) built in the Soviet Union primarily for the Soviet Navy since 1970.

They were designed as a successor to the Riga class.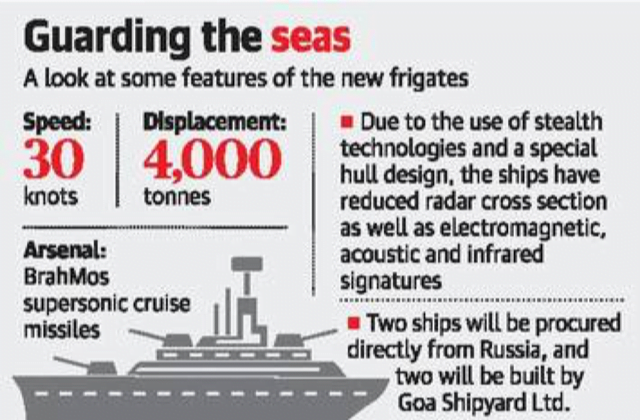 News source: TH 
---
Part of: GS Prelims and GS- III – Mobilization of resources
In news Recently, the Ministry of Finance has launched 'Ubharte Sitaare' Alternative Investment Fund to facilitate debt and equity funding to export-oriented MSMEs (Micro Small and medium Enterprises).
About the scheme 
Under the scheme, an identified company is supported even if it is currently underperforming or may be unable to tap its latent potential to grow.

The scheme diagnoses such challenges and provides support through a mix of

structured support covering equity, debt and technical assistance.

 

It will also have a Greenshoe Option of Rs 250 crore. 

A greenshoe option is an over-allotment option, which is a term that is commonly used to describe a special arrangement in a share offering for example an IPO
The fund has been set up

jointly by Exim Bank and SIDBI

(Small Industries Development Bank of India) which will invest in the fund by way of equity and equity-like products in export-oriented units, in

both manufacturing and services sectors.
What are the Criteria for Selecting Companies?
Companies will be selected for support based on their unique value proposition in technology, products or processes that match global requirements.

Fundamentally strong companies with acceptable financials with an annual turnover of up to approx. Rs 500 crore.

Companies with a good business model, strong management capabilities, and focus on product quality.
What are the Objectives?
To enhance India's competitiveness in select sectors through finance and extensive handholding support.

Identify and nurture companies having differentiated technology, products or processes, and enhance their export business; 

Assist units with export potential, which are unable to scale up their operations for want of finance.

Identify and mitigate challenges faced by successful companies which hinder their exports.

Assist existing exporters in widening their basket of products and target new markets through a strategic and structured export market development initiative.
What is an Alternative Investment Fund?
Anything alternative to traditional forms of investments gets categorized as alternative investments.

In India, AIFs are defined under

Securities and Exchange Board of India

(Alternative Investment Funds) Regulations, 2012.

It refers to any privately pooled investment fund, (whether from Indian or foreign sources) which are not presently covered by any governing fund management of SEBI nor coming under the direct regulation of any other sectoral regulators in India.

It includes venture Capital Fund, hedge funds, private equity funds, commodity funds, infrastructure funds, etc.
News source: TH 
---
Part of: GS Prelims and GS- I – Ancient history
In news A new research paper has provided some new insight on the linguistic culture of the Indus Valley Civilization (IVC).
Earlier, a study found that the diet of the people of IVC had a dominance of meat, including extensive eating of beef.

In July 2021, UNESCO announced the

Harappan city of Dholavir

a in Gujarat as India's 40th world heritage site.
Key findings
IVCs have their language roots in

Proto-Dravidian

, which is the ancestral language of all the modern Dravidian languages.

The speakers of ancestral Dravidian languages had a greater historic presence in northern India including the Indus Valley region from where they migrated.

Proto-Dravidian was one among several languages being spoken in the Indus Valley region.

The research claims that there were more than one or one group of languages spoken across the one-million square kilometre area of IVC.

Since people of ancient Persia had functioned as intermediaries between Mesopotamia and IVC traders, while exporting IVC's ivory, they had arguably spread the Indic words to Mesopotamia as well.
What is Indus Valley civilization?
It is the earliest known urban culture of the Indian subcontinent.

It is also called Harappan Civilization after the first city to be excavated, Harappa (Punjab, Pakistan).

It was established around 3300 BC. It flourished between 2600 BC and 1900 BC.

It extended from Sutkagengor (in Balochistan) in the West to Alamgirpur (Western UP) in the East; and from Mandu (Jammu) in the North to Daimabad (Ahmednagar, Maharashtra) in the South. Some Indus Valley sites have also been found as far away as Afghanistan.

Important sites:

Kalibangan (Rajasthan), Lothal, Dholavira, Rangpur, Surkotda (Gujarat), Banawali (Haryana), Ropar (Punjab).

In Pakistan: Harappa (on river Ravi), Mohenjodaro (on Indus River in Sindh), Chanhudaro (in Sindh).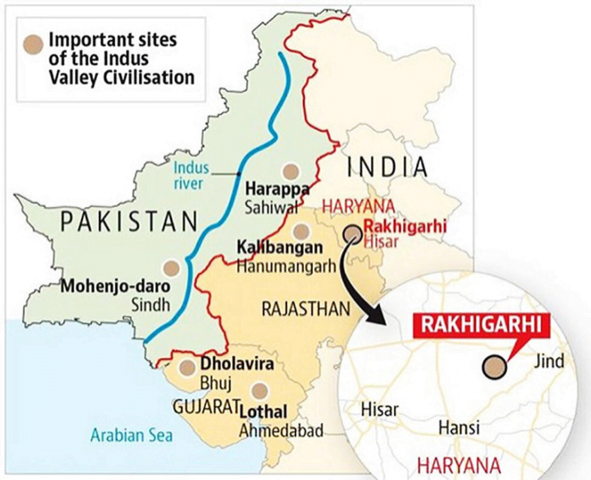 News source: IE
---
(News from PIB)
---
Part of: GS Prelims and Mains GS-III- Governance
In News:  New portal under Bhuvan "Yuktdhara" has been released that will facilitate planning of new MGNREGA assets using Remote Sensing and GIS based information. 
About
The "Yuktdhara" is a new

Geospatial Planning Portal

that will serve as a

repository of assets (Geotags)

created

under various national rural development programmes, i.e., MGNREGA, Integrated Watershed Management Programme, Per Drop More Crop and Rastriya Krishi Vikas Yojana etc., along with field photographs using remote sensing and geographic information system-based data.

The name given is very apt as word 'Yukt' is derived from Yojanam, the planning and 'Dhara' indicates the flow.

It is a culmination of untiring joint efforts of

ISRO and Ministry of Rural development

made towards realizing a G2G service for rural planning in support of decentralized decision making.

This portal integrates wide variety of thematic layers, multi-temporal high resolution earth observation data with analysis tools. 

Planners will analyse previous assets under various schemes and facilitates identification of new works using online tools.

Plans prepared will be evaluated by appropriate authorities under State Departments. Thus, Yuktdhara based plans will be prepared by 

grassroot functionary

 and verified by appropriate authorities for relevance and resource allocation. 

This would ensure quality of plan and enable a long-term monitoring of the assets created over the years.
News Source:PIB
---
Part of: GS Prelims 
In news: The Prime Minister, Shri Narendra Modi has paid tributes to Sree Narayana Guru on his Jayanti. 
About Sree Narayana Guru
Sree Narayana Guru was a catalyst and

leader from Kerala

who reformed the oppressive caste system that prevailed in society at the time whose philosophy always advocated social equality, education for all, and spiritual enlightenment. 

Born in the Ezhava caste, Narayan Guru had experienced discrimination from the upper caste of society. 

One of his famous sayings in Malayalam was 'One caste, one religion, one god for all.'

Narayana Guru consecrated the first temple of Lord Shiva in 1888 where an idol was ordinated by a non-brahmin in Aruvippuram village of Kerala sparking off the anti-caste revolution against the upper-caste Brahmin communities.

Later, in 1903, he established the

Sree Narayana Dharma Paripalana Yogam

(SNDP) organization as the founder and president that continues to mark its strong presence to this day. 

The famous '

Vaikom Satyagraha' protest

movement against caste discrimination and untouchability abolished untouchability and inequality. Hence, this day is quite important in Kerala and is observed as a public holiday.

The Sivagiri pilgrimage was established in 1924 to promote the virtues of cleanliness, education, devotion, agriculture, handicrafts, and trade. 

His philosophy and teachings are a way of life for the people of

Kerala.

 

He passed away on September 20, 1928.
News Source: PIB
---
Part of: GS Prelims and Mains GS-III- Economy
In news: The Competition Commission of India (CCI) passed a final order against Maruti Suzuki India Limited (MSIL) for indulging in anti-competitive conduct by way of implementing Discount Control Policy vis-à-vis dealers.
CCI has accordingly, imposed a penalty of ₹200 crore (Rupees Two Hundred Crore Only) upon MSIL, besides passing a cease-and-desist order.
What did Maruti Suzuki do?
MSIL had a 'Discount Control Policy' in place for its dealers whereby the dealers were discouraged from giving extra discounts freebies, etc. to the consumers beyond what were permitted by MSIL. 

Any dealer found violating such Discount Control Policy was threatened with imposition of penalty, not only upon the dealership, but also upon its individual persons, including Direct Sales Executive, Regional Manager, Showroom Manager, Team Leader, etc.

To enforce the Discount Control Policy, MSIL appointed Mystery Shopping Agencies ('MSAs') who used to pose as customers to MSIL dealerships to find out if any additional discounts were being offered to customers. 

MSIL would even dictate to the dealership where the penalty had to be deposited and utilisation of the penalty amount was also done as per the diktats of MSIL.

Such conduct of MSIL which resulted in appreciable adverse effect on competition within India, was found by CCI to be in contravention of the provisions of Section 3(4)(e) read with Section 3(1) of the Competition Act, 2002.
Competition Commission of India (CCI) 
It is a statutory body of the Government of India. 

It is responsible for enforcing The Competition Act, 2002 throughout India.

It prevents activities that have an appreciable adverse effect on competition in India. 

It was established on 14 October 2003 and became fully functional in May 2009. 

CCI consists of a Chairperson and 6 Members appointed by the Central Government. 

It is the duty of the Commission to:

eliminate practices having adverse effect on competition, 

promote and sustain competition,

protect the interests of consumers, 

ensure freedom of trade in the markets of India. 
News Source: PIB
---
(Mains Focus)
---
ECONOMY/ GOVERNANCE
GS-3: Indian Economy; Infrastructure
GS-2: Government policies and interventions for development in various sectors and issues arising out of their design and implementation
In news Union finance minister recently launched the National Monetisation Pipeline (NMP), through which the government aims to raise $81 billion by leasing out state-owned infrastructure assets over the next four years (from FY22 to FY25)
What is asset monetisation?
Asset Monetization involves the creation of new sources of revenue by unlocking of the value of existing unutilized or underutilized public assets.

Many public sector assets are sub-optimally utilized and could be appropriately monetized by involving private sector (leasing or selling) to create better value from the assets.
Key features of the National Monetisation Plan
The NMP's roadmap has been

formulated by NITI Aayog

in consultation with infrastructure line ministries, under the 'Asset Monetisation' mandate of the Union Budget 2021-22.

NITI Aayog has a Public Private Partnership Cell and has engaged transaction advisors to handhold any ministry for any support it needs in pursuing the monetisation roadmap.

The sectors in which assets

are being identified to monetise include roads, ports, airports, railways, power generation and transmission, telecom, warehousing, gas & product pipeline, mining, stadium, hospitality and housing.

For now, the government has only included the assets of infrastructure line ministries and Central Public Sector Enterprises (CPSEs) working in the infrastructure sectors. 

Monetisation through disinvestment and monetisation of non-core assets

have not been

included in the NMP.

The framework for monetisation of core asset monetisation has three key imperatives: 
Monetisation of rights not ownership

which means the assets will have to be handed back at the end of transaction life. The overall transaction will be structured around revenue rights.

Brownfield de-risked assets:

There is no land here, this entire (NMP) is about brownfield projects where investments have already been made and there is a completed asset which is either languishing or it is not fully monetised or is under-utilised. 

Structured partnerships

under defined contractual frameworks & transparent competitive bidding, where Contractual partners will have to adhere to Key Performance Indicators and Performance Standards.
The assets and transactions identified under the NMP are expected to be rolled out

through a range of instruments.

 

These include direct contractual instruments such as public private partnership concessions and capital market instruments such as

Infrastructure Investment Trusts (InvIT)

among others. 

For Ex:

Under the plan, private firms can invest in projects for a fixed return using the InvIT route as well as operate and develop the assets for a certain period before transferring them back to the government agency.

The choice of instrument will be determined by the sector, nature of asset, etc.

NMP aims to provide a

medium term roadmap

of the programme for public asset owners; along with visibility on potential assets to the private sector.

The NMP will run co-terminus with the

National Infrastructure Pipeline

of Rs 100 lakh crore announced in December 2019.

An empowered committee

has been constituted to implement and monitor the Asset Monetization programme. The Core Group of Secretaries on Asset Monetization (CGAM) will be headed by the Cabinet Secretary.

Real time monitoring

will be undertaken through the asset monetization dashboard. The government will closely monitor the NMP progress, with yearly targets and a monthly review by an empowered committee 

 The top 5 sectors

(by estimated value) capture ~83% of the aggregate pipeline value. These include: Roads (27%) followed by Railways (25%), Power (15%), oil & gas pipelines (8%) and Telecom (6%)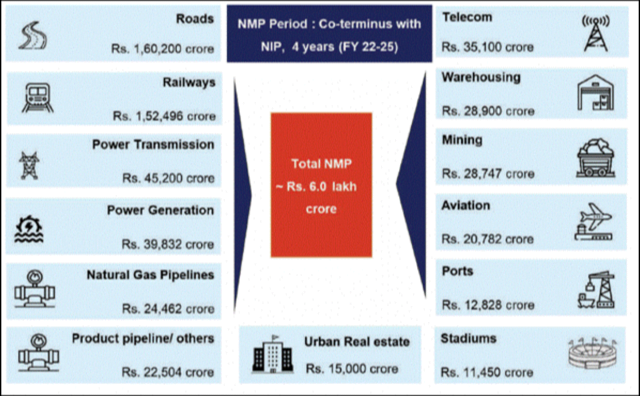 Merits of the NMP
Resource Efficiency:

It leads to optimum utilisation of government assets.

Fiscal Prudence:

The revenue accrued by leasing out these assets to private sector will help fund new capital expenditure without pressuring government finances.

Streamlining the Process:

Monetisation of assets is not new, but the government has finally organised it in baskets, set targets, identified impediments, and put in place a framework. 

Mobilising Private Capital:

Since the assets are de-risked as it is brownfield projects, it will help in mobilising private capital (both domestic & foreign). Global investors have revealed that they are keen to participate in projects to be monetised through a transparent/competitive bidding process.

Less Resistance:

The plan involves leasing to private sector without transferring ownership or resorting to fire sale of assets. Therefore, it is going to face less resistance from the opposition.

Cooperative Federalism:

To encourage states to pursue monetisation, the Central government has already set aside Rs 5,000 crore as incentive. 

If a state government divests its stake in a PSU, the Centre will provide a 100 per cent matching value of the divestment to the state. 

If a state lists a public sector undertaking in the stock markets, the Central government will give it 50 per cent of that amount raised through listing. 

If a state monetises an asset, it will receive 33 of the amount raised from monetisation from the Centre.

Promoting Public-Private Partnership:

The end objective of NMP is to enable 'Infrastructure Creation through Monetisation' wherein the public and private sector collaborate, each excelling in their core areas of competence, so as to deliver socio-economic growth and quality of life to the country's citizens.
Potential Impediments to NMP
Among the key challenges that may affect the NMP roadmap are 
Lack of identifiable revenue streams in various assets.

Inadequate level of capacity utilisation in gas and petroleum pipeline networks.

Lack of dispute resolution mechanism.

Regulated tariffs in power sector assets.

Low interest among investors in national highways below four lanes.

Lack of independent sectoral regulators.
Conclusion
In terms of annual phasing by value, 15 per cent of assets with an indicative value of Rs 88,000 crore are envisaged to be rolled out in the current financial year.

While unlocking assets worth Rs 6 lakh crore is an ambitious plan, resolving the impediments is expected to bring investors.
Connecting the dots:
National Infrastructure Pipeline

Hybrid Annuity Model
---
ENVIRONMENT/ DISASTER MANAGEMENT
GS-3: Environment Conservation
GS-2: Government policies and interventions for development in various sectors and issues arising out of their design and implementation.
GS-3: Disaster Management
Context: Severe cyclones, Tauktae (landfall in Gujarat) and Yaas (landfall in West Bengal) caused massive damage to infrastructure, the agricultural sector, and houses. 
Scale of impact (as per govt. report)
199 people died, 37 million people were affected, 

Economic losses stood at ₹320 billion (U.S.$4.3 billion)

Crop area of 0.24 million hectares was affected, and around 0.45 million houses were damaged. 

2.5 million people were evacuated to cyclone shelters and relief camps in these two States (Gujarat & West Bengal).

During the COVID-19 pandemic, these cyclones caused additional financial responsibility for State governments
Issues
Increased Frequency

: Increasing sea surface temperatures in the northern Indian Ocean have led to a rise in the frequency of devastating cyclones in the coastal States accounting for 7% of the global tropical cyclones. 

Every year, around five to six tropical cyclones are formed in the Bay of Bengal and the Arabian Sea; of these, two to three turn severe.

High Economic Losses

: Between 1999 and 2020, cyclones inflicted substantial damage to public and private properties, amounting to an increase in losses from $2,990 million to $14,920 million in the absence of long-term mitigation measures. 

Hurts Growth & Development

: The Asian Development Bank's report in 2014 estimated that India would suffer a loss of around 1.8% of GDP annually by 2050 from climate-related events.

Loss in govt. revenue:

India lost around 2% of GDP and 15% of total revenue over 1999-2020. Cyclones has also increased the fiscal burden of governments through increased spending to implement effective cyclone preparation measures.

Human Cost:

Cyclones are the third most lethal disaster in India after earthquakes (42%) and floods (33%). However, fatalities due to cyclones declined from 10,378 in 1999 to 110 in 2020.
Odisha Model of Cyclone Management
In the aftermath of the 1999 super cyclone, the Government of Odisha took up various cyclone mitigation measures which included
Installing a disaster warning system in the coastal districts,

Construction of evacuation shelters in cyclone-prone districts. 

Setting up of the Odisha State Disaster Management Authority (OSDMA)

Conducting regular cabinet meetings for disaster preparedness

Building the Odisha Disaster Rapid Action Force (ODRAF).
Odisha's disaster management model, though good, is inadequate to minimise the economic losses that result from cyclones. Therefore, the Government of India should adopt a few measures to minimise disaster damage and fatalities.
It is imperative to improve the

cyclone warning system

and revamp disaster preparedness measures. 

Government must widen the cover under shelterbelt plantations and help

regenerate mangroves

in coastal regions to lessen the impact of cyclones.

Building cyclone-resilient infrastructure

such as constructing storm surge-resilient embankments, canals and improving river connectivity to prevent waterlogging in low-lying areas.

Installing

disaster-resilient power infrastructure

in the coastal districts, providing concrete houses to poor and vulnerable households, and creating massive community awareness campaigns are essential. 

Finally,

healthy coordination between the Centre and the States

concerned is essential to collectively design disaster mitigation measures.
Connecting the dots:
---
(TEST YOUR KNOWLEDGE)
---
Model questions: (You can now post your answers in comment section)
Note:
Correct answers of today's questions will be provided in next day's DNA section. Kindly refer to it and update your answers.
Q.1 Consider the following statements regarding National Monetisation Pipeline (NMP):
It shall involve both brownfield as well as greenfield assets.

Only roadways and waterways sectors will be monetised.

Real time monitoring will be undertaken through the asset monetization dashboard.
Which of the above is/are correct? 
1 only

2 and 3 only 

3 only

1 and 3 only
---
Q.2 The Harappans did not know the use of which of the following? 
Copper

Gold

Silver

Iron
---
Q.3 'Ubharte Sitaare' Alternative Investment Fund is launched for which of the following sector? 
Agriculture 

Education 

MSME

Sportspersons
---
ANSWERS FOR 23rd August 2021 TEST YOUR KNOWLEDGE (TYK)
---
Must Read
On India & Afghanistan:
On Caste Census:
On Universal Basic Income:
For a dedicated peer group, Motivation & Quick updates, Join our official telegram channel – https://t.me/IASbabaOfficialAccount
Subscribe to our YouTube Channel HERE to watch Explainer Videos, Strategy Sessions, Toppers Talks & many more…