---
(PRELIMS + MAINS FOCUS)
---
Part of: Prelims and GS III – Environment 
Context: The Union Environment Ministry has constituted a "permanent" coordination committee that includes representatives of the Ministries of Railways and Environment to prevent elephant deaths on railway tracks
19 elephants were killed across the country on railway tracks in 2018-19, 14 in 2019-20 and 12 in 2020-21.
Steps taken
Several steps were taken to reduce the number of elephant deaths. These include:

Making permanent and temporary speed restrictions in identified elephant corridors and habitats, 

making underpasses and ramps for movement of elephants at identified locations, 

providing fencing at selected locations, 

erecting signs to warn train drivers about identified elephant corridors, 

sensitising train crew and station masters to avoid train collisions with elephants and 

clearing vegetation on the sides of track within railway land.

The Wildlife Institute of India, an autonomous body of the Environment Ministry, in consultation with the Ministry of Environment, Forest and Climate Change, National Highways Authority of India, National Tiger Conservation Authority and World Bank Group, has published a document named "Eco Friendly measures to mitigate impacts of linear infrastructure" to assist project agencies in designing linear infrastructure, including railway lines, to reduce human-animal conflicts.
Asian Elephants: 
There are three subspecies of Asian elephant which are the Indian, Sumatran and Sri Lankan.

Global Population: Estimated 20,000 to 40,000.

More than 60% of the world's elephant population is in India. 

IUCN Red List Status: Endangered.

Wildlife (Protection) Act, 1972: Schedule I.
News Source: TH
---
Part of: Prelims and GS I – Geography 
Context: With the military confrontation with China in Ladakh putting extra pressure on mobilisation of men and machinery in the past two years, around 1,000 workers continued working in snow-bound Sonamarg in central Kashmir this winter to advance the deadline by two years for Zoila tunnel.
Earlier, it was supposed to be completed by 2026.
About Zojila tunnel
The tunnel will provide all-weather connectivity between Srinagar valley and Leh on NH-1 and will bring about an all-round economic and socio-cultural integration of Jammu and Kashmir.

It takes 3.5 hours to travel between Srinagar and Ladakh. The tunnel will reduce the travel time to 15 minutes.

The 14.15-km tunnel will be Asia's longest bi-directional tunnel.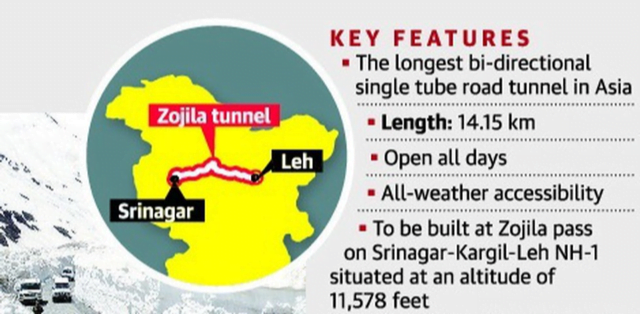 News Source: TH
---
Part of: Prelims and GS I – Society
Context: The Lok Sabha on Monday passed a Bill to include the Darlong community as a sub-tribe of the Kuki tribe on the list of Scheduled Tribes of Tripura.
Darlong community
The Darlong are small tribe and represent a minority community in Tripura.

Traditionally, the Darlongs adopt Jhum cultivation/shifting cultivators.

Today, most of them have taken up agroforestry and horticultural plantation or orchard development as their main livelihoods in addition to wet rice cultivation and seasonal vegetables cultivation.

The Darlongs have customary laws and practices to govern them and dispense their own affairs.
News Source: TH
---
(News from PIB)
---
Part of: GS-Prelims and GS-II: Government schemes and policies
Context: It is an overarching programme which covers various schemes/initiatives of the participating Ministries/Departments with an aim to ensure that the underprivileged and weaker sections of six centrally notified minority communities have equal opportunities for availing the various Government welfare Schemes and contribute to the overall socio-economic development of the Country.  
Enhancing opportunities for education

Ensuring an equitable share for minorities in economic activities and employment, through existing and new schemes, enhanced credit support for self-employment, and recruitment to State and Central Government jobs

Improving the conditions of living of minorities by ensuring an appropriate share for them in infrastructure development schemes

Prevention and control of communal disharmony and violence.
Schemes covered are – 
 A. Educational Empowerment
Scholarship Schemes- Pre-Matric Scholarship, Post-Matric Scholarship and Merit-cum-Means based Scholarship.

Maulana Azad National Fellowship Scheme, provides financial assistance to students from notified minority communities, to pursue higher education such as M.Phil and Ph.D.

In addition, the Maulana Azad Education Foundation implements the scheme viz. Begum Hazrat Mahal National Scholarship for meritorious girls belonging to minorities studying in Classes IX to XII.

Naya Savera – Free Coaching and Allied Scheme which aims to enhance skills and knowledge of students and candidates from minority communities where total annual family income is less than Rs. 6 lakh to get employment in Government Sector/ Public Sector Undertaking, jobs in private sector, and admission in reputed institutions in technical and professional courses at under-graduate and post-graduate levels.
B. Economic Empowerment
Skill Development:

Seekho aur Kamao (Learn & Earn):

It is a skill development initiative for minorities and aims to upgrade the skills of minority youth in various modern/traditional skills depending upon their qualification, present economic trends and market potential, which can earn them suitable employment or make them suitably skilled to go for self-employment.

Upgrading the Skill and Training in Traditional Arts/Crafts for Development (USTTAD)

scheme to give an effective platform to minority artisans and culinary experts from across the country to showcase and market their finest handicraft and exquisitely crafted products through "Hunar Haats" organized by the Ministry. Ministry has engaged institutions of national repute namely, National Institute of Fashion Technology (NIFT), National Institute of Design (NID) and Indian Institute of Packaging (IIP) to work in various craft clusters for design intervention, product range development, packaging, exhibitions and brand building etc. 

Nai Manzil –

A scheme to provide education and skill training to the youth from minority communities.

Gharib Nawaz Employment Training Programme

for providing short-term job oriented skill development courses to youths belonging to minority communities.

Pradhan Mantri Kaushal Vikas Yojana (PMKVY):

  Under Skill India Mission, Ministry of Skill Development and Entrepreneurship is implementing a flagship scheme known as Pradhan Mantri Kaushal Vikas Yojana (PMKVY) 2016-20 with an objective to provide skilling to one crore people including persons from minority community under Short Term Training (STT) and Recognition of Prior Learning (RPL) across the country for four years i.e. 2016-2020. 

National Minorities Development Finance Corporation (NMDFC) Loan Schemes

provide concessional loans for self-employment and income generating activities for the socio-economic development of the 'backward sections' amongst the notified minorities.

Priority Sector Lending by Banks.(Department of Financial Services)

National Urban Livelihoods Mission (M/o Housing & Urban Affairs)

National Rural Livelihoods Mission (M/o Rural Development)

Deen Dayal Upadhyay – Gramin Kaushal Yojana (M/o Rural Development)

Pradhan Mantri Awaas Yojana (Gramin)- (M/o Rural Development)
In addition, another scheme namely Pradhan Mantri Jan Vikas Karyakram (PMJVK) is implemented by the Ministry of Minority Affairs, which aims to improve the socio-economic conditions and basic amenities of minorities so as to improve their quality of life and reduce imbalances in the identified Minority Concentration Areas.
News Source: PIB
---
Part of: GS-Prelims and GS-III: Biodiversity, Ecology
Seagrasses
These are flowering plants that grow submerged in shallow marine waters like bays and lagoons.

These have tiny flowers and strap-like or oval leaves.

Seagrasses evolved from terrestrial plants that recolonised the ocean around 70-100 million years ago.

Seagrasses also produce food by photosynthesis. 

They reproduce sexually as well as asexually.
Some of the important seagrasses: 
Sea Cow Grass (Cymodocea serrulata)

Thready Seagrass (Cymodocea rotundata)

Needle Seagrass (Syringodium isoetifolium)

Flat-tipped Seagrass (Halodule uninervis), etc.
Location:

 These are found in muddy and sandy substrates. These also occur along our coastline of Gulf of Mannar and Palk Bay regions on the east coast, Gulf of Kachchh region on the west coast, the lagoons of islands in Lakshadweep in the Arabian Sea and Andaman and Nicobar Islands in the Bay of Bengal. 
They provide many ecosystem services

These are also called 'the lungs of the sea' because they release oxygen into the water through photosynthesis

Sequesters up to 11% of the organic carbon buried in the ocean

Absorb carbon from the atmosphere. They can capture carbon from the atmosphere up to 35 times faster than tropical rainforests

Help maintain water quality

Filter nutrients released from land-based industries

Prevent soil erosion

Provide food as well as habitat for fishes, octopuses, shrimp, blue crabs, oysters, etc. 
Seagrass beds are facing decline all over the world at the rate of 2-5% annually.

Threats:

 Grazing, storms, ice-scouring (abrasion and erosion of seabeds by glaciers), desiccation, eutrophication, mechanical destruction of habitat, overfishing, coastal engineering construction, etc. 

Based on field surveys and satellite data, the National Centre for Sustainable Coastal Management has estimated the total extent of seagrass ecosystem in India to be 516.59 km2. The CO2sequestration rate of seagrass ecosystem is estimated to be up to 434.9 tonnes/km2/year with an annual net CO2 sink of 0.75 million tonnes for an area of 517 km2.
The Programme
The Government has also initiated a project across the States of Andhra Pradesh, Maharashtra, and Odisha on enhancing climate resilience of India's coastal communities at a total cost of US $130.269 million which includes a grant of US$ 43.419 million by Global Climate Fund (GCF) covering 24 ecosystems in these selected States which aims to strengthen the climate resilience of coastal communities by protecting and restoring India's natural ecosystems such as mangroves and seagrasses.
News Source: PIB
---
(Mains Focus)
---
INTERNATIONAL/ ECONOMY
GS-2: Important International institutions, agencies and fora- their structure, mandate. 
GS-2: Bilateral, regional and global groupings and agreements involving India and/or affecting India's interests
Context: As world attention remains focused on the war in Ukraine, leaders of the Bay of Bengal Initiative for Multi-Sectoral Technical and Economic Cooperation (BIMSTEC) will attend a summit meeting of the regional organisation.
The meet, which is to be held in virtual mode, will be hosted by Sri Lanka, the current BIMSTEC chair. 
Significance of BIMSTECH from maritime perspective
Ecological Importance:

Bay of Bengal is home to mangrove forests of around 15,792 square kilometres, coral reefs of around 8,471 sq.km, sea grass meadows, fragile estuaries and mass nesting sites of sea turtles.

Fish resources

: It is an important fishing region

with an annual fish catch of around six million tonnes, constituting 7% of the world's catch and valued at around U.S.$4 billion. 

Support to Livelihood

: Approximately 185 million people are dependent on the natural resources provided by the bay. The fishermen population alone is estimated to be around 3.7 million.
What are the challenges that confront the Bay of Bengal?
Environmental Degradation:

Destruction of natural protection against floods such as mangroves, sea erosion. The annual loss of mangrove areas is estimated at 0.4% to 1.7% and coral reefs at 0.7%. 

Climate Change:

It is predicted that the sea level will increase 0.5 metres in the next 50 years. It is also prone to extreme weather events. for ex:

13 cyclonic storms in the last five years.

Growing population

pressure and industrial growth in the coastal areas and consequently, huge quantities of untreated waste flow.

Emergence of a dead zone

with zero oxygen where no fish survive primarily caused by leaching of plastic & untreated waste from rivers as well as the Indian Ocean.

Unsustainable fishing:

Around 4,15,000 fishing boats operate in the Bay and it is estimated that 33% of fish stocks are fished unsustainably 

Security threats

such as terrorism, piracy, illegal, unreported, and unregulated (IUU) fishing and fishermen crossing maritime boundaries are additional problems. 
Way Ahead
Tapping the blue economy potential of the Bay of Bengal requires coordinated and concerted action by governments, scientists and other experts.

The BIMSTEC Summit must create a new regional mechanism for coordinated activities on maritime issues of a transboundary nature.

This mechanism must take measures to promote sustainable fishing methods, establish protected areas and develop frameworks to prevent and manage marine pollution.

There is limited cooperation between countries of the region in marine research. Countries of the region interact with West far more than within the region. This needs to be reversed.

Participatory approaches must be evolved for real-time assessment and the creation of a regional open fisheries data alliance. 

Leveraging technology like automatic identification system (AIS) trackers along with regional registry to tackle IUU fishing practices.

Laws and policies in littoral states must be harmonised and the humanitarian treatment of fishermen ensured during any encounter with maritime law enforcement agencies. 
Connecting the dots:
---
POLITY/ GOVERNANCE
GS-2: Government policies and interventions for development in various sectors and issues arising out of their design and implementation. 
GS-2: functions and responsibilities of various Constitutional Bodies. 
Context: On March 25, Union Minister for Law and Justice stated in Lok Sabha that the government was exploring the possibility of allowing online voting for non-resident Indians (NRI). 
Election Commission of India (ECI) in 2020 itself had proposed to extend the facility of postal ballots to eligible NRIs.

The postal ballots were to be sent to NRIs electronically after which they will send the ballots back, after choosing their candidate, via post.
How can overseas voters currently vote in Indian elections?
Prior to 2010, an Indian citizen who is an eligible voter and was residing abroad for more than six months , would not have been able to vote in elections. 

This was because the NRI's name was deleted from electoral rolls if he or she stayed outside the country for more than six months at a stretch.

After the passing of the Representation of the People (Amendment) Act, 2010, eligible NRIs who had stayed abroad beyond six months have been able to vote, but only in person at the polling station where they have been enrolled as an overseas elector.

Just as any resident Indian citizen above the age of 18 years is eligible to vote in the constituency where she/he is a resident, overseas Indian citizens are also eligible to do so. 

In the case of overseas voters, their address mentioned in the passport is taken as the place of ordinary residence and chosen as the constituency for the overseas voter to enrol in.
How has the existing facility worked so far?
From merely 11,846 overseas voters who registered in 2014, the number went up to close to a lakh in 2019. But the bulk of these voters (nearly 90%) belonged to just one State — Kerala. 

Of the 25,606 such voters who actually turned up, 25,534 were from Kerala (mostly from Kozhikode and Malappuram districts).

Clearly, a very low proportion of eligible overseas residents actually registered or turned up to vote. 

The proviso of having to visit the polling booth in person has discouraged eligible voters from exercising their mandate. 

In the winter session of Parliament in 2017, the government proposed to remove the restriction imposed by Section 20A of the Representation of the People Act, which required them to be physically present to vote in their constituencies. 

The Bill provided for overseas voters to be

able to appoint a proxy

to cast their votes on their behalf, subject to conditions laid down in the Conduct of Election Rules, 1961. 

The Bill was later passed in 2018, but lapsed with the dissolution of the 16th Lok Sabha. 

The ECI then approached the government to permit NRIs to vote via postal ballots similar to a system that is

already used by service voters

, which is the Electronically Transmitted Postal Ballot System or ETPBS.

Service voters are those who have a service qualification. Someone who is either a member of the Armed Forces of the Union, Armed Police Force of a State, or someone who is merely employed under the Government of India.

The ETPBS method allowed for greater turnout among service voters in the 2019 Lok Sabha election. 
What is ETPBS and how does it function?
The Conduct of Election Rules, 1961 was amended in 2016 to allow service voters to use the ETPBS. 

Under this system, postal ballots are sent electronically to registered service voters. 

The service voter can then download the ETPB (along with a declaration form and covers), register their mandate on the ballot and send it to the returning officer of the constituency via ordinary mail. 

The post will include an attested declaration form (after being signed by the voter in the presence of an appointed senior officer who will attest it). 

The postal ballot must reach the returning officer by 8 a.m. on the day of the counting of results.

The ECI proposed to extend this facility to overseas voters as well. 

For this to commence, the Law Ministry has to amend the Conduct of Election Rules, 1961. 

In the case of NRI voters, those seeking to vote through ETPBS will have to

inform the returning officer at least five days after notification

of the election. 

The returning officer will then send the ballot electronically via the ETPBS. 

The NRI voter can then register her/his mandate on the ballot printout and send it back with an attested declaration in a process similar to the service voter. Except in this case, the senior officer would be appointed by the Indian diplomatic or consular representative in the resident country of the NRI. 

The ECI has not specified whether the voter should send in the ballot through ordinary post to the returning officer or drop it off at the Indian consular office/embassy, which will then send the envelopes constituency-wise to the returning officers.

ECI had asked the Law Ministry to explore the possibility of extending postal ballots to overseas electors and not restrict it to any particular country. 
Are postal ballots a viable means of voting?
In March 2021, the Ministry of External Affairs informed ECI that the implementation could require to overcome "huge logistical challenges" and needs "a realistic assessment of requirements" 

A postal ballot mechanism that allows for proper authentication of the ballot at designated consular/embassy offices and an effective postal system should ease this process for NRIs, but rules must be clearly framed for eligibility on the basis of time spent away from the country.
Connecting the dots:
---
(SANSAD TV: Perspective)
---
March 26: India-Australia Ties – https://youtu.be/8KeuW6-p7Pc 
TOPIC:

GS-2: India and its neighbourhood
Context: Earlier this week, Prime Minister Narendra Modi and his Australian counterpart Scott Morrison held a virtual summit – the second one since June 2020 when the relationship between both countries was elevated to a Comprehensive Strategic Partnership. 
Welcomed the substantial progress in deepening political, economic, security, cyber, technology and defence cooperation

Laid the roadmap on new initiatives to enhance cooperation in a diverse range of sectors. 
Key Announcements
The Australian side announced investments of about Rs 1,500 crore to further boost economic relationship. 

The two strategic partners also decided to

set up a young defence officer exchange programme

to boost military cooperation, to be named after India's first Chief of Defence Staff

Gen Bipin Rawat

, who passed away in a tragic helicopter crash last year. 

Agreed that to unlock the untapped potential in bilateral trade and investment, there is need to conclude the proposed

Comprehensive Economic Cooperation Agreement (CECA)

at the earliest. 

Unveiled no fewer than 11 agreements on things like exchanging military officers, harmonising tax on pension funds and facilitating greater mobility for skilled workers, among others.

A shared wariness over China:

Australia and India have had much success in defence and security cooperation and diplomatic coordination in recent years. They have obvious overlapping interests here, principally the management of China's assertiveness across the Indo-Pacific region.
Few points of disagreement
CECA:

Free-trading Australia and protectionist India have struggled to agree on the deal, not least because Canberra wants market access for agricultural produce and New Delhi wants to protect farmers who might not be able to compete with Australian imports. This is a hard issue to fix, because all Indian governments depend on the votes of farmers and their families, who comprise more than half the population.

Differences over Russia's invasion of Ukraine:

 

India is Russia's biggest arms importer and has not publicly rebuked Moscow or voted against it in the UN Security Council over its invasion.

On this issue, India is in a bind – it needs Russian arms to defend itself from China. Extricating New Delhi from this predicament will take time, investment and a reorientation of Indian strategy, but also careful diplomacy by its partners, including Australia.

For that reason, Morrison, like his American and Japanese counterparts, refrained from publicly hectoring Modi about India's lack of direct criticism of the war.
Bilateral economic and trade relationship between India and Australia 
The India-Australia economic relationship

has grown significantly in recent years.

India's growing economic profile and commercial relevance to the Australian economy is recognized, both at the federal and state level in Australia.

India's exports to Australia stood approximately at US$ 4.6 billion (A$6.1 bn) in 2016 while India's import from Australia during the same period stood at US$ 11 billion (A$14.6 bn). 

India's main exports to Australia are Passenger Motor Vehicle & machinery, Pearls, Gems and Jewellery, Medicaments and Refined Petroleum while India's major imports are Coal, Non-monetary Gold, Copper, Wool, Fertilizers and Education related services.
Conclusion
Lots of work, of course, remains to be done. It is unclear whether the free-trade deal will be concluded, as promised, by the end of 2022.
The full scope of bilateral defence cooperation in the Indian Ocean, which could involve Australian access to bases on the Andaman and Nicobar Islands, has yet to be determined.

Both countries also need to invest in improving public knowledge of the other. Too few Australian leaders have been to India, and too few Indian leaders have travelled in the opposite direction. There are also not enough scholars and analysts focusing on each other in Australian and Indian think tanks and universities.
Both countries understand each other far better now than they did just a decade ago, allowing them to better manage differences over issues like Ukraine. But more could and should be done to keep the relationship on the upward trajectory.
MUST READ: Australia–India scripting a 'new chapter' in bilateral relations
Can you answer the following question?
How have India-Australia relations evolved over the years? Discuss.

Collaboration between India and Australia can limit the dangers of the growing geopolitical imbalance in the Indo-Pacific. Comment. 
---
(TEST YOUR KNOWLEDGE)
---
Model questions: (You can now post your answers in comment section)
Q.1 Consider the following statements:
More than 60% of the world's elephant population is in India. 

IUCN Red List Status of Asian elephant is Endangered.
Which of the above is or are correct? 
1 only 

2 only 

Both 1

and 2 

Neither 1 nor 2

 
---
Q.2 Darlong community belongs to which of the following state of India?
Assam

Arunachal Pradesh 

Tripura

Mizoram 
---
Q.3 Zojila tunnel is being constructed between which of the following areas/regions?
Srinagar and Leh

Meerut and Chopta

Jammu and Kashmir

Kashmir and Leh
---
ANSWERS FOR 29th March 2022 TEST YOUR KNOWLEDGE (TYK)
---
Must Read
On Atmanirbhar Bharat:
On Iran Nuclear deal still being elusive:
On hijab verdict:
For a dedicated peer group, Motivation & Quick updates, Join our official telegram channel – https://t.me/IASbabaOfficialAccount
Subscribe to our YouTube Channel HERE to watch Explainer Videos, Strategy Sessions, Toppers Talks & many more…