---
(PRELIMS + MAINS FOCUS)
---
Part of: Prelims and GS III – Economy; Space
Context: A collaboration between two premier research and educational institutions in Thiruvananthapuram has shed light on India's "space economy".
In a first-of-its kind attempt at measuring the size of India's space economy, researchers from the Centre for Development Studies (CDS) and the Indian Institute of Space Science and Technology (IIST) arrived at a figure of Rs. 36,794 crore (approximately $5 billion) for the financial year 2020-21.
What is Space Economy?
The Space Economy is composed of all the industries (rocket and satellite manufactures, telecommunications, climate change researchers, data and finance experts, Defence, etc.) that come together to create the trillion dollar ecosystem in space that makes modern day, digital life possible. 

By the end of the next decade, the Space Economy will conservatively be valued at more than $4 Trillion Dollars. 

By some estimates The Space Economy may exceed $10T by the 2040s.

The Space Economy goes beyond tourism and into the areas of production, trade, and commerce for goods and services both familiar and brand new taking place between the Karman line (approximately 100 kilometers overhead) and Cislunar space (the volume between geostationary Earth orbit and the Moon's orbit) creating another world of possibilities for humanity.
News Source: TH
---
Part of: Prelims and GS II – International Relations
Context: Sri Lankan President Gotabaya Rajapaksa will host Prime Minister Narendra Modi and other leaders at the BIMSTEC summit being held in "hybrid mode" from March 28 to 30 2022.
Myanmar Foreign Minister will also address the group virtually.

One of the main objectives of this week's summit would be to launch the 'BIMSTEC charter', and hand over the leadership of the forum to Thailand, the next chair.
About BIMSTEC
The Bay of Bengal Initiative for Multi-Sectoral Technical and Economic Cooperation (BIMSTEC) is a regional multilateral organisation.

Its members lie in the littoral and adjacent areas of the Bay of Bengal constituting a contiguous regional unity.

Out of the 7 members, Five are from South Asia –

Bangladesh

Bhutan

India

Nepal

Sri Lanka

Two are from Southeast Asia –

It mainly aims to create an enabling environment for rapid economic development; accelerate social progress; and promote collaboration on matters of common interest in the region.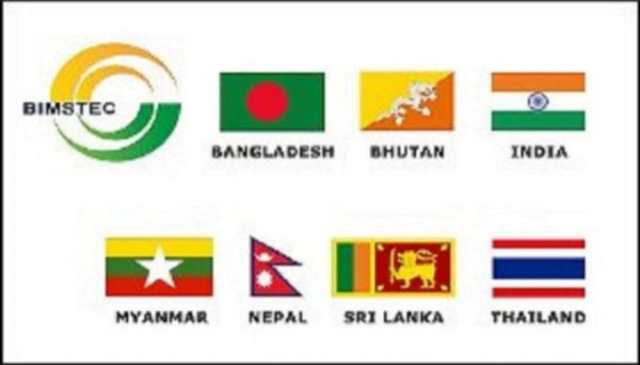 News Source: TH
---
Part of: Prelims and GS II – International Relations
Context: The free trade agreement between India and the United Arab Emirates (UAE) is likely to come into effect from May 1 this year, under which domestic exporters of as many as 6,090 goods from sectors such as textiles, agriculture, dry fruits, gem and jewellery would get duty-free access to the UAE market.
Key takeaways 
The Comprehensive Economic Partnership Agreement (CEPA) was signed by India and the United Arab Emirates (UAE) in February which aims to boost bilateral trade to $100 billion in the next five years from current $60 billion.

The two countries have agreed to set up a technical council on Investment, Trade Promotion and Facilitation, as part of the agreement signed.

UAE is offering duty elimination on over 97% of its products which account for 99% of Indian exports here in value terms.
India and UAE Relations
India and the UAE established diplomatic relations in 1972.

The greater push has been achieved in bilateral relations when the visit of India's Prime Minister to the UAE in August 2015 marked the beginning of a new strategic partnership between the two countries.

Further, during the visit of the Crown Prince of Abu Dhabi to India in January 2017 as the chief guest at India's Republic Day celebrations, it was agreed that bilateral relations were to be upgraded to a comprehensive strategic partnership.

This gave momentum to launching negotiations for an India-UAE comprehensive economic partnership agreement.
Economic Significance of the UAE
The UAE has emerged as an important economic hub not globally.

Although the UAE has diversified its economy, the hydrocarbon sector remains very important followed by services and manufacturing.
News Source: TH
---
(News from PIB)
---
Ministry of Ayush and World Health Organization signs Host Country Agreement for WHO Global Centre of Traditional Medicine

The first and only Global Centre (office) for traditional medicine across the globe. 

It will focus on building solid evidence base for policies and standards on traditional medicine practices and products and help countries integrate it as appropriate into their health systems and regulate its quality and safety for optimal and sustainable impact.

The primary objective of GCTM is to harness the potential of traditional medicine from across the world through modern science and technology and improve overall health of the communities' world over.
---
Part of: GS-Prelims and GS II – Policies and interventions
In News: In keeping with the concern and sensitivity towards poor and vulnerable sections of society, the Pradhan Mantri Garib Kalyan Anna Yojana (PM-GKAY) scheme has been extended for another six months i.e., till September 2022 (Phase VI).
PM-GKAY has been under implementation since April 2020, as the largest food security program in the world.

The Government has spent approximately Rs. 2.60 Lakh Crore so far and another Rs. 80,000 Crore will be spent over the next 6 months till September 2022 taking the total expenditure under PM-GKAY to nearly Rs. 3.40 Lakh Crore.

This will cover nearly 80 crore beneficiaries across India and like before would be fully funded by the Government of India.
What is Pradhan Mantri Garib Kalyan Anna Yojana?
Forms a part of Atmanirbhar Bharat to supply free food grains to migrants and the poor.

5 kg free wheat/rice per person / month along with 1 kg free whole chana to each family per month. 

This is over and above the regular monthly entitlements under National Food Security Act, 2013 (NFSA).

Beneficiaries included Antyodaya Anna Yojana (AAY) and Priority Household (PHH) cardholders.
News Source: PIB
---
(Mains Focus)
---
INTERNATIONAL/ ECONOMY/ GOVERNANCE
GS-2: Effect of policies and politics of developed and developing countries on India's interests
GS-2: Important International Institutions & their mandate
Context: India and South Africa, in October 2020, moved a proposal at WTO demanding that key provisions of the Trade-Related Aspects of Intellectual Property Rights (TRIPS) agreement be temporarily waived.
It was argued that such a waiver would aid scaling up of production ensuring wider access to affordable and effective vaccines.

Most of these patents are held by pharmaceutical companies in the U.S. and the European Union. 
What was the latest development?
63 developing countries become co-sponsors of the proposal and another 44 countries lent support from the floor. The developed world, especially the European Union (EU), kept dragging its feet on this while the virus raged on.

Now, the EU has conceded. 

A deal has been brokered between the EU, the U.S., India, and South Africa on the issue of the TRIPS waiver. 

This deal will now be presented to the entire WTO membership, as draft resolution, to be accepted at the forthcoming ministerial meeting.  A consensus of all members is necessary for a proposal to be approved
What is the deal that has been reached?
The deal says all patent rights that protect the manufacturing of COVID-19 vaccines will be

waived of for three-five years.

 

Usually, there are multiple patents that cover even a single COVID vaccine and the draft says all of these line-patents too would stand temporarily waived. 

All member countries, through their governments, can

authorise the manufacture (through Compulsory Licensing framework)

as well as export of vaccines produced in these conditions.

As relatively few countries have expertise in making vaccines, a waiver of this sort could help improve global access. 
What is the criticism of the this IPR waiver offered by the deal?
Inclusion of Vaccines only
The draft waiver includes only COVID-19 vaccines and not other COVID-19 medical products.

The proponents of the "waiver proposal" sought to include not only medicines, vaccines, and medical equipment but also the methods and the means of manufacturing the products necessary for the prevention, treatment, or containment of COVID-19.

The agreement only says that a "discussion" on this can be held after six months. 

For ex: WHO has recommended baricitinib for treating severe or critical COVID-19. However, the generic version of it is not available in many countries because it is patented. 
Waiver of only Patents
The draft waiver proposes to waive only patents and not other IP rights. India's original stand was that all IP rights, not just patents, be waived. 

The accessibility of COVID-19 medical products can be held up due to many IP rights like trade secrets. 
3.Procedural Requirements
The draft waiver allows countries to export any proportion of vaccines to eligible countries. However, this waiver is subject to several notification requirements. 

Eligible members are obligated to prevent re-exportation of COVID-19 vaccines that they have imported. 

Furthermore, the eligible countries which issue a compulsory license for COVID-19 vaccines have to notify the WTO about the entity that has been authorised to produce the product, the quantities, duration, and the list of countries to which the vaccines are being exported. 

All these procedural requirements will increase the transaction costs and may deter countries from using the system. 
Export Restrictions 
Only those developing countries that exported

less than 10% of world exports

of COVID-19 vaccine doses in 2021 are covered for exportation and importation. There is no mention of least developed countries (Ex: Bangladesh)

The eligibility condition seems to have been introduced to limit China's expansion in the global vaccine market. 

India does not have to be concerned with the export restriction clause, as its share in global exports of vaccines was 2.4% as on January 31.
Conclusion
In the aftermath of the HIV/AIDS crisis in Africa , the WTO adopted a decision in 2003 waiving certain TRIPS obligations to increase the accessibility of medicines in countries that lacked manufacturing capability. 

However, this waiver was subject to stringent requirements because of which hardly any country made effective use of this waiver.

We see history repeating now in case of COVID-19.

This will further dent the WTO's relevance and credibility.
Connecting the dots:
---
ECONOMY/ GOVERNANCE
GS-2: Government policies and interventions for development in various sectors and issues arising out of their design and implementation. 
GS-3: Indian Economy & its challenges
Context: On March 21, the value of India's outbound shipments in the financial year 2021-22 hit $400 billion, the highest ever.
By the time the year closes on March 31st, another $10 billion worth of goods is expected to be shipped out. 

This would translate into a

growth of about 41%

from the pandemic-hit year of 2020-21, making it India's fastest exports growth rate since 2009-10. 
How significant is the attainment of India's $400 billion exports target? 
According to data from the RBI, outbound merchandise trade had clocked 

$303.5 billion in 2017-18

$330.1 billion in 2018-19 

$313.4 billion in 2019-20

2021-22 reflects the first time in several years that the country has met its exports target despite challenges of

supply disruptions due to the pandemic, 

challenging shortages of shipping containers 

surging freight rates.

Higher prices of commodities

and oil helped drive up the value of exports.

Engineering exports have jumped 46.5% to cross $100 billion for the first time, even as chemicals, cotton yarn, handloom products, and the apparel industry have done well.

Increase in trade can be explained by the world shifting its global procurement preferences to

diversify their dependence on China

following the outbreak of the COVID-19 virus.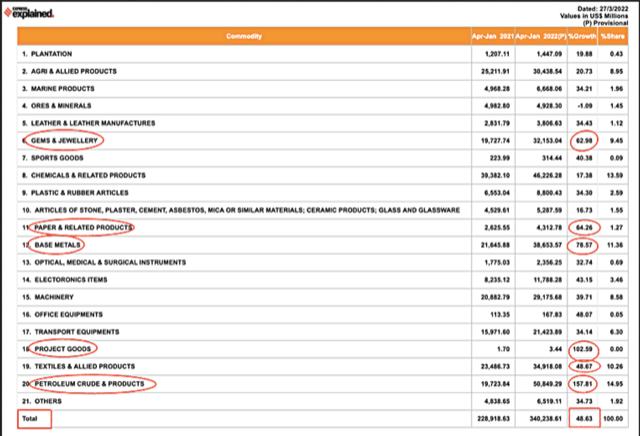 What does the $400 billion number hide?
Low levels of exports as a percentage of GDP:

The $400 billion merchandise exports constitute aprrox. 13% of India's GDP (It was $305 billion in 2011-12 itself accounting for 17% of GDP). The target of $400 billion

would have been achieved long back had India's export kept pace with its GDP growth.

Not a broad-based recovery:

Of the 20 commodity groups, only six (highlighted by red circles in the chart) had a growth rate higher than the overall average (49%).

 

Chemicals and products, which is the second-biggest export item grew by only 17%. Similarly, agriculture, with a share of 9%, grew at just 20% — less than half the overall growth rate.

The growth was primarily due to growth of value

: India's exports could go up either due to increase in prices or increases in volume or combination of both. India's export growth was largely due to price rise. for ex: The value of petroleum and petroleum products — accounting for 15% of total exports —grew by a whopping 158%.

Increasing Trade Deficit

: The trade deficit for the year could be around $190 billion, sharply higher than the $102 billion recorded in the pandemic year. This is because imports have also increased rapidly this year (estimated to increase by $200 billion compared to 2020-21's import figure of $393.6 billion)
What are the risk factors for Indian exports in the coming year? 
Although India's direct trade with Russia is not significant at about 1% of its trade basket, the

Ukraine-Russia conflict

may create challenges & opportunities

Opportunities for Indian farm produce exports, especially for crops like wheat and maize.

But this would be offset by a sharp rise in India's energy import bill as well as an uptick in costs of importing edible oils 

High shipping rates, container shortages and re-alignment of trade routes around the Black Sea will also pose a challenge.

Exports increased also due to economic recovery (& pent up demand) in the developed world that was fuelled by Government spending & loose monetary Policy. The coming year might see moderation in global growth prospects thus impacting India's trade prospects also.
Conclusion
India would hope to consolidate these gains and establish its credentials as a credible alternative to China, even as it could face stiff competition in some sectors from Asian peers such as Vietnam and Bangladesh. 
---
(ORF: Expert Speak)
---
March: A war within a war: Sexual violence as a weapon of war – https://www.orfonline.org/expert-speak/sexual-violence-as-a-weapon-of-war/ 
TOPIC:
Context: In any war, women and girls are the most vulnerable. The breakdown of institutions and social networks make women and girls extremely vulnerable to sexual violence and exploitation. Sexual violence has also been used as a weapon in conflicts to humiliate, subjugate, and terrorise populations through history. 
For instance, anywhere between 200,000 and 400,000 Bengali women were systematically sexually assaulted during the Bangladeshi Liberation Movement. 

More than 60,000 women were sexually assaulted during the civil war in Sierra Leone between 1991-2002, about 40,000 in Liberia during the 14-year civil war between 1989-2003, nearly 60,000 in former Yugoslavia during 1992-95, anywhere between 100,000 and 250,000 during the Rwandan genocide, and over 200,000 in the Democratic Republic of Congo since 1998.
How does it perpetuate?
Multiple forms of sexual violence—including rape, sexual slavery, gang rape, sexual mutilation, and torture—have been perpetrated against women and girls in wars. Victims include children and pregnant women, many of whom are also held captive as sexual slaves for weeks. 
According to a report by Amnesty International, most survivors of sexual violence experience severe health issues, including mental health problems, and have almost no access to medical or psychosocial services. 

Contrary to the provisions of international humanitarian law, medical facilities have been deliberately targeted, and are occupied by armed groups. Ambulances have been seized, and medical personnel have mostly fled out of fear. 

In some wars, most victims report that they were being brutalised because of their identity and the need to 'cleanse' them. 

The impacts of sexual violence during conflicts including HIV, mental health problems, and stigmatisation often persist even after the conflict has ended. For instance, in Liberia, rates of sexual violence continue to be very high many years after the conflict formally ended due to a culture of impunity and 'hyper masculinity' developed during the civil war years. 

Most post-conflict societies do not possess the capabilities of providing medical and psychological care to survivors, let alone justice.
Global silence
Unfortunately, the issue of gender-based violence in conflicts has not received adequate attention in the discourse on gender equality and sustainable development. 
Sexual violence in conflict zones has often been regarded as an inevitable by-product of war and the perpetrators of violence have seldom been punished. 

War raises some tough questions though, regarding the global goal of gender equality, SDG 5, which calls for "ending violence against women and girls in public and private spheres, including trafficking and sexual and other types of exploitation." 
A questions for the global community to ponder upon: Is it possible to eliminate violence against women if countries refuse to take a tough stance against sexual violence in conflict zones? 
Conclusion
If respect for territorial integrity of a nation and non-interference in 'internal' matters override the need to condemn the use of sexual violence as a weapon of war, then gender equality is a distant goal. A world that has committed to the achievement of SDGs, cannot remain silent in the face of such a massive violation of women and girls and the use of sexual violence as a weapon in conflict during any war.
Can you answer the following question?
Can we achieve gender equality when sexual violence is still a weapon of war? Discuss.
---
(TEST YOUR KNOWLEDGE)
---
Model questions: (You can now post your answers in comment section)
Q.1 Consider the following statements regarding Space Economy:
The Space Economy is composed of industries including rocket and satellite manufacturers, telecommunications, climate change researchers, etc. that create the trillion dollar ecosystem in space to make modern day, digital life possible. 

By the end of the next decade, the Space Economy will be valued at more than $4 Trillion Dollars. 
Which of the above is or are correct? 
1 only 

2 only 

Both 1

and 2 

Neither 1 nor 2

 
---
Q.2 Which of the following is not a member of BIMSTEC?
India

Pakistan

Bhutan

Sri Lanka
---
Q.3 The first and only Global Centre for traditional medicine across the globe is located in which of the following country?
USA

Germany

Nepal

India
---
ANSWERS FOR 28th March 2022 TEST YOUR KNOWLEDGE (TYK)
---
Must Read
On how inequality decreased during Pandemic:
On US military industry's influence in US Foreign Policy:
On need for self-reliant in food:
For a dedicated peer group, Motivation & Quick updates, Join our official telegram channel – https://t.me/IASbabaOfficialAccount
Subscribe to our YouTube Channel HERE to watch Explainer Videos, Strategy Sessions, Toppers Talks & many more…