---
(PRELIMS & MAINS Focus)
---
India's digital economy
Syllabus
Prelims – Economy
Mains – GS 3 (Economy)
In News: Addressing the meeting of the BRICS Business Forum, Prime Minister said the digital transformation unfolding in India has never before been seen on the world stage
India's digital economy and the infrastructure sector has a total potential for $2.5 trillion
There are more than 100 unicorns in over 70,000 start-ups in India, and their number continues to grow.
The value of the Indian digital economy will reach $1 trillion by 2025
Advantages of a Digital Economy
Removal of Black Economy: By restricting cash-based transactions and using only digital payments, the government can efficiently expel the black economy.
Empowerment to People: Direct Benefit Transfer, fight against Corruption
Creation of new jobs
Increase in Revenues: Each transaction is recorded, customers will get a bill for their purchase, and the merchants are bound to pay sales tax to the government.
e-governance: Digital economy will pave a way to e-governance, where delivery of all government services would be done electronically
Measures taken by Government
Digilockers: it is a "digital locker" service operated by the Government of India that enables Indian citizens to store certain official documents on the cloud.
Digital Payments: The introduction of Unified Payments Interface (UPI), which introduced the benefits of digital payments in every part of the country.
BHIM app—It is an app to enable digital payments.
Pradhan Mantri Gramin Digital Saksharta Abhiyan to make citizen digitally literate.
BharatNet Project: world's largest rural broadband connectivity programme using Optical fibre
Challenges
Lack of connectivity/infrastructure: Slow roll-out of Wi-Fi hotspots and the slow speed
Lack of incentives: Most small and medium scale industry is struggling to adapt to modern technology
Digital illiteracy: Huge digital divide between gender, regions etc
Lack of skilled manpower: Lack of user education and there are limited facilities to train personnel
Way forward
India's technical and management institutes should revamp their curriculum to integrate and promote digital technologies
Skill development initiatives to train manpower
Stricter data protection laws that govern such cross border digital flows is needed he digital economy is heavily based on intellectual property, strict protection to patents and copyrighted work, whether produced in India or elsewhere is also need to be implemented.
BRICS summit
The BRICS summit is being hosted by China as a chair of BRICS this year
BRICS
BRICS is an acronym for the grouping of the world's leading emerging economies, namely Brazil, Russia, India, China and South Africa.
The BRICS Leaders' Summit is convened annually.
The Chairmanship of the forum is rotated annually among the members, in accordance with the acronym B-R-I-C-S
Together, BRICS accounts for about 40% of the world's population and about 30% of the GDP
The first BRIC Summit took place in 2009 in the Russian Federation
South Africa was invited to join BRIC in December 2010, after which the group adopted the acronym BRICS.
South Africa subsequently attended the Third BRICS Summit in Sanya, China, in March 2011.
BRICS initiatives
New Development Bank
During the Sixth BRICS Summit in Fortaleza (2014) the leaders signed the Agreement establishing the New Development Bank (NDB).
Fortaleza Declaration stressed that the NDB will strengthen cooperation among BRICS and will supplement the efforts of multilateral and regional financial institutions for global development thus contributing to sustainable and balanced growth.
NDB is headquartered in Shanghai.
Contingent Reserve Arrangement
Considering the increasing instances of global financial crisis, BRICS nations signed BRICS Contingent Reserve Arrangement (CRA) in 2014 as part of Fortaleza Declaration at Sixth BRICS summit.
The BRICS CRA aims to provide short-term liquidity support to the members through currency swaps to help mitigating BOP crisis situation and further strengthen financial stability.
Source: The Hindu
Previous Year Question
Q.1) With reference to a grouping of countries known as BRICS, consider the following statements: (2014)
The First Summit of BRICS was held in Rio de Janeiro in 2009.
South Africa was the last to join the BRICS grouping.
Which of the statements given above is/ are correct?
1 only
2 only
Both 1 and 2
Neither 1 nor 2
---
Four new corals recorded from Indian waters
Syllabus
Prelims – Environment
Mains – GS 3 (Environment)
In News: Scientists have recorded four species of azooxanthellate corals for the first time from Indian waters
These new corals were found from the waters of Andaman and Nicobar Islands.
Azooxanthellate corals are a group of corals that do not contain zooxanthellae and derive nourishment not from the sun but from capturing different forms of plankton.
These groups of corals are deep-sea representatives, with the majority of species reporting from between 200 m to 1000 m.
Their occurrences are also reported from shallow coastal waters. Zooxanthellate corals, meanwhile, are restricted to shallow waters
All the four groups of corals are from the same family Flabellidae.
Truncatoflabellum crassum, T. incrustatum, T. aculeatum and T. irregulare
Under the family Flabellidae were previously found from Japan to the Philippines and Australian waters while only crassum was reported within the range of Indo-West Pacific distribution including the Gulf of Aden and the Persian Gulf.
Azooxanthellate corals are a group of hard corals and the four new records are not only solitary but have a highly compressed skeletal structure.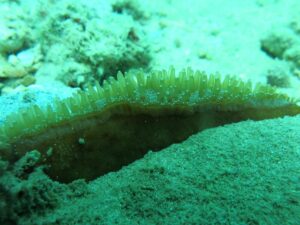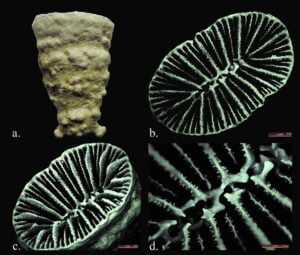 Hard corals
Hard corals grow in colonies and are often referred to as "reef-building corals."
Hard corals create skeletons out of calcium carbonate, a hard substance that eventually becomes rock.
Overtime, this rock builds up to form the foundation of a coral reef and provides a structure upon which baby corals can settle.
Hard corals can be further separated into two sub-groups.
Zooxanthellate
The zooxanthellate (reef-building or hermatypic) corals are ones that depend on zooxanthellae algae for nutrients.
These shallow water corals have a major reef-building function.
They are generally found in clear water less than 50 metres deep as the algae need light for photosynthesis.
Azooxanthellate
The azooxanthellate (deep water or ahermatypic) corals do not contain zooxanthellae and therefore gain their nutrition solely from filtering plankton from seawater.
These isolated, solitary or colonial forms rarely build big constructions
Source: The Hindu
Previous Year Questions
Q.1) Consider the following statements: (2018)
Most of the world's coral reefs are in tropical waters.
More than one-third of the world's coral reefs are located in the territories of Australia, Indonesia and Philippines.
Coral reefs host far more number of animal phyla than those hosted by tropical rainforests.
Which of the statements given above is/are correct?
1 and 2 only
3 only
1 and 3 only
1, 2 and 3
---
Keibul Lamjao National Park
Syllabus
In News: People protested against move to shift proposed heritage park site in Manipur
Background
The State govt. had announced that a heritage park would come up near the Keibul Lamjao National Park in Bishnupur district.
It was expected that the museum of the Indian National Army where the first Indian flag of Independence was hoisted near the Loktak lake and the heritage park will attract tourists from the country and abroad.
Villagers complained that the government had taken up steps to shift the site to a place six km away from the KLNP.
And they contend that the people of the proposed site are not associated with steps for the protection of the endangered brow-antlered deer (Sangai) in the KNLP.
Keibul Lamjao National Park
The Keibul Lamjao National Park is a national park in the Bishnupur district of the state of Manipur in India.
It is the only floating park in the world, located in North East India, and an integral part of Loktak Lake.
The national park is characterized by floating decomposed plant material locally called phumdi.
It was created in 1966 as a wildlife sanctuary to preserve the natural habitat of the endangered Sangai/Brow antlered deer/Dancing Deer.
In 1977, it was gazetted as national park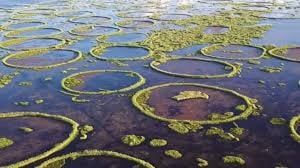 Sangai
Sangai, Brow antlered deer, Dancing Deer
It is an endemic species, found only in Manipur
Sangai is a medium-sized deer, with uniquely distinctive antlers, with extremely long brow tine, which form the main beam.
State animal of Manipur
Protection Status
WPA, 1972: Schedule-1
IUCN: Endangered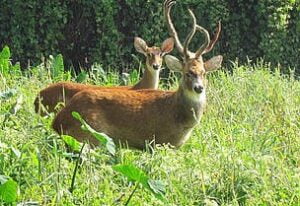 Source: The Hindu
Previous Year Question
Q.1) Which of the following National Parks is unique in being a swamp with floating vegetation that supports a rich biodiversity? (2015)
Bhitarkanika National Park
Keibul Lamjao National Park
Keoladeo Ghana National Park
Sultanpur National Park
---
Governor's Power to call for a floor test
Syllabus
Prelims – Polity
Mains – GS 2 (Polity)
In News: As the Maharashtra political crisis continues to play out, the Governor's powers under the Constitution to call for a floor test takes centrestage.
Constitutional provisions related to floor test
Article 174(2)(b)
Article 174(2) (b) of the Constitution gives powers to the Governor to dissolve the Assembly on the aid and advice of the cabinet.
However, the Governor can apply his mind when the advice comes from a Chief Minister whose majority could be in doubt.
Article 175(2)
Under Article 175(2), the Governor can summon the House and call for a floor test to prove whether the government has the numbers.
Power of the Speaker
In 2020, the Supreme Court, in Shivraj Singh Chouhan & Ors versus Speaker, upheld the powers of the Speaker to call for a floor test if there is a prima facie view that the government has lost its majority.
When the House is in session, it is the Speaker who can call for a floor test.
But when the Assembly is not in session, the Governor's residuary powers under Article 163 allow him to call for a floor test.
Article 163
Council of Ministers to aid and advice Governor
There shall be a council of Ministers with the chief Minister at the head to aid and advise the Governor in the exercise of his functions, except in so far as he is by or under this constitution required to exercise his functions or any of them in his discretion.
If any question arises whether any matter is or is not a matter as respects which the Governor is by or under this Constitution required to act in his discretion, the decision of the Governor in his discretion shall be final, and the validity of anything done by the Governor shall not be called in question on the ground that he ought or ought not to have acted in his discretion.
The question whether any, and if so what, advice was tendered by Ministers to the Governor shall not be inquired into in any court.
Source: Indian Express
Previous Year Question
Q.1) Consider the following statements: (2018)
No criminal proceedings shall be instituted against the Governor of a State in any court during his term of office.
The emoluments and allowances of the Governor of a State shall not be diminished during his term of office.
Which of the statements given above is/are correct?
1 only
2 only
Both 1 and 2
Neither 1 nor 2
---
Virtual digital assets
Prelims – Current Affairs
In News: Norms laid out for tax deduction onus
Issuing detailed guidelines on the TDS rule for virtual digital assets (VDAs) such as cryptocurrencies, the Central Board of Direct Taxes (CBDT) laid down the various scenarios on how the tax will be applicable and on whom will the onus to deduct it lie.
With introduction of Section 194S in the Income-tax Act through the Finance Act, 2022, a tax deducted at source (TDS) of 1 per cent will be levied on transfer of VDAs effective July 1 if the value of transactions exceeds Rs 10,000 in a year.
The CBDT has defined four primary VDAs — bitcoin, ether, USD Tether and USD Coin — for the purpose of tax deduction on lesser known cryptocurrencies.
For example, in case of trade for Monero to Deso … the exchanges shall immediately execute a market order for converting this tax deducted in kind (1% Monero/1% Deso in the above example) to one of the primary VDAs (BT, ETH, USDT, USDC) which can be easily converted into INR
Significance
Revenue to the government
The responsibility to deduct TDS has been put on the exchanges which will increase the regulatory and compliance burden for them
The exchanges have to further disclose these transactions in their tax return and maintain a proper trail.
this would be helpful to the buyers and sellers both since they can enter into contracts with the exchange for passing the responsibility to deduct tax on their behalf in VDA to VDA transfers or otherwise as well.
Source: Indian Express
Previous Year Question
Q.1) With reference to 'Bitcoins', sometimes seen in the news, which of the following statement(s) is/are correct? (2016)
Bitcoins are tracked by the Central Banks of the countries.
Anyone with a Bitcoin address can send and receive Bitcoins from anyone else with a Bitcoin address.
Online payments can be sent without either side knowing the identity of the other.
Select the correct answer using the codes given below.
1 and 2 only
2 and 3 only
3 only
1, 2 and 3
---
Directorate General of Civil Aviation (DGCA)
Syllabus
In News: In the occurrence of recent events of bird strikes during the flight, Directorate General of Civil Aviation (DGCA) has issued directives to all airport operators, it has asked all airports to "review their wildlife hazard management plans" for "within and outside the airfield"
Directorate General of Civil Aviation (DGCA)
The Directorate General of Civil Aviation (DGCA) is a statutory body of the Government of India to regulate civil aviation in India, primarily dealing with safety issues.
The headquarters are located in New Delhi with regional offices in the various parts of India.
Mandate: DGCA is responsible for the regulation of air transport services to/from/within India and for enforcement of civil air regulations, air safety, and airworthiness standards.
Functions
Registration of civil aircraft
Formulation of standards of airworthiness for civil aircraft registered in India and grant of certificates of airworthiness to such aircraft.
Licensing of pilots, aircraft maintenance engineers and flight engineers, and conducting examinations and checks for that purpose
Licensing of air traffic controllers
Conducting an investigation into accidents/incidents and taking accident prevention measures including formulation of implementation of Safety Aviation Management programs.
Coordination at the national level for flexi-use of air space by civil and military air traffic agencies and interaction with ICAO for provision of more air routes for civil use through Indian air space.
Promoting indigenous design and manufacture of aircraft and aircraft components by acting as a catalytic agent
Source:The Hindu
Previous Year Questions
Q.1) With reference to the "Tea Board" in India, consider the following statements: (2022)
The Tea Board is a statutory body.
It is a regulatory body attached to the Ministry of Agriculture and Farmers Welfare.
The Tea Board's Head Office is situated in Bengaluru.
The Board has overseas office at Dubai and Moscow.
Which of the statements given above are correct?
1 and 3
2 and 4
3 and 4
1 and 4
---
The role of caste in economic transformation
Syllabus
Mains – GS 1 (Social Issues)
Context: Caste, a structural factor that impedes economic transformation in India.
Caste through its rigid social control and networks facilitates economic mobility for some and erects barriers for others by mounting disadvantages on them.
Caste shapes the ownership pattern of land and capital and simultaneously regulates access to political, social, and economic capital too.
Ways it impedes
There are three ways in which caste impedes the economic transformation in India:
ownership and land inequality related to productivity failure within the farm sector;
elite bias in higher education and historical neglect of mass education, and
caste-based entry barriers and exclusive networks in the modern sector.
The divergent outcomes in structural transformation between countries in the global South, particularly India, China and South East Asia, is due to these three factors.
All the nations which succeeded in achieving inclusive growth in the Global South had land reforms combined with human capital, invested in infrastructure by promoting capitalism from below and began industrialisation in the rural sector.
India lost on all three counts.
Land ownership, productivity
India has one of the highest land inequalities in the world today.
Unequal distribution of land was perpetuated by British colonial intervention that legalised a traditional disparity.
Some castes were assigned land ownership at the expense of others by the British for its administrative practices.
The British inscribed caste in land governance categories and procedures that still underpin post-colonial land ownership pattern in India
The prescribed categories and practices have entrenched caste inequality in land ownership.
Even the subsequent land reform that took place after India's independence largely excluded Dalits and lower castes.
It emboldened and empowered mainly intermediate castes at the expense of others in rural India.
Further green revolution tightened landlords social control over others in rural India.
Land still defines social status and pride in many parts of rural India.
Modern day real estate
Real estate and construction still works as a source of inheritance, family lineage and speculative capital
Those castes that had a stake in agriculture did not benefit from the economic reforms (1991) for two reasons — historical neglect of education and the entry barriers erected by the upper castes in modern sectors.
Neglect of education
If strong growth in productivity within the farm sector is crucial for sustained economic growth, an educated workforce is equally necessary to move to the modern sectors.
India failed on both accounts.
The Indian education system has been suffering from an elite bias since colonial times.
It primarily focussed on higher education for the elites neglecting basic education of mass
Inequality in access to education got translated into inequality in other economic domains including wage differentials in India.
In contrast, Chinese and other East Asian countries invested in basic education and gradually shifted towards higher education.
Their success in manufacturing is a direct outcome of the investment in human capital.
As South East Asia and China captured low-end manufacturing jobs, India largely concentrated in high-end technology jobs.
Barrier to entrepreneurship
India did not witness such capitalism from below except in a few cases.
Caste shaped policy outcomes, including India's highly unequal land reform and lack of public provision of education and health, which in turn erected barriers to economic diversification.
Castes that were already in control of trading and industrial spaces resisted the entry of others.
Social inequalities have mounted barriers for economic transition
For caste is not a residual variable, but is an active agent which stifles economic transformation.
Source: The Hindu
---
India's health interests
Syllabus
Mains – GS 2 (Governance)
Context: Political or geopolitical expediency or cultural chauvinism should not be allowed to undercut India's health interests
The Centre under the Ayushman Bharat Digital Mission and the "Heal by India" initiative is developing an online repository of all categories of health-care professionals in the country.
Though such an innovation is much needed because of the currently fragmented nature of such data, one of its proposed primary purposes is to aid external stakeholders, viz. foreign employers and patients in finding a right Indian match for their respective needs.
Concerns
WHO forecast for India
WHO 2020 report projected a requirement of nearly two million more doctors and nursing professionals for India in order to attain the minimum threshold ratio of health-care professionals to the population
As per a study there is a veritable shortage of health-care personnel and their skewed skill-mix across a number of States, their current pace of growth is unlikely to result in any significant improvement in the density or skill-mix of health-care professionals by 2030.
The current measure which aims to subtly reinforce medical tourism and worsen the out-migration of health-care professionals from the country is utterly counter-intuitive
Soft power projection
A crucial distinction must always be drawn between exporting products such as vaccines and that of health-care professionals.
While the first is characterised by a much simpler transactional math, training health-care manpower entails large subsidies thus entailing a net drain of resources from the native country
India needs a registry
While an online health-care professionals repository will certainly aid foreign stakeholders in finding their right choices, there is neither a strong demand-side desperation nor a significant supply-side scarcity preventing a market to function well in its absence.
Rather, it is at the national and sub-national levels that such an exhaustive and updated registry of health-care professionals is the need of the hour, for addressing the many challenges and disparities in health manpower availability, distribution, and skill mix.
While neither medical tourism nor out-migration can or need to be dispensed with in their entirety, to pursue them actively when the country is reeling under acute shortages in an aspirational decade for health care is least warranted.
In health care, which is characterised by perennially scarce resources and challenges, everything revolves around identifying the priorities right. And no amount of political or geopolitical expediency or cultural chauvinism should be allowed to undercut national health interests. It is time to go all out to address national health-care workforce challenges and heal the nation before embarking on a healing cruise of the world.
Source: The Hindu
---
Daily Practice MCQs
Daily Practice MCQs
Q.1) Consider the following statements
While zooxanthellate corals depend on zooxanthellae algae for nutrients, azooxanthellate gain their nutrition solely from filtering plankton from seawater
While Zooxanthellate are restricted to shallow waters, azooxanthellate are reported both in deep waters and shallow waters
Choose the correct statements:
1 only
2 only
Both 1 and 2
Neither 1 nor 2
Q.2) Consider the following statements
Keibul Lamjao National Park is characterized by floating decomposed plant material locally called phumdi
It is the natural habitat of the endangered Brow antlered deer
Sangai is the state animal of Manipur
Choose the correct statements:
1 and 2
2 and 3
1, 2 and 3
1 and 3
Q.3) Consider the following statements
The BRICS Leaders' Summit is convened annually
The first BRIC Summit took place in 2009 in the Brazil's Rio de Janeiro
Contingent Reserve Arrangement of BRICS aims to provide short-term liquidity support to the members through currency swaps
Choose the correct statements:
1 and 2
2 and 3
1, 2 and 3
1 and 3
---
ANSWERS FOR 22st JUNE 2022 – Daily Practice MCQs
Answers- Daily Practice MCQs
Q.1) – a
Q.2) – a
Q.3) – b
For a dedicated peer group, Motivation & Quick updates, Join our official telegram channel – https://t.me/IASbabaOfficialAccount
Subscribe to our YouTube Channel HERE to watch Explainer Videos, Strategy Sessions, Toppers Talks & many more…