---
(PRELIMS & MAINS Focus)
---
Foreign Direct Investment equity flows into India
Syllabus
Prelims – Current Affairs
Mains – GS 2 (International Relations); GS 3 (Economy)
FDI inflows into India
Singapore (27.01%) and USA (17.94%) have emerged as top 2 sourcing nations in FDI equity flows into India in FY2021-22 followed by Mauritius (15.98%), Netherland (7.86%) and Switzerland (7.31%).
The Government has implemented several transformative reforms under the FDI policy regime across sectors such as insurance, defence, telecom, financial services, pharmaceuticals, retail trading, e-commerce, construction & development, civil aviation, manufacturing etc.
Despite the ongoing pandemic and global developments, India received the highest annual FDI inflows of USD 84,835 million in FY 21-22 overtaking last year's FDI by USD 2.87 billion.
India is rapidly emerging as a preferred country for foreign investments in the manufacturing sector. FDI Equity inflow in Manufacturing Sectors have increased by 76% in FY 2021-22 (USD 21.34 billion) compared to previous FY 2020-21 (USD 12.09 billion).
Top 5 sectors receiving highest FDI Equity Inflow during FY 2021-22 are Computer Software & Hardware (24.60%), Services Sector (Fin., Banking, Insurance, Non Fin/Business, Outsourcing, R&D and others) (12.13%), Automobile Industry (11.89%), Trading 7.72% and Construction (Infrastructure) Activities (5.52%).
Top 5 States receiving highest FDI Equity Inflow during FY 2021-22 are Karnataka (37.55%), Maharashtra (26.26%), Delhi (13.93%), Tamil Nadu (5.10%) and Haryana (4.76%)
During FY 2021-22 FDI has been reported from 101 countries, whereas, it was reported from 97 countries during previous FY 2020-21.
In India FDI up to 100% is allowed in non-critical sectors through the automatic route, not requiring security clearance from the Ministry of Home Affairs (MHA).
Prior government approval or security clearance from MHA is required for investments in sensitive sectors such as defence, media, telecommunication, satellites, private security agencies, civil aviation and mining, besides any investment from Pakistan and Bangladesh.
All foreign investments are required to be in compliance with the applicable entry route, sectoral cap, attendant conditions, sectoral laws, Companies Act, 2013 and rules thereunder, pricing guidelines, documentation and reporting requirements.
Source: Pib.Gov
Previous Year Question
Q.1) With reference to the international trade of India at present, which of the following statements is/are correct? (2020)
India's merchandise exports are less than its merchandise imports.
India's imports of iron and steel, chemicals, fertilisers and machinery have decreased in recent years.
India's exports of services are more than its imports of services.
India suffers from an overall trade/current account deficit.
Select the correct answer using the code given below:
1 and 2 only
2 and 4 only
3 only
1, 3 and 4 only
---
Contempt of Court
Syllabus
In News: Supreme Court warns State Election Commission of Maharashtra of contempt if polls re-notified to include OBC quota.
The SC pulled up the Maharashtra SEC and warned it of contempt of court action if it re-notifies elections to 367 local bodies taking the cover of the top court's July 20 order allowing reservation for OBCs in the local body polls.
The court while allowing the OBC reservation on July 20, the court had made it clear that this will not apply to the 367 local bodies where elections had already been notified thereby kick starting the election process.
Contempt of Court
Contempt of court, as a concept that seeks to protect judicial institutions from motivated attacks and unwarranted criticism, and as a legal mechanism to punish those who lower its authority
This follows the initiation of contempt proceedings by the Supreme Court of India, on its own motion.
Constitutional Provision and Statutory Basis:
When the Constitution was adopted, contempt of court was made one of the restrictions on freedom of speech and expression.
Separately, Article 129 of the Constitution conferred on the Supreme Court the power to punish contempt of itself.
Article 215 conferred a corresponding power on the High Courts.
The Contempt of Courts Act, 1971, gives statutory backing to the idea.
Types of Contempt
The Contempt of Courts Act, 1971 defines both civil and criminal contempt.
Civil contempt refers to wilful disobedience to any judgment of the court.
Criminal contempt can be invoked if an act:
Tends to scandalise or lower the authority of the court.
Tends to interfere with the due course of any judicial proceeding.
Obstruct the administration of justice.
Source: Indian Express
Previous Year Question
Q.1) Consider the following statements: (2022)
Pursuant to the report of H.N. Sanyal Committee, the Contempt of Courts Act, 1971 was passed.
The Constitution of India empowers the Supreme Court and the High Courts to punish for contempt of themselves.
The Constitution of India defines Civil Contempt and Criminal Contempt.
In India, the Parliament is vested with the powers to make laws on Contempt of Court.
Which of the statements given above is/are correct?
1 and 2 only
1, 2 and 4 only
3 and 4 only
3 only
---
Indigenous Aircraft Carrier (IAC) Vikrant
Syllabus
Prelims – Science & Technology
In News: Indian Navy has created maritime history by taking delivery of the prestigious Indigenous Aircraft Carrier (IAC) 'Vikrant'.
Designed by Indian Navy's in-house Directorate of Naval Design (DND) and Built by Cochin Shipyard Limited (CSL), Kochi, a Public Sector Shipyard Under the Ministry of Shipping (MoS).
Built with an overall indigenous content of 76%
Capable of operating air wing consisting of 30 aircraft comprising of MIG-29K fighter jets, Kamov-31, MH-60R multi-role helicopters, in addition to indigenously manufactured Advanced Light Helicopters (ALH) and Light Combat Aircraft (LCA) (Navy).
Using a novel aircraft-operation mode known as STOBAR (Short Take-Off but Arrested Landing), the IAC is equipped with a ski- jump for launching aircraft, and a set of 'arrester wires' for their recovery onboard.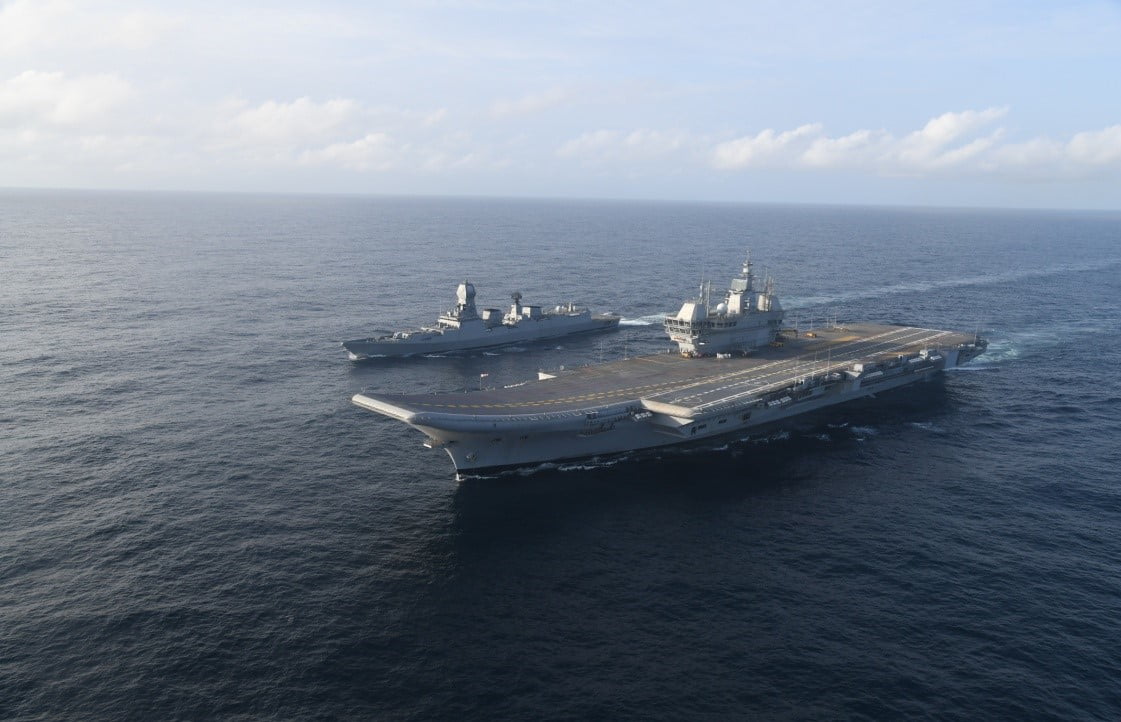 Significance
The reincarnation of Vikrant is a true testimony to the country's zeal and fervor in pursuing capability build-up towards enhanced maritime security.
With the delivery of Vikrant, India has joined a select group of nations having the niche capability to indigenously design and build an Aircraft Carrier.
The indigenisation efforts has also led to development of ancillary industries, besides generation of employment opportunities and bolstering plough back effect on economy, both locally as well as pan-India.
A major spin-off of this is the development and production of indigenous warship grade steel for the ship through a partnership between Navy, DRDO and Steel Authority of India (SAIL), which has enabled the country to become self-sufficient with respect to warship steel.
CSL had also upgraded their shipbuilding infrastructure as well as enhanced productivity skills during the building of the ship.
The Indigenous Aircraft Carrier would soon be commissioned into the Indian Navy as Indian Naval Ship (INS) Vikrant which would bolster India's position in the Indian Ocean Region (IOR) and its quest for blue water Navy.
Source: PIB
Previous Year Questions
Q.1) With reference to the Agni-IV Missile, which of the following statement(s) is/are correct? (2014)
It is a surface-to-surface missile.
It is fuelled by liquid propellant only.
It can deliver a one-tonne nuclear warhead about 7500 km away.
Select the correct answer using the codes given below.
1 only
2 and 3 only
1 and 3 only
1, 2 and 3
---
Hambantota port
Syllabus
Prelims – Places in News (Geography)
In News: Sri Lanka's Defence Ministry denied reports that a Chinese research vessel involved in space and satellite tracking would enter the Hambantota port in August this year
India sent a clear message that it was monitoring the ship's progress carefully
The vessel's arrival was highlighted by BRISL (Belt & Road Initiative Sri Lanka), a Colombo-based organisation studying China's ambitious connectivity project.
India has traditionally taken a stern view of Chinese military or suspected dual-purpose vessels in the Indian Ocean, and the MEA has protested such visits with Sri Lanka in the past.
Previous incidents
In 2014, Sri Lanka's decision to allow a Chinese nuclear-powered submarine Changzheng 2 in Colombo became a diplomatic flashpoint, as New Delhi expressed serious concern.
In 2019, the Indian Navy had pushed out a Chinese Naval ship Shi Yan 1, that had come into waters close to the Andaman Islands, and in 2020, two Chinese Research vessels in the Indian Ocean near the Andaman islands had also sparked concerns similar to the current proposed visit of the satellite tracking ship.
Hambantota port
Hambantota port is located right in middle of vital energy supply lines in Indian Ocean, connecting Middle East and East Asia.
Hambantota port is a deep-water port in the southern tip of Sri Lanka.
In 2017, Colombo leased the southern port to China Merchant Port Holdings, after Sri Lanka was unable to keep its loan repayment commitments, fanning fears over potential use of the port for military purposes.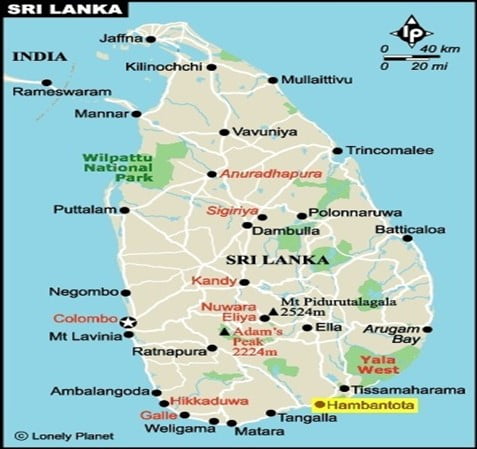 Source: The Hindu
Previous Year Question
Q.1) Which one of the following statements best reflects the issue with Senkaku Islands, sometimes mentioned in the news? (2022)
It is generally believed that they are artificial islands made by a country around South China Sea.
China and Japan engage in maritime disputes over these islands in East China Sea.
A permanent American military base has been set up there to help Taiwan to increase its defence capabilities.
Though International Court of Justice declared them as no man's land, some South-East Asian countries claim them.
---
Family Planning Vision-2030
Syllabus
Mains – GS 1 (Society – Population)
In News: Recently Union Health Ministry released Family Planning Vision-2030.
Highlights
Fertility
High teenage fertility in some areas remains a cause of concern in India even as the fertility rate has stabilised across the country.
Participation of men will have to be encouraged in the family planning programme and that lack of access to contraceptives had been identified as a priority challenge area.
While multiple factors have been identified that explain low contraceptive use among married adolescents and young women, two most important factors are child marriage and teenage pregnancy.
Over 118 districts reported high percentage of teenage pregnancies and are mostly concentrated in Bihar (19), West Bengal (15), Assam (13), Maharashtra (13), Jharkhand (10), Andhra Pradesh (7), and Tripura (4)
Additionally, over 44% of the districts in India reported high percentage of women marrying before they reach the age of 18.
Population
India is the second largest country in the world.
The country's population is expected to continue to grow until mid-century (due to population momentum), however, the population growth will decline substantially
India's population has reached 136.3 crore (1.36 billion) and is expected to reach 147.9 crore (1.47 billion) by 2031 and further 152.2 crore (1.52 billion) by 2036.
Also the adolescent population will reach 22.9 crore (229 million) by 2031 and further 22 crore (220 million) by 2036.
The youth population in the age-group of 15-24 increased from 23.3 crore (233 million) in 2011 to 25.2 crore (252 million) in 2021 and will now decline to reach at 23.4 crore (234 million) in 2031 and further reach 22.9 crore (229 million) in 2036
A priority area
The document notes that although there has been a steady decline in teenage childbearing, from 7.9% in the National Family Health Survey (NFHS-4) to 6.8% (in the NFHS-5) it remains a priority area that requires to be addressed, especially since India will continue to have one of the youngest populations in the world until 2030.
Must Read: National Family Health Survey
Source: The Hindu
Previous Year Question
Q.1) As per the NSSO 70th Round "Situation Assessment Survey of Agricultural Households", consider the following statements
Rajasthan has the highest percentage share of agricultural households among its rural households.
Out of the total agricultural households in the country, a little over 60 percent belong to OBCs.
In Kerala, a little over 60 percent of agricultural households are reported to have received maximum income from sources other than agricultural activities.
Which of the statements given above is/are correct?
2 and 3 only
2 only
1 and 3 only
1, 2 and 3
---
Uniform Civil Code
Syllabus
Prelims – Polity
Mains – GS 2 (Polity & Governance)
In News: Law Minister tells Rajya Sabha that the government does not propose to set up a committee to implement a uniform civil code (UCC).
Minister clarified that government has requested the Law Commission of India to undertake examination of various issues relating to uniform civil code and to make recommendation thereon.
Uniform Civil Code
The UCC refers to a common set of laws governing personal matters such as marriage, divorce, adoption, inheritance and succession for all citizens, irrespective of religion.
Constitutional provisions suggesting UCC:
Article 44: The State shall endeavour to secure for the citizens a uniform civil code throughout the territory of India.
This is in the chapter dealing with the Directive Principles of State Policy and is therefore presumed to be advisory in nature.
Arguments for UCC
Uniformity and reduced discord:
Common Code would enable uniform civil principles to be applied to the entire Nation.
If and when the whole population will start following the same laws, chances are there that it would bring more peace to the living and reduce riots.
Secularism and Women's Rights:
UCC would help end gender discrimination and overall discrimination on religious grounds and strengthen the secular fabric of the nation.
Therefore UCC could bring all communities together to ensure Women the Right to a dignified life and control over their life as well as body.
Courts have also often said in their judgements that the government should move towards a uniform civil code including the judgement in the Shah Bano case.
Ending unjust customs and traditions:
A rational common and unified personal law will help eradicate many evil, unjust and irrational customs and traditions prevalent across the communities.
For instance, Manual scavenging – It might have been a custom in the past but in a mature democracy like India, this custom cannot be justified.
Ease of Administration:
UCC would make it easy to administer the huge population base of India.
Arguments against UCC
Hampering diversity and multiculturalism:
Indian society has a unique identity in the form of its being diverse and multicultural, and unified law might do away with these unique characteristics of this nation.
Violation of fundamental rights:
Religious bodies oppose a uniform civil code on the ground that it would be interference in religious affairs which would violate fundamental rights guaranteed under Article 25 of the constitution.
May lead to communal unrest:
It would be a tyranny to the minority and when implemented could bring a lot of unrest in the country
The All India Muslim Personal Law Board stated that the laws pertaining to marriage and inheritance were part of religious injunctions for ages.
Way forward
Gradual changes –
A uniform law, although highly desirable but may be counterproductive to the unity and integrity of the nation especially if applied hastily.
In a democracy and rule of law, a gradual progressive change and order must be brought about.
Codification of all personal laws as suggested by the Law Commission
By codification of different personal laws, one can arrive at certain universal principles that prioritize equity rather than the imposition of a Uniform Civil Code.
To resolve the contentious issues like UCC, common consensus of all the stakeholders is needed.
Source: The Hindu
---
Cryptojacking
Syllabus
Prelims – Science & Technology
Mains – GS 3 (Security)
In News: Cryptojacking attacks on computer systems have gone up by 30% to 66.7 million in the first half of 2022 compared to the first half of last year, according to a report by SonicWall, a US-based cybersecurity firm.
While volume increases were widespread, some business sectors were hit harder than others, such as the finance industry, which saw a rise of 269%
What is cryptojacking?
Cryptojacking is a cyber attack wherein a computing device is hijacked and controlled by the attacker, and its resources are used to illicitly mine cryptocurrency.
In most cases, the malicious programme is installed when the user clicks on an unsafe link, or visits an infected website — and unknowingly provides access to their Internet-connected device.
Why is cryptojacking done?
Coin mining is a legitimate, competitive process used to release new crypto coins into circulation or to verify new transactions.
It involves solving complex computational problems to generate blocks of verified transactions that get added to the blockchain.
The reward for the first miner who successfully manages to update the crypto ledger through this route is crypto coins.
But the race to crack this 64-digit hexadecimal number code needs considerable computing power involving state-of-the-art hardware, and electrical power to keep the systems involved up and running.
Cryptojackers co-opt devices, servers, and cloud infrastructure, and use their resources for mining. The use of stolen or cryptojacked resources slashes the cost involved in mining.
Why have cryptojacking incidents gone up?
According to the SonicWall's Cyber Threat Report, the crackdown on ransomware attacks is forcing cybercriminals to look for alternative methods.
Cryptojacking involves lower risk, and promises potentially higher payday.
Cryptojacking is an appealing alternative for cybercriminal gangs as it has a lower potential of being detected by the victim; unsuspecting users across the world see their devices get unaccountably slower, but it's hard to tie it to criminal activity, much less point to the source.
Unlike ransomware, which announces its presence and relies heavily on communication with victims, cryptojacking can succeed without the victim ever being aware of it.
Why should this be a concern?
Cryptojacking is hard to detect and the victims of these attacks mostly remain unaware that their systems have been compromised.
Some telltale signs are the device slowing down, heating up, or the battery getting drained faster than usual.
Apart from individuals, businesses too are on the target list of cryptojackers.
The primary impact of cryptojacking is performance-related, though it can also increase costs for the individuals and businesses affected because coin mining uses high levels of electricity and computing power.
Source: Indian Express
---
Chess Olympiad
Syllabus
Prelims – Current Affairs
In News: Prime Minister of India inaugurated the Fédération Internationale des ÉchecsFrench (FIDE) or International Federation of Chess's 44th Chess Olympiad in Chennai.
Noting that the most prestigious tournament in chess had for the first time come to India – the home of chess – during the 75th year of freedom from colonial rule, PM said there had never been a better time for sport in India than the present.
It was only for the first time in three decades the tournament was being organised in Asia with the participation of the highest number of players and teams.
Chess Olympiad
The Chess Olympiad is a biennial chess tournament in which teams representing nations of the world compete.
FIDE organises the tournament and selects the host nation.
Amidst the COVID-19 pandemic, FIDE held an Online Chess Olympiad in 2020 and 2021, with a rapid time control that affected players' online ratings.
The use of the name "Chess Olympiad" for FIDE's team championship is of historical origin and implies no connection with the Olympic Games.
Source: The Hindu
---
US Fed Reserve Hike
GS-3: Economy & challenges
GS-2: International Events & its impact on India
Context: In its continuing bid to cool down raging inflation in the United States — at 9.1% in June, the inflation rate is at a four-decade high — the Federal Reserve or Fed (US' central bank) decided to raise the Federal Funds Rate target by another 75 basis pushing the rate from zero to almost 2.5% now.
---
Daily Practice MCQs
Daily Practice MCQs
Consider the following statements
The Speaker of Lok sabha can place a member under suspension.
The Rajya Sabha Chairman does not have the power to suspend a Member.
In Both the houses it is for the House to resolve on a motion to revoke the suspension.
Choose the incorrect statements:
2 only
2 and 3
1, 2 and 3
None
Q.2) Consider the following statements
Mauritius topped the list of FDI equity flows into India in FY2021-22.
Computer Software & Hardware sector received the highest FDI Equity Inflow during FY 2021-22
Choose the correct statements:
1 only
2 only
Both 1 and 2
Neither 1 nor 2
Q.3) Consider the following statements
The Constitution of India empowers the Supreme Court and the High Courts to punish for contempt of themselves.
The Contempt of Courts Act, 1971 defines both civil and criminal contempt.
Civil contempt can be invoked if an act tends to interfere with the due course of any judicial proceeding.
Choose the incorrect statements:
1 only
1 and 2
3 only
1 and 3
---
Comment the answers to the above questions in the comment section below!!
ANSWERS FOR '29th JULY 2022 – Daily Practice MCQs' will be updated along with tomorrow's Daily Current Affairs.
---
ANSWERS FOR 28th JULY 2022 – Daily Practice MCQs
Answers- Daily Practice MCQs
Q.1) – c
Q.2) – d
Q.3) – a
For a dedicated peer group, Motivation & Quick updates, Join our official telegram channel – https://t.me/IASbabaOfficialAccount
Subscribe to our YouTube Channel HERE to watch Explainer Videos, Strategy Sessions, Toppers Talks & many more…