---
(PRELIMS & MAINS Focus)
---
International Mobile Equipment Identity (IMEI)
Syllabus
Prelims – Science & Technology
In News:  With rising cases of mobile phone snatching in the national capital, the Delhi Police is now planning to close ranks with internet service providers and the department of telecommunications to block stolen or robbed phones.
This will be done by using the device's International Mobile Equipment Identity (IMEI) number.
What is IMEI number?
The International Mobile Equipment Identity or IMEI is a unique number that is used to identify a device on a mobile network.
It has 15 digits, and is like phone's unique identity.
When a person use the internet or place a call through his/her cellular service provider, then this number is used to verify the identity of his/her device.
If you have a dual SIM phone, then there will be two IMEI numbers, one for each slot.
It is usually found on the back of phone, under the battery pack.
Are there any challenges?
Mobile phones which don't have a flexible operating system can be broken into.
There is software that can change IMEI numbers of the phones as well.
This might cause trouble for law enforcement agencies in blocking stolen devices
Source: Indian Express
Previous Year Question
Q.1) With reference to communication technologies, what is/are the difference/differences between LTE (Long-Term Evolution) and VoLTE (Voice over Long-Term Evolution)? (2019)
LTE is commonly marketed as 3G and VoLTE is commonly marketed as advanced 3G.
LTE is data-only technology and VoLTE is voice-only technology.
Select the correct answer using the code given below
1 Only
2 only
Both 1 and 2
Neither 1 nor 2
---
Exercise Vajra Prahar 2022
Syllabus
Prelims – Current Affairs
In News: The 13th Edition of the Indo-US Joint Special Forces exercise "Ex Vajra Prahar 2022" commenced at the Special Forces Training School at Bakloh of Himachal Pradesh.
The drill aims to improve inter-operability between the special forces of both the countries
This joint annual exercise is hosted alternatively between India and the US to share the best practices and experiences in areas such as joint mission planning and operational tactics.
This joint exercise is a significant step in strengthening the traditional bond of friendship between the special forces of both nations as well as improve bilateral defence cooperation between India and the US.
Source: Business-standard.com
---
Ethanol plant
Syllabus
Prelims – Current Affairs
In News: Prime Minister dedicated to the nation a second generation (2G) ethanol plant in Haryana's Panipat.

It is part of a long series of steps taken by the government over the years to boost production and usage of biofuels in the country.
It is in line with the India's constant endeavour to transform the energy sector into being more affordable, accessible, efficient and sustainable.
The 2G Ethanol Plant has been built at an estimated cost of over nine hundred crore rupees by the Indian Oil Corporation Limited.
The project will turn a new chapter in India's waste-to-wealth endeavours by utilising about two lakh tonnes of rice straw (parali) annually to generate around three crore litres of Ethanol per annum.
The project will also contribute to a reduction of Greenhouse Gases equivalent to about three lakh tonnes of Carbon Dioxide equivalent emissions per annum.
Must Read: India's clean energy targets
Source: India Times
---
AGM-88 HARM
Syllabus
Prelims – Science & Technology – Current Affairs
In News: United States confirmed that it has supplied some "anti-radiation missiles" to Ukraine.
The supply has put meat on Russian allegations that an American anti-radar missile, AGM-88 HARM, which is part of NATO's inventory, has been used in the theatre of conflict.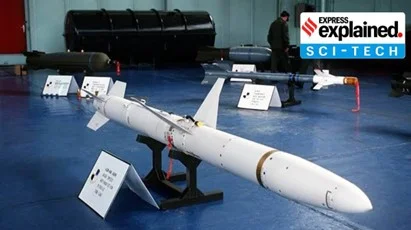 What is the AGM-88 HARM missile?
The acronym 'HARM' in the AGM-88 HARM air-to-surface missile stands for High-Speed Anti-Radiation Missile.
It is a tactical weapon fired from fighter aircraft, and has the capability to detect and home into radiation emitted by hostile radar stations that have surface-to-air detection capabilities.
The AGM-88 HARM is 14 metres in length, but only 10 inches in diameter.
It weighs around 360 kg and carries a fragmentation type warhead that is optimised for radar targets.
It also has an anti-radar homing seeker broadband RF antenna and receiver, and a solid state digital processor.
The missile has a range of more than 100 km.
Do the Ukrainians have a platform to use these missiles?
It would appear that only Western military groups have the required fighter aircraft to use these missiles, and that the AGM-88 HARM cannot be fitted and used on the Russian-origin aircraft that Ukraine has in its fleet.
Several NATO aircraft in Europe — including the Tornado ECR, F-16CM Block 50, and F/A-18-EA-18G — can fire the AGM-88 HARM missiles.
There is speculation that the missiles may have been fired by NATO aircraft secretly supporting the Ukraine military in combat roles.
Source: Indian Express
Previous Year Question
Q.1) What is "Terminal High Altitude Area Defense (THAAD)", sometimes seen in the news? (2018)
An Israeli radar system
India's indigenous anti-missile programme
An American anti-missile system
A defence collaboration between Japan and South Korea.
---
Airlines to give international traveller data to Customs
Syllabus
Prelims – Current Affairs
In News: The Central Board of Indirect Taxes and Customs (CBIC) issued a gazette notification titled 'Passenger Name Record Information Regulations, 2022'.
As per the notification, aircraft operators are now required to share all travel-related information about passengers who are going to travel in and out of India at least 24 hours before their flight departure time.
This information will have to be shared with CBIC established agency, National Customs Targeting Centre – Passenger (NCTC-P) for conducting of "risk analysis of passengers".
Operators not providing this data can be fined a minimum of Rs 25,000.
The passenger details will include details such as PNR, passport number, date of birth, travel agency/travel agent, etc.
The information received will be subject to the strict information privacy and protection in accordance with the provisions of any law for the time being in force.
Purpose
Such information is needed for prevention, detection, investigation and prosecution of offences under the Customs Act and also for the law enforcement agencies or government departments or any other country.
It will also help to prevent bank loan defaulters from fleeing the country to avoid prosecution.
According to information furnished by the government in Parliament, a total of 38 economic offenders, including Nirav Modi, Vijay Mallya and Mehul Choksi, fled the country in the last five years.
Central Board of Indirect Taxes and Customs (CBIC):
Central Board of Indirect Taxes and Customs is a part of the Department of Revenue under the Ministry of Finance.
CBIC is a statutory body established under the Central Boards of Revenue Act, 1963.
CBIC was formed in 1964 when the Central Board of Revenue was split into the Central Board of Direct Taxes (CBDT) and the Central Board of Excise and Customs, which was renamed the Central Board of Indirect Taxes and Customs in 2018.
The Chairman of Central Board of Indirect Taxes and Customs is appointed by Appointments Committee of the Cabinet (ACC).
The Board is the administrative authority for its subordinate organizations, including Custom Houses, Central Excise and Central GST Commissionerate's and the Central Revenues Control Laboratory.
Functions performed by the CBIC include:
Formulation of policy concerning levy and collection of Customs, Central Excise duties, Central Goods & Services Tax and IGST,
Prevention of smuggling.
Administration of matters relating to Customs, Central Excise, Central Goods & Services Tax, IGST and Narcotics to the extent under CBIC's purview.
Source: The Hindu
---
Dinosaur footprints in China
Syllabus
Prelims – Geography – Current Affairs
In news: Scientists have discovered over 4,300 dinosaur footprints in Hebei province of Zhangjiakou in northern China.
This is the largest number of footprint fossils found in one spot in the country.
The footprints reportedly show four different dinosaur species, one of which might be undiscovered.
The footprints were made between the Jurassic and Cretaceous ages, around 150 million years ago.
Dinosaur footprints in China: the discovery and its importance
The largest number of dinosaur footprint fossils located in northern China, these cover an area of 9,000 square metres.
The report states that the footprints belong to herbivores and carnivores dinosaurs; while the former could reach lengths of nearly 15 metres, the latter was four to five metres.
Scientists believe the area may have attracted dinosaurs due to the availability of water and trees at the time.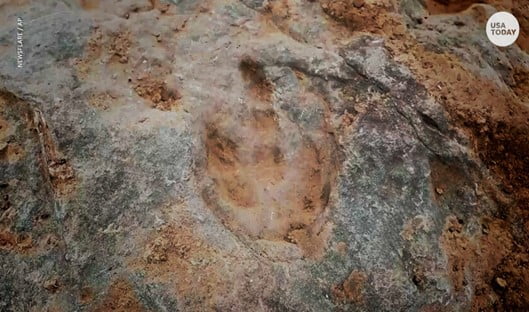 How did the dinosaur footprints become fossils?
Preserved footprints, also known as ichnites, are trace fossils that have survived millions of years.
These are found in earthen materials that were soft enough to form the foot impression and hard enough to retain it.
Over time, the material dried, hardened, and was covered with layers of sediment, helping the impression become fossilised.
In numerous instances, soil erosion is now bringing them to the surface.
Dinosaur footprints have been discovered across the world.
In India, in 2014, footprints dating back 200-million-years were found in Jaisalmer, Rajasthan.
Source: Indianexpress
---
Katchal island
Syllabus
Prelims – Geography (places in news)
In News: NASA highlights loss of mangrove cover on Katchal island in the Nicobars.
More than 90% of mangrove cover on the island was lost due to the Indian Ocean Tsunami.
After the magnitude-9.2 Aceh-Andaman earthquake in December 2004, the islands experienced up to 3 meters (10 feet) of land subsidence.
This submerged many mangrove ecosystems, resulting in a loss of more than 90 percent of mangrove extent in some areas.
The mangrove cover on Katchal will not come back, as it lacks propagules.
A propagule is a vegetative structure that can become detached from a plant and give rise to a new plant. Examples include a bud, sucker, or spore.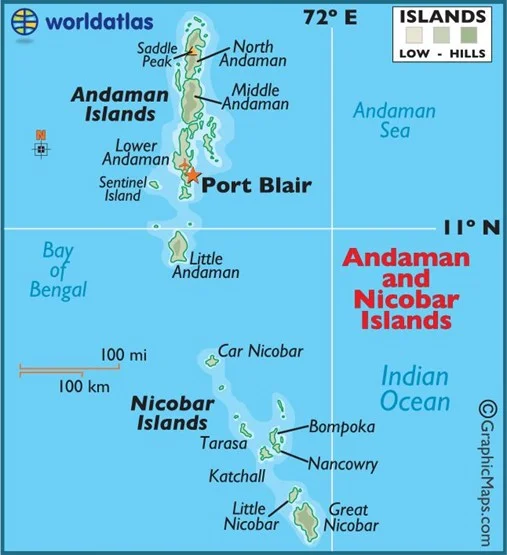 Source: Downtoearth.org
Previous Year Questions
Q.1) Consider the following statements: (2018)
The Barren Island volcano is an active volcano located in the Indian territory.
Barren Island lies about 140 km east of Great Nicobar.
The last time the Barren Island volcano erupted was in 1991 and it has remained inactive since then.
Which of the statements given above is/are correct?
1 only
2 and 3
3 only
1 and 3
Q.2) Which one of the following statements best reflects the issue with Senkaku Islands, sometimes mentioned in the news? (2022)
It is generally believed that they are artificial islands made by a country around South China Sea.
China and Japan engage in maritime disputes over these islands in East China Sea.
A permanent American military base has been set up there to help Taiwan to increase its defence capabilities.
Though International Court of Justice declared them as no man's land, some South-East Asian countries claim them.
---
On guardianship and adoption of minors
Syllabus
Mains – GS 2 (Governance)
In News: A Parliamentary panel has tabled its report, in both Houses of Parliament on the 'Review of Guardianship and Adoption Laws'.
The department-related Parliamentary Standing Committee on Personnel, Public Grievances, Law and Justice tabled its report, in both Houses of Parliament on the 'Review of Guardianship and Adoption Laws'.
Current law on guardianship
Legislative framework
Indian laws accord superiority to the father in case of guardianship of a minor.
Under the HMGA, 1956, the natural guardian of a Hindu minor in respect of the minor's person or property is the father, and after him, the mother.
The Muslim Personal Law (Shariat) Application Act, 1937 says that the Shariat or the religious law will apply in case of guardianship according to which the father is the natural guardian, but custody vests with the mother until the son reaches the age of seven and the daughter reaches puberty though the father's right to general supervision and control exists.
SC Judgment
Githa Hariharan vs RBI in 1999 challenged the HMGA for violating the guarantee of equality of sexes under Article 14.
The court held that the term "after" should not be taken to mean "after the lifetime of the father", but rather in the absence of the father.
But the judgment failed to recognise both parents as equal guardians, subordinating a mother's role to that of the father.
Though the judgment sets a precedent for courts, it has not led to an amendment to the HMGA.
Recommendations of the Parliamentary panel on guardianship and child custody
The report said that there is an urgent need to amend the HMGA (Hindu Minority and Guardianship Act, 1956).
The existing law treats mothers as subordinates to their husband.
Hence, the law violated the right to equality and right against discrimination envisaged under Articles 14 and 15 of the Constitution.
It recommended to accord equal treatment to both mother and father as natural guardians.
Joint custody of children during marital disputes.
In cases of marital dispute, the panel says there is a need to relook at child custody which is typically restricted to just one parent.
In such cases, mothers tend to get preference.
The panel recommended that courts should be empowered to:
grant joint custody to both parents when such a decision is conducive for the welfare of the child, or
award sole custody to one parent with visitation rights to the other.
On adoption
The Committee has said that there is a need for a new legislation that harmonises the Juvenile Justice (Care and Protection of Children) Act, 2015 and the Hindu Adoptions and Maintenance Act (HAMA), 1956.
It also said that such a law should cover the LGBTQI community as well.
Note
Can queer and transgender people adopt children in India?
The Adoption Regulations, 2017 is silent on adoption by LGBTQI people and neither bans nor allows them to adopt a child.
Its eligibility criteria for prospective adoptive parents says that they should be physically, mentally and emotionally stable, financially capable and should not have any life-threatening medical condition.
Single men can only adopt a boy while a woman can adopt a child of any gender.
A child can be given for adoption to a couple only if they have been in a marital relationship for at least two years.
Source: The Hindu
---
Women representatives of the people
Syllabus
Mains – GS 1 (Society); GS 2 (Governance)
Study
Sadia Hussain's article, 'Performance of Women in Parliament: A Quantitative Study of Questions by Women Members in Lok Sabha (1999-2019)' draws attention to women's performance in the Lok Sabha through a quantitative analysis of the questions posed by women leaders on the floor.
It contests claims that women members act as silent dolls or 'gungi gudiyas' during the Question Hour in Parliament and that they act as mere token representation in political spheres.
Women in politics
India has not had a single women's movement that challenged patriarchal and gender norms in the last two decades.
Women have had to use alternate methods to come to power.
Education and wealth have aided women in political participation.
Studies suggest that more women have started to organise themselves into economic groups, and financial freedom has pushed them to be more politically active.
The decreased gap in voter turnout between men and women is a positive sign toward gender inclusivity in the political sphere.
The 2019 general election was a historic moment for women's politics, as it saw 78 women elected to the lower house of Parliament for the first time since independence where only 22 women were present in the 543-member Lok Sabha.
But this number is still not representative of the actual proportion of women in the country.
Access to power versus participation
Women's performance during the Question Hour session becomes relevant as it is a space where legislators act free from party regulation.
Substantive representation or acting in the interest of those represented defines the quality of a leader.
Breaking stereotypes
The study reveals how descriptive representation transforms into substantive representation.
It goes against the popular notion that women members only touch upon softer issues or that they are silent spectators in Parliament.
Though men asked more questions and participated in more debates than women, there has been a substantial increase in the number of questions women asked.
Moreover, contrary to general belief, women representatives asked more questions on health and family welfare, human resource development, home affairs, finance, agriculture and railways than women's issues.
Male legislators asked more questions on issues concerning women than their female counterparts.
These are very welcoming signs as the representatives were seen not to be held back by gender stereotypes.
Intersectionality of identities became an important factor in the questioning capacity of representatives.
Party affiliations, education, regional background, ethnicity, caste and the age of women members played a role in the number and content of questions asked in the lower house
While women are expected to bring a feminine quality into the public political domain, they are breaking stereotypes by simply behaving like their male counterparts.
Way Forward
Analysing the debates on gender and politics, using the performance framework, one concludes that the problem of under-representation of women is only superficial.
What lies underneath is the problem of structural inequality, wherein women are marginalised at different levels.
Proportional representation will lead to a better representation of women's interests. Moreover, representation becomes a phenomenon that cannot be isolated from society.
The increased political participation is a positive sign toward gender inclusivity and equality in the political sphere. But it has a long way to go, considering the socio-economic and cultural conditions that still socialise women into being averse to politics, hindering them from pursuing politics as a career.
Source: The Hindu
---
Criminal Procedure (Identification) Act, 2022
Syllabus
GS-2: Government policies and interventions for development in various sectors and issues arising out of their design and implementation.
GS-2: functions and responsibilities of various Constitutional Bodies (Parliament)
Context: The Criminal Procedure (Identification) Act, 2022, which was passed by the Parliament in April this year, came into force recently.
The new law allows investigators to collect certain identifiable information of convicts and other persons for purposes of identification and investigation in criminal matters.
The Bill replaces the Identification of Prisoners Act, 1920.
---
Daily Practice MCQs
Daily Practice MCQs
Q.1) Consider the following statements about AGM-88 HARM missile recently in news
It is an anti-radiation missile, with minimum range of 1000km.
It is an air-to-surface missile tactical missile designed to seek and destroy enemy radar-equipped air defense systems.
Choose the incorrect statements:
1 only
2 only
Both 1 and 2
Neither 1 nor 2
Q.2) Consider the following statements
Central Board of Indirect Taxes and Customs (CBIC) is a statutory body.
The Chairman of CBIC is appointed by Appointments Committee of the Cabinet.
Choose the correct statements:
1 only
2 only
Both 1 and 2
Neither 1 nor 2
Q.3) Katchal island, recently seen in news belong to which of the following country?
China
Taiwan
India
Sri Lanka
---
Comment the answers to the above questions in the comment section below!!
ANSWERS FOR '10th August 2022 – Daily Practice MCQs' will be updated along with tomorrow's Daily Current Affairs.
---
ANSWERS FOR 9th August 2022 – Daily Practice MCQs
Answers- Daily Practice MCQs
Q.1) – d
Q.2) – a
Q.3) – c
For a dedicated peer group, Motivation & Quick updates, Join our official telegram channel – https://t.me/IASbabaOfficialAccount
Subscribe to our YouTube Channel HERE to watch Explainer Videos, Strategy Sessions, Toppers Talks & many more…