---
(PRELIMS & MAINS Focus)
---
Grameen Udyami Project
Syllabus
Prelims – Government Schemes – Current Affairs
In News: Grameen Udyami Project phase II launched in Ranchi to promote skill development and Entrepreneurship amongst the tribal youth.
To augment skill training in tribal communities for their inclusive and sustainable growth, National Skill Development Corporation (NSDC) in partnership with Seva Bharti and Yuva Vikas Society, launched the second phase of Grameen Udyami Project.
Under the initiative, the endeavour is to multiskill India's youth and impart functional skills to them for enabling livelihoods.
The project emphasised on the involvement of tribal communities in the workforce, ensuring their holistic development to make them self-reliant and contained within their respective geographies.
The project gives boost to Skill India Mission
About Grameen Udyami Project:
Grameen Udyami is a unique multiskilling project, funded by NSDC that aims to train 450 tribal students in Madhya Pradesh and Jharkhand.
The project is being implemented in six states— Maharashtra, Rajasthan, Chhattisgarh, Madhya Pradesh, Jharkhand, and Gujarat.
The project is implemented under Sansadiya Parisankul Yojana.
Objectives:
Increase in Rural/Local Economy
Enhance employment opportunities
Reduce forced migration due to lack of local opportunities
Conservation of natural resources
The training under the project will be conducted in the following Job roles which are relevant to the local economy.
Electrician & Solar PV Installation Technician
Plumbing & Masonry
2-Wheeler Repair & Maintenance
IT/ITES with e-Governance
Farm Mechanization
National Skill Development Corporation (NSDC)
The National Skill Development Corporation (NSDC) is a non-profit public limited company established on July 31, 2008, under Section 25 of the Companies Act, 1956.
The Ministry of Finance established NSDC as a Public Private Partnership (PPP) model.
The Government of India, through the Ministry of Skill Development and Entrepreneurship (MSDE), owns 49% of NSDC, while the private sector owns the remaining 51%.
The organisation provides funding to develop scalable and successful initiatives for vocational training.
Source:Pib.Gov
Previous Year Question
Q.1) With reference to 'Stand Up India Scheme', which of the following statements is/are correct? (2016)
Its purpose is to promote entrepreneurship among SC/ST and women entrepreneurs.
It provides for refinance through SIDBI.
Select the correct answer using the code given below.
1 only
2 only
Both 1 and 2
Neither 1 nor 2
---
Pandurang Khankhoje
Syllabus
In News: Speaker Om Birla will unveil a statue of the freedom fighter and agricultural scientist during his visit to Mexico.
Who was Pandurang Khankhoje?
He was born in Wardha, Maharashtra. As a student, Khankhoje was an ardent admirer of the French Revolution and of the American War of Independence
The Hindu reformer Swami Dayanand and his Arya Samaj movement, which called for a spirit of reform and social change, became the hero to a young student group led by Khankhoje.
He was inspired by Bala Gangadhara Tilak.
After spending time with nationalists from Japan and China, Khankhoje eventually moved to Mount Tamalpais Military Academy in California as a student of agriculture.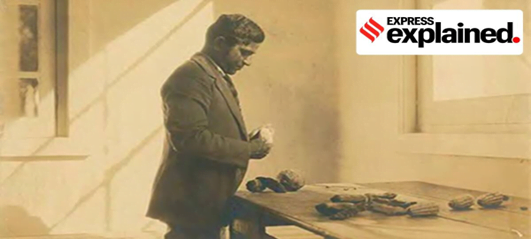 What was his association with the Indian independence movement?
Khankhoje was one of the founding members of the Ghadar Party, established by Indians living abroad in 1914, mostly belonging to Punjab.
While in the US, Khankhoje met Lala Har Dayal, an Indian intellectual teaching at Stanford University.
"Har Dayal had begun a propaganda campaign, publishing a newspaper that featured patriotic songs and articles in the vernacular languages of India. This was the seed from which the Ghadar Party would emerge".
How did Khankhoje reach Mexico?
The Mexican Revolution of 1910 had led to the overthrow of the dictatorial regime, and this inspired Khankhoje.
Along with the Indian workers, militant action was planned by Khankhoje in India, but the outbreak of the First World War halted these plans.
He then reached out to Bhikaji Cama in Paris, and met with Vladimir Lenin in Russia among other leaders, seeking support for the Indian cause.
However, as he was facing possible deportation from Europe and could not go to India, he sought shelter in Mexico.
He was appointed a professor at the National School of Agriculture in Chapingo, near Mexico City.
He researched corn, wheat, pulses, and rubber, developing frost and drought-resistant varieties, and was part of efforts to bring in the Green Revolution in Mexico.
Must Read: Women heroes of India's freedom struggle
Source: Indian Express
Previous Year Question
Q.1) Consider the following freedom fighters: (2022)
Barindra Kumar Ghosh
Jogesh Chandra Chatterjee
Rash Behari Bose
Who of the above was/were actively associated with the Ghadar Party?
1 and 2
2 only
1 and 3
3 only
Q.2) He wrote biographies of Mazzini, Garibaldi, Shivaji and Shrikrishna; stayed in America for some time; and was also elected to the Central Assembly. He was? (2018)
Aurobindo Ghosh
Bipin Chandra Pal
Lala Lajpat Rai
Motilal Nehru
---
Kerala government launching its own app-based taxi service
Syllabus
Prelims – Current Affairs
In News: Kerala has soft launched 'Kerala Savari', the country's first online taxi service owned by a state government, to ensure fair and decent service to passengers along with fair remuneration to auto-taxi workers.
Why has the State government decided to launch this initiative?
Recently, the Central Consumer Protection Authority (CCPA) had issued notices to cab aggregators Ola and Uber for unfair trade practices and violation of consumer rights.
It is against this backdrop that the Kerala government has decided to come up with an app-based platform to offer auto-taxi service for the public.
What are the main attractions of 'Kerala Savari'?
When private app-based taxi companies increase the charges for services up to two to three times during emergencies, neither passengers nor workers benefit from it.
But Kerala Savari only charges an 8% service charge in addition to the rate set by the government, whereas the private cab aggregators charge up to 20 to 30% service charge.
Private cab aggregators used to make a killing with surge pricing during peak hours or in the event of rains.
But there will be no fluctuation in fares on Kerala Savari irrespective of day or night or rain.
What is the security-related features of 'Kerala Savari'?
A police clearance certificate is mandatory for drivers joining the scheme apart from the required proper training.
A panic button system has been introduced in the app. This button can be pressed in the event of a car accident or in cases of any other danger.
When one presses the button, there is an option to select the Police, Fire Force, and Motor Vehicle Department numbers.
If a person is in such a dangerous situation that s/he cannot select any option then pressing the button for a few seconds leads to direct connection to the police control room.
It has also been decided to install GPS in vehicles at a subsidized rate.
Thus, Kerala Savari is a safe and reliable online service for women, children, and senior citizens.
Source: The Hindu
---
Tomato Flu
Syllabus
Prelims – Science and Technology
In News: Recently the tomato flu was first identified in the Kollam district of Kerala, with more than 82 children younger than 5 years with the infection have reported by the local government hospitals.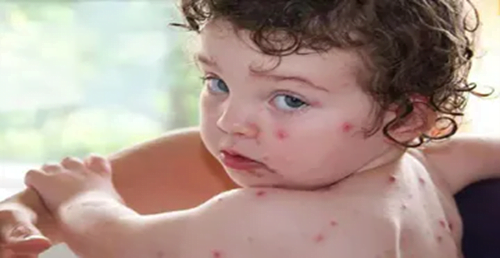 What is Tomato Flu?
Tomato flue/fever is a rare contagious disease of viral nature in humans whose origins are not yet known.
The 'tomato flu' is caused by Coxsackie virus A 16. It belongs to Enterovirus family.
It gets its name from the tomato-shaped red rashes that it causes on the body of infected individuals.
The flu is said to affect children below five years of age.
Symptoms:
The primary symptoms observed in children with tomato flu are like those of chikungunya, which include high fever, rashes, and intense pain in joints.
Further symptoms include fatigue, nausea, vomiting, diarrhoea, dehydration, swelling of joints, body aches, and common influenza-like symptoms, which are like those manifested in dengue.
Treatment:
Because tomato flu is like chikungunya and dengue as well as hand, foot, and mouth disease, the treatment is also similar — isolation, rest, plenty of fluids, and hot water sponge for the relief of irritation and rashes.
Supportive therapy of paracetamol for fever and body ache and other symptomatic treatments are required.
Preventive Measures:
Utensils, clothes, and other items used by the infected persons must be sanitized to prevent the flu from spreading.
Fluid intake should be increased to counter dehydration.
Proper screening by the health authorities.
Source: The Hindu
---
Rashtriya Puruskar Portal
Syllabus
Prelims – Current Affairs
In News: Rashtriya Puruskar Portal launched, nominations open for various Awards.
A common Rashtriya Puruskar Portal has been developed by the Government so as to bring together all the Awards of the various Ministries/Departments/Agencies of the Government of India under one platform to ensure transparency and public partnership (Jan Bhagidari).
This Portal facilitates every citizen or organisation to nominate individuals/organizations for various Awards instituted by the Government of India.
Currently, nominations/recommendations for the following Awards are open:
Padma Awards
National Award for Excellence in Forestry 2022
National Gopal Ratna Award 2022
National Water Awards 2022
National Award for Senior Citizens -Vayoshreshtha Samman 2022
National Award for Individual Excellence 2021
National Award for Individual Excellence 2022
National Awards for Institutions Engaged in Empowering Persons with Disabilities 2021
National CSR Awards 2022
Nari Shakti Puraskar 2023
Subhash Chandra Bose Aapda Prabandhan Puraskar 2023
National Awards for Outstanding Services in the Field of Prevention of Alcoholism and Substance Abuse 2022
Jeevan Raksha Padak
Source: Pib.gov
Previous Year Question
Q.1) Consider the following statements in respect of Bharat Ratna and Padma Awards: (2021)
Bharat Ratna and Padma Awards are titles under the Article 18(1) of the Constitution of India.
Padma Awards, which were instituted in the year 1954, were suspended only once.
The number of Bharat Ratna Awards is restricted to a maximum of five in a particular year.
Which of the above statements are not correct?
1 and 2 Only
2 and 3 Only
1 and 3 Only
1, 2 and 3
---
Mystery 'dwarfing' disease
Syllabus
Prelims – Science and Technology
In News: Scientists track cause of mystery paddy dwarfing in Punjab and Haryana
Scientists at the Indian Agricultural Research Institute (IARI),collected samples of plants from farmers' fields – which showed symptoms of stunting and yellowing and have undertaken electron microscopy analysis and DNA isolation through PCR (polymerase chain reaction) technique.
Agriculture scientists have narrowed down the cause of a mystery disease causing "dwarfing" of rice plants in Punjab and Haryana to either grassy stunt virus or phytoplasma bacteria.
The vector responsible for their transmission is the brown plant hopper, an insect pest that sucks sap from the stems and leaves of rice plants.
Preliminary laboratory analysis indicates the "phytoreovirus" or rice grassy stunt virus as the source of infection.
This virus, which induces stunting and yellowing of rice plants, is transmitted by brown plant hopper.
The second possible source is phytoplasma, a bacterial pathogen that is spread by both brown plant hopper and green leaf hopper sucking insect pests.
Many farmers in Punjab, Haryana and even parts of western Uttar Pradesh and Uttarakhand have, for the past fortnight or more, been reporting stunting of paddy plants in their fields.
Such stunting has taken place typically 30-35 days after transplanting or direct seeding of rice. Initially, all plants register uniform growth. But at a later stage, some stop growing while others continue.
The proportion of dwarfed plants has been generally reported at 10 to 25 per cent, even exceeding 40 per cent in some cases.
Source: Indian Express
---
Gross State Domestic Product (GSDP)
Syllabus
Mains – GS 3 (Economy – Development)
In News: Emerging from the shock of the Covid-19 pandemic, economies of 19 states and Union Territories exceeded their pre-Covid levels, with seven recording double-digit growth rates during 2021-22, shows an analysis of official data for 21 states and UTs.
The analysis shows that the size of the Gross State Domestic Product (GSDP) of the 19 states and UTs had contracted or recorded a negligible growth during 2020-21 — the year when the government had imposed a nationwide lockdown in view of the Covid-19 outbreak.
Their economies bounced back in 2021-22 and exceeded their pre-Covid (2019-20) levels.
Kerala and Uttar Pradesh are the only exceptions; in 2021-22, their GSDP continued to be below the pre-Covid levels.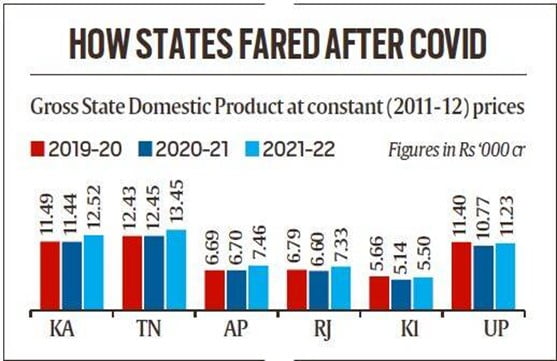 Of these 21 states and UTs, Andhra recorded the highest growth of 11.43 per cent, while Puducherry the lowest (3.31 per cent).
Besides Andhra Pradesh, five other states and one UT – Rajasthan (11.04 per cent), Bihar (10.98 per cent), Telangana (10.88), Delhi (10.23 per cent), Odisha (10.19 per cent) and Madhya Pradesh (10.12 per cent) – reported double-digit growth rates in 2021-2
The economies of the remaining 11 states and UTs grew in range of 4.24 per cent to 8.69 per cent during 2021-22.
Among the big states, Uttar Pradesh registered the lowest growth rate of 4.24 per cent in 2021-22.
While the sharp jump in the GSDP of some states is due to the base effect, the general trend mirrors the post-pandemic economic recovery.
In 2021-22, India's GDP expanded at 8.7 per cent against a 6.6 per cent contraction in 2020-21.
Source: Indian Express
---
Central Bank Digital Currency (CBDC)
Syllabus
Prelims – Economy
Mains – GS 3 (Economy)
In News: Recent report stated that Reserve Bank of India's (RBI) digital rupee — the Central Bank Digital Currency (CBDC) — may be introduced in phases beginning with wholesale businesses in the current financial year.
In budget 2022-23, Finance Minister had said that the central bank would launch the CBDC in the financial year 2022-23.
What is Central Bank Digital Currency (CBDC)?
CBDC is the legal tender issued by a central bank in a digital form.
It is the same as a fiat currency and is exchangeable one-to-one with the fiat currency. Only its form is different.
The digital fiat currency or CBDC can be transacted using wallets backed by blockchain.
Though the concept of CBDCs was directly inspired by Bitcoin, it is different from decentralised virtual currencies and crypto assets, which are not issued by the state and lack the 'legal tender' status.
CBDCs enable the user to conduct both domestic and cross-border transactions which do not require a third party or a bank.
Significance
It would reduce the cost of currency management while enabling real-time payments without any inter-bank settlement.
India's fairly high currency-to-GDP ratio holds out another benefit of CBDC to the extent large cash usage can be replaced by (CBDC), the cost of printing, transporting and storing paper currency can be substantially reduced.
It will also minimize the damage to the public from the usage of private virtual currencies.
It will enable the user to conduct both domestic and cross border transactions which do not require a third party or a bank.
It has the potential to provide significant benefits, such as reduced dependency on cash, higher seigniorage due to lower transaction costs, and reduced settlement risk.
It would also possibly lead to a more robust, efficient, trusted, regulated and legal tender-based payments option.
Risks
Privacy Concerns:
The first issue to tackle is the heightened risk to the privacy of users—given that the central bank could potentially end up handling an enormous amount of data regarding user transactions.
This has serious implications given that digital currencies will not offer users the level of privacy and anonymity offered by transacting in cash.
Compromise of credentials is another major issue.
Disintermediation of Banks:
If sufficiently large and broad-based, the shift to CBDC can impinge upon the bank's ability to plough back funds into credit intermediation.
If e-cash becomes popular and the Reserve Bank of India (RBI) places no limit on the amount that can be stored in mobile wallets, weaker banks may struggle to retain low-cost deposits.
Other risks are:
Faster obsolescence of technology could pose a threat to the CBDC ecosystem calling for higher costs of upgradation.
Operational risks of intermediaries as the staff will have to be retrained and groomed to work in the CBDC environment.
Elevated cyber security risks, vulnerability testing and costs of protecting the firewalls
Operational burden and costs for the central bank in managing CBDC.
Way Forward
The usage should be payment-focused to improve the payment and settlement system. Then it can steer away from serving as a store of value to avoid the risks of disintermediation and its major monetary policy implications.
Robust data security systems will have to be set up to prevent data breaches. Thus, it is important to employ the right technology that will back the issue of CBDCs.
The RBI will have to map the technology landscape thoroughly and proceed cautiously with picking the correct technology for introducing CBDCs.
The financial data collected on digital currency transactions will be sensitive in nature, and the government will have to carefully think through the regulatory design. This would require close interaction between the banking and data protection regulators.
Also, the institutional mechanisms would need to ensure that there is no overlap between different regulators and chart out a clear course of action in case there is a data breach of digital currencies.
Source: Indian Express
---
Centre-State relations
Syllabus
Mains – GS 2 (Polity – federalism)
Context: Relations between the Centre and the States ruled by Opposition parties are strained due to various factors.
This includes
Questions related to GST (Compensation), the partisan behaviour of central agencies, the Centre's move to give itself absolute powers in the transfer of IAS, IPS and IFS officers and the overbearing attitude of several Governors.
The relations among States are also fraying in many instances even as the Centre's moral authority to be a neutral arbiter is at a low. The tendency to mobilise political support in one State by berating other States.
Recommendations to improve Centre-State Relations
Administrative reforms commission
Establishment of an Inter-state council under Article 263 of the constitution.
Appointment of persons having long-experiences in public life and non-partisan attitudes as governors.
Delegated maximum powers to the states.
Transferring of more financial resources to the states to reduce their dependency upon the centre.
Sarkaria commission recommendation:
Setting up a permanent inter-state council.
Article 356 should be used sparingly.
Institution of all-India service should be strengthened.
Reasons should be communicated to the state when state bills are vetoed by the President.
Centre should have powers to deploy its armed forces, even without the consent of states. However, it is desirable that the states should be consulted.
Procedure of consulting the chief minister in the appointment of the state governor should be prescribed in the constitution itself
Commissioner for linguistic minorities should be activated.
Punchhi commission
Union should be extremely restrained in asserting Parliamentary supremacy in matters assigned to the states
It prescribed certain conditions that one should keep in mind while appointing governors:
He should be eminent in some walk of life.
He should be a person from outside the state.
He should be a detached figure and not connected with the local politics.
Government should be given a fixed tenure of five years.
Procedure given for the impeachment of the President could be made applicable to governor as well.
Bommai case guidelines should be kept in mind while deciding cases related to President's rule
Inter-state council should be made more use of to further centre-state relations.
Source: The Hindu
---
India's policy on the Rohingya
Syllabus
Mains – GS 2 (International Relations)
Context: Recently the Ministry of Home Affairs (MHA) declared that Rohingyas are illegal foreigners.
Rohingya, an ethnic group, mostly Muslim, hail from the Rakhine province of west Myanmar, and speak a Bengali dialect.
Myanmar has classified them as "resident foreigners" or "associate citizens".
They were forced to leave Myanmar in large numbers after several waves of violence, which first began in 2012.
The Myanmar army revived the attacks in 2017 and lakhs took shelter in Bangladesh.
What is the process of deportation?
According to the MHA, illegal immigrants are detected, detained and deported under provisions of the Passport Act, 1920 or the Foreigners Act, 1946.
The powers to identify and deport them have also been delegated to State governments and Union Territories.
Once a 'foreigner' has been apprehended by the police for staying illegally, without any document, he or she is produced before the local court.
If the accused is found guilty, they can be imprisoned for three months to eight years.
After completing their sentence, the court orders deportation.
The foreign inmates are moved to detention centres till the country of origin verifies and accepts them.
Have any Rohingya been deported?
In 2018, seven Rohingya were deported to Myanmar.
It was the first time that Myanmar issued a certificate of identity to the seven Rohingya.
According to advocacy group Human Rights Watch (HRW), since October 2018, India has deported 12 Rohingya to Myanmar, "claiming that they left voluntarily.
In December 2017, the then Minister of State for Home informed Parliament that there are around 40,000 Rohingya in India,. Of these, only 16,000 are said to be registered with the UN refugee agency.
India's Refugee Policy
India lacks specific legislation to address the problem of refugees, in spite of their increasing inflow.
The Foreigners Act, 1946, fails to address the peculiar problems faced by refugees as a class. It also gives unbridled power to the Central government to deport any foreign citizen.
Further, the Citizenship Amendment Act, 2019 (CAA) strikingly excludes Muslims from its purview and seeks to provide citizenship only to Hindu, Christian, Jain, Parsi, Sikh, and Buddhist immigrants persecuted in Bangladesh, Pakistan, and Afghanistan.
Moreover, India is not a party to the 1951 Refugee Convention and its 1967 Protocol, the key legal documents pertaining to refugee protection.
In spite of not being a party to the 1951 Refugee Convention and its 1967 Protocol, India has had a stellar record on the issue of refugee protection. India has a moral tradition for assimilating foreign people and culture.
Further, the constitution of India also respects the life, liberty, and dignity of human beings.
The Supreme Court in the National Human Rights Commission vs. State of Arunachal Pradesh (1996) held that "while all rights are available to citizens, persons including foreign citizens are entitled to the right to equality and the right to life, among others."
India's Argument for Not Signing the 1951 Refugee Convention
The definition of refugees in the 1951 convention only pertains to the violation of civil and political rights, but not economic rights, of individuals.
If the violation of economic rights were to be included in the definition of a refugee, it would clearly pose a major burden on the developed world.
On the other hand, this argument, if used in the South Asian context, could be a problematic proposition for India too.
Why is there a Need for a law on Refugees?
Long-term Practical Solution:
India frequently experiences a large influx of refugees.
Therefore, a long-term practical solution requires that India make a shift from its charitable approach to a rights-based approach by enacting a national refugee law.
Adhering to Human Rights:
A national refugee law will streamline refugee- status determination procedures for all kinds of refugees and will guarantee them the rights they have under international law.
Addressing Security Concerns:
It could sufficiently address India's security concerns, while at the same time ensuring that there is no unlawful detention or deportation carried out in the garb of national-security concerns.
Inconsistency in the Treatment of Refugees:
The bulk of the refugee population in India originates from Sri Lanka, Tibet, Myanmar and Afghanistan.
However, only Tibetan and Sri Lankan refugees are recognized as such by the government.
They are provided protection and assistance directly through specific policies and rules formulated by the government.
The people demanding refuge are in a vulnerable situation and see a last ray of hope in an inclusive and tolerant country. Considering this, there should be an intake of refugees but not at the cost of the native population. So, It is high time for India to define a clear-cut refugee legislation and policy.
Must Read: Rohingyas
Source: The Hindu
---
Privatization of Banks
Syllabus
Prelims – Economy
Mains – GS 3 (Economy – Banking)
Context: In the Union Budget 2021-22, the government announced its decision to privatize public sector banks and general insurance company.
Background:
The government decided to nationalize the 14 largest private banks in 1969. The idea was to align the banking sector with the socialistic approach of the then government.
State Bank of India (SBI) had been nationalized in 1955 itself, and the insurance sector in 1956.
The current steps of privatization, along with setting up an Asset Reconstruction Company (Bad Bank) entirely owned by banks, underline an approach of finding market-led solutions to challenges in the financial sector.
Presently, India has 22 private banks and 10 small finance banks.
Reason for Privatization:
Degrading Financial Position of Public Sector Banks:
Years of capital injections and governance reforms have not been able to improve the financial position of public sector banks significantly.
Many of them have higher levels of stressed assets than private banks, and lag the latter on profitability, market capitalization and dividend payment record.
Part of a Long-Term Project:
Privatization of public sector banks will set the ball rolling for a long-term project that envisages only a handful of state-owned banks, with the rest either consolidated with strong banks or privatized.
This will free up the government, the majority owner, from continuing to provide equity support to the banks year after year.
Strengthening Banks:
The government is trying to strengthen the strong banks and minimize their numbers through privatization to reduce its burden of support.
Recommendations of Different Committees:
Many committees had proposed bringing down the government stake in public banks below 51%:
The Narasimham Committee proposed 33%.
The P J Nayak Committee suggested below 50%.
An RBI Working Group recently suggested the entry of business houses into the banking sector.
Performance of Private Banks:
Rising Market Share:
Private banks' market share in loans has risen to 36% in 2020 from 21.26% in 2015, while public sector banks' share has fallen to 59.8% from 74.28%.
Better Products and Services:
Competition heated up after the RBI allowed more private banks since the 1990s. They have expanded the market share through new products, technology, and better services, and attracted better valuations in stock markets.
HDFC Bank (set up in 1994) has a market capitalization of Rs. 8.80 lakh crore while SBI commands just Rs. 3.50 lakh crore.
Issues with Private Banks:
Governance Issues: Industrial Credit and Investment Corporation of India (ICICI)Bank MD and CEO was sacked for allegedly extending dubious loans.
YES Bank CEO was not given extension by the RBI and now faces investigations by various agencies.
Lakshmi Vilas Bank faced operational issues and was recently merged with DBS Bank of Singapore.
Under-reported NPAs:
When the RBI ordered an asset quality review of banks in 2015, many private sector banks, including Yes Bank, were found under-reporting NPAs.
Way Forward
In order to improve the governance and management of PSBs, there is a need to implement the recommendations of the PJ Nayak committee.
Rather than blind privatization, PSBs can be made into a corporation like Life Insurance Corporation (LIC). While maintaining government ownership, this will give more autonomy to PSBs.
Source: Indian Express
Previous Year Question
Q.1) With reference to the governance of public sector banking in India, consider the following statements: (2018)
Capital infusion into public sector banks by the Government of India has steadily increased in the last decade.
To put the public sector banks in order, the merger of associate banks with the parent State Bank of India has been affected.
Which of the statements given above is/are correct?
1 only
2 only
Both 1 and 2
Neither 1 nor 2
---
Labour Reforms
Syllabus
Fundamental Rights
Government policies and interventions for development in various sectors and issues arising out of their design and implementation.
---
Daily Practice MCQs
Daily Practice MCQs
Q.1) With reference to the famous Mandala art, consider the following statements:
It is believed to be rooted in Buddhism.
Sohan Qadri and Prafulla Mohanty gained widespread recognition for their works associated with mandala art.
In Hinduism, the mandala imagery first appeared in Yajur veda.
Which of the statements given above is/are correct?
1 only
1 and 2
2 and 3
1, 2 and 3
Q.2) With reference to Reserve Bank of India's Central Bank Digital Currency (CBDC), consider the following statements:
CBDC is same as a fiat currency and is exchangeable one-to-one with the fiat currency.
CBDC can be transacted using wallets backed by blockchain.
Choose the incorrect statements:
1 only
2 only
Both 1 and 2
Neither 1 nor 2
Q.3) Consider the following statements about National Automated Fingerprint Identification System (NAFIS)
The NAFIS project is a country-wide searchable database of crime- and criminal-related fingerprints.
NAFIS was developed by National Informatics Centre (NIC) and Department of Science and technology.
NAFIS assigns a unique 15-digit National Fingerprint Number (NFN) to each person arrested for a crime.
Choose the incorrect statements:
2 only
3 only
2 and 3
None
---
Comment the answers to the above questions in the comment section below!!
ANSWERS FOR '23rd August 2022 – Daily Practice MCQs' will be updated along with tomorrow's Daily Current Affairs.
---
ANSWERS FOR 22nd August 2022 – Daily Practice MCQs
Answers- Daily Practice MCQs
Q.1) – c
Q.2) – c
Q.3) – d
For a dedicated peer group, Motivation & Quick updates, Join our official telegram channel – https://t.me/IASbabaOfficialAccount
Subscribe to our YouTube Channel HERE to watch Explainer Videos, Strategy Sessions, Toppers Talks & many more…