Context: The Defence Ministry signed a ₹1,700-crore contract with BrahMos Aerospace Pvt Ltd for 35 combat and three practice BrahMos supersonic surface-to-surface cruise missiles for two P-15B class of stealth guided missile destroyers of the Indian Navy.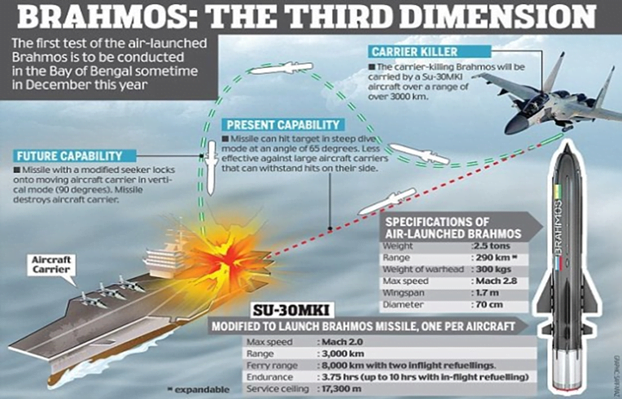 About Brahmos:
BrahMos is a joint venture between the DRDO and Russia's NPO Mashinostroyeniya and the missile derives its name from Brahmaputra and Moskva rivers.
On June 12, 2001, the BrahMos supersonic cruise missile was first tested from a land-based launcher in Chandipur.
In the 21 years since, BrahMos has been upgraded several times, with versions tested on land, air, and sea platforms.
Background and development:
Since the early 1980s, the Integrated Guided Missile Development Programme, conceived and led by Dr A P J Abdul Kalam, started developing a range of missiles including Prithvi, Agni, Trishul, Akash and Nag.
An Inter-Governmental Agreement was signed with Russia in Moscow in 1998

This led to the formation of BrahMos Aerospace, a joint venture between DRDO and NPO Mashinostroyenia (NPOM), the Indian side holding 50.5% and the Russians 49.5%.

In 1999, work on development of missiles began in labs of DRDO and NPOM after BrahMos Aerospace received funds from the two governments.

The first successful test in 2001 was conducted from a specially designed land-based launcher.
Strategic significance:
BrahMos is a two-stage missile with a solid propellant booster engine.
Its first stage brings the missile to supersonic speed and then gets separated.
The liquid ramjet or the second stage then takes the missile closer to three times the speed of sound in cruise phase.
The missile has a very low radar signature, making it stealthy, and can achieve a variety of trajectories.
The 'fire and forget' type missile can achieve a cruising altitude of 15 km and a terminal altitude as low as 10 m to hit the target.
Cruise missiles such as BrahMos, called "standoff range weapons", are fired from a range far enough to allow the attacker to evade defensive counter-fire.
The BrahMos has three times the speed, 2.5 times flight range and higher range compared to subsonic cruise missiles.
Versions deployed in all three-Armed forces are still being tested regularly:
LAND-BASED:
The land-based BrahMos complex has four to six mobile autonomous launchers, each with three missiles on board that can be fired almost simultaneously.
Batteries of the land-based systems have been deployed along India's land borders in various theatres.
The upgraded land attack version, with capability of cruising at 2.8 Mach, can hit targets at a range up to 400 km with precision.
Advanced versions of higher range and speed up to 5 Mach are said to be under development.
The ground systems of BrahMos are described as 'tidy' as they have very few components.
SHIP-BASED:
The Navy began inducting BrahMos on its frontline warships from 2005.
These have the capability to hit sea-based targets beyond the radar horizon.
The Naval version has been successful in sea-to-sea and sea-to-land modes.
The BrahMos can be launched as a single unit or in a salvo of up to eight missiles, separated by 2.5-second intervals.
These can target a group of frigates with modern missile defence systems.
AIR-LAUNCHED:
On November 22, 2017, BrahMos was successfully flight-tested for the first time from a Sukhoi-30MKI against a sea-based target in the Bay of Bengal.
BrahMos-equipped Sukhoi-30s, which have a range of 1,500 km at a stretch without mid-air refuelling, are considered key strategic deterrence for adversaries both along land borders and in the strategically important Indian Ocean Region.
SUBMARINE-LAUNCHED:
This version can be launched from around 50 m below the water surface.
The canister-stored missile is launched vertically from the pressure hull of the submarine, and uses different settings for underwater and out-of-the-water flights.
This version was successfully tested first in March 2013 from a submerged platform off the coast of Visakhapatnam.
Source: Indian Express
Previous Year Question
Q.1) Which one of the following statements best reflects the idea behind the "Fractional Orbital Bombardment System" often talked about in media?  (2022)
A hypersonic missile is launched into space to counter the asteroid approaching the Earth and explode it in space.
A spacecraft lands on another planet after making several orbital motions.
A missile is put into a stable orbit around the Earth and deorbits over a target on the Earth.
A spacecraft moves along a comet with the same surface. speed and places a probe on its.
Q.2) With reference to India's satellite launch  vehicles, consider the following statements:
PSLVs launch satellites useful for Earth resources monitoring whereas GSLVs are designed mainly to launch communication satellites.
Satellites launched by PSLV appear to remain permanently fixed in the same position in the sky, as viewed from a particular location on Earth.
GSLV Mk III is a four-staged launch vehicle with the first and third stages using solid rocket motors; and the second and fourth stages using liquid rocket engines.
Which of the statements given above is/are correct.? (2018)
1 only
2 and 3
1 and 2
3 only
Q.3) With reference to the Indian Regional Navigation Satellite System (IRNSS), consider the following statements : (2018)
IRNSS has three satellites in geostationary and four satellites in geosynchronous orbits.
IRNSS covers entire India and about 5500 sq. km beyond its borders.
India will have its own satellite navigation system with full global coverage by the middle of 2019.
Which of the statements given above is/are correct?
1 only
1 and 2 only
2 and 3 only
None
For a dedicated peer group, Motivation & Quick updates, Join our official telegram channel – https://t.me/IASbabaOfficialAccount
Subscribe to our YouTube Channel HERE to watch Explainer Videos, Strategy Sessions, Toppers Talks & many more…